What? No. Thinking Businessey Things.
My employer is weird. This is known. And one of the weird things they like is to have portraits done of all of us minions every couple years.
The employer has a professional, award-winning photographer on staff and in addition to his amazing photos of amazing science, the poor guy also has to sit in a conference room while a parade of geeks, nerds, scientists, engineers, and dorks like me clomp through.
Last time I had a work photo taken, it was two years ago. It was a humid day. I had to walk up a steep hill to get to the place where the photos were being done. I was running late because I couldn't find a parking spot.
I'd sweated my makeup off and my hair frizzed to cotton candy status. Then I sat down and had my photo taken. It's awful. And it's published on my department's website for all to see.
We're encouraged to use that photo as our email avatar. Nope.
Today is the day when new company photos are being taken. Argh. I have been, to put it mildly, obsessed about this. I want my new professional work photo to be something I am willing to look at.
Yesterday I carefully examined all of the photos of my coworkers in the photo archive to assess what works and what doesn't. This morning I curled my hair. I put on makeup. I fussed.
At about twenty minutes before my appointment time, I sat at my desk fretting. I decided to open Photobooth on my Mac to get a real look at how things were working and what needed fixing.
I gazed into my laptop camera and took a couple shots. I evaluated the smile, the hair, the lipstick then I went back in to try again.
I was staring the camera dead on, trying to smize when in my peripheral vision I see one of the auditors come walking down the aisle. The very serious big 4 outside auditors here doing serious stuff like auditing financials. And here I am, a manager, supposed professional, at my desk selfie'ing.
So I tried to play it off real quick. I looked away and was acting all like "no, no selfies here." And "Yeah it's cool, ain't no thing."
And then the Photobooth "flash" popped (it flashes a blank white screen). Busted.
Yeah. Um.
Anyhow, I took that photo of my shame, cropped it, sent it through an Instagram filter and now it's arty. Thoughtful. Meditative.
Nah, it's just me trying to look cool and failing miserably. Welcome to Dorkville, population me.
I sure hope my professional photo turns out a lot better.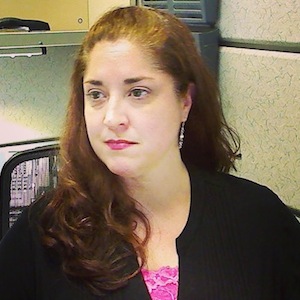 Thinking so hard right now.

Photo Copyright ©2015 Karen Fayeth and subject to the Creative Commons in the right column of this page. Please don't use this photo elsewere. I'm asking nice. Photo made with Photobooth, Instagram and my special brand of genetic dorkiness.