A Tip of the Cap
How does one eulogize a legend? I'm certainly not qualified, but my sincerity, hopefully, will win the day.
Over the weekend Major League Baseball lost a Hall of Famer, and it's given me quite a few moments to pause and reflect.
Lon Simmons didn't play the game but is as integral to the sport as any home run champion.
Simmons started out calling San Francisco 49er games in 1957 and then also began calling games for the San Francisco Giants with longtime partner Russ Hodges in 1958. This was just after the Giants had moved west from New York.
Lon's deep resonant voice is iconic in its own right as is his very dry sense of humor. So dry that occasionally athletes and other broadcasters didn't quite get it when he'd lay down a quip. In my opinion that sometimes led to awkward encounters, but Simmons was so affable that he could always save the moment.
Any baseball broadcaster worth a damn also has a signature homerun call, and I believe Simmons' call is the foundation for any good call you hear today.
It went something like this *crack of the bat* "…that ball is way back, way back….tell it good-bye!" and he said with a rising inflection that built the tension, made you clutch the steering wheel in your car, hug a loved one or just squinch down waiting for the payoff. Then yesss! Tell it goodbye! Now that's iconic.
In the early 2000's Lon was still broadcasting pretty regularly for the Giants. I have a confession to make, back then I was starting to get pretty frustrated with Simmons. He was of course legendary but his game calling had lost a step. Perhaps it was the impatience of youth, but I used to turn it off if he was calling the game and listen a different way. Sad but true.
When he retired from the Giants broadcasting, I was relieved. I believed then as I do now that it was time. There are other legends, Jon Miller among them, ready to carry on the legacy that Lon Simmons began.
Over the last decade or so, Lon could often be seen at the ballpark and we'd always give him a hero's welcome. Retirement seemed to suit him and when he'd come on the air, I was a lot more forgiving of his slow style and sometimes awkward pauses.
There is not a doubt in my mind that Mr. Simmons deserved his Ford C Frick award and his place in the Baseball Hall of Fame.
His voice, his storytelling, his homerun call, they are all a part of the fabric of the game that I love so much.
So on this second day of the 2015 Major League Baseball season and the first day of the San Francisco Giants season, I salute Lon Simmons for his service, for his style and for bringing baseball to life for me with his voice and his words.
I tip my cap to a great man. May he rest in peace.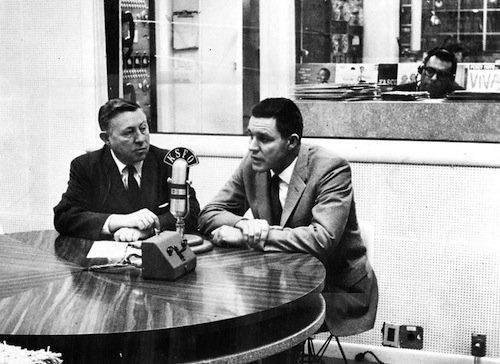 Russ Hodges (l) and Lon Simmons (r)

Image found here