Stream of Self-Consciousness
That moment when you are sitting at stoplight as a pedestrian crosses with the light in front of your headlights and you notice that the morning sun is giving this gentleman a solid backlighting. As he is directly in front of your view, you notice that the hairs that extend well past his nostrils are beautifully set to glowing by the golden California sun.
And you think to yourself, "Oh wow. That's…well that's something." And you laugh alone in your car because why not. You can sing in there so why can't you cackle like a dyspeptic hen in there?
And as you turn the corner and head into the parking garage you think to yourself. "Don't laugh, sparky. There but for the grace of a nose hair trimmer go you."
So then you surreptitiously check both barrels of your own breathing device to see if the protective filtering is tidy and in place.
And you realize that, you know, you could use a little trim yourself.
So you sit in the car and in the morning light of a California sunrise and you use the scissors from your small Swiss Army Knife to give a quick clip, just enough to let your sanity rest during the day that lies ahead. Because no one should have to worry all day long about the nostril streamers that suddenly seem to grow with less control than they once did.
And when done, you feel both satisfied and mildly crazy and kind of blind because why didn't you notice a trim was in order when you looked at your tired face in the mirror this morning?
But alas, you did not. Then you vow to take care of this problem more fully later tonight. And you should probably put on your reading glasses and give the eyebrows a check too because I bet those are out of control.
And then you get out of your car and walk into the office and enter this crazy day in a crazy way with crazy hair growing in crazy places.
Did you ever have a day like that? Yeah, um, me neither.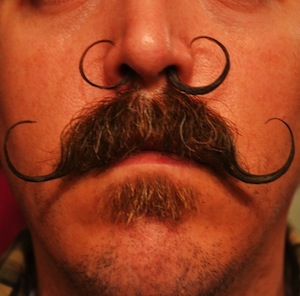 Image found here.