If We Make It Through December
If we make it through December
Everything's gonna be all right I know
— Merle Haggard

Every year "If We Make It Through December," a classic Merle Haggard song that was released for the first time all the way back in 1973 becomes the theme for my holiday season. I have been playing it on repeat in my car as I drive back and forth to my job.
I also play it when it's dark in the morning and when it's dark in the evening. As the rain comes down. As protestors shut down access to my home and helicopters hover in the sky. As my feet ache and my head hurts and I wonder why, for another year, I'm anxious, depressed and overwrought during the happiest time of year.
Every year I look forward to December and the holiday season, hoping to capture some small bit of that childhood joy and anticipation and magic. I watch movies like "White Christmas" that are filled with optimism and dancing and songs about snow.
Every year I feel crushed by an avalanche of end of year business activities. It's the nature of the profession I have chosen that December is just always going to be craptastic.
And then current political events put a little exponential anxiety to this year's festivities.

Now I don't mean to hate December
It's meant to be the happy time of year

Happy, yeah. Full of cheer. Ho, ho, ho. Yesterday should have been a really good day. My boss held a breakfast holiday celebration for all of her team. Then one of my main client teams had a holiday luncheon for us too. A day of eating? Hell YES!
But in between those two events, I had a bunch of other meetings. I was late to most of them and got chewed out. I was running hither and thither to get to these "fun" events where my attendance was fully expected.
At the end of the day I had an inbox full of emails and angry voicemails from people expecting me to get my other work done.
So I stayed late at work (again!) and tried to get somewhat caught up. I worked off most of the code red items and left the code orange for another day.
Then I went home exhausted and emotionally shut down. I was not a good spouse to The Good Man or a good human to my Feline.
Hell, I didn't even plug in our Christmas tree yesterday. Yes, last weekend I managed to get our fake tree put together, but it is not decorated. I usually love to make cookies for the holidays, but not this year.
Instead I made toast for dinner and then went to bed. Feliz Navidad.

If we make it through December we'll be fine

But as I whine on and complain loudly, I suppose all is not lost. This year I introduced The Good Man to December's theme song. This happened while we were taking a drive to go see Merle Haggard play a live show at my favorite concert venue in Napa.
How bad can my month be if I get to see one of my all time favorite musicians play live? A musician who has written songs that make up a lot of the soundtrack of my life.
The Good Man is going through his own turmoil this December and so the lyric we most often repeated to each other on our hour long drive was this one, "If we make it through December we'll be fine."
And we will. We'll be fine. This hell and highwater (literally, one of the highway exits in our town was flooded out so we had to seek an alternate route) will recede and we'll find our way back to level ground.
I don't mean to hate December. It's just sometimes it feels like December hates me.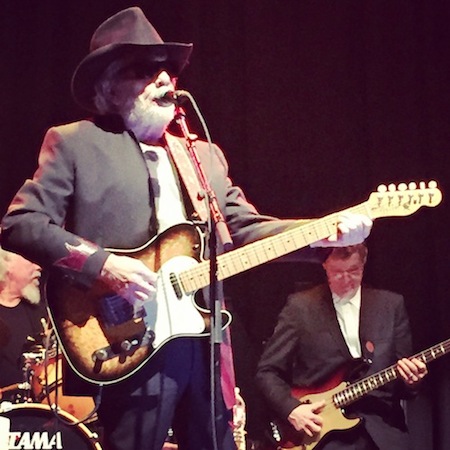 Photo copyright ©Karen Fayeth, 2014

Photo copyright ©Karen Fayeth, 2014. Taken with an iPhone 6 and run through Instagram. Photo subject to the Creative Commons license found in the far right column of this page.