When Did That Happen?
I was out and about recently and ran into some friends who were with some other of their friends that I didn't know. We all got to talking, cussing and discussing over beers and a bit of wine, and the conversation drifted over to the show "Breaking Bad."
As a matter of fact, this happens to me a lot. Even though the show is no longer producing new episodes, it lives on in the world of Netflix. This show seemed to touch a nerve in people and it still relevant. People like to talk about it.
So I told one of my new friends that, "yeah, I'm finally watching it. I just started Season 2. It's kind of weird to watch, though, because Albuquerque is my hometown. It's where I grew up."
The person responded, "Really? That is so cool! I mean, really cool. Tell me about it! Tell me about Albuquerque."
This literally took the speech right out of me. "Uh, brr, eeeh, aauuugg" was about all I could manage.
Albuquerque? Cool? What?
Albuquerque is not cool!
Well, hell, maybe it really has become cool and it's time to admit it.
The Albuquerque I know was the place that either no one had heard of or said "Oh yeah, you mean like Bugs Bunny?"
Albuquerque is the place that Southwest Airlines used to fly planes that were only one third full because NO ONE went to Albuquerque. (side note: I used to really like that. Now on Southwest flights people are squeezed in so tight you can hardly sneeze.)
Albuquerque wasn't on anybody's radar and now it's in the zeitgeist. Just last night I saw an AT&T commercial that name checked Albuquerque. And it's not the only recent commercial I've seen that gave the 'Burque a shout out. Back in May I wrote this post about New Mexico being a part of not one but two popular movies.
When did this happen? I know, I know, this happened when "Breaking Bad" started airing.
I appreciate I haven't seen all of the episodes but so far, but I'm not sure that show portrays my hometown in the best light.
So far in Season 1 and the first part of Season 2 I can see it's mostly filmed in downtown. I think Jesse Pinkman lives somewhere off of Silver street. It's a pretty cool house, old style.
I lived around downtown ABQ for a while when I was doing a co-op job out of college with Sunwest Bank. I liked living there, but to be honest, that part of ABQ that doesn't always match my experience. I was more of a northeast heights kind of girl.
I often wince at the Jesse Pinkman character because he's so not anyone I would recognize from Albuquerque. Then I wince again because the bad guy character Tuco is pretty much an amalgamation of a lot of guys I went to school with.
Anyhow, I suppose I should be glad that Albuquerque is getting the love. Then again, the spirit of New Mexico runs deep within me. We often have been pretty damn happy when no one knows about our beautiful state. The less outsiders the better.
But alas, Albuquerque is on the map. I even saw a Twitter profile the other day saying, "Proudly living in the land of Walter White," and I just shook my head.
There's so much more to ABQ. But ya'll don't need to know any of that. When the glow of Breaking Bad fades off, we can reclaim our "not cool" town, and going on doing what we do and knowing what we know.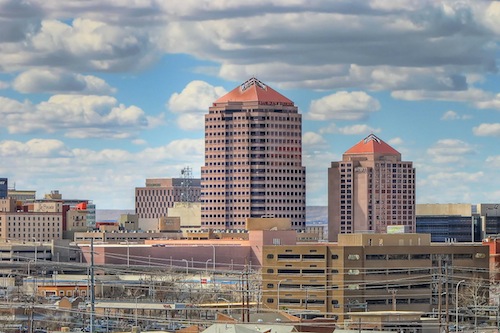 Image from Wikipedia and used here under a Creative Commons Attribution-Share Alike 3.0 Unported license.