My New Nickname
This morning I geared up my mind and girded my loins for an important meeting. The event was a compliance review on a big project that I am working through. This project is the cause of many long hours, at least three migraine headaches and a lack of sleep. This compliance review is the last bit of internal check boxes required before we can implement this project fully and completely.
That I was even sitting in the room having the meeting is a gigantic achievement for this challenging project.
That said, I don't necessarily have the cleanest track record in these compliance review meetings. About a month ago in a similar meeting for a different project, I lost my cool and let the chairperson have a bushel full of how I really feel.
After which I was "spoken to" by my manager who mostly empathized with me. I stand by what I said, and told my manager as much. I was simply asked to "try a little harder" next time.
Because there is always a next time.
Today I had to go back in there and keep the end in mind. I knew if I was able to get through the compliance meeting, and get approvals, that I would be able to finish this project that has me burning out quickly, turning into a crispy little Karen.
The order of the day was calm. Serene. Peace.
Now, I realize that not all of my fair and wonderful readers know me in person. If you do know me in person, you could know that calm, serene and peaceful are not adjectives often used to describe yours truly.
But I had to "try a little harder." So I did deep breathing and a few deep knee bends before the event. I got to the meeting room early and got situated. I planted my feet on the ground and made a promise to myself that I would stay calm.
As the meeting progressed there were times where I wanted to say what was really on my mind, but somehow I magically refrained.
"Okay. What would you like to see in the documentation?" I said calmly and not at all snarkily. I felt the inner snark but I kept it tucked away under a beatific smile.
When all was done and I had the full list of changes and corrections, I walked out of the conference room and back to my desk.
Where I texted The Good Man the following:
"You oughta f—–g nickname me Buddha after that last hour of my life…."
You see, he knows me all too well and he knows I had this important meeting today. Then I followed it up with:
"I ohm'ed the sh*t out of that meeting."
And then I took to Google where a short image search netted me the perfect image, which I also sent to The Good Man to further emphasize my point.
And that about sums it up.
Just call me Buddha, bitches.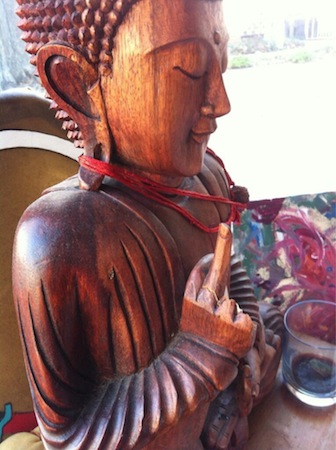 Image found here.