The Irony Is Not Lost
These days I live in a fairly urban area and I also live near a major university, so this means driving around here proves to be quite a challenge.
I see a lot of people both young and old riding the roads on their bicycles or scooters and of course walking. There is even the occasional Segway. Though the most popular mode of transport by far seems to be bicycles.
Fundamentally, I don't have an issue with people riding their bicycles. It's exercise, it's efficient, and it's environmental. Plus it leaves more parking spots for me. Great!
The issue I do have, however, is some bicyclist's complete and flagrant disregard for traffic laws. You know, running stop signs, not yielding to a yield sign, flowing with cars when they feel like and acting like pedestrians when they feel like.
My commute to and from work is pretty short, but can be frustrating as I traverse many busy streets with lots of crosswalks and stop signs and long lights. In addition to bicycles, I often have to tangle with students walking around with eyes glued to their smartphones darting out from between parked cars.
I really hate it most when I have the green light and as I start to roll a bicyclist runs the red light the other way and sails through the intersection with nary a care in the world.
The other day that big wheel of karma ticked about two and a half degrees to the right and I saw something so ironic it made me laugh and shake my head.
Ok, here's the scenario:
I am driving up a busy two lane and mostly residential street. Traffic is moving, albeit at a fairly slow pace. I'd estimate I was doing something like 25mph.
I was hugging the yellow line because to my right were two guys decked out in stretchy shorts and tip-tap-clompy biking shoes riding on very fancy bicycles.
We were all cool. I saw them, they saw me. I made space and we traveled casually along, moving straight ahead on the road.
As we three came to an intersection some hipster chick on a pink bicycle with a plastic basket on the front does not slow for the stop sign on the cross street. She glides at full speed right into the intersection.
This causes the car coming the opposite way to screech to a halt. I slammed on my brakes too and the two bicycle guys next to me just kept going.
Because I guess bicyclists do that. When everyone around is braking, they just keep rolling because why not.
One of the guys finally saw Miss Hipster and locked up his very expensive racing bicycle brakes. The other wasn't as quick on the brakes. As he came to a stop he ended up tapping her back wheel.
Hipster chick was totally oblivious. She wobbled a bit and just kept rolling on through.
Now dos Stretchy Pants are mad. They start shouting and screaming and arm waving at her about obeying stop signs and right of way and what the bleep was she doing.
So indignant these bicyclists got about obeying traffic laws. So, so righteous.
Hmm. Interesting.
Ironically so.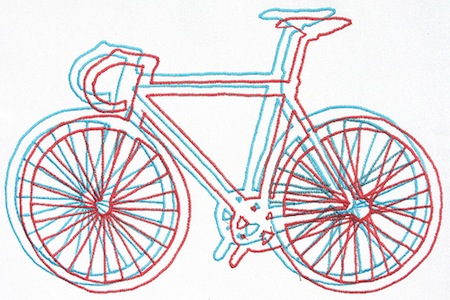 Image found here.