So This Is Evil. Right?
In my internet wanderings, I often find myself cruising beauty blogs for makeup advice tips. I am flat out terrible at applying makeup in any sort of especially appealing manner, so I'm always on the lookout for easy and fabulous looks. Or something like that.
While on one of these jaunts, I stumbled across this particular service called Anaface which is a facial beauty analysis. All the girls were piling in there to have their face analyzed and were reporting results. Some ladies were very happy. Some were sad.
And I thought to myself "what a crock of crap," and yet, I bookmarked the page.
When I'd see that bookmark I'd ponder it, wanting to quickly upload my photo, then harrumph and go off again.
Today, the lure of my low self-esteem was just too great. I went in.
I began with this photo of myself in which my hair and makeup was professionally done and a master photographer took my image. In this photo I think, "Yeah, you know, I look all right."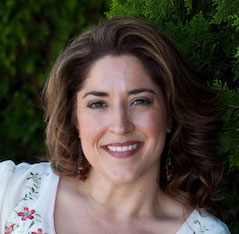 Then I uploaded that photo to the Anaface service. From there I helped the software by using my pointer to locate certain measurement spots on my face like the sides of my eyes and edges of my nose.
The software did its analysis and crunched the numbers and I arrived at this result:
"You are a 7.64 out of 10".
I am ashamed to admit I was at once happy (almost an 8!!) and depressed (what, I'm not a 9?).
Then I read the laundry list of "Here's why" and I began to feel like crap about myself.
Poor horizontal face symmetry. What? I thought the human eye found slightly asymmetrical faces to be more attractive anyway!
Your nose is too wide for your face width. What? I have a funny little thin nose actually.
Compared to your eye width, your innerocular distance is nearly ideal. Huh? I don't even know what that means. Is that a good thing or a bad thing? I mean, "ideal" sounds top notch, right?
So I harrumphed and my inner feminist got outraged and I Googled this facial beauty analysis thing to understand what the actual hell was up with this. I expected to see people out there as outraged as me. What I found was other analysis sites to try.
Then low self-esteem won out over self-righteousness and I uploaded my photo again, this time to a place called Pretty Scale.
Same sort of drill, I helped it find measurement points and it crunched the numbers and said: "77% You are pretty!"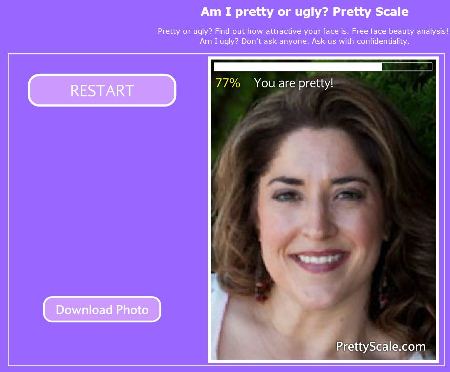 And that sweet, sweet dopamine rush kicked in at the words "you are pretty" and I felt validated and superior and attractive for about 52 seconds and then thought to myself, "what, only 77%? I'm not more pretty than that?"
Only Pretty Scale doesn't give me the rundown of things I can obsess about that are wrong with my physical appearance like my mouth being too wide for my nose. No, it just coldly arrives at a score and shoves it at you and runs away.
Then I realized how galldang evil these kind of websites are and how this is yet another way to make both men and women feel bad about themselves.
To their credit neither site was trying to sell me anything in order to capitalize on my poor self-image created by these bogus scores, which kind of surprises me.
Meanwhile, I honestly admit that reading "you are pretty" made me feel so good on a low, base, shallow level. And for that I'm the littlest bit ashamed of myself. And a little bit proud. And a little bit more ashamed and a little bit….
You get the picture. And when you get the picture, don't upload it to a facial beauty analysis bullcrap site, okay?
Because to me you are beautiful just the way you are.

___________________________

By the way, Gollum clocks in at a respectable 6.9 out of 10. His innerocular doohickey is also nearly ideal.