What the…? I don't even know
Ok, it started with an article from Cracked.com titled 14 Photographs That Shatter Your Image of Famous People.
I follow a lot of photography blogs and I see a lot of links like this.
So I took a look.
And in the course of those fourteen images, this one came along. (Click for a larger size)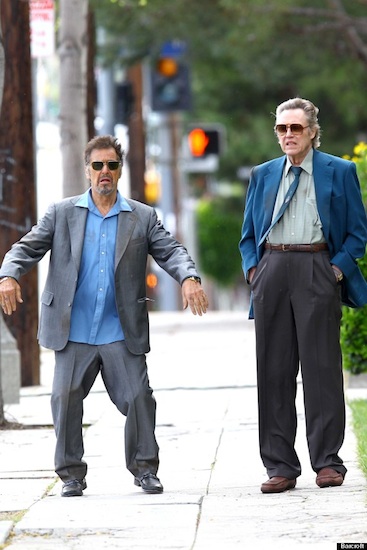 I can't stop looking at it. I don't even know what to say. I seriously don't know what to say.
It's Al Pacino and Christopher Walken, but what the HELL is going on? Please tell me this is something from a movie?
My fascination with this image led me to the Awesome People Hanging Out Together Tumblr….which I guess is a pretty popular site because it was named to Time's list of the 30 Must See Tumblrs.
None are quite as fascinating at this one, but there's some pretty good stuff in there.
Meanwhile…I must construct stories in my head about the Pacino/Walken photo. Neighbors out for a stroll? Just escaped from the home for doddering elderly actors? LSD? LSD flashback?
I mean seriously? What?

Image originally posted on the Awesome People Hanging Out Together Tumblr on April 17, 2012.
This week's Theme Thursday is: neighbors