June 25, 2018 by
Karen Fayeth
·
2 Comments
Filed under:
amazing
,
anxiety
,
art
,
artist
,
awesome!
,
awkward
,
baseball
,
Baseball Gods
,
bragging
,
business is business
,
charming
,
creativity
,
dental hell
,
first world problems
,
fresh ideas!
,
fun
,
game face
,
gratitude
,
humility
,
kerfuffle
,
life
,
literature
,
luck
,
make it work
,
miscellany
,
news
,
Opinions
,
play through
,
show and tell
,
stories
,
stubborn
,
thank you
,
truth is stranger than...
,
w00t
,
winning
,
woo hoo!
,
worried‬
,
writer
,
writing
A few years back, I participated in a flash fiction writing event and drew the genre of Historical Fiction as my prompt. Historical Fiction! I had no idea what to do with that. None. At all.
I believe the full prompt was Historical Fiction, a dentist's office, and a leather jacket.
Uh. Okay. Sure.
So off I went and wrote a story. My own little sort of baseball story and turns out it did pretty well in the competition, meaning it was good enough to get me to the next round.
After finishing the story, I'd had a bit wish that my sorta kinda baseball story would get to see the light of day, and be published during the baseball season.
Well, my wish came true. "The Dilemma" was published this past April in issue 13 of SLAB Literary Magazine.
My baseball story! Published in April! During Spring Training!!
So why am I telling you this in June?
Well, it came out in the print version in April and I decided to wait for the issue to be loaded up online before sharing. Well, Issue 13 is online, however…..my story is listed in the table of contents but it's not printed in the online version.
Grr.
I've sent a few notes but I think the editorial team is off on summer vacation.
While I love the folks and SLAB and am so very, very grateful they published my story, I don't really want to wait anymore to share my little story with the world.
So I scanned that bad boy and you can read my little baseball story today, a few weeks before the All Star Break.
Here it is: The Dilemma
You can also find the link in the right side of this page.
If you take a few moments to give it a read, I'd be quite grateful. If you don't wanna read but just wanna send "yay you" thoughts, also fine by me.
Either way, I'm going to be over here feeling pretty darn proud of myself for taking a bit of an oddball prompt and making something good.

Issue 13

June 15, 2018 by
Karen Fayeth
·
Comments Off

on The Politics of Orientation
Filed under:
Adulting
,
Albuquerque
,
anniversary
,
awkward
,
bebidas
,
boat drinks
,
Brooklyn
,
bugs
,
curious
,
fail
,
family
,
first world problems
,
fun
,
gettin' hitched
,
gratitude
,
growing up
,
home
,
in the kitchen
,
in-laws and outlaws
,
iPhoneography
,
laffs
,
latent childhood
,
lazy
,
learning
,
life
,
love and marriage
,
make it work
,
New Mexico
,
objectophilia
,
Opinions
,
our happy home
,
play through
,
politics
,
pondering
,
show and tell
,
silly
,
simpatico
,
The Good Man
,
The More You Know...
,
tradition
,
where I come from
,
yucky
Sense memory is a funny thing. Seemingly insignificant things are ingrained early in your cells and pop up at the darndest times.

***

Earlier this week, after a long day at work and in a post-dinner stupor, I emptied the dishwasher and put away our clean dishes.
No big deal, right? Common, unremarkable.
After I'd put away the dishes, I looked at the cabinet where our glassware is kept and laughed, because I had done something that harkens back to an earlier time.
When The Good Man and I first moved in together more than ten years ago, there was a lot of negotiation. To be expected, I'd been living alone an awfully long time, was a bit set in my ways, and I was no spring chicken either.
So having this dude move into my space was, well, weird. I honestly had some difficulties, which we were able to work through bit by bit.
One such negotiation had to do with the orientation of drinkware on the shelves. You'd think this wouldn't be a big deal, but it became one of many lessons in "things you do because of where your from."
You see, I grew up in dry ol' New Mexico. We loaded our glasses rim down so the dust doesn't get in ya drink.
The Good Man grew up in Brooklyn. They loaded their glasses rim upward because god knows what crawled across the shelves and it's gross to drink from a rim that's been in the yuck. "That's why my mom puts new shelf paper down in every place she lives," he explained.
Ah. Well. Sure. That actually made sense. So I relented and agreed our home would be a rims up sort of space.
Besides, I knew that picking battles was going to be the key to success. We still had to settle if our home was going to load toilet paper over the top or from below. (Over the top is the final determination, my preference, The Good Man doesn't care either way)
So this past week, tired of mind and body, doing something I must have done thousands of times in my life by emptying the dishwasher, I loaded the glassed rim down. And laughed.
Then thought about the early days of The Good Man and Me. As we approach our ten-year wedding anniversary, I have been doing that a lot lately.
So did I then turn the glasses back over? Nope. I left them, figuring we'd use all the clean glasses before the next washer run, and then on the next unload one of us would get the right orientation.
This morning, better rested, I unloaded the dishwasher again. Sense memory, I didn't even think about it. I put the clean glasses rims up and walked away.
Here is a true and accurate representation of the current state of our cabinet.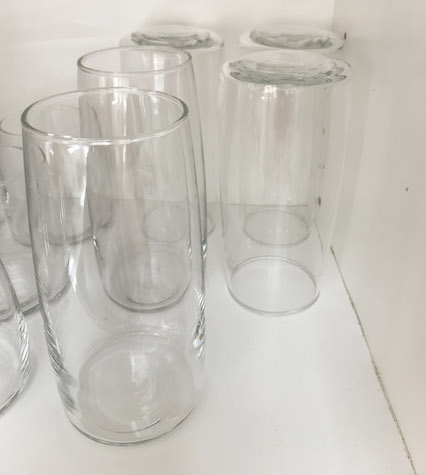 Where avoiding dust and avoiding rat droppings meet


I wonder how long it will be before my rather obsessive need for uniformity will get the better of me….can't blame that on New Mexico.

Photo taken this morning using the Camera+ app on an iPhone 7. I mean, why would you want to steal a photo of my drinkware? But if you do, please remember it's subject to the Creative Commons in the right column of this page. Attribution, please! :)