October 24, 2016 by
Karen Fayeth
·
Comments Off

on Well If You Didn't Want Me To…
Filed under:
Adulting
,
awesome!
,
awkward
,
Bay Area
,
Be Better!
,
Boss Lady
,
business is business
,
cackle
,
California
,
comedy
,
curious
,
disapproving boss
,
earthquake
,
evil glee
,
first world problems
,
fun
,
fun toys
,
in my 'hood
,
iPhone
,
iPhoneography
,
irritated
,
kerfuffle
,
latent childhood
,
life
,
make it work
,
nerd girl
,
office supplies
,
Opinions
,
play through
,
presents
,
show and tell
,
The More You Know...
,
w00t
,
whistle
,
woo hoo!
,
work
,
yes boss
Today was my first day back at work after a nice and relaxing weeklong vacation. Always tough to get back into the routine.
Last week, I missed a big event at work. It was The Great California ShakeOut, an annual earthquake preparedness event. On a set day, they sound the sirens and we take cover and hold for a period of time to simulate an earthquake. Then when that is over, all must evacuate the building.
It's getting us ready for "the big one" that we all keep hearing about. Practice like this has proven to be useful. We do this every year meaning once a year I get to check out what's going on under my desk.
Since was on vacation and I live pretty close to work, I heard the sirens, but I was driving in my car so I hunkered down in my mind.
Today upon unlocking the door to my office I see my employer has left me a little gift in the wake of the ShakeOut event.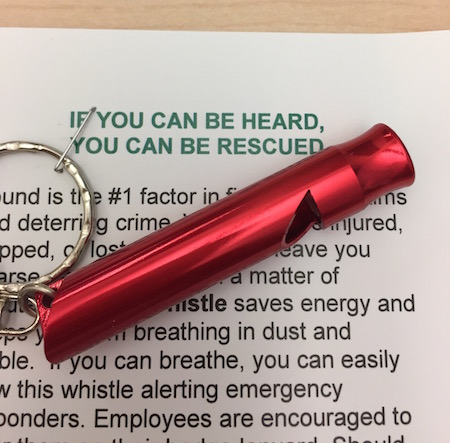 Lemme hear you whistle, baby…


Seeing this laying on my desk, I did what any mature, right-thinking adult would do when presented with a shiny red whistle. I picked it up and blew that sucker.
It's loud. A little piercing. The sound rattled off the high roof of the building.
You'd think this would be occasion for another one of those "talking to's" that my boss so enjoys providing to me. But alas no, she was in a meeting and missed it.
Instead the group administrator came over and stood in the doorway of my office, gave me the world record of stink eyes, then walked away.
I mean, if you didn't want me to USE it, then why didja give it to me?
Anyhow, my pretty red whistle is now safely stowed in a drawer. Guess I won't do that again.

Pretty whistle photo ©2016 Karen Fayeth, and subject to the Creative Commons license in the right column of this page. Taken with an iPhone6 and the Camera+ App.

October 4, 2016 by
Karen Fayeth
·
2 Comments
Filed under:
Adulting
,
amazing
,
animals
,
anxiety
,
automobiles
,
awkward
,
backyard
,
Bay Area
,
California
,
changing seasons
,
cranky
,
creepy
,
don't bully me!
,
don't want!
,
drama
,
in my 'hood
,
indignant
,
iPhoneography
,
Jeep
,
kerfuffle
,
learning
,
life
,
make it work
,
miscellany
,
Mother Nature
,
Opinions
,
overwhelmed
,
photography
,
play through
,
show and tell
,
skeerdy cat
,
sleep deprived
,
speed
,
spiders
,
stress
,
truth is stranger than...
,
windows
,
work
,
worried‬
,
yucky
This morning, like most weekday mornings, I hopped into my trusty old Jeep, fired 'er up and took off, careening toward my place of employment.
As I traversed one of my hometown's very busy main roads, I glanced into my sideview mirror, as any safe driver would do.
As I glanced, I saw a little leggy burble and a pop and this thing emerged: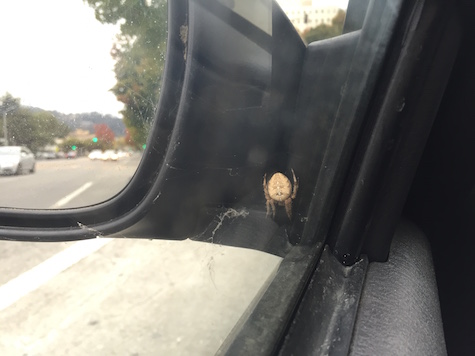 See the hinge for the mirror? It had somehow packed itself in there.
I should note that I was so startled that I had to pull over to the side of the street and consider my options. Also to take a photo to send to The Good Man. It was essential to document the situation in case my Jeep and I were later found suspended from a stop light, wrapped in silk and drained of fluids.
Let me zoom in a little closer for ya.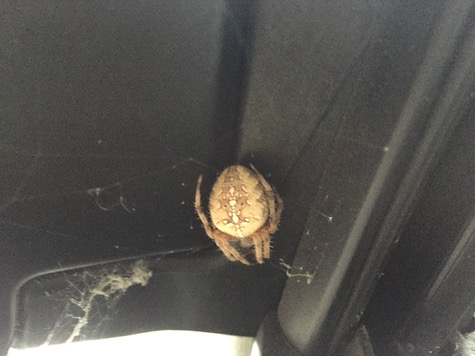 The Good Man refers to this time of year as "Chunky Spider Season." It's true, our current hometown is very, er, spidery. More than any place I have ever lived. And they are often quite big. And chunky.
At home, I park on the street near a tree and some brush. These eight legged demons seem to consider the Jeep part of their homestead. I often brush webs off every corner of the Jeep, including when they manage to string webs across my roof rack.
But this, today, goes beyond the pale.
How about an even closer look, because you need to know my fear.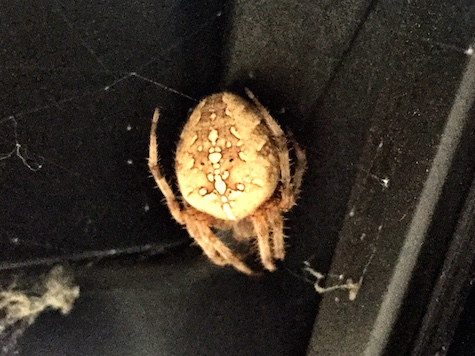 After snapping photos, I cinched up, put on my determined face, then re-entered the roadway at speed hoping this sumnabitch would fly off in the wind. No such luck. It first hunkered down, then feeling carefree (I assume), it later spread all eight of its legs as though surfing the breeze.
Hitting speedbumps at a hard pace didn't seem to help either.
Soon, I arrived at work and had to unroll this window to reach out and badge into the garage. Thankfully my new overlord didn't seem to flinch much.
But it's still there. Still hanging out like it owns my Jeep. Like I am just a pawn in its spidery game.
I am currently unable to exit the Jeep. This is my life now.
Someone please send help! To the passenger side, though.
Gah!
_____________

The Good Man did some research based on photos and determined this is a Cross Orbweaver and that it isn't poisonous. Fab. I'll remember that when it singsongs my name and tells me to "come out and play."

All photos ©2016 Karen Fayeth, and subject to the Creative Commons license in the right column of this page.