August 16, 2016 by
Karen Fayeth
·
2 Comments
Filed under:
Adulting
,
amazing
,
anxiety
,
Autumn
,
awesome!
,
awkward
,
backyard
,
baked goods
,
Bay Area
,
beautiful
,
California
,
cha-cha-changes
,
changing seasons
,
charming
,
curious
,
fall
,
gratitude
,
home
,
in my 'hood
,
iPhone
,
iPhoneography
,
latent childhood
,
learning
,
life
,
light
,
Love
,
love and marriage
,
make it work
,
melancholy
,
metaphorically speaking
,
monkey mind
,
Mother Nature
,
nostalgia
,
objectophilia
,
Opinions
,
our happy home
,
photography
,
photowalk
,
play through
,
politics
,
pondering
,
presents
,
show and tell
,
summer
,
sunshine
,
sweaty
,
The Good Man
,
walking
,
worried‬
,
yes boss
I think, sometimes, it must be a bit odd living with me.
On Sunday afternoon, with many things troubling my mind, I went outside and took a nice walk. I also looked at my neighborhood and noticed the way the sunlight is shifting. A cool tinge to the breeze. And I noticed that college kids are starting to move back to this college town.
When I got home I was a bit tired, a little sweaty, and more centered in my mind.
"Oh!" I said, as The Good Man and I talked things over, "I brought something home."
His eyes lit up at the prospect. What could it be? Something freshly baked from our fabulous neighborhood shop? A pound of aromatic fresh ground coffee? A small fun tchotchke from one of the many nearby gifty shops?
Nope. What I brought home to my sweetheart was this: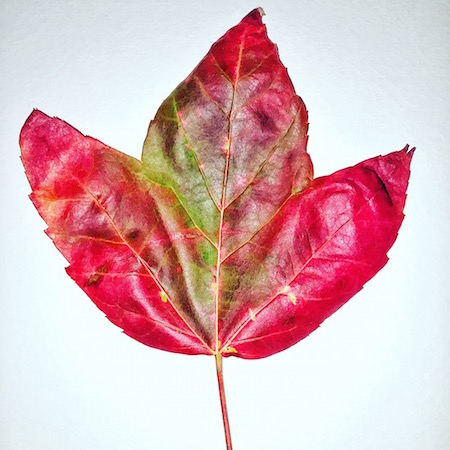 From a Red Maple tree

I brought my love a leaf.
More than a leaf, it was the perfect representation of how restless I was feeling. As summer begins to give way to fall. As youth gives way to middle age. As things are in motion and changing at my place of work.
I was stunned on my walk to notice that leaves are already changing. Trees are starting to turn the bright reds and yellow and oranges of fall. I'm sure our unseasonably cool late summer has been part of the reason, but I was startled to see the change. I was also comforted to know that the restless feelings inside me are in sync with nature.
It is both a green leaf and a red leaf at the same time. Both the joy of spring and the end of summer. Happy and sad. Birth and death.
Transition.
My theme song lately has been Sam Cooke, "A Change Is Gonna Come." I just recently found this song again through the whims of Pandora's algorithms. And as Pandora is want to do, it plays at least once a day during my work days. Occasionally, if the time is right and the office door is closed, I sing along.
It is a sad song. A lament. But also, it's inevitable that change has to happen. Like that leaf, there has to be some core that remains and stays in place to keep you grounded. With that grounding, then other things can change.
Lest you think I have any personal big changes planned, I do not. I consider most of my life to be my rock. But things around me are changing at a rapid clip, and I am feeling that happen.
Seasons are in transition. Things at work are changing fast, and actually have been changing for some time. And the nation is changing too. This election cycle has been nothing short of the lunchroom at an insane asylum. Come November, things are changing for all of us, no matter how the voting goes. Even the world is changing. Both for the good and for the bad.
I'm not always very good with a lot of change. Some people thrive. Me, I get a little worried. It's my way.
But on that sunny Sunday in Northern California, a pretty little leaf became the perfect metaphor for what's going on inside of me.
And The Good Man, he understands that sometimes I need to bring home a leaf to best explain everything that's on my mind.
___________________
Because I can, I ran my leaf photo through the Prism app, which I just adore. My favorite of the conversions was this one.
Thought I'd share it too: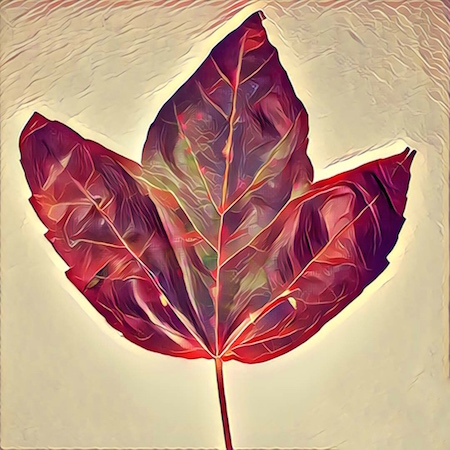 Same leaf, now artified

Leaf photos ©2016, Karen Fayeth, taken with an iPhone6, the Camera+ app, and the Prism app. Subject to the Creative Commons license in the right column of this page.