February 19, 2015 by
Karen Fayeth
·
Comments Off

on Coming Around To My Way of Thinking
Filed under:
addictions
,
awesome!
,
awkward
,
Boss Lady
,
business is business
,
candy
,
crazy
,
disapproving boss
,
first world problems
,
good eats
,
iPhone
,
iPhoneography
,
kerfuffle
,
latent childhood
,
life
,
make it work
,
objectophilia
,
Opinions
,
play through
,
polite
,
pondering
,
show and tell
,
silly
,
sugar
,
work
,
yes boss
It's been said before that I'm a little "different" from your average employee. The streetcar of my brain runs a little off the beaten path. I use words and phrases in unusual ways. Occasionally only words in Spanish can convey my sense of the sentiment and my coworkers don't always understand that.
With each job I've had in my life and each place I work, there always seems to be a breaking in period. A timeframe whereby things evolve from "what did she just say?" to "oh, that's just Karen."
I think today was turning point at my current place of employment. I just celebrated two years here and they are finally coming around to my unique way of looking at the world.
This group was a little more resistant than my last few employers, but I finally succeeded in breaking them down.
Here's how I know. Below is a real and genuine account of events that happened just moments ago:
Scene: The office breakroom. Several of my rock star employees and I are gathered around the new vending machine. The selections are different from what the old machine offered and we are discussing the merits of each.
At the moment where we tune into the scene, my employees and I are quite racously discussing the positives and negatives of sour gummy worms. And we are laughing…a lot (we tend to do that on my team).
A one level up management-type person (not my direct boss, but a bossish kind of person) and a rather serious sort walks into the room. My employees all go still and their eyes drop.
She says, "What are you all doing in here?"
Without missing a heartbeat I match her serious tone and reply, "We're negotiating with the vending machine."
She pauses. Says, "Oh." Then she spins around and walks out. I'm pretty sure she had a reason to come into the breakroom but I derailed her mental train. It was awesome.
Oh yeah, I'm going to be running this place soon. That kind of think of your feet, can-do attitude going to take me far.
Also, it's important to know that the sour gummy worms were delicious.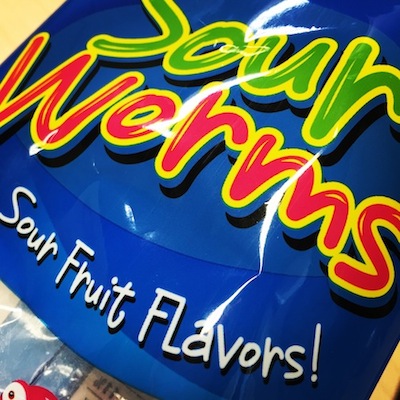 That there is my photo, Copyrighted by me in the year of 2015. © Karen Fayeth. Don't steal, though I don't know why you'd want to rip off a photo of an empty gummy worm bag. If you do want to appropriate my work, do pay attention to the Creative Commons license in the far right corner of this page. Taken with a iPhone6 and the Camera+ app.

February 17, 2015 by
Karen Fayeth
·
2 Comments
Filed under:
Albuquerque
,
amazing
,
automobiles
,
awesome!
,
beautiful
,
blue sky
,
bragging
,
daydreaming
,
gratitude
,
heart
,
in my 'hood
,
iPhone
,
iPhoneography
,
jewelry
,
latent childhood
,
life
,
light
,
Love
,
make it work
,
melancholy
,
memories
,
mi corazon
,
mobile phones
,
Mother Nature
,
New Mexico
,
nostalgia
,
Opinions
,
photography
,
photowalk
,
play through
,
pretty
,
road trip
,
show and tell
,
sunshine
,
travel
,
wayback machine
,
where I come from
,
woo hoo!
,
zen
,
zia
I've already shared this photo on Facebook but I wanted to share it again here because I sure have been looking at this photograph an awful lot lately.
While spending a few fun days in New Mexico a couple weeks back, I went to Bien Mur to look for a couple of gifts. I haven't been to Bien Mur since I was a teenager and it was so beautiful to be there on a sunny winter day.
The only sad part was that the shop had taken down their high shelves which used to house a collection of some of the most beautiful Kachina figures I have ever known. They are cemented in my memories. On this visit, the shop only had a few small Kachina figures. Perhaps the art of making the Kachina is waning? I sure hope not.
Anyhow, upon leaving Bien Mur, I took a right turn and headed east up Tramway, past the newish buffalo paddocks, and kept driving. The day was clear and bright and beautiful and I found that I had to immediately pull the car over and hop out and take it in.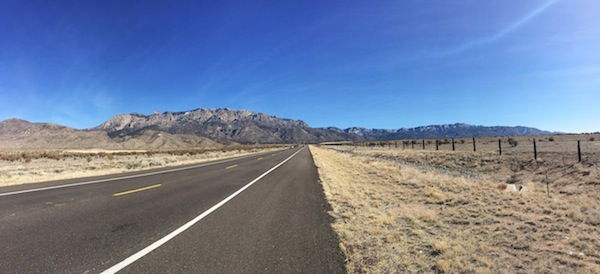 The camera on the iPhone 6 is pretty good and I've discovered that the pano feature on the native camera app works pretty darn well.
After several photographs, I simply stood and stared. And stared. How I love the Sandia mountains. How I miss using them as my directional device (as in…"if the Sandias are on my right, then I must be headed north"). How I miss the beauty, the open valley, the terrain of my homestate.
It was so comforting to be back in the arms of the mountains that protected me in my youth. I've hiked, skied, and just stood atop that high peak. I believe the folds and curves of the Sandia mountains can be found in my very DNA.
Back here at the office, I showed the photo to someone and they asked me how much Photoshopping I had done. I replied "Well, I took out a contrail, that's it."
"But you boosted the color, right? I mean, look at that sky!"
"Nah," I replied, "The sky really is that blue in the high desert."
My coworker walked away thinking I was exaggerating.
That's okay, fellow New Mexicans, we know the truth. It can just be our little secret.
My Fair New Mexico, our visit was all too brief. I count the days until we are together again.
Image Copyright 2014 © Karen Fayeth, and subject to the Creative Commons license found in the far right column of this page. Taken with an iPhone6 and the native Apple Camera app with only the most minor of Photoshop work. Because who can improve on something that pretty?