January 7, 2015 by
Karen Fayeth
·
1 Comment
Filed under:
amazing
,
automobiles
,
awesome!
,
awkward
,
Be Better!
,
beautiful
,
cackle
,
California
,
commuting
,
crazy
,
don't want!
,
doubts
,
game face
,
kerfuffle
,
laffs
,
latent childhood
,
life
,
make it work
,
miscellany
,
obviously
,
Opinions
,
play through
,
pondering
,
scared
,
show and tell
,
sunshine
,
The More You Know...
,
work
,
worried‬
,
yucky
That moment when you are sitting at stoplight as a pedestrian crosses with the light in front of your headlights and you notice that the morning sun is giving this gentleman a solid backlighting. As he is directly in front of your view, you notice that the hairs that extend well past his nostrils are beautifully set to glowing by the golden California sun.
And you think to yourself, "Oh wow. That's…well that's something." And you laugh alone in your car because why not. You can sing in there so why can't you cackle like a dyspeptic hen in there?
And as you turn the corner and head into the parking garage you think to yourself. "Don't laugh, sparky. There but for the grace of a nose hair trimmer go you."
So then you surreptitiously check both barrels of your own breathing device to see if the protective filtering is tidy and in place.
And you realize that, you know, you could use a little trim yourself.
So you sit in the car and in the morning light of a California sunrise and you use the scissors from your small Swiss Army Knife to give a quick clip, just enough to let your sanity rest during the day that lies ahead. Because no one should have to worry all day long about the nostril streamers that suddenly seem to grow with less control than they once did.
And when done, you feel both satisfied and mildly crazy and kind of blind because why didn't you notice a trim was in order when you looked at your tired face in the mirror this morning?
But alas, you did not. Then you vow to take care of this problem more fully later tonight. And you should probably put on your reading glasses and give the eyebrows a check too because I bet those are out of control.
And then you get out of your car and walk into the office and enter this crazy day in a crazy way with crazy hair growing in crazy places.
Did you ever have a day like that? Yeah, um, me neither.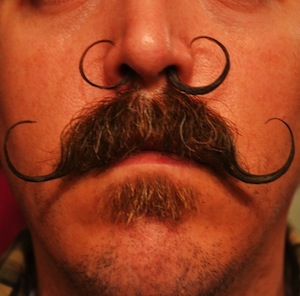 Image found here.

January 6, 2015 by
Karen Fayeth
·
5 Comments
Filed under:
air
,
anxiety
,
art
,
artist
,
awesome!
,
awkward
,
Be Better!
,
Boss Lady
,
business is business
,
cha-cha-changes
,
changing seasons
,
choices
,
cranky
,
da blues
,
daydreaming
,
disapproving boss
,
don't want!
,
doubts
,
drama
,
first world problems
,
game face
,
hellidays
,
I ain't as good as I once was
,
ideas
,
kerfuffle
,
latent childhood
,
lazy
,
learning
,
life
,
love and marriage
,
make it work
,
meeting hell
,
melancholy
,
metaphorically speaking
,
Opinions
,
overwhelmed
,
play through
,
sigh
,
stress
,
The Good Man
,
whining
,
work
,
worried‬
,
yes boss
Welcome to the sixth day of the year 2015 but only my second day back at the ol' place of work.
While technically the first of January is the first day of the New Year, it doesn't really feel like the New Year has begun until I go back to work, i.e. get back into the "real world."
My employer is ever so kind in that they shut down operations from December 24 through January 1. That means with a little planning and a little curation of vacation hours, I can eek out full two glorious weeks away from the office.
I look forward to this two-week break from work all year long.
All. Year. Long.
In my career, I've rarely taken two weeks of regular vacation time, so these two weeks at the end of the year feel beautifully indulgent.
My first priority for the break time is to sleep. Nap. Sleep more. Rest and then do nothing too taxing on brain and body. That usually lasts about three days then I'm rested and raring to go.
The rest of the break time is spent with family, exploring the world with The Good Man, cleaning up my home office/studio and working on creative projects.
I find I'm able to fully and completely forget about work and live the dream of a creative life. Sleep until my body is rested, rise and work on creative projects, fill my head with creative inspiration and plan forward for the projects I want to work on in the coming year.
It's a beautiful place to be, a place I'd live all year round if those darn lottery numbers would just break my way. It feels solid and satisfying and clean and pure.
And then sixteen days of being my own boss pass too quickly and Monday, January 5 arrives. I have to figure out how to get back into the flow of "regular" life. I have to metaphorically merge into speeding traffic with no running room and only two of four cylinders in working order.
Yesterday was that day. Yesterday I woke up with the help of an alarm clock (bleah, sixteen days of no chirping alarm was REALLY nice) and sat up in my comfy bed, bleary eyed and lost.
I tried hard to find the muscle memory to rise, to make some breakfast, to put on some clothes, where is my work badge?, move out the door and get to work on time.
When I arrived at the office it was all too familiar and all too unfamiliar.
It felt like I had changed. I was a different (and better) person as I swiped my badge and entered the office. Then I realized that work had not changed.
I came to my own little gray cubicle and there was all of my same stuff I'd left behind, but it looked alien.
The laptop machine asked me for a password and I had to think very hard about it. Took a couple tries at it and finally remembered.
Have you ever seen baby ducks when they are following their Mama Duck into the water? It often looks like this: Mama slides effortlessly into the water and her eight to ten ducklings slip, slide, belly flop, and unceremoniously plop themselves with a splash behind her.
For a moment, the water crests over the top of their head, then the ducklings one by one pop to the surface like popcorn and start swimming.
It was very much like that yesterday. I fell uncoordinated and perilously off the vacation ledge into the bracingly cold pool of work. I grasped for stability for a little while and then I found my feet and began to paddle. By the afternoon I was moving more or less in a forward manner.
So that's the New Year. A little bit new, a lotta bit old. I suppose all of the inspirational quotes are true. It's up to me to make 2015 a really awesome year.
Forward into battle! *splash*cough*splutter* Okay. Now, here we go.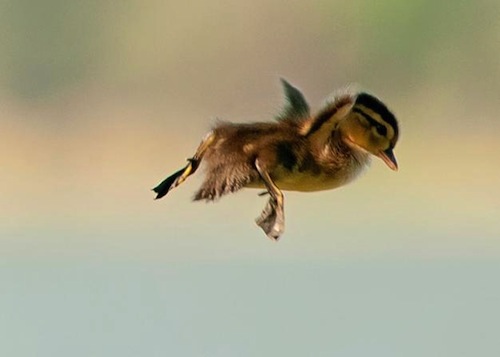 "Hoooooly craaaaap"

Image found here.