August 26, 2014 by
Karen Fayeth
·
Comments Off

on Tell It Like It Is
Filed under:
art
,
artist
,
awesome!
,
awkward
,
celebrity
,
charming
,
dia de los muertos
,
Frida
,
Frida Kahlo
,
gratitude
,
history
,
laffs
,
learning
,
life
,
love and marriage
,
make it work
,
melancholy
,
Mexico
,
mi corazon
,
Opinions
,
painting
,
peculiar
,
play through
,
pondering
,
self esteem issues
,
show and tell
,
simpatico
,
The Good Man
,
The Muse
,
words
,
writing
Over the weekend, after another rough week at work, The Good Man and I found our way to the big main branch of our city's library. It was like an awesome haven from the mean old world.
I immediately found my way to the fifth floor where they keep the art books. I needed an infusion of art and creation in my life to erase the financial and business blues of my workweek. I decided I wanted to look at some Frida Kahlo prints. I am a huge fan of Frida.
As I plucked a slim book of her paintings off the shelf, I found another small book hiding behind it. It was a book of letters written by Frida to her friends and family.
I love reading old letters. You learn a lot about who a person was (or is) by reading their handwritten letters.
I had always thought that Frida was so strong, powerful, fierce and uncompromising.
Boy was I wrong. Through her letters, I found her to be very sweet, quite insecure, and almost childlike.
She often would write letters to friends and ask their advice on big life decisions. For example, at one point her husband, Diego Rivera, had a terrible infection in his eye that had spread to the side of his face. She asked a friend, a fellow painter, if he though she should take Diego to New York to see American doctors or stay in Mexico and take the guidance of Mexican doctors.
Now that seems like a pretty big life crisis, something you would want to decide along with your husband and instead she was soliciting, nay begging for, the advice of a friend. She actually did this quite a lot, begged her dear friends to tell her what to do.
I found that so counter to the fierce woman I see through her paintings.
And then, over time, as she got older she did seem to become a lot harder edged. A lot more sarcastic and passive aggressive.
Clearly the philandering ways of her husband and his over bearing need to be controlling had taken a toll on her psyche.
That and years and years of immense pain in her spine, leg, and foot, all massively unresolved injuries from an accident in her teens.
Her physical and mental anguish become so forceful, it drove a little bit of the lightness out of her words. She became more bitter. And so maybe that is the Frida I came to know, the rough around the edges and hard woman who had been hurt too much.
But even then, as I understood how she could come to be that way, I was a bit shocked to read (in the book) a quite long essay that was to accompany an exhibition meant to honor Diego Rivera.
I came across this section and burst out laughing. I mean, wow.
Here, read it and see what you think. She is describing Diego's physical form from many angles. In this section she refers to his chest:
"Diego's chest — of it we have to say, that had he landed on an island governed by Sappho, where male invaders were apt to be executed, Diego would never have been in danger. The sensitivity of his marvelous breasts would have insured his welcome, although his masculine virility, specific and strange, would have made him equally desired in the lands of these queens avidly hungering for masculine love."
Um. Did she just say her husband had moobs? Cuz I think she did.
In another section she describes seeing him naked as looking something like a child frog. Paraphrasing here, she said that his skin takes on a greenish tone and is pale under his clothes and only tan in his face and hands.
Yeah. Green moob guy. Awesome.
This was, I'm sure, taking a bit of her own pound of flesh from him for the years of unkindness. And also a bit of the ol' anti-bourgeoisie taking the piss out of what might have been a flowery ode to her husband.
I'll tell you what, that image is sure going to stick with me for a while.
Actually, the whole book will stick with me for a while. The letters so quaint, so childlike and such a deep glimpse into one of my creative heroes. Quite something.
Oh, and she liked to invent words of her own. My favorite was when she would refer to her life or other things that were not working out as expected as fuc-bulous. Oh yes. I can use that. I may have to adopt it myself.
Next up, I have on my bedside table a book of letters by Vincent Van Gogh. He was quite prolific in his letters to his brother, and it is a thick tome. I am both wary and excited to dip in.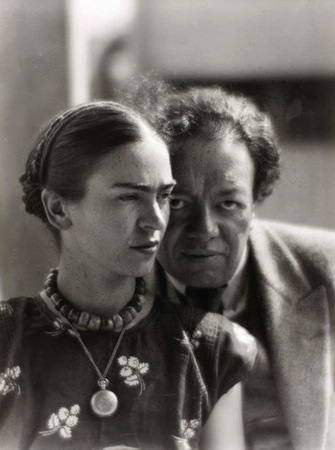 Photograph by Martin Munkácsi

Image found here.

August 12, 2014 by
Karen Fayeth
·
2 Comments
Filed under:
aeroplanes
,
Amsterdam
,
art
,
artist
,
awesome!
,
awkward
,
bragging
,
curious
,
dinero
,
fun
,
gratitude
,
jet lag
,
lazy
,
learning
,
life
,
make it work
,
memories
,
mi corazon
,
miscellany
,
monkey mind
,
nostalgia
,
objectophilia
,
Opinions
,
our happy home
,
play through
,
show and tell
,
silly
,
the globe
,
The Good Man
,
travel
,
woo hoo!
,
zen
Ya know, the ol' brain, she ain't what she used to be. Let's be honest, my memory always was more of an old gray mare than a fast running thoroughbred.
Over the weekend The Good Man was going through our bag of bags (I'm pretty sure everyone has a bag of bags, right? The place you store plastic and paper grocery bags for reuse) looking for just the right fit for the job he had in mind.
He pulled out a plastic bag that had travelled its way from Amsterdam to California that was just the perfect size. He said, "Oh? Are you okay with me using this bag or do you want to keep it?"
I said, "Nah, no need to keep it, go ahead."
He opened it up and in the bottom found a paper receipt that he handed to me. "You probably want this," he said.
The receipt looked a lot like this:
Hmm. One Euro. What the hell did I pay one Euro for in Amsterdam? I found that country to be pretty darn expensive and don't recall anything costing just one single Euro.
It's from the Van Gogh museum, so that's a clue.
I was really stumped. My mind slipped into the Swiss cheese hole full of nuthin'. I had zero recollection. For a moment I thought it wasn't even my receipt, that maybe I had inadvertently picked up someone else's.
And then…dull like the backside of a piece of foil, a light came on.
I saw the description "kids juggling Van Gogh" which brought many hilarious fictional images to mind, but then that confused me even more.
I had to work at it. Sweat it a little bit. Strain the brain tendons.
Ah! Yes! I remembered! A forgotten moment. The synapses reattached and the focus ring turned and I could see it clearly.
Me, in Amsterdam, on a rainy Monday. It was late afternoon and the Van Gogh museum was closing. I had prowled all four floors, hungry to see everything. I actually toured it twice. Bottom to top and then top to bottom. In the last thirty minutes of museum hours, I went to visit all of my favorite canvases one last time, like saying goodbye to cherished friends.
On the way out, visitors are forced through the gift shop and as doors were locking, I made a hasty and impulse purchase. A funny card made for kids picturing a stylized Vincent Van Gogh juggling paint blobs. It made me laugh, so I took it to the register.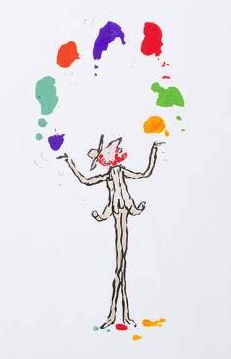 Image copyright belongs to the Van Gogh Museum Shop

The cashier said "That will be one Euro." Through bleary jet lagged eyes, and too lazy to put on my reading glasses, I held up a coin. "Is this one Euro?" I asked.
He smiled as he might to a precocious child. "Yes. That's a Euro."
I held up another coin, "That's a two Euro, right?"
He smiled again, "Yes, ma'am. The larger coin is two Euros."
"Okay, thanks. Here you go," I said and dropped the one Euro coin into his hand.
Then I reluctantly left the museum, a place I could live, and walked out into the Amsterdam evening. I was overwhelmed with all I had just seen in the museum, hungry, tired, lost and pretty calm. I was filled to blissful capacity with art and creativity and color and joy.
I found a bench on the edges of the Museumplein, a gigantic green park in the heart of Amsterdam, and sat. And watched. And listened. And did what became my most favorite thing to do in Holland: people watch.
On this most recent sunny and muggy Sunday in California, I remembered the noisy but pleasant park, watching the funny multicolored crows hop around, feeling my own bones weary from jet lag, and the unmistakable sense of peace.
It was a nice memory. One that had slopped over the side of the brain bucket and almost got away. Now retrieved, embedded, made solid.
That's the funny thing about memory, it runs like quicksilver, but catch it, hold it in your hand long enough to let the synapses meet up, and you have something tangible.
I had forgotten my one Euro moment. Thanks to a paper receipt at the bottom of a plastic bag, now I'll remember it forever.

August 5, 2014 by
Karen Fayeth
·
Comments Off

on My New Nickname
Filed under:
angry
,
anxiety
,
audit
,
awkward
,
Boss Lady
,
business is business
,
charming
,
cranky
,
cursing
,
disapproving boss
,
doooooom!
,
drama
,
first world problems
,
gratitude
,
growing up
,
I ain't as good as I once was
,
indignant
,
irritated
,
kerfuffle
,
learning
,
life
,
love and marriage
,
make it work
,
mean people
,
meeting hell
,
Opinions
,
overwhelmed
,
people are people
,
play through
,
polite
,
politics
,
pondering
,
powerful woman
,
relax
,
sigh
,
silly
,
stubborn
,
The Good Man
,
truth is stranger than...
,
work
,
worried‬
,
yes boss
,
yucky
This morning I geared up my mind and girded my loins for an important meeting. The event was a compliance review on a big project that I am working through. This project is the cause of many long hours, at least three migraine headaches and a lack of sleep. This compliance review is the last bit of internal check boxes required before we can implement this project fully and completely.
That I was even sitting in the room having the meeting is a gigantic achievement for this challenging project.
That said, I don't necessarily have the cleanest track record in these compliance review meetings. About a month ago in a similar meeting for a different project, I lost my cool and let the chairperson have a bushel full of how I really feel.
After which I was "spoken to" by my manager who mostly empathized with me. I stand by what I said, and told my manager as much. I was simply asked to "try a little harder" next time.
Because there is always a next time.
Today I had to go back in there and keep the end in mind. I knew if I was able to get through the compliance meeting, and get approvals, that I would be able to finish this project that has me burning out quickly, turning into a crispy little Karen.
The order of the day was calm. Serene. Peace.
Now, I realize that not all of my fair and wonderful readers know me in person. If you do know me in person, you could know that calm, serene and peaceful are not adjectives often used to describe yours truly.
But I had to "try a little harder." So I did deep breathing and a few deep knee bends before the event. I got to the meeting room early and got situated. I planted my feet on the ground and made a promise to myself that I would stay calm.
As the meeting progressed there were times where I wanted to say what was really on my mind, but somehow I magically refrained.
"Okay. What would you like to see in the documentation?" I said calmly and not at all snarkily. I felt the inner snark but I kept it tucked away under a beatific smile.
When all was done and I had the full list of changes and corrections, I walked out of the conference room and back to my desk.
Where I texted The Good Man the following:
"You oughta f—–g nickname me Buddha after that last hour of my life…."
You see, he knows me all too well and he knows I had this important meeting today. Then I followed it up with:
"I ohm'ed the sh*t out of that meeting."
And then I took to Google where a short image search netted me the perfect image, which I also sent to The Good Man to further emphasize my point.
And that about sums it up.
Just call me Buddha, bitches.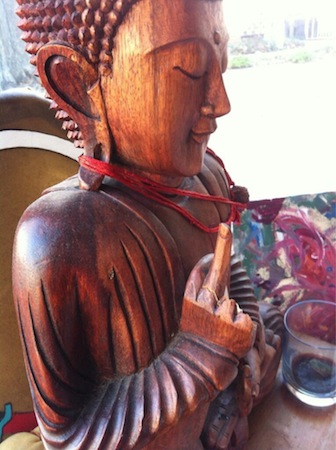 Image found here.