July 28, 2014 by
Karen Fayeth
·
1 Comment
Filed under:
addictions
,
amazing
,
anxiety
,
awesome!
,
awkward
,
Be Better!
,
brain
,
business is business
,
crazy
,
daydreaming
,
first world problems
,
gratitude
,
iPhone
,
iPhoneography
,
latent childhood
,
lazy
,
learning
,
life
,
make it work
,
office supplies
,
Opinions
,
play through
,
pondering
,
show and tell
,
silly
,
woo hoo!
,
words
,
work
,
yes boss
In those heady days of youth when skin was firm, recovery time was fast and the brain still spongy, I remember thinking "pfft, I don't need to use lists to remember things. That's so lame."
Then somewhere in my late twenties I had to make the hard admission that my memory was just never going to be what I wanted it to be. I thought it would always be easy to remember things, and then suddenly it wasn't so easy. Too many seemingly obvious missed items at the grocery store and dammnit, you start to love a real honest to goodness list.
So I started, grudgingly, making lists. Usually only a couple items on a sticky note, words to jog the brain. Over time that just wasn't enough. The random words were no longer enough to evoke memory. I had to put down multiple and specific words. No longer could I trust my brain at ALL. These were dark days, indeed.
Years passed and my eyes got worse and my hair more gray and the little lines at the corners of my eyes were no longer laughs but crows, and I learned to love my Swiss cheese memory.
These days I am all about my to do lists. I write one up, by hand, every few days at work. Hand writing the tasks helps me to have SOME potential for a wispy memory of them.
I get out a shiny orange Sharpie and then I get all of those pesky things I am supposed to remember down onto a big sticky note. Once written, it feels good to let them go. No longer does my brain have to work to keep important tasks retained, nope. I can fill the brain holes with mental cotton candy like the score of last night's Giant's game (don't ask) and the fact that there is going to be a Sharknado 2 (not that I saw the first one).
I love my lists so much that I actually keep some of lists that have all of the tasks marked off. It's a keepsake to show me that busting my butt at work really does matter. A visual and handwritten progress bar that keeps me motivated.
There is a little dopamine blast I get when I check several items off the list. Yeah baby, that is the stuff. Gimme some more.
I even like to use the British colloquialism "tick the box" instead of check mark because "tick the box" is fun to say. It makes things feel official and proper and oh yeah, there's that dopamine rush again. Gimme, gimme, gimme.
Seeing an unticked list doesn't demoralize me, it peps me up. If I work a little harder, stay a little more focused, I can get out the black Sharpie and POW! Mark off the list. That little huff of Sharpie ink. The sound of the pen across the words. The tingles in my spine. The smug satisfaction I feel. Yeah. Love it. Love everything about it.
Even making the little fake list for the end of this post was utterly satisfying…
I should probably get help.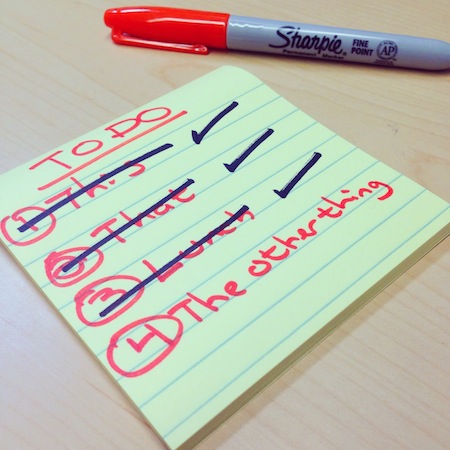 Photo and To Do List © 2014, Karen Fayeth, and subject to the Creative Commons License in the right column of this page. Taken with an iPhone5 and the Camera+ app.

July 21, 2014 by
Karen Fayeth
·
Comments Off

on Metaphors. What Are They Good For?
Filed under:
air
,
anxiety
,
awkward
,
Be Better!
,
business is business
,
choices
,
don't want!
,
exercise
,
first world problems
,
gratitude
,
grumptacular
,
humility
,
I ain't as good as I once was
,
kerfuffle
,
learning
,
life
,
Love
,
love and marriage
,
mah feets
,
make it work
,
meeting hell
,
metaphorically speaking
,
miscellany
,
Monday
,
Opinions
,
overwhelmed
,
play through
,
pondering
,
progress
,
signs
,
stubborn
,
sweaty
,
The Good Man
,
they call it stormy Monday
,
truth is stranger than...
,
walking
,
work
,
worried‬
,
yes boss
The other day at the ol' place of employment, I had an early meeting at another site and then came back to my particular office building, which meant parking on the top level of the parking garage. Ugh.
Early on with this parking garage, I made myself promise that no matter where I parked, I would take the stairs to get to my car. No elevators. Just a little extra exercise in the day. So when I get here early, I have one flight of stairs. When I get here late, I have five. That's how the ol' cookie crumbles.
So after starting really early in the day at an off site meeting and then running like my hair was on fire in the office all day long (gigantic project brewing with very hard deadlines and a press conference to announce it coming up too!) I was pretty dead tired at the end of the day.
I stood at the bottom up the steps looking up mournfully. Five flights? After the day I had? I was determined to keep my promise to myself and I lifted heavy legs up and up and up the stairs.
Around the fourth floor I started feeling gassed. Each step felt harder than the last. It felt like gravity was actively defying me with every lift of my knees. Finally, exhausted and sucking oxygen I made it to the top floor, stumbled to my car and flopped inside.
That last flight really got to me. As I stepped, I had the kind of pondering thoughts that my brain often makes to keep me entertained. Were those last steps so difficult because my leg muscles were wearing out over the sum total of steps? Or does it become harder to slip the surly bonds of gravity with each flight? Or some combination of both?
And that struggle, that last mile difficulty, well, it started to feel like a metaphor. For my job. I am (to use yet another metaphor) rounding third base on this gigantic project and certainly headed for home plate, but this last leg of the journey is proving to be the most difficult.
Here's another metaphor. I can see the summit of this mountain, but the last 1,000 steps are straight uphill with no room or time to rest. Each day feels a little harder. Each moment is fraught with worry.
In about two weeks I will summit this sumnabitch and I will be glad I did. In a few months I will look back and it won't seem all that bad. But right now, looking up, knowing I am so close but knowing all that I have to endure to get to the other side, it feels daunting.
It feels like gravity actively puling me down, down, further toward the ground. Yeah, climbing five flights of steps feels like a metaphor, and not a bad metaphor at that.
But what good is the metaphor? I still have to climb the steps. I still have to complete the journey. And I have not get so focused on the pain and agony and effort of each step that I forget to remember home and the loving arms of The Good Man wait on the other side.
It's worth climbing those steps if only because it means I'm one step closer to him. What is a difficult journey without a meaningful destination?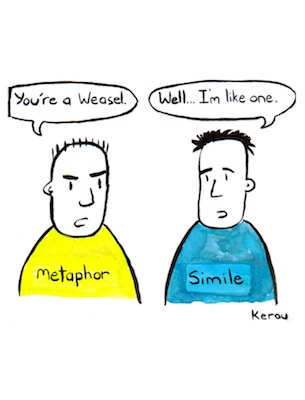 Image found here.

July 18, 2014 by
Karen Fayeth
·
4 Comments
Filed under:
addictions
,
adorable
,
amazing
,
Amsterdam
,
anglophilia
,
awesome!
,
awkward
,
beautiful
,
bloody Brits
,
bragging
,
Britain
,
business is business
,
cranky
,
disappointed
,
Dublin
,
first world problems
,
fun
,
gratitude
,
indignant
,
Ireland
,
life
,
London
,
Love
,
make it work
,
Opinions
,
overwhelmed
,
play through
,
sleep deprived
,
the globe
,
travel
,
truth is stranger than...
,
weirdity
,
whining
,
work
,
yes boss
Oh boy is it gone. I have, for years, gone on and on in the pages of this blog about my personal anglophilia, a love of all things British.
Perhaps it's time to invoke the saying "familiarity breeds contempt" as it applies to my waning interest in the sovereign subjects of the Queen.
Oh, I suppose those oddball Brits will find their way back into my good graces, but it may take a while. The reason you haven't seen a lot of my words around these pages and the reason I had the great fortune to travel to Dublin and then to Amsterdam over the past months was due to a very large project that is rapidly boiling along at my place of employment.
One of the main reasons I was hired to work for this joint was my previous international experience. My current employers don't do a lot of that and what it takes to become a world player is quite substantial, so this project is been groundbreaking in many ways.
We're far from over, but we're getting there. I have been cooped up in conference rooms in three countries and participated in many video conferences with a group of very standard issue British citizens. And they are starting to wear me quite thin.
That fun little lilting British accent starts to grate the nerves after ten hours of intense negotiations.
That cheeky sense of humor makes you want to punch a wall.
That squishy style of confrontation makes you long for a Clint Eastwood style smack across the chops.
When I went to Britain two years ago, I delighted in every moment I was there. The food, the sights, the people, the everything! Even inspecting all of the coins and bills felt so dear to me.
Well, that was fun, but the fun's worn off.
I now see the good people of Britain in a much different light. I once heard that "moaning (the British term for complaining) is the national pastime." And that wasn't even a joke. The ability to complain about everything from the idiosyncrasies of residents of other countries (a much beloved pastime) to the temperature of the water from a water cooler (not making that up) is an art, a sport and a hobby. All the whining gets to an American soul after a while.
I know Americans are often viewed as being far too friendly and upbeat, and I've been known to gripe with the best of them, but sometimes you just want to have a moment where every little thing is simply going to be all right.
You know who really ruined the Brits for me? The Irish. At this moment I can hear the screams and howls of my UK colleagues. They have told me, repeatedly, that the Irish are boring. Pretty standard opinion.
The Irish are anything but boring. They are the most cheerful, upbeat, hilarious people. Take a long gander at Irish history, look at the waves and waves of hellfire and damnation they have endured. Including the most recent thirty years!
Look at the strife, the upset, the horrors they have baked into their DNA. And then tip a pint and laugh your ass off, because the good people of Ireland won't complain. They'll laugh about their own misery, joke about their pain.
So maybe my Anglophilia is now Irishphilia? Yes, I did just make up that word, why do you ask?
In the time I spent in Dublin I found all of the things I liked about England with none of the complaining. And a cracking good sense of humor.
Maybe what happened is the Irish stole my love for the Brits and did so with charm and a gleam in the eye. The reserved, closed in, afraid to be embarrassed, must complain even when having fun British suddenly look, well, dare I say? Boring.
Take me back to Ireland, I still have some fun to attend to there!
Or, perhaps, let me finish my big project and back away from these fine British citizens for a while. Time and distance may make my heart grow fonder.
(The irony is not lost on me that I spent almost 700 words complaining about people who complain.)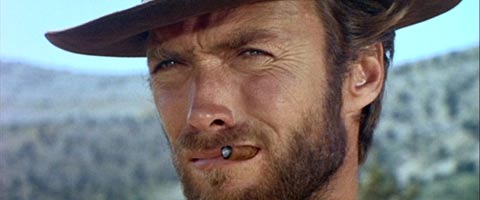 Image found here