May 27, 2014 by
Karen Fayeth
·
Comments Off

on My Fair New Mexico, In the Zeitgeist
Filed under:
aeroplanes
,
air
,
Albuquerque
,
amazing
,
awesome!
,
awkward
,
bragging
,
business is business
,
curious
,
first world problems
,
gratitude
,
homesick
,
iPad
,
Ireland
,
irony
,
jet lag
,
life
,
mi corazon
,
movies
,
New Mexico
,
Opinions
,
pondering
,
show and tell
,
the globe
,
where I come from
,
woo hoo!
,
zia
When I travel internationally (or even in the US) I know I have to find many ways to distract my monkey brain. Sitting still in a seat for flights that last anywhere from six hours to sixteen hours means I have to bring a lot of toys and distractions on an airplane to keep me sane.
Lately the best and easiest distraction for me is to load my iPad with movies. Good long movies that will help me while away the hours.
On this recent round trip to Ireland, I had four movies on my iPad and watched two more on the plane. Six movies, all told, have been absorbed into the ol' brain pan.
They were: "American Hustle" (awesome movie!), "Don John" (far better than I had expected), "The Great Gastby" (far worse than I had expected), "The Secret Life of Walter Mitty" (way better than expected as I expected to fully hate it), "August: Osage County" (was a little hard to watch, hits too close to home and is rather depressing), and "The Wolf of Wallstreet" (eh, I was lukewarm).
So as I found myself locked and loaded and flying the skies, it was kind of funny to stumble across not one but two references to my fair New Mexico in these movies. A little "hello" from my homestate as I flew thousands of miles away.
The first was in American Hustle. (spoiler alert!) The character Sydney (Amy Adams) has been affecting a British accent and a faked up backstory of being a British aristocrat and finally has to come clean. She and Irving (Christian Bale) are fighting and she admits not only is she not British with ties to banking and business in England, she's actually just a girl from Albuquerque, New Mexico.
This made me pause. What am I to take from this? She's not a big time global force, but a simple girl from New Mexico?
Or do I infer that she learned her hustle in New Mexico? Hell, I don't know and really it doesn't matter, but it was a little startling to hear the name Albuquerque casually tossed about. However, I was a happy for the name check of my hometown in a big time movie. The Sydney character is pretty cool.
The other reference came along in "The Great Gatsby" when Tom is riding in a car with Jordan and speaking ill of Gatsby, as they have just had an unpleasant encounter in a hotel room in New York City. Tom is apoplectic and the dialogue goes something like this (parentheses added by me to make the speaker clear):
"An Oxford man!" He was incredulous. "Like hell he is! He wears a pink suit." (said Tom)
"Nevertheless he's an Oxford man." (said Jordan)
"Oxford, New Mexico," snorted Tom contemptuously, "or something like that."
From that exchange I certainly could infer what was being said. Oxford, New Mexico said contemptuously. As though New Mexico is the most backwater place a rich man from East Egg can think of.
That one made me wince a little, even as I was pleasantly startled to hear New Mexico called out again, in another movie.
A little research showed me that this dialogue is in the actual book by F. Scott Fitzgerald, which I read a thousand years ago and didn't remember this.
But there it was, in a blockbuster movie!
I'm not entirely sure why New Mexico is in the zeitgeist these days, maybe it's chalked up to "Breaking Bad" or maybe it's something else, but hey here we are in the big time.
Not sure how I feel about that, really. Sometimes it's best to keep our something very nice as something very secret.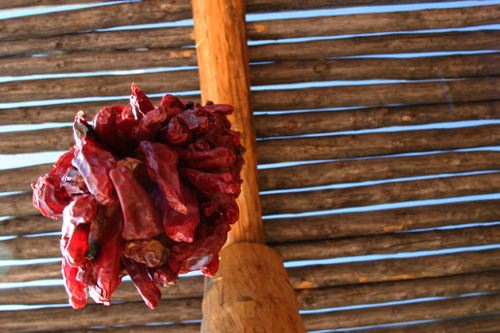 Went back to the very first post on this blog to snag this photo, one of mine. It just seemed right.

Photo of ristra Copyright © 2007, Karen Fayeth, and subject to the Creative Commons license in the far right column of this page.

May 25, 2014 by
Karen Fayeth
·
Comments Off

on Beginning at the End
Filed under:
amazing
,
anxiety
,
awesome!
,
awkward
,
beautiful
,
bebidas
,
beer
,
borracho
,
bragging
,
business is business
,
curious
,
Dublin
,
friends
,
fun
,
gratitude
,
happy
,
iPhone
,
iPhoneography
,
Ireland
,
karma
,
laffs
,
learning
,
life
,
Love
,
make it work
,
meeting hell
,
memories
,
Opinions
,
optimism
,
overwhelmed
,
people are people
,
play through
,
politics
,
pondering
,
selfie
,
sensitive girl
,
show and tell
,
silly
,
skeerdy cat
,
stories
,
stubborn
,
The Good Man
,
The Muse
,
tradition
,
woo hoo!
,
work
,
worried‬
,
writing
When I have had a big event, a big adventure or just something interesting happen in my life, I almost always have to spend a little time processing it, usually out loud and on these pages.
Having just returned from a weeklong trip to Ireland, I'm pretty sure that readers here will be treated to (tormented by?) several posts about my days in Dublin. I had such a wonderful time and I want to get all the stories out and onto the page.
The question is, where to begin? Some would say start at the beginning. Some would say start somewhere in the middle when things begin to get good. Others still say to start wherever you want.
The thing is, I usually don't get a say in where to begin telling a story. The Muse has a mind of her own and she tends to open one sliding door in my mind to show me what she's interested in, while keeping the other doors firmly closed until she's good and ready.
What I mean today is that there is one story, one experience, that keeps replaying in my mind. It is the sum of my entire view of Ireland and probably belongs at the end of the entire tale.
But why cave to the convention of putting the end of the story at the end? This is what I want to write, so this is what will be written. For today, at least.
Here we go…
The hotel where I stayed was in a rather upscale suburb of Dublin named Donnybrook. Back in the day, Donnybrook used to be the scene of an event called the Donnybrook Fair. And by "back in the day", I mean like the 1200's through the 1800s.
Evidently that event turned from a nice twelve-day fair, fun for the whole family, to a drunken brawling event. In fact the very word donnybrook has come to mean a brawl or fracas.
The Catholic Church took a dim view of this debauchery (as they are wont to do) and ultimately lobbied for the fair to shut down, mainly by building a church right at the event site.
This is a great story, I love it, but it's kind of tangential. Let me get back on track. In this wonderful Donnybrook neighborhood, there are quite a few shops, restaurants and a couple pubs.
One of the pubs, named McCloskey's, was about a half a block away from where I was staying. I could see it from the window in my hotel room.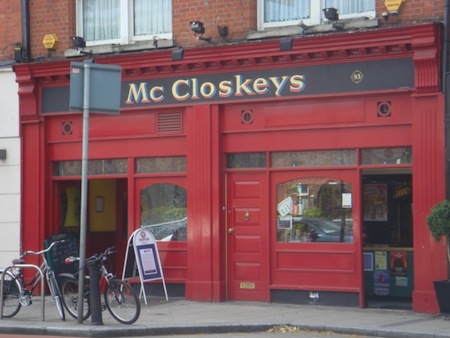 Image found here.


I had walked past the place quite a few times but was never brave enough to go in. Something about genuine pubs kind of intimidates me. It's a mix of the expected amount of hesitation being a woman going into a bar alone, and my propensity to overworry that I'll somehow say or do something that breaks the unwritten protocol of the pub.
I also never am sure how Americans are perceived so it's always a little tentative for me. Which is silly because of the pubs I've encountered in the UK and now Ireland, it's always been a lovely experience.
On Thursday after what had been a busy and intense workweek, I decided to go inside McCloskey's. I was hungry, I love pub food, and I was in desperate need of a pint.
With a deep breath, I opened the door and went in. I walked the length of the place to give it a look-see and decided to stay, taking up a corner seat at the bar.
The bartender was a fireplug of a man, in his early fifties, with a pugilistic look about him and a vibe that was clear he knew how to run a pub. He could and would toss your ass out without hesitation and with force.
He came over and slid a napkin on the bar like skipping a rock and asked, "What'll you have?"
"A pint of Guinness," I replied with confidence. He nodded with a grunt and poured the beer. In hindsight, I should have just said "A Guinness," the pint is understood.
What a lovely pint it was. A perfect pour, the perfect temperature, perfect creamy foam on top. Oh yes. I wanted to take a picture of it so I could always remember that beautiful moment, but thought better of it. It felt like the bartender may take a dim view of selfies and Instagram in his pub.
As he set the pint down I asked, "Can I order some food?"
"Er, yeah, we have a stew, the fish and something else I can't remember" he said.
"I'll have the fish," I said.
"Fish and chips, you know?"
"Yep!"
He grunted again and went off to the kitchen to place the order. I sat there feeling tense and sipping my beer. There were really only about four people in the pub, all quietly drinking and keeping to themselves. 1970's disco played from a small boom box to fill the atmosphere.
Next to me was a stack of local newspapers so I picked one up and read it, giving me something to do as I sat alone and tried to act normal.
After a bit my food came and it was so delicious. Light and crispy cod, perfect chips and slices of tomato. I ate it joyfully and drank my Guinness and suddenly everything was really right with the world.
During this time, the bartender mostly ignored me. He was friendly but distant. Gruff but fair, I suppose, and that was fine.
While I ate, a group of people came in. They were obviously all family, and they took up chairs and seats around several tables. Then more and more kept arriving. There were probably twenty or more people and one older gentleman with graying hair was buying all the drinks.
These folks were all in a good mood and talking excitedly. At one point someone teased the older man about "never being around" and he tipped his pint glass to them and said, "now that's one thing you can never say about my term! My opponent can't say the same."
It was then I sussed out that this might be a local politician. I heard someone call him by his first name and as I was texting the play by play to The Good Man, he did a quick Google search and we discovered I was in the pub with the local councilman. Elections were due to be held the next day. My guess is he was out celebrating the end of his campaign run with friends and family.
As the crowd grew, it became such a convivial atmosphere. I sat next to one of his daughters and we chatted and laughed. Her son, who looked to be about five, ordered a cranberry juice and wanted it served in a Guinness pint glass. Everyone bought and ate small cans of Pringles.
As ever more people kept piling in, I kind of felt like I needed to get out of there. I'm sure I could have stayed and been fine, but I started to feel like an outsider.
So I hopped up from my barstool and went over the cash register where the bartender stood. He turned to me and I said, "I'd like to tab out, please."
"Oh sure," he replied and began ringing me up.
"That will be twelve euros fifty," he said. I handed him a twenty euro bill.
He took it and looked me, touched my hand and said, "You doing okay, darlin'? Was everything all right?" with genuine concern in his eyes.
I replied, "Yes, it was great. I'm…I'm just a little jet lagged and very low energy."
He had a sparkle in his eye when he smiled, then tapped my hand again and said, "That's okay, darlin', you still look gorgeous!" He laughed like a schoolboy while he got my change.
He put the bills and coins in my palm and said, "now you have a good night, eh?"
I left the pub with a smile on my face. Now that, the whole story and everything in it, that's Ireland to me.
It is a wonderful, charming and friendly place. I loved every minute of the time I spent in the city of Dublin and the district of Donnybrook.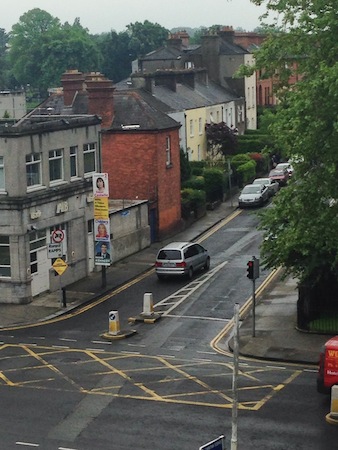 A view from my hotel room. Lovely! Copyright © Karen Fayeth, 2014

May 7, 2014 by
Karen Fayeth
·
4 Comments
Filed under:
anniversary
,
anxiety
,
artist
,
awesome!
,
awkward
,
Be Better!
,
birfday
,
borracho
,
business is business
,
Celebration
,
cranky
,
curious
,
da blues
,
don't want!
,
drama
,
gratitude
,
growing up
,
happy
,
kerfuffle
,
latent childhood
,
learning
,
life
,
love and marriage
,
make it work
,
melancholy
,
memories
,
Music
,
nostalgia
,
Opinions
,
our happy home
,
overwhelmed
,
photography
,
play through
,
pondering
,
stubborn
,
truth is stranger than...
,
wayback machine
,
where I come from
,
writer
,
writing
,
yes boss
Mother, mother ocean, after all the years I've found
My occupational hazard being (that) my occupation's just not around
I feel like I've drowned, gonna head uptown

–"A Pirate Looks at Forty" by Jimmy Buffet
Yeah, I might be taking a few liberties with a very fine Jimmy Buffet song that did not make a lot of sense to me when I was in my twenties and seems rather spot on now.
I find myself sneaking up rather quickly on the milestone age of forty-five. Or rather it's sneaking up on me. What a milestone, I'm not even sure what it means. There are ages old enough to vote, old enough to drink, and then it all kind of gets muddled after that.
At this point in my life, I'm in a place where I don't love my birthdays most years. For reasons that aren't clear to even me, this particular trip around the sun is a little rough on me. Or maybe they are all a little rough on me these days.
And so weirdly (or not so weirdly) enough I have been thinking about that Buffet song dating back to the jolly era of 1975. The song is about a man who laments the fact that he was born too late to be a pirate. Jack Sparrow kind of pirate, not Somalia kind of pirate.
The man in the lyrics looks at his life and wonders what might have been. I have a very rich internal life and while I love my life today, I do often think about the what-ifs.
Yo ho ho, the pirate life isn't quite the one for me, but I do have laments of being born too late. A hazard of the years going by, I suppose.
I'm not so unlike the main character in "Midnight in Paris" who wishes to live in the era where writers were valued and were paid quite well for their work. Where art wasn't as much of a business as it is today.
I recently read a biography of Zelda Fitzgerald and grew ever more green with envy over how Scott Fitzgerald could keep them in a very high life simply by writing and publishing a few short stories.
I'm not implying he didn't work hard at his craft. I've read some of his shorter works and of course "The Great Gatsby" and the man could write. But he also had a venue for those stories, popular magazines that were both willing and able to pay.
Oh to live a life where I could install myself in a Parisian pub with a bottle of Spanish red and write my words. Then know I might get many rejections, but when I get that "yes" that it really meant something on a large scale.
I was singing this sort of tune in my head over the weekend and because Fate is one hell of a comedian, I received an acceptance on an essay I had submitted to a very fine online publication. I am quite proud to contribute to this literary magazine, but the timing couldn't have been more humorous.
One of my coworkers recently had occasion to read one of my published short stories about a scuba diver (if you haven't read it, I'll direct you to the right column of this page). She is also a scuba diver and she liked the story very much.
"You are such a talented writer! Why do you do this job?" she asked, and laughed.
"Because that doesn't pay, and this does," I said and sighed.
Oh, it could. Maybe one day. With a lot of work and a lot of sweat and a lot of blood and a mountain of rejection letters under my feet.
But as I sidle up to age forty-five, it sometimes feels like my best years have passed.
I once knew a bluesman who could play a muddy, gorgeous telecaster like he was drinking water. He made it look easy. So easy people were always sure they could do it like he did, and when they wondered aloud to him why it was so hard, they would say, "You must have just been born talented."
He would reply, "Yeah, and at age twelve I picked up a guitar and played it every day until my fingers bled, and then every day since."
Talent is nothing without hard work. I am more than happy to do the work, and I actually do the work every day. I type my words until my wrist aches and my head hurts. Then I write some more.
There are many days I simply wish I had started writing seriously earlier in my life when energy and time were not an issue. Then again, what did a bubbleheaded girl like me have to write about?
Maybe I had to live a little before I could open a vein and write the words.
Oh well, this is my journey. Not anyone else's. Forty-five it is and forty-five it must be.
The dread leading up to the day started to wane in the final days. Resignation set in and now I suppose I'm okay. I tried on forty-five and it fit like a shiny new pair of fine leather shoes. A little tight and squeaky at first, but breaking in nicely.

If I'm going to overwork a metaphor, I should probably reuse a photo of a very favorite pair of well broken in boots

Image Copyright © 2010, Karen Fayeth, and subject to the Creative Commons license in the right column of this page.