After what now amounts to almost seventeen years, I realize that I have lived in California a lot longer than I ever thought I would. Totaled up it's still a lot less time than I lived in New Mexico, so I still have that going for me.
But here I am. After putting in this many years I guess I have the right to look at a building in San Francisco and say, "hey, I remember when that used to be…"
In my time in the Bay Area, I've seen a lot of things change. Like many people in San Francisco, I also have a deep sense of nostalgia for a lot of the quirky things the City brings to the world.
I cried when the last working street clock in North Beach was hit by a delivery truck, rendering it busted forever.
I beam with pride when I see the restored doggy head smirking atop a pole overlooking the Doggy Diner (over by the zoo).
And today. Today my heart is heavy for the loss of yet another San Francisco quirky institution.
Sadly, it was reported this morning that the Bushman from the Wharf has passed away.
If you haven't had the pleasure of spending a touristy day down on Fisherman's Wharf, then you don't know about the Bushman.
He would take several leafy eucalyptus branches in hand and then he'd get real low, usually squatting on a milk crate, and he'd hold the branches out in front of him. He would usually position himself by other shrubbery so any passerby might think it was simply another bit of brush.
Then he'd pick out a person walking the sidewalk and as they walked past him he'd shake the leaves and let out a low rumbling growl.
At the noise, pretty much every victim would leap a foot off the ground. That was when the Bushman would laugh with the best, most expansive laugh you've ever heard. This would get the victim laughing too.
People would gather around and watch it happen, and they would laugh too, everyone brimming with anticipation for the next victim. After a good laugh, folks would throw a couple dollars his way and move on.
This whole thing was always done in good fun, the Bushman was never mean about it.
In the early years in my California tenure, I spent a lot of time in the company of blues musicians who worked a lot of Saturday afternoons at Lou's Pier 47. Back when Lou still owned the place, she paid well and booked the top guys in all the prime spots.
A good sunny Saturday would pull in a room full of tourists who would happily unload their pockets for food and drinks and tip jars.
I would often go to the club on my own and as the afternoon went on and the patrons consumed more and more booze, things could sometimes get a bit weird. If things were too funky in the club and if it was still sunny out, I'd head out to the Wharf to wander the shops, eat some Ghirardelli or just sit by the water, stare at the Golden Gate and ponder my life.
I was my own version of a wharf rat and I loved it.
With all that time spent prowling around, I encountered the Bushman on several occasions.
He only got me once, but he got me good.
I learned to keep a sharp eye out for him so I could be in on the joke and not the punchline.
I liked to catch him, too. I'd say, "I see you!" and he'd growl at me and I'd go "uh-huh" and walk on.
I haven't spent that much time on the Wharf in years, but when I was there a few months ago I saw him and was happy to know he was still there.
And now he's not.
The article says that his sometime partner (who helped the ruse by distracting potential victims) will keep up the routine, but I suspect it won't be quite the same.
San Francisco, so nostalgic, so prone to change.
The original Bushman will be missed.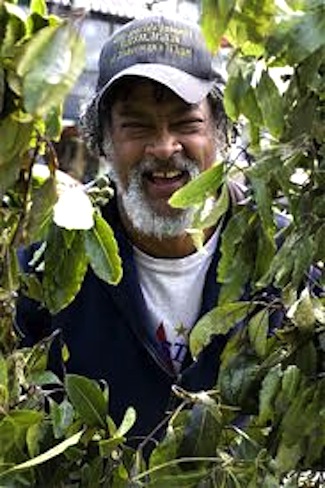 Image found here. That blog owner is super duper cranky about the Bushman, but c'est la vie. To each their own. The Tumblr is named "I Hate Stuff" and provides content as advertised.

Dateline: Wednesday, February 19, 2014
It's morning and I'm headed in to work a little earlier than I would like but I have a coworker who is a chirrupy morning person and keeps dropping early meetings on my calendar.
She knows I hate the mornings but just can't help herself.
So I drive my beat up old Jeep down a major surface street that bisects three different cities. It is my usual route to work.
As I roll in slow traffic, there is a guy on a bicycle keeping pace next to me. I am used to bicyclists now because I live in a pretty hipster-y place and they are everywhere.
But this guy is the kind of bicyclist that bugs me. First of all he's not wearing a helmet. That seems really dumb to ride on city streets without some kind of protection for the ol' brain bucket.
Second, he's the kind of guy who can't ride in a straight line so he's weaving in and out in front of me. I'm keeping a close eye on him so I can be sure I am not the person who injuries his pretty mane of curls.
We ride side by side on this narrow two-lane street and then I get to a light at a main intersection. I see there is a trash truck just ahead, but there is enough room for me to slip through the light and wait behind the truck.
To the immediate right there is a delivery truck at the curb unloading produce for the corner market.
As I pull through the intersection, the garbage truck cuts sharply in front of me so I easily tap my brakes and slow.
Boy On The Bicycle doesn't slow. He plunges into that small space between the now moving trash truck and the large produce truck.
I think to myself, "I don't have that kind of courage."
____


I have packed my lunch today and that makes me very happy. It's not just a lunch from home, but it's the kind of sack lunch that I've been looking forward to all morning.
In that bag is a beautiful calzone. I have also packed a little glass bowl of marinara sauce.
After much dragging and delaying, the hands on the clock say it's time to chow. I smile as I pop the calzone into the office toaster oven and I put the marinara into the microwave.
When the sauce has achieved a temperature akin to lava, I pull it out of the machine.
Soon the calzone is crispy on the outside and melty on the inside.
If I was eating this at home, I would quickly dump the marinara over the calzone and dive in headfirst.
I am at work and when I start to pour the sauce a little voice in my head reminds me that my office and the break room are diametrically opposed. I will have to carry my meal all the way across the building and will likely encounter many people on the journey.
I have a quick vision of spilling bright red sauce on the floor. On a coworker. On myself. Or all three.
I decide to put the lid back on the marinara bowl and carry it separately.
It's the best decision I will make all day.
____

Once the calzone is thoroughly devoured, I wash my hands and clean my face and freshen up. I have a mid-year performance review with my boss who is a Big Boss and while I get along with her great, I still want to be behaved.
It seems only right. She is grading my performance.
As I walk to her office, that calzone starts to hit bottom and I feel instantly sleepy. I think, "Maybe calzone is more of a dinner food."
____

It's the end of the day and I'm tired. Not the tired one gets from physical exertion, but the fatigue that comes from sitting around all day thinking about stuff and making decisions.
It doesn't seem like sitting on my can working on spreadsheets all day would wear me out, but it does.
The Jeep is rolling uphill, following the same route home that got me to work this morning.
I am idly listening to sports talk radio where the two on-air personalities are debating, quite heartily I might add, if it is acceptable for fans to boo their own team.
One guy is a former athlete. One guy is a current sports journalist. They have vastly different opinions.
I come to a stoplight on the two-lane street and I am the third car back. A dark car pulls up on my right side.
I think to myself, "They had better be turning right" and of course they are not. It's become a game on this high trafficked street for people who don't want to wait in line to come up the side, thus blocking any right turners, and then cutting off people going straight as soon as the light turns green.
This aggravates me.
The light turns and I make it a point to not let that car in. I pull up close to the car in front and I am not giving up. They are not giving up either.
I see that there is an SUV parked at the curb ahead and a woman is unloading her child from the back seat.
This is going to come to a head. I am going to win.
That jerkwad is going to have to slow down and get into line behind me.
Inexplicably, I tap my brakes. The Jeep slows. I let the shiny black BMW slide in front of me as a college-aged girl in the driver's seat quite literally flips her hair.
There is no wave of thanks.
I wonder to myself, "What made me do that? Why did I slow down and let her in?"
Then I think, "Because it's not always about being right. Sometimes it's just about the fact that we all have to get home safely."
When I finally turn down my block I am happy to see a spot on the street right in front of my building and I park.
I go inside and The Good Man hugs me and the cat ignores me and I sink into the warm familiar comfort of my home and my family.
I am filled with gratitude. I can finally rest.
Tomorrow is another day.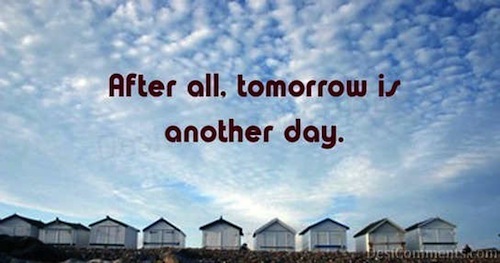 Image found here.

As has been mentioned before, these days I work in an open office plan, meaning pretty much everyone from big bosses to little minions all sit and work in open cubicles.
It's supposed to make us more collaborative, or something.
Because everything is so open and airy fresh, as I walk through the building I quite frequently get a glimpse of other people's computer screens. Honestly, most people are working away, boring. Snore.
Occasionally people are shopping or watching YouTube, but whatever, that's between them and their IT rep.
There is one trend I'm noticing recently that has me a bit confused. There are several people, like five I can count off the top of my head and probably a few more I am missing, who have a photo of themselves set as their computer's wallpaper background.
Now, I don't mean it's a photo of them and someone else, like a nice happy couple, or dad and son or something. No, I mean a photograph of only them, and most often the photo is looking right out of the screen. Most are selfies, some are a photo someone else has taken. Some are full body shots but most are close in, framed from the neck up.
What this means is, as they work, they are looking out at themselves while looking in at themselves.
Um. What?
Look, I like myself a lot. I'm a cool chick. I like hanging out with me. I even don't mind looking in the mirror now and again.
In fact, to quote former 49ers football player Terrell Owens, "I love me some me".
But I don't "love me some me" so much that I want to look at me all the live long day.
At first I thought this was only the younger employees, the kids in their twenties who are supposedly really self-obsessed. No. It runs the age gamut.
I just…can't. I don't understand. Did I miss a memo or something?
(See what I did there? Miss a memo. How cute, granny.)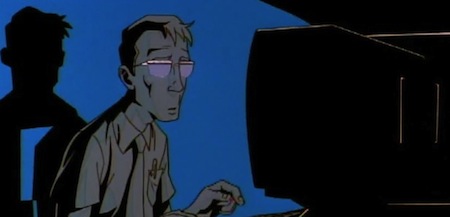 Image found here.

Today I learned something. It may not be a groundbreaking discovery, but it's an important handy tip to know.
Let me start with the backstory.
This morning I noticed I had a meeting on my calendar that started early and would last all day long, so I decided to hustle up and get it together so I could leave the house plenty early. I wanted to be able to stop for coffee and still get into the office a bit early so I could sit a minute at my desk, gather my thoughts, and prioritize any urgent emails before disappearing into a conference room for the remainder of the day.
What a good strategy! This is part of my new approach for taking better care of myself. Generally I show up to the early meetings five to ten minutes late, anxious and sweaty from running to the meeting. Oh, and lacking coffee.
With determination, I took care of my at-home stuff and hit the mark. I left the house on time and was happy. I had a casual and not harried drive to work and I even lucked out and found a parking spot right in front of my local Starbucks.
I mean, the day was ticking right along on schedule. I was feeling so proud of myself.
With Jeep parked, I walked inside hoping for a short line then opened the door to that very image. Only three people in line. Yesss!
I stepped up to the register, ordered my drink, chatted with the person behind me in line, giggled with their child and was feeling pretty great.
My latte came up quick and I grabbed it and was feeling pleased with the smooth pace of my day.
I carried my drink over to the little station where you can find sweetener and milk to add in. I politely said excuse me as I accidentally walked in front of another customer. I thought about an article I had read recently about the value of being nice, and thought how I need to continue to be a nice person even when the world sometimes makes me want to be mean.
Landing at the sweetener station, I popped the lid off my drink, reached to grab a couple packets of sweetener, shook, tore and when I went to put this into my drink, I knocked over my lidless cup, sending a coffee tsunami into the air.
Seriously. How did my latte catch air? I have no idea. Sixteen ounces of beverage became gallons as it poured all over the counter and onto the floor. The force of the wave shoved my sunglasses off the counter and onto the floor.
The velocity was overwhelming as waves of coffee and soy milk engulfed the entire store and its patrons.
And that's how I learned that Starbucks napkins are super, duper absorbent.
Keep that handy tip in mind.

A dramatic, yet dry, recreation of events

Image Copyright © 2014, Karen Fayeth. Taken with an iPhone5 and the Camera+ app. Also taken surreptitiously in an empty conference room while the big meeting was on break.

Woke up this morning to a dark gray day as the (much needed) winter rain pounds the Bay Area.
But this rainy Saturday had a surprise. A whisper of Spring, growing in the small yard beside my building.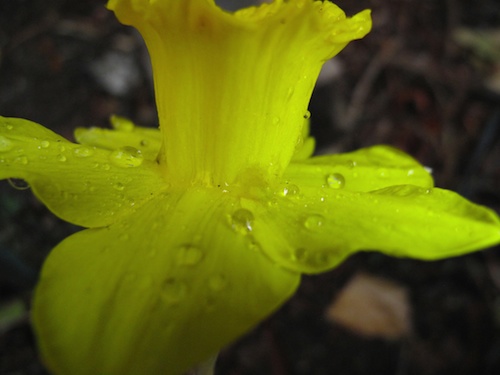 Photo © Karen Fayeth, 2014

I bought some daffodils from Trader Joe's yesterday, but the small wild 'dils in my yard beat them to the punch.
Oh how I love the sunny yellow of daffodils. Sweet smell of Spring.
While I do appreciate the rain, I really do, I secretly can't wait for golden California sunshine to return.