Back on July 12, I made a cryptic post on my Facebook page that said "Got a lit mag acceptance in the mail today. Sa-weet! A nice way to end the week. Details as soon as I can share!"
And then tick-tock, calendar flip, no details were to be shared.
Recently a friend asked, "oh hey, what ever happened with that?"
Well, here's what happened: I wanted to lay back on details so as not to tick off the editor of the magazine. They like having first crack at this stuff, so I kept it to myself.
My story was supposed to be published in the Winter (Oct/Nov/Dec) issue, so I was biding my time.
Turns out the editor decided to push up the publication, so my story actually appeared in the Fall (July/Aug/Sept) issue.
Editors are going to do what they need and I have ZERO problem with that. The editor chose to publish MY little ol' story. With ink. In a literary magazine. Yes!
And since the publication date has come and gone, I don't feel bad about sharing that story with you now.
Without further ado, here is my story "What Leibniz Never Learned" as published in The Storyteller magazine.
You can also click on the magazine cover, seen in the right column section title "As Seen In" on this page.
Yay!
: jumping for joy :

Happy leaping lamb image found here.

Over the years I have suffered a certain amount physical ailments for which medical doctors can find no cause. The better part of discretion will keep me from detailing my woes (what my beloved grandmother used to call the "organ recital").
But suffice to say, 1) it's been going on for a while, 2) ow, 3) four different doctors have said, "want me to write you a big script for liver killing pain meds?" to which I said "no thank you".
After years of wailing and moaning, a friend suggested I try acupuncture. I figured what the hell, I had exhausted my options with regular doctors so why not try something different?
I am not completely sure what I think about acupuncture. I vacillate from "it's utter bullmuffins" to "hey, there may be something to this."
Actually, over the past year or so, I have gotten quite a bit of relief from having those little needles stuck into me. Whether it's all psychosomatic or not isn't my place to decide. I just know I feel better, and that's all that matters.
Since I moved to a different city several months ago, it was untenable for me to visit the same needle sticker as it was just too far away.
At the end of last week I had my first visit with a local hokey-poker to see if she could pick up where the last guy left off.
During the course of this visit, the new gal asked me if she could use a technique in addition to the needles. I say hey, why not. Give it a shot.
The technique was called cupping. My first thought was "oh that's nice, she's going to hug me and gently cradle my sensitive places. How thoughtful."
No, turns out that kind of cupping is best left to The Good Man. She meant taking these glass bowl looking deals, heating them up and plopping them on my well oiled back, creating suction.
Holy smokes it hurt. A lot.
I'd seen photos of celebrities with these big sucker marks on their back and shook my head and chuckled at the time, thinking "buncha weirdos". And yet here I was letting this lady do the same to me. What I don't really understand is how those lilly-sensitive spoiled celebs are able to put up with this "treatment" while I had tears of pain rolling down my face.
What have I become? Who am I?
I'm old, that's what. The days of rubbing a little horse liniment on the owie places is over. If these painful glass jars can help me feel better, well, fine.
When I whimpered a little and called out for my mommy, she said "oh, is that too much?" and she lightened the suction a little.
Finally she removed those sea serpent suckers from my skin with a moist sound and said, "Ok, you're done. By the way, you might want to mention to your spouse or significant other what happened here. They may be a bit shocked to see the marks on your back."
Marks? Holy crap, I look like I was treated with a meat tenderizer. My whole upper back was a raw red with big round sucker marks scattered about.
I went home and whined to The Good Man who gave me good clucking sounds and lots of sympathy. Then he did the kind of cupping that I like and that made me feel a lot better.
The skin on my back still isn't all that pleased but whatever happened last week between the needles and the jars seems to have helped. The pain is standing a little off to the side and I seem to be improving.
Hard to believe a little girl from New Mexico who once held up a hand and solemnly swore, "I believe in the future of farming…" Is now laying on a table letting this woo woo stuff happen.
But I am and this is me and I'll be damned if this crazy stuff might be helping a little.
: shrug :
Now this is the kind of cupping I am looking for.

Image found here.


This is what I'm doing today. To clarify, this photo depicts what my world looks like as I find myself squashed up under my desk at work.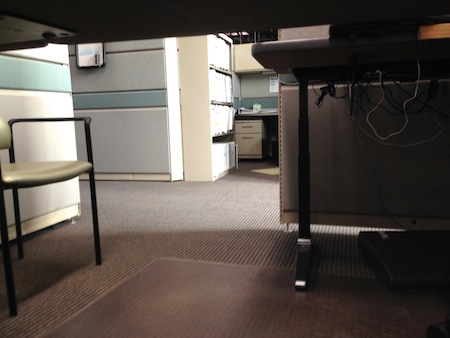 Multiple choice:
Why is Karen under her desk at work?


1) Huddled up waiting for the Congressional sh*tstorm to pass
2) Hiding from her boss
3) Sleeping
4) Drunk again
5) Participating in an earthquake preparedness drill.

If you picked one through four, you are probably correct.
If you picked five you are technically correct, which is the best kind of correct.
Today my employer required our mandatory participation in a worldwide earthquake preparedness event.
Humorously, my employer called it a "drop, cover and hold" event, which of course made me think of those fun Cold War duck and cover school drills.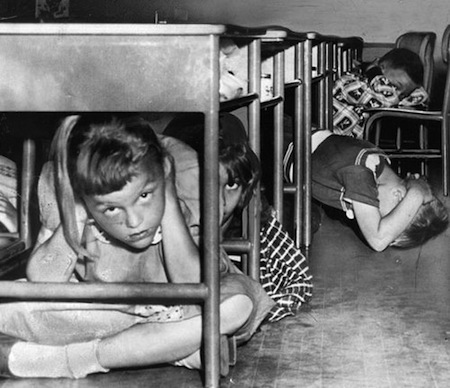 Growing up during the Cold War and living in a town with a Nuclear Research Facility, I used to wonder how that little ol' pressed wood school desk was going to save anyone's butt from nuclear fallout.
But whatever.
The theory behind shimmying under my desk while on the clock is the somewhat disputed "triangle of life" that says if you can get under something solid with a bit of room and the ceiling falls, it creates a triangle of open breathable space.
The funny thing is that my desk is cheap modular cubicle furniture and the building is a quite old converted warehouse. The very high ceiling is made of what appears to be solid oak beams.
I question if pressboard beats solid oak in the race against gravity, but I put that aside and complied with the mandatory event by smushing under my desk.
We held for 20 seconds to simulate a earthquake of that duration. Out of curiosity I looked up the Loma Prieta earthquake from 1989 and it was estimated to last between 10 to 15 seconds. Such a short amount of time for such a terrible thing.
By the way, today is the 24th anniversary of that little ol' 6.9 shaker.
I felt a little silly under my desk and while we all under our respective desks we found the acoustics are awesome. We might have to hold staff meetings that way from now on. Then we evacuated the building and had about twenty minutes outside on a warm Autumn day.
So while we all giggled and cracked jokes about the end to end exercise, I also felt grateful.
It's always nice to have a plan.
May I never have to use it.
First image, from under my desk, is Copyright 2013, Karen Fayeth, and taken with an iPhone5, the Camera+ app, and humor.
The second image, a black and white photo of children under their schooldesks was found here.

I hate talking politics. It's a conversation that never goes anywhere good, but today I'm going to venture into rare territory for me.
As a caveat, I might mention that I am neither a registered Republican nor a registered Democrat. In California you can "decline to state" and still vote in each of the major elections. Long ago I became disgusted with both major parties and decided to choose none. It was a good choice.
Also, I will state for the record, I vote in all of the major elections and most of the minor elections. It's how I was raised.
I tend to shy away from being too specific, but I will go there. These days I am employed by a contractor to the United States Federal Government.
I work for a company that is engaged in some of the most mind-blowing science in the world.
For example, a couple weeks ago, I sat in a conference room waiting for a meeting to start. Also in the room was a physicist who works on the team searching for the existence of dark matter.
I sat there eating a salad (it was a lunch meeting) listening to this guy explain to another scientist how they actually test for dark matter, i.e. how they will know if they found it.
My mind was utterly blown. I once worked for Apple, so I know what it's like to work for a cool company. I'm sorry Apple friends, dark matter beats the shit out of iPhones and iPads on the coolness factor eight days a week.
I am proud to work here and I work my ass off. I am also fortunate enough to have six people who report to me. They have put their faith and trust in me to work for them, to protect them, to knock down hurdles and to help them be the best employees that they can be.
It is somewhat amazing that in this team of six there isn't a clunker in the bunch. They are all high performing, top-notch professionals. It is often remarked that my team is the most highly functioning out of all the teams in the larger division. (I can't take all the credit for this, my predecessor laid a nice foundation that I continue to build upon).
I am proud of them, I throw my body on virtual grenades for them, and they reward me by making me look really good to my leadership.
Today I attended a meeting of all of the managers in the division and I had some choices I had to make.
You see, the entity I work for works a little differently than direct Federal entities and most contractors. We are able to carry over government funds so we often start the year with a surplus. This surplus means that we have not yet been furloughed and will probably be ok until mid-November.
Well, let me back up. If the debt ceiling isn't resolved this week, we shut down almost immediately. That is a separate issue.
If the government shutdown drifts into November, we will have to move to a skeleton crew, and if it goes into December we will shutter our doors entirely.
So in that regard, I am lucky. Similar entities to my employer will be closing down effective next week and direct federal employees have been out of a paycheck since October 1st.
But, as leadership of this organization, we have to be prepared for all of the iterations of what might happen.
We must plan for the worst-case scenarios.
Today I sat with my peers and my boss and I had to decide which of my six people will work and which would be furloughed in the event this shutdown goes to November.
As a contractor to the Federal Government, we don't get back pay in the event of a furlough. That money is lost for good. So I have to pick people who take a deep ding to their income just on the cusp of the holidays.
So who do I pick? The man with twin five-year-old children? The woman putting her two daughters through college? The guy who just started here two months ago, just moved to California and his wife hasn't yet found a job in this terrible economy? The guy with the talented high school aged daughter who will likely make the Olympic team in 2016?
How do I choose who doesn't get paid? How do I pick?
And why should I have to pick?
Tell me members of the United States House of Representative and the United States Senate, why did I have to make those choices today?
By the way, my boss had to make her choices too. I am on the list to be furloughed.
These past fifteen days of government shutdown make me sick to my stomach.
And angry. Yes, I am finally angry.
I am angry in a non-partisan way. I blame everyone. I blame each and every elected official who has any part of this. Every one of you made me have to choose who gets paid in November and who doesn't.
I have seen a few off hand comments here and there online that this whole shutdown "is not that bad."
If you think it's not that bad, it just hasn't hit you yet. But like a long string of dominos, it is coming for you.
It may be that bite of salmonella tainted chicken that gets your attention. It could be that airplane your loved one rode that crashed because no one inspected for safety.
Or perhaps it will be when you are laid off from your commercial sector job because these United States were plunged once again into a deep recession.
I don't care what party you belong to, this shutdown should make you mad. It should make you wave your fists.
And by god it should make you get out to your polling place in 2014 and make your voice heard.
Loudly.

Inside of me there are dueling issues, and year by year it's a balancing act to see which wins out.
On one end of this see-saw is the fact that I love the holidays. Yes, I actually do. From Halloween to Valentine's Day I revel in every holiday with childlike glee. I often grumble (and will again this year, stay tuned to this blog) about the holidays when they are in full swing, but the truth is that when I'm into it I adore every holiday and all of its traditions.
"When I'm into it," ah and there's the trouble.
For the past several years I have been cranky as heck about the holidays because I was working so many hours I had no idea what week it was much less what season. In my last role, I was on so many calls across so many time zones and traveling so much I wasn't even sure of my own name most days.
So when the holidays rolled around in the past, I was not ready. I wasn't prepared because I hadn't had time to plan out what I wanted to do, and I was mad that I had lost so many days at the hands of a dull corporate entity.
All of that just made me angry at the holidays for showing up when I couldn't participate.
But things have changed a bit. I'm in this new job and while I am still busy, it isn't quite as bad as it has been for me over the past several years. My new employer definitely takes note of the months and what is going on. In this job, we pause to reflect and it makes such a huge difference.
Also, now that I live in a university town I'm much more aware of the time of year, ranging from school's out and it's summer to Fall football games.
I have already warned my darling Good Man to watch out, I'm officially "into it" this year. Oh yes, there will be cookies, and decorations, and costumes and more. I will probably even decorate my cubicle at work this month. There are prizes for Halloween décor!
At first I was quite resistant to the coming of Autumn, but now I am reveling in it. That said, I still have not imbibed a pumpkin spice latte.
Yesterday morning I set out for work, smiling at the beauty of the Indian Summer sunrise here in the Bay Area.
I walked to my car that was parked out in front of my building and I saw something tucked into the door handle on the driver's side.
At first (from a distance) I thought it was another ding-dang parking ticket. But no, that would have been tucked under my windshield wiper. Then I thought it was a note someone left because they'd bashed my car. No, turns out it wasn't that either.
Then I let my mind wander and I remembered back to when I was in college at NMSU. For a little while I dated this rather dashing cowboy who happened to have something of a romantic streak and a poet's heart.
Every now and then he'd leave a little love note on my car when I was in class. To be honest, I still have those notes somewhere in a box of mementos.
I grinned a little as I thought maybe I had a secret admirer. A furtive love.
It turns out that it's true, I do have a special beau.
Yesterday I received the most lovely (yet crispy) mash note from endlessly romantic Nature.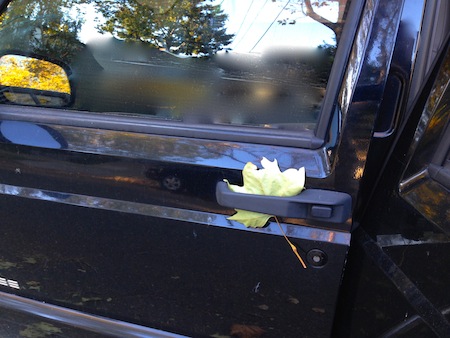 Thank you beautiful Autumn for the reminder that I need to get outside a bit more and roll in the leaves and smile at the early setting sun.
All of these years I've just sort of ignored you as you passed me by, but not this year. Today I return your affection, my glorious orange and red and brown Fall.
I am your secret admirer too!

Image Copyright 2013, Karen Fayeth, and subject to the Creative Commons license in the right corner of this page. Taken with an iPhone5 and the Camera+ app.