As time will do, when it passes by it takes little chunks of me with it. I know I wake up in the morning a lot creakier than I used to and there is swiss cheese where my remembering parts used to be.
This problem is true for both humans and animals.
And so it has come to pass that my fourteen and almost fifteen-year-old feline is having a few health issues. It's not good, but it's manageable.
What this means, however, is we have to give the fuzzy three different medications.
Now, this animal of ours, she does not like to be messed with. At all. The survival instinct is strong with this one, and fight not flight is her main mode.
This cat stands her ground and then some.
Many of you are probably saying, "nah, that's just how cats are" and think about how squirmy your cat may be.
Be advised, our vet is scared of this cat. Let me drive that point a little farther in. A woman whose job it is to deal with animals in all forms day in and day out, and has been doing so for almost thirty years, has told us "you know your cat is especially wiggly, right?"
Wiggly. That sounds cute.
It's not.
So back to these three medications. One is a drop we can put on a piece of food. Fine, that happens easily.
One is a pill. This involves prying her mouth open, which then invites a lot of biting, clawing and hostility. Occasional growling and meowing too. Once the pill is down many hostile looks are sent my way as I watch an animal plotting my death in her mind.
The third is an asthma inhaler. Delivering this medication is, to put it mildly, a rodeo. We watched videos online to see how to do this and every person who said "my cat fights it" or "my cats is extra squirmy" was the owner of the kind of cat I would love to have.
These people who think they have a wiggly cat have not wrapped an arm around Satan incarnate and tried to get the great horned creature to inhale and exhale a minimum of ten times with a rubber mask over its snout.
There have been times The Good Man and I have both tried to hold this feline beast down and administer the meds and haven't been able to do so.
To be fair, my handsome and adorable Good Man is also a kind man. He's a gentle soul, which is probably why he is able to put up with me.
He hates seeing his own cat suffer this much. He and that damn feline have been through a lot together, they are like survivors of the wars and he feels it is a betrayal to do this to her.
So the wet work, as they say, falls to me. May I point out the many scratches on my arms, legs and chest?
But I seem to have sorted out how to get the meds into the beast. I have tried many approaches and for the moment I have something that is working. I'm sure that smart cat will figure out a counter attack, but for now, I'm doing it.
Last night as I held that damn asthma mask on the cat and she was actually kind of still (because I had her in a wrestling lock that Rowdy Roddy would be proud of) and breathing, The Good Man looked on in amazement.
"How…how did you do that?" he asked, perplexed. "I don't understand how you can give her the meds and I can't?"
I replied simply, "It's because I'm meaner than you."
And it's true.
As a woman of New Mexico, I have worked cattle, horses, sheep and pigs (and on one weird day, turkeys).
When you work livestock you learn more than a little about giving meds to an animal who would rather you didn't. And how to do it without hurting yourself or the animal.
And how to grit your teeth and be a little mean about it because ultimately it's being kind. I hope we can get this feisty cat to feeling better.
I have to admit, I admire her survival instinct. Now pass me the Neosporin.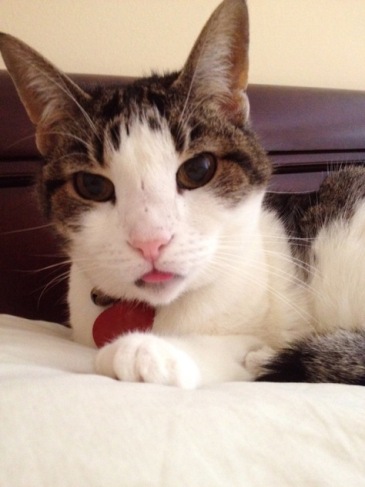 What?!?!

Photo Copyright 2012, Karen Fayeth, and subject to the Creative Commons in the right column of this page. Taken with an iPhone5 and the Camera+ app.

It's late September and to a New Mexican's heart that means green chile! And lots of it. The smell of roasting peppers mixed with the wood smoke from piñon logs burning in fireplaces across the state means Autumn.
And it means heartache for a displaced New Mexican like me.
So imagine my delight to be strolling in my local Whole Foods grocery and see this:

While I was happy, this paltry display also made me very, very sad.
So, what, I am supposed to pick up a *handful* of green chile and take it home? Sure, I know how to roast my own, but c'mon here people.
I want to see big burlap bags and big burly men behind a got-dang flame thrower.
I mean, the flame thrower is part of the whole experience! In Fall one goes from the whooosh of the burner in a hot air balloon in the morning to the blast of a flamethrower outside a grocery store in the afternoon.
The abuse of propane in all forms is built into the DNA of a New Mexican.
That's where I come from! These are my people!

Photo of the puny display of green chile is Copyright 2013, Karen Fayeth, and subject to the Creative Commons license in the right column of this page. Taken with an iPhone5, the Camera+ app, and sadness in my heart.

This past weekend was something like a "what weekend?" as I worked my tail feathers off both days. About 1/3 of the tail feather workout was due to my job. Yes, I get to work for free on behalf of my employer, even on my days off. The joys of being a salaried employee.
The other 2/3 was working on my own sideline creative stuff. I did about 25 story submissions, I edited a photo that I will be showing later this week (that takes such a long time…a little burn here, a little dodge there), and I wrote a story for the first round of the NYC Midnight Flash Fiction contest.
The contest works this way: They give you a location, a genre and an object. All three have to be there in the story. This can be both liberating and constraining, depending on what you get. My draw for this first round was romance/haunted house/marshmallows. Not bad, not great.
Sunday around noon I found myself starting at that cursed curser blinking at me and I tried to find a story idea that was scary and lovey and marshmallowy all at the same time. A challenge. I was writing words but they weren't coming easily. My iMac sits on a table near a window, and something caught the corner of my eye as I labored. I looked out the window. Seems on that sunny creatively frustrating Sunday I had an auspicious little visitor.
I grabbed my camera, put on the longest lens I own, popped the screen out of the window and started clicking away.
I'm so glad I did.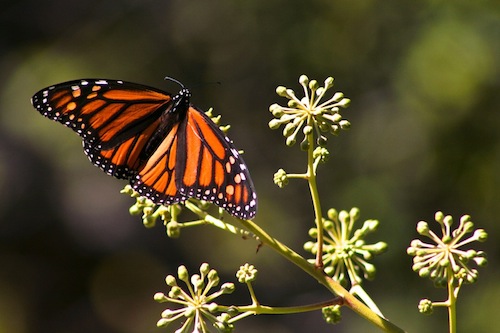 Photo copyright 2013, Karen Fayeth

This gorgeous lone Monarch Butterfly was just hanging out in the warm sun, using the ol' proboscis to gather some pollen and doing its butterfly thing. As I watched, a couple bees were highly displeased at the presence of the butterfly and kept strafing him (I say him correctly, I looked up Monarch butterflies online and the dots around the wings signify a male. edit: Upon further Googling, I think this is actually a female).
These bees were executing deep aggressive fly bys that only caused the butterfly to flap his wings a bit but stay put. Man those bees were persistent. And I kept snapping away. I have some awesome action shots that I'm still editing.
After a while, the butterfly flew off and I downloaded and looked through my photos, very pleased with the results.
Then I sat back in my chair and I smiled. After the visit from Mr. Butterfly, I felt totally motivated and completely creative. I turned back to my story and banged out about 1,300 words in one sitting. Then set it aside and let it percolate while The Good Man and I went to local street fair.
When we came back I edited the beejeezus out of the story, got it to 999 words (the limit is 1,000) and submitted it about 45 minutes before the deadline. Man oh man hitting send on that story sure felt good.
I owe my creative surge to a visit from a pretty orange butterfly on the first day of Autumn.

Photo copyright 2013, Karen Fayeth, and subject to the Creative Commons license in the right column of this page. Taken with a Canon Rebel, edited lightly in Elements.

So there I was perusing my Facebook feed when one of my favorite pages to follow, ¡Orale! New Mexico posted this: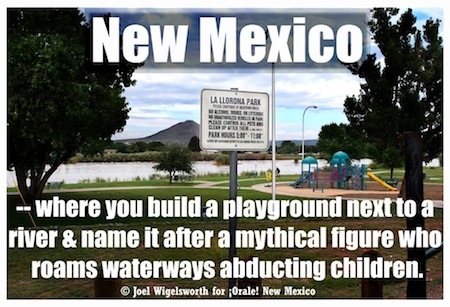 For reference: La Llorona

My first thought was "this HAS to be a joke! I must remand myself to the Google for confirmation!"
Turns out it is no joke, it's a real park in Las Cruces.
Yes, La Llorona, a scary story told in my childhood. A Mexican fable intended to keep kids away from arroyos and rivers. My sadistic grade school teachers would shut off the lights in the classroom and whisper to us the story of the woman who had drowned her own child and wandered near waterways intent on stealing and drowning little kids.
Real educational stuff!
Mention La Llorona and Hispanic kids everywhere will shudder. Some will cross themselves. A few will weep.
What the hell Las Cruces? So you think it's fun to scare the bat crap out of every child and most adults? Who are you Las Cruces? I don't even know you anymore!
And for the record, I will NOT be visiting any park named for La Llorona. I won't drink a La Llorona margarita. And no wailing woman milk.
Just. No. Especially this time of year. La Llorona likes the cold and damp of Autumn. Gah!
Oh Fair New Mexico, how I love and am confused by you so.

Image Copyright 2013, Joe Wigelsworth for ¡Orale! New Mexico. All rights reserved.

I have the greatest best friend in the world. Knowing a ex-pat New Mexican like me is missing home more than ever in the Fall, she decided to poke the bruise. Because why not?
And being my best friend, she knew right where to hit for maximum impact. She got me right in the green chile.
Over this past weekend, she sent me a text with a photo taken near Las Cruces and the words "New Mexico misses you."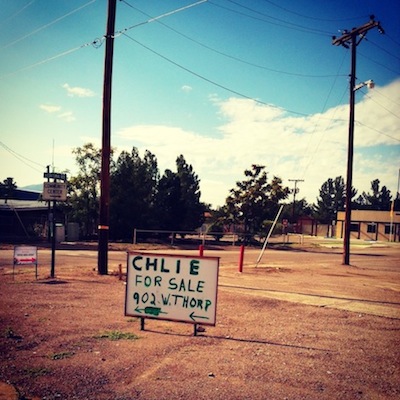 So of course I damn near wept. I mean, my nostrils long for the scent of roasting green chile. And Zozobra just happened. And the State Fair is going on. And the Balloon Fiesta is coming up. It's the best time of the year to be a New Mexican. And oh damn, why again did I move to California?
So I replied and waxed rhapsodic about the virtues of green chile. How I missed it. How maybe I could find some again this year at Whole Foods. How my local hippie grocery store carries dried red chile pods that are labeled as being from New Mexico.
I was lost in a land of happy thoughts and green chile dreams when my best friend who is teaches English at a local high school, said…
"Did you notice it was spelled c h l i e?"
Whaa?
Truth was, I hadn't noticed. I was so busy trying to locate the green chile smell in my memory banks and bring it back to my nose. So I looked again. Sure enough.
Then I laughed. I considered making a crack about the sorry condition of public education in New Mexico, but that's just hitting below the belt.
To be honest, the photo of a hastily hand painted sign made me miss New Mexico that much more.
Oh Fair New Mexico. How I love you you, your green chile and your bad spelling.
Love you so.

Photo courtesy and copyright 2013 my best friend in the world. Don't steal it without asking!"