Here I am, day three of my three day training. On a Friday, no less. Today is the final uphill slog for this training class.
It is a long climb and this hiker is weary.
Not sure whether I can continue on. Sooooo booored.
Today, instead of being "that guy" I have gone into slump mode. I already got called out for looking at my phone. I've eaten every pastry they offer (all terrible!) and I'm drinking caffeinated tea. Nothing is helping.
So now, instead of paying attention, I'm obsessing on a white board marker.
This marker, particularly.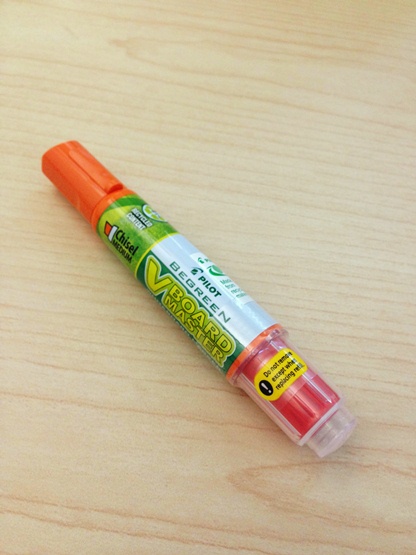 This is a very respectable marker. It's green, made from 90% post-consumer product, almost fully recyclable and refillable. This is a very smart and responsible pen, a good business choice by whomever purchased it.
So why am I obsessing? Well, one, it's orange which is my current favorite color (it changes all of the time). And two because of this…(Look at the yellow tag)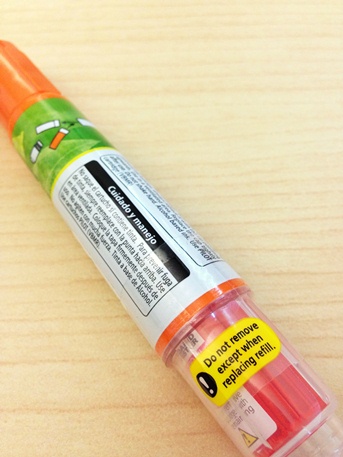 That little pen reservoir holds the orange ink. You can watch it sloshing around in there. Neat!
And that tag, it tells me not to open up that sloshy ink container. Why!?! Because it is a brand new pen and opening it now will splash ink everywhere. So!?
I wanna! I wanna I wanna I wanna!
I am having to exercise the utmost in restraint, something I don't have a lot of, to keep from ripping the end off that marker. Then I tell myself, "I'm steady handed enough, I can pull that off of there and have no problem! Without spilling a drop! Let me prove it to myself!"
But I know the truth. I'm not sure handed. I'm the girl that falls down. I will pop that cap off and ink will spring up in the air and aerosolize and there will orange ink from here to there, ceiling to floor.
That sure would be awesome, though.
Way more fun than talking about warranty claims, insurance provisions and cost accounting.
Barf.

Images Copyright 2013, Karen Fayeth, not that you'd want to steal photos of an orange marker, and subject to the Creative Commons license in the right column of this page. Taken with an iPhone 5, the Camera+ app and no small amount of lack of attention to the subject at hand.

Ah yes, another one for the "don't it make me proud to be a New Mexican" files. This one comes courtesy of The Good Man.

ALBUQUERQUE, N.M. — A New Mexico man faces multiple charges after police say he was having sex with a woman while driving drunk and crashed, ejecting the woman from the vehicle.

The Albuquerque Journal reports 25-year-old Luis Briones was found with one shoe on and his shorts on inside-out Monday night after he wrecked his Ford Explorer in Albuquerque.

Police say Briones' female passenger was found naked outside the SUV after being ejected. She had deep cuts to her face and head.

Authorities allege Briones tried to drive away after the crash and leave his passenger behind, but a witness grabbed his keys from the ignition. He also allegedly tried to hide from responding officers behind a cactus.

Briones is charged with aggravated DWI, reckless driving and evading police.
Now, in all of things that are really bad about this story, driving drunk, attempting to leave your injured girl behind, reckless driving, the one thing that jumped out at me, the ONE thing that I focused on was…..
"Briones was found with one shoe on and his shorts on inside-out…He also allegedly tried to hide from responding officers behind a cactus…"
Ouchie. Really, when you ain't got no pants or shoes on, hiding near, around or behind a cactus doesn't seem to be the wisest move.
Then again, wisdom didn't really seem to play a role in this whole circus of events.
Oh Fair New Mexico, I really do love you love you so. You know how to keep a native entertained.
Saaaaaaalute!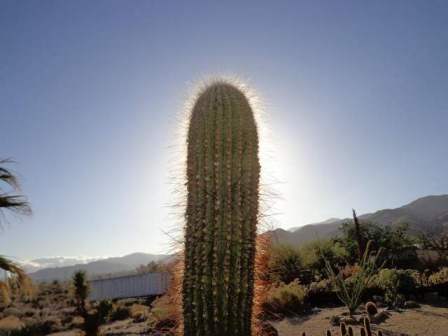 Image found here.

The rest of this week is going to be a drag. Any joy I feel at having a short week after a long weekend is dried up by the fact that I am required (not suggested, not a choice, required) to attend three full days of training here at the ol' place of work.
Three. Full. Days.
Somewhere around that time in history when the first smartphone came out, I developed a pretty severe case of adult ADD. I cannot sit still like a good kid for more than an hour at a time. In order to get me to do that, the topic better be damn interesting.
Sneak preview: The topic of this training is not. At all.
The guy giving the training is doing a good job. He is trying his hardest to make this interesting. Cracking a joke here and there. But even he knows this is a drudge and we all just gotta get through it.
And so the first couple hours were fine. It was all new and somewhat interesting. The next couple hours were hell. Part of the "rules of the road" for the class are no open laptops and no looking at phones.
Argh!
So I'm bored. I doodle in the margins of my notepad. I let my mind wander to far off topics (at one point I was wondering if I should cut my nails or keep them a bit longer since they are so strong right now).
And then I run out of things to wander off about and supposedly I'm supposed to be paying attention and learning something and getting something out of this class that my department paid big money to force me to attend.
So then boredom gives way to something else. Something sinister. I become "that guy" in the training class. You know that guy. Or girl. Whatever. You know, the person who participates. Who answers questions. Who offers suggestions. Who always has something to say. That person who everyone is sick and tired of by the end of day one with two more days of class ahead.
I hate that guy! Except when I'm being that guy and then it's a crap load of fun!

It's a…you know…big mouth bass. *snork*

Image found here.

And so it came to pass on that Day of Memorials that the skies above the Bay Area did roil and boil and drop misty but not significant amounts of water from the sky. With these misting drops came a strong wind and chilled the area and its people to their very bones.
"I think I'll take a hot bath," said the fair skinned, dark haired princess to her handsome prince. "My nose is cold and my feet are cold and I am cranky."
"Then havest thou a bath," the tall handsome Good Man said. And so our princess did remove herself to the privy to partake of a warm water float.
"Yes, this is better," she said to herself as she tried to fit every limb on her long frame into the beckoning waters of a standard sized bathtub.
When the princess had finished washing her locks and scrubbing her stuff, the water had gone tepid and it was time to remove herself from the tub and into a fluffy towel.
Upon exiting the tub, the princess quickly began to chill down again. The ferocious frosty winds were just no match for her now damp fair skin.
"Can I turn the heater up?" she asked and The Good Man agreed.
Then the princess heard the distinct noise of the clothes dryer ending its cycle and powering down.
"Oh!" thought the princess, "I have a grand idea!"
So she took herself to the side of the dryer machine and opened the door. Warm air escaped the dryer and happy clean dry clothes greeted her.
"Hi!" they said.
"Hello fair clothing, how nice to see you!"
And then the fair princess realized that contained among those clean clothes were a significant number of pairs of chones*, because the princess had been a little lax in doing laundry lately.
Oh, the entire collection of undergarments awaited.
"Which one of you chones wants to get on my butt?" the girl asked the garments. (yes, she actually asked this to a load of laundry)
And each one piped up "Me! Me!" Oh yes, the black pair, the pink pair, the faded maroon pair and even the crisp white pair all vied for the chance to warm the 'tocks of their princess.
It was a challenging decision, but finally a choice was made. The pink and black striped pair were lifted from the pile and slid into place.
Oh how warm those chones felt on the cold girl butt! And the girl smiled.
Because when the butt is warm, the girl is happy.
And so it was.

_______

* underwear

Image found here.

There is no such thing as 'traditional' or 'authentic' sangria. Sangria is a party drink designed to get your guests drunk really cheaply.

— Damian Corrigan, About.com Guide
Well, what Damian lacks in tact he makes up for by being right. Isn't truth the best defense? Yes, I think so.
I found this quote when I Googled "how to make traditional sangria" because all of the sudden I have noticed that sangria has become cool. Except, the sangria they are serving in bars and restaurants these days cost $15 a glass and doesn't taste right. It has become something hipster and these children are tinkering around.
What happened? No one knows how to make sangria right anymore!
In the folds and recesses of my mind, I remember someone's mom or abuela telling me "Oh, Sangria is easy, just buy the cheapest sweet red wine you can find, pour it in a pitcher then cut up a bunch of fruit and drop it in there and let it sit for a couple days."
That's it. That's how I recall it being told and that's how I recall sangria should be made. Sweet, fruity, and inexpensive. It takes a few days to make it right. Land of Mañana. A little slow and easy on a hot summer day.
These days bars make "sangria" on the spot, mixing some red wine, some other hard liquor (brandy, vodka, rum or in the case of a restaurant in San Francisco, I swear it's everclear) and tossing in a couple orange slices.
It doesn't taste right. It wasn't given time to do what good sangria should do.
I remember as a child, my mom confiding in me that the best sangria she'd ever had was at La Tertulia** in Santa Fe. I remember dining with the folks and all the adults at the table seemed to love the stuff, like kids and Kool-Ade.
Later as an adult I got to give a pitcher of La Tertulia's nectar a sip for myself, and by god mom was absolutely right. Ab-so-loot-lee. Mom knows her sangria.
So all this sangria angst was dusted up because over the weekend while at my local Trader Joe's, I picked up a bottle of Maria Ole Sangria that had been touted so highly in the sales circular.
I put that bad boy in the 'fridge to get nice and cold and last night on a really mellow evening, I cracked it open and poured some out.
It was pretty terrible. Really terrible. I finished the glass and decided to give it a chance. Sometimes crappy wine needs a second glass. That's my theory anyway. Second glass didn't do much to improve this swill.
Very disappointing.
And the worst of it? Today I am slightly hungover. Not in a big way but in that "shoot, I drank some crappy wine last night" and now I'm mad. Good old fashioned aged sangria is usually mellowed out enough that it doesn't hurt the head.
This new era of not really sangria not only hurts my head, it hurts my heart.

____________

**Sadly, La Tertulia is no more. I shall always remember their indian tacos and their sopaipillas and yes, their delicious sangria. *sigh* Pour one out for a NM institution…..

Image found here.