Sheesh. Grownups sometimes. They get so worked up about stuff. Little stuff. I mean, gawd.
: rolleyes :
So whatever, last week I got this piece of paper left on my windshield. It seems that this one guy with a uniform thinks he's all important and stuff and he says that my car didn't have enough adornment. He said I needed to have this orange thing on my car instead of the pretty blue one that was already there.
And I have to give him some money, too.
My car was just sitting at the Bart station minding its own business! Ffft! What a bunch of baloney.
And because this is all a big game of hide and go seek, they don't make it easy for me to get the orange sticker since I wasn't in line the first time they were giving them out.
It's like everyone gets a giggle by how frustrated I get running around asking everyone for a stupid orange sticker. I don't even want the thing! I like the blue one better!
But fine. I played their game and I ran around until I got dizzy and my head hurt and it wasn't funny anymore.
Then I had to write out a piece of paper that means money in their game and sign it and give it to them.
For that big amount of money I wrote down on the thing called a check, they gave me a little orange sticker so I can be one of the cool kids, too.
It's not even that nice a sticker. Plain really. Just has 2013 printed on it and some other numbers. Big whoop. No rhinestones or glitter or gold leaf or anything.
But I guess you are supposed to stand in line when they tell you to so you can pay the money and get one of the stickers. When you move and don't get the message that you are supposed to stand in line and pay your money, then you whiff it by three months everyone gets really mean about it.
Buncha bullies.
Anyhow, here, see for yourself. It's not that nice. The blue one was prettier.
Whatever.
Well played, DMV, well played. Maybe that almost $200 I just gave you can go toward some sensitivity training for your employees. Just sayin'.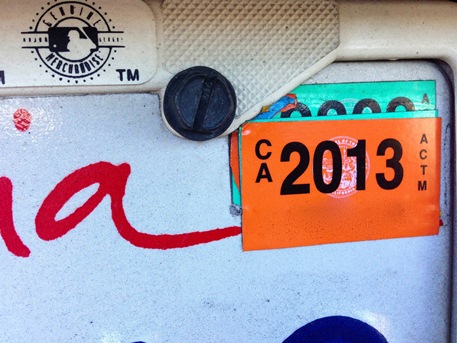 Ok, so I blurred the serial number because this is the internet and who knows where this stuff ends up.

——————

Photo by Karen Fayeth, Copyright 2013, and subject to the Creative Commons license in the right column of this page. Taken with an iPhone5 and the Camera+ app.

Ok, I have another totally hot photo gadget product review to share. I was not compensated in any way for this. In fact I paid these good people for the right to be one of the first to try this out.
It is no secret that I love photography. That much is clear if you've been hanging around this blog for a while.
While I was trained to take photos using a DSLR, I have become more and more enamored of taking photos with my iPhone. I think that Flickr reports the number one camera used by its members is the iPhone.
It's great to have an always ready to use camera that also makes great shots. So to that end I am also enamored of many of the gadgets out there to help make iPhone photos that much more cool.
There are a lot of little lenses out there, most come in a package of one fisheye, one wide angle and one macro lens. The form factor on these isn't always great. I have a set that sort of sticks on with a gummy ring and the lens is a magnet to the sticky ring. Ugh. A *nightmare* if I'm outside where it is dusty (hello? New Mexico?). Plus the ring is pretty tiny and hard to use. There are some that are a kind of jelly stick on lenses that are in one piece but offer up the same sort of issues.
Along came the Olloclip and I loved it. The clip slipped onto the phone and voila, the three lenses were all attached and it was good to go. The Olloclip is pretty spendy at $70. The wide angle and macro lenses were great but to be honest, I don't really like the look of fisheye photos so that lens never got used.
But the Olloclip and I got along great. I used the wide and the macro quite a bit on my iPhone4s. Photography life was fabulous.
Until I got an iPhone5. Then the Olloclip didn't fit anymore. I was not really in the mood to blow another $70 so I figured I'd make do with what I already had in my kit (i.e. the sticky lenses, ugh).
Then I heard some rumors on Twitter about a company working on a lens kit that was like a clip or a clamp which meant it could be used on any make or model of phone, regardless of size, shape and thickness and if I desired could even be used on a thin point and shoot.
Well sign me up! Only…the product, called Mobi-Lens, wasn't available yet.
Images could be found on the company's Kickstarter page. I had not yet taken a foray into the world of funding a Kickstarter, so I thought I'd give it a chance. For just $40 I was able to choose a red clip that came with wide angle and macro. The fisheye lens is a separate clip so no need to order that.
So here we go, the cost is more reasonable, I don't have an extra fisheye lens lying around I will never use, and this clip will work on generations to come of whatever phone I choose to have.
Yes, please!
The Good Man warned me that one of people's biggest complaints about Kickstarter is that even if the project gets funded, oftentimes investors never see results from their investment. The product or project just never comes to fruition.
I read the Kickstarter page carefully and I watched the videos and I felt like these were decent people who had a great idea. They already had some finished test product and they just needed money to go into production.
SO…yes…I took a gamble with forty of my hard earned dollars. This was back in October.
A few weeks ago, my gamble paid off when this little beauty arrived: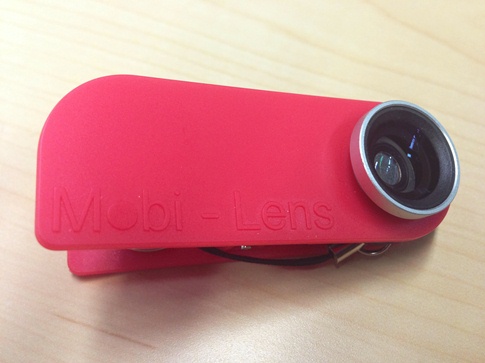 It's so pretty! It's red! It has really nice glass lenses!
It is very easy to use and I've only begun experimenting with it.
So far I think this is the best macro cell phone lens of all the brands I've tried (and I've tried a lot!).
Here is a test shot of my work keyboard: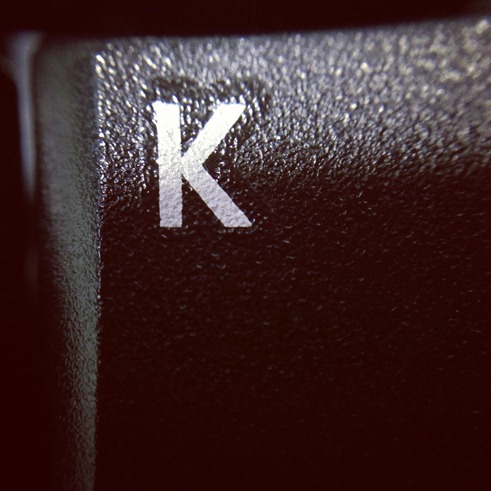 Pretty great!
I have much left to explore with my little Mobi-Lens but so far I am totally hooked and totally in love. I am happy with my lens and I hope this company continues to blossom.
They gave me an awesome lens and made me a believer in the power of a good project on Kickstarter. Win!

———————-

Image of Mobi-Lens Copyright 2013, Karen Fayeth and taken with an iPhone5 and the Camera+ app.
Image of keyboard K Copyright 2013 Karen Fayeth and taken with an iPhone5, the Camera+ app and the macro Mobi-Lens.
Both are subject to the Creative Commons license found in the right column of this page.


Written this morning at something like 5:45am


And so we find ourselves back at Monday. Ah Monday, both the beginning and the end.
I have sad, tired, squinting, groundhog eyes as the alarm goes off. I'm begging the world not to pull me from my burrow. Please don't shine that bright light in my face.
But I'm pulled from my burrow anyway and instead of a prediction the world anticipates my arrival at the train station and my seat on the next ride into the city.
The bright light turns out to be a beautiful ray of light, glimmering off the slowly rising sun.
All possibility is in Monday. Will this be a good week? Will this be a bad week? Will it rain?
Monday is everything and nothing. A blank canvas ready to take the paint.
What will I make of my Monday? What will I achieve? How will I stumble and will I recover gracefully?
It all exists here in these quiet pre-dawn hours. The sun hasn't even said hello yet and here I am, writing. Scribbling the words that want to exit my head.
There is already acrylic paint on my hands from a project that is due Thursday morning. I had to get some early painting done so I can hit that deadline.
In this Monday, all things are possible including finishing a painting that is due in just three days.
Oh my.
I feel strangely happy today. What the hell is this? How unusual for a Monday morning.
The weekend was weird. I was cranky and then he was cranky and then it was Sunday night and another two days of not working were jettisoned to the ether. Monday turned the corner and sat down for a visit.
So here I am again loading a backpack for work, stumbling around to find my badge and my phone and my sense of self-worth.
I look again at my canvas and already I fear I have screwed it up. Don't they say in art there are no mistakes? Just roll with it and incorporate the error. OCD and art are not friends. This major but fixable error must wait until later tonight to find its cloak.
There is a train to catch and a Monday to face. I'd rather stay home in my studio and put gorgeous turquoise paint on a willing canvas. Can I do that for a living?
You know, a girl can dream, and so I will dream as BART gently sways. When I disembark dreams stop so reality can start.
But no matter, I can dream again, later. Dreams don't die easy.
And dreams don't wait for the weekend.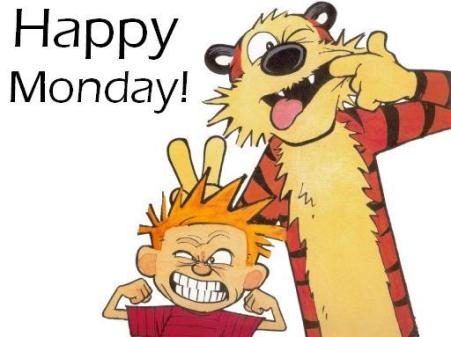 Image from The Miracle Journal.

Today, the next in my continuing series of Life on the Rails.
So this morning I found myself again at my local BART station. I was there earlier than usual as I had an early meeting at work.
Instead of my usual way, way too early departure time, this was "who the hell are you kidding with this darkness" kind of early.
I am NOT a morning person. Back in college, my best friend used to say, "Can you hear that shush-shush-shush behind me? That's because I'm dragging ass."
Yeah, it was that kind of morning.
So I dragged my tired legs up the stairs and through the ticket gates and back down the stairs to the platform and a reasonably sane looking guy (I say "reasonably sane" because sanity is all relative on public transportation) said to me, "Does this train go to San Francisco?" and I said yes.
He nodded and we stepped onto the train. I sat, he sat and we found ourselves facing each other. No matter, BART likes to play it fast and loose with the direction of the seats.
So we started rolling. Off we go. I got out my phone to listen to music and a book. I'm currently trying to read "Great Gatsby" again and making a poor go of it. I remember really liking it the last time I read it. Which would be high school. Anyhoo…
As the train not-so-gently rocked out of the station, I saw the reasonably sane guy eyeing me real weird. I glanced at him and smiled, trying to see what was going on. I surreptitiously touched my nose to see if any bats had escaped the cave, but it seemed clean. I looked at my shirt to see if I was wearing breakfast, no it was clean.
But the guy kept staring at me like he was mildly horrified. So I did what one should do in these situations on public transit: I ignored him.
At the next stop, the guy jumped up and moved about five rows away.
Four days into my new commute and I've already skeeved someone out. That must be some kind of record.
So then a couple stops later, another person got on the train and sat in the seat the last guy vacated. She seemed like a nice lady, if a bit Northern California granola. She also lasted just one stop with me before moving.
Four days into my new commute and I've skeeved out TWO people. I'm now a demi-god.
I texted The Good Man to see if he'd noticed I was giving off an aroma this morning and he confirmed that while maybe not fresh as a daisy (who has time to shower at 5am? Not me) I also wasn't way stinky.
Well I have no idea what this is all about but I'm going to have to experiment with my new found power to repel. If only my powers could work on those I WANT to repel, that would really be worth something.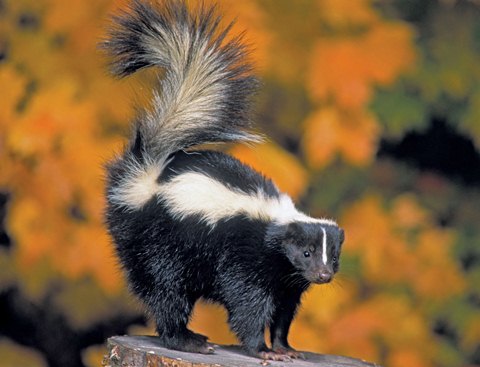 Image from Encyclopedia Britannica Blog.


With a new year, new changes and a new job now comes a new commute.
This is me, I am now a commuter.
To be honest, I tried driving the thirty-five miles each way for two whole days, then I tapped out. It was two days too many.
Driving that many hours in that kind of traffic is not good for the already tenuous grasp I have on my sanity.
So I escaped the confines of my car and leapt into the tired, dingy but quite serviceable arms of the Bay Area Rapid Transit, also known as BART, our local subway system.
In the past when I commuted regularly, I rode the CalTrain (commuter rail as opposed to a subway), and I always really enjoyed it. Up until last week, I had only been on BART for a few random trips here and there, but now I'm doing the everyday BART trip and then catching a shuttle to the office.
I have to say, it works really well. BART is nowhere near as elegant as London's Tube or as clean as Singapore's MRT or as wide reaching as the subway in New York, but it does the job (assuming it goes where you need it) and mostly does it well.
I'm always amused when riding public transit because there is this whole attitude that you have to adopt. We all wear a game face that is a cross between casual nonchalance and aggressive apathy, with enough of a snarl so people will leave you alone.
You aren't supposed to look around. You aren't supposed to lollygag. You aren't supposed to look people in the eye and goodness knows you don't start up a conversation.
Even if you are a flat out rookie, you gotta look like you have done this so many times you don't give a rip. I don't know why this is, but it just is. This goes for all subways not just BART.
Also, public transit is always the best way to find any city's collection of lost, offbeat and troubled people.
Friday there was a guy talking to himself and loudly groaning. He was sitting across from a guy who during the course of the journey put on eight shirts, two hoodies, then a polar fleece and topped it with a parka and a huge knit hat. It's cold here recently but this guy was preparing to hunt penguins.
Mostly it's just a whole lot of people trying to get somewhere. Students, elderly, professionals, blue collar, rich, poor, moms, dads, kids. Just about every make and model of person out there steps on the BART train headed somewhere.
During the course of my ride I start on the peninsula, traverse San Francisco, and end up in the East Bay. On that hour ride it is like the Bay Area has been neatly sliced in half and I can clearly see all of the different kinds people who make up this crazy place.
A one-hour BART ride is a true representation of both the best and the worst of the almost seven million people who live here and call the Bay Area home.
And I'm one of them. I'm that sort of hayseed looking girl who is eagerly looking at everyone's faces trying to read their stories while looking like I'm not looking at all. I'm the one laughing inappropriately and feeling stressed trying to fit in at my new gig.
Not to paraphrase the Beatles or anything but…
When I ride the BART train, I am you and you are me and we are all together.

Image from LA Times.