Hello to the last day of 2012. Yes, today is the last dance. It should be a waltz, I think. A symphony of memories in three quarter time.
The past 365 days have been one hell of a ride. As the old saw goes, you tend to remember the bad things and forget the good. Uncharacteristically for me, when I look back on 2012 all I can remember is the good.
I worked my tail off this year, but I also got to make my first, second and third international journeys. I have emerged from those experiences a changed person. Changed for the better, to be sure.
I suffered the worst bout of writer's block I have ever known. I'm still not quite over it, but through this block I learned to appreciate the art and craft of writing so much more. Suddenly I have to work a lot harder for every word I put on the page which makes me love every word that much more.
And after year's worth of rejection letters for my stories and essays (well over 100 emails or paper letters saying "no") I was finally rewarded by having an essay published. I didn't think my essay full of hard words would find a home, but it turns out the editor of literary magazine Wild Violet saw something in it that worked for her and her editorial schedule. Boom, I was in.
I have much gratitude to editor Alyce Wilson for publishing my words. It is a beautiful feeling of satisfaction and it makes me want to work that much harder so I can have this feeling again. My next round of submissions went out just last week. May my words take flight in 2013.
The Good Man and I celebrated four years together and I love him more today than I ever have. In these four years I have learned a lot from him and have laughed a lot with him and have felt very safe and loved. That, my friends, is magic.
Standing on the precipice of 2013 there are some big changes coming up right away. Good changes. Happy changes. I'm scared spitless but isn't that the best way to head into the New Year? Scared and happy and full of enough courage to dive in and not fade away.
I stand tall even if my knees are shaking, just a little.
And so are you by me? Beside me, to guide me, to hold me, to scold me, 'cause when I'm bad I'm so, so bad.
Let's dance this last dance. The last dance, tonight.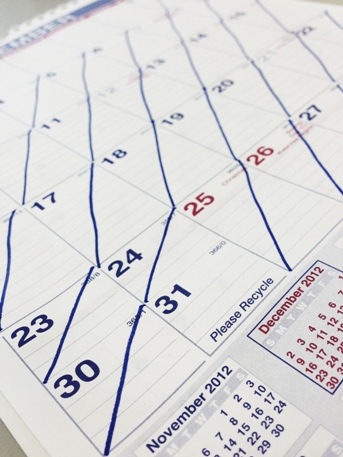 It's Please Recycle day! I think that should be a government holiday. Oh wait…..

Photo Copyright 2012, Karen Fayeth, and subject to the Creative Commons License in the right column of this page. Taken with an iPhone5 and the Camera+ app.

What follows is a real, true-to-life account of an interaction between The Good Man and I. This occurred last Friday while we were in the car driving northbound on highway 280. We were on our way to a celebration dinner with family.
I was feeling rather glum, not unusual at the holidays, and we had been listening to whatever holiday music was playing on the radio.
The station had chosen that hour to do all down beat music. This made me sigh with more glum-ness.
"Here," said The Good Man, "I have an idea." He dug around in the cubby of his car and produced a mix CD and popped it into the player. "If disco doesn't cheer you up, I don't know what will."
And indeed, the up tempo disco beat was helping my mood.
Then the song "Boogie Nights" came on.
Because he is The Good Man, and as my spouse I can (and do) share almost everything with him, I decided it was ok to ask a question that has plagued me since I was just a young child. You see, I am old enough to remember when the song "Boogie Nights" was fresh and new and played all over the radio.
I loved the song even then and used to roller skate and shake my seven year old booty to the musings of the band Heatwave.
And so came my question.
"You know, I've always wondered what, exactly, is a Boogie Get Down?"
"Excuse me?" The Good Man responded.
"You know, the chorus, "dance with the Boogie Get Down cuz Boogie Nights are always the best in town"? What is the Boogie Get Down? Is that a dance? Is that a place? Is that a state of mind?"
The Good Man is much more worldly than me and I figured if anyone knew, he would.
This is when The Good Man gave me a head tilted "hmm?" look, much like a confused dog.
I continued, "Look, ever since I was a kid this has bugged me. Do you know what a Boogie Get Down is?"
He replied, "It's an imperative, not a proper noun."
"What?"
"It's an imperative. Dance with the boogie! Then go ahead and get down. It's not a proper noun."
Now I gave him the dog tilt head.
"There is a pause in there that I don't think you are taking into account," he said, trying again.
"Wait, you mean there is a comma in there? Dance with the Boogie comma get down?"
"Yes. Exactly."
"But the way they phrase it you don't hear it. Since Boogie Get Down comes after a the, it would imply a noun. I just assumed the whole thing was a noun because they don't give you a pause which would indicate a comma exists in the lyrics. You can see my confusion."
"They are musicians and are playing with phrasing and time signatures. Like jazz. You know."
"Hmph. I see."
We were both quiet for a while as the rain spattered the windshield and the song continued on.
I noticed my husband had a slight smile on his face. I turned to him and said, "I've ruined the song for you now, haven't I?"
"Pretty much."
Might I close the scene by saying this is what it's like to live with me every day. The Good Man should receiving his Living Saint designation anytime now.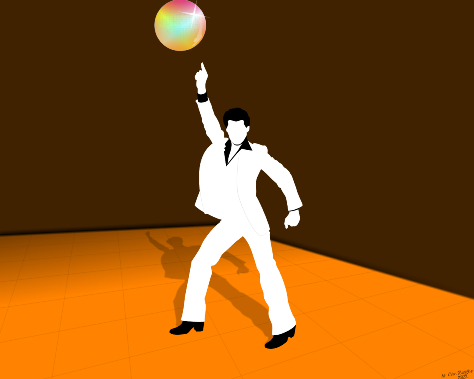 Image by Zerpx2k and found on Deviant Art and used here under the terms of a Creative Commons attribution license.


Dear Robert Gaskins,
It took only one short Google search to learn that you are credited as being the inventor of a little software program known as PowerPoint.
I'm sure you are a very nice man, Mr. Gaskins, and your idea and invention started out as something good. Positive. Meaningful.
From what I've read you sought to make the business presentation easier and more professional. No more copying slides and text onto clear plastic film and showing it on an overhead projector.
Your idea was so good that you got venture capital from Apple and ultimately the product was acquired by Microsoft. Your little dream is now loaded, by most estimates, on over a billion machines.
This software program was a big step up in terms of sales presentations and other business presentations. It brought a layer of graphic design and professionalism to the talking points of any business meeting.
However, today, on this eve of Christmas in the year two thousand and twelve, I am no fan of yours, Mr. Gaskins.
To be fair, it's not your fault that the business world has taken something you created for good and bastardized it, but as with eliminating pesky vampires means you have to make sure you get that one lead guy, you are just going to have be the focus of my ire.
As I sit here working in my mostly empty office building, the one thing I have to accomplish this week is a PowerPoint deck.
Let's stop here and discuss all the names for what to call a PowerPoint presentation. Apparently we're all too cool to call it a PowerPoint presentation, it's a deck. A preso. Slides. Slideshow.
Whatever. It's evil. It's probably evil mostly because we in the business world are all too uncreative to really use the software as it is meant to be used, as a tool to emphasize talking points when giving a presentation.
But it's not that anymore. Oh no. It's the whole presentation.
Last week I had a meeting with the boss to talk him through my rationale for why I need three additional headcount on my team. He nodded, gave me feedback and generally agreed.
Then he said, "Put that all into a deck so I can send it to Big Boss. No more than three slides."
One hour of persuasive conversation needs to be put on three slides with no more than six words per bullet and six bullets per slide. Then these three slides are to be emailed to another person and I don't get to explain any of my rationale. No, the Big Boss is just supposed to try and figure out all the crannies and crevices and nuances of my business case from just eighteen bullets (six bullets per slide, only three slides).
No one can be expected to make heads or tails of an eighteen bullet point slide deck without someone to walk through it. But decisions will be made based on those eighteen bullets. If I craft them correctly, I get much needed help for an overwrought and overworked organization.
Get those eighteen bullets wrong and we get another year of exhaustion and not enough hands to do all the work.
What was always intended to be an aide to the conversation has now become the conversation.
And that's just crap.
I hope you have a very Merry Christmas, Mr. Gaskins. Because of your little invention, on this Christmas Eve I am cranky as hell and worried about the fate of my team for the next year.
I feel the weight of eighteen incomplete sentences with cool transitions and maybe even a fun graphic weighing heavily on my mind.
You'll forgive me if I don't offer you any egg nog.
Besos,
Karen
Image from Call Me Cassandra.

In what has now become an annual tradition in my almost six years of this little ol' blog, it's time to bring out something that was first published back in 2007.
It's as true today as it was back then.
Without further ado:

Top ten things I miss about Christmas in New Mexico (in no particular order):

Originally published December 11, 2007

1) An annual shopping trip to Old Town in Albuquerque. This was a longtime mom and me tradition. Every year I'd get to pick out my own ornament that would eventually be mine when I became an adult. I have every one of those ornaments stored in a Thom McAnn shoebox and they go on my tree every year. They are a glitter and glass history of my life. I remember buying each of them and it gives me a beautiful sense of continuity to have them on my tree.


2) Luminarias. I always was the one to make them for the family. Someone would drive me to an empty lot and I'd dig out two buckets worth of good New Mexico dirt, then I'd go home and fold down the tops on brown lunch bags. Each would get a candle inside and then at night I'd light them. It was my holiday job and I loved every folded bag and every bulk buy candle (and every small emergency when a bag caught on fire in the wind). I miss real luminarias.


3) The Bugg House, which, sadly, is no more. My sister lived over on Prospect and we'd go for a walk in the dark on Christmas Eve to take a look at the outstanding display of holiday spirit. On the way to Christmas shop at Winrock Mall, I'd take a detour to the Bugg house to take a look. No one does lights like the Buggs did.


4) Neighbors bringing over a plate of freshly made tamales as a Christmas gift. When there are three generations of Hispanic women in a kitchen with some masa and shredded pork, magic happens. Yum! I also miss that people would bring tamales to work in a battered Igloo cooler and sell them to coworkers. I was always good for a dozen or more.


5) A ristra makes a good Christmas gift. I've given. I've received. I love 'em. They'd become a moldy mess here, and that makes me sad, cuz I'd love to have one.


6) Biscochitos. My love for these is well documented.


7) Sixty-five degrees and warm on Christmas Day. Growin' up, I think one year there was actually snow on the ground for the 25th, but it was melted by the end of the day. Oh Fair New Mexico, how I love your weather.


8) Christmas Eve midnight Mass in Spanish with the overpowering scent of frankincense filling up the overly warm church. Pure torture for a small child, but oh how I'd belt out the carols. And when we came home after, we could pick one present and open it. Gah! The torture of choosing just one!


9) A New Mexico piñon, gappy, scrawny Christmas tree that cost $15 at the Flea Market and was cut from the top of a larger tree just that morning. Look, to my mind, it ain't a tree unless you are using a few low hanging ornaments to fill the obvious empty spots. These overly fluffy trees just ain't my bag. If you aren't turning the bad spot toward the wall, you paid too much for your tree.


10) Green chile stew for Christmas Eve dinner and posole for New Year's, both served with homemade tortillas. My mouth waters. It's weep worthy. I can taste the nice soft potatoes in the stew, the broth flavored just right. And posole to bring you luck with red chile flakes and soft hunks of pork. Yeah……


*sigh* Now I'm homesick.
Which is not to say I don't have happy holidays where I live now…but sometimes I feel melancholy. And in a weird way, that's what the holidays are for, right?


Finally, in order to just really drive a homesick knife into my heart, I give you this, the beauty of Old Town Albuquerque:

Image via New Mexico Magazine

Oh the weather outside is…
Wow! Really nice. Quite sunny actually. Gotta love California.
And the fire is…
So bloody hot I'm pitting out over here. Would someone open a window?
And since there's no place to go…
Damn tootin', traffic out there is an obscenity. I'll gladly stay home in my yoga pants with the hole in the leg and my battered Louisville Slugger Museum tee shirt. Sipping spiked eggnog (with a Lactaid chaser).
Let it snow, let it snow, let it…
Whoa. If by "snow" you mean cookies and if by "let it" you mean me eating, then yes. Let it cookie all over the place.
Otherwise keep those soggy flakes to yourself.
Chestnuts roasting on an open fire…
Again with the fire? I am going to have to get a fan out, this is redonkulous. And chestnuts? Ew, no. I saw a package of those things at Trader Joe's. They look like something I want no part of.
More cookies please.
Jack Frost nipping at your nose…
That is assault and battery. Back off Jack.
Yuletide carols being sung by a choir…
Ok, that might not be so bad. Can I watch them streaming on my iPad so I can pause when I need to head to the little girl's room after all that nog?
And folks dressed up like Eskimos…
Lord, I hate wearing a coat. Thank goodness I live somewhere that is mostly warm.
Jingle bells, jingle bells, jingle all the way…
Now you look here…Mommy has had a little too much spiked eggnog and she's in no mood for your shenanigans. You shake those gall damn bells one more time and I'm going to shove them so far up your [censored] the light from Rudolf's nose won't be bright enough to help you find them.
Got it?
Come, they call him pah rumpa pum pum…
You too drummer boy.
Go tell it on the mountain…
Yes. Go. Quickly. Mountain. Far, far away. Move it!
Hark! The herald angels sing…
Did you ever wonder who this Harold Angel guy is and why we sing about him every year? That's a good gig. You think he gets residuals?
Wait I'm out of eggnog.
Now I have some place to go. Good thing the store is just across the street. Food stained yoga pants and flip flops are acceptable outside attire, right?
You all just be a good little silent night until I back. Keep your joy to the world to your own selves.
And someone get that damn partridge down from the pear tree. He's scared up there.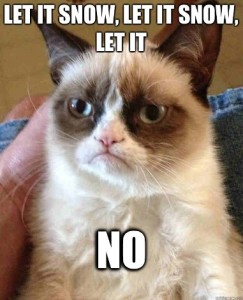 Image found all over the place on the net. This one found here.