Been here in England for a full week and I'm having a lot of fun. And working hard.
Ok. Mostly working hard.
But sneaking in a little fun where I can.
It appears that England's newspaper industry is still going strong, and every morning I can hardly wait to read the latest edition of the Independent, known as the i, and the local Newbury newspaper too.
I love the Brit sense of humor, and I also love the i's ability to report every little bit of local news with both journalistic seriousness and humor. I'd read more US newspapers if they gave me a little chuckle now and again.
Here's a few clips from just this last week.

The Fonz and Me. That's right, the same day I arrived, The Fonz was in town. He was visiting a primary school and promoting reading. Go Fonz! I'm not kidding when I say this was front page news.

Civic pride.This story made me laugh out loud on the train. I actually startled the young businessman sitting next to me.
It seems the mayor of a fairly small town decided that when it came time to greet the Olympic torch, she wanted to really bring forward the pride of Louth to the world.
So she dressed up as a sausage.
Read the short clip, especially the last line.

Very descriptive.As an avowed linguaphile and word nerd, I love, love, love listening to the Brits speak and their colloquialisms.
This is just the end of an article complaining about HSBC Bank's new piped in music and adverts.
In the last two columns are the phrases "cock-up" and "crap the music altogether" that I want to use.
A lot.

"Hey boss, it looks like my team cocked-up the invoices this month, can we just crap the May payments altogether?"
I'm gonna guess US HR is gonna say no to that.

Stop or I'll say stop again. And finally, this is my favorite. I've shown this photo to everyone who will look at it and even the locals shake their heads.
Here's how I understand the story: the town of Newbury wants to cut down on people drinking way too much then getting rambunctious, so to that end, local bartenders have all agreed not to serve people who are already drunk.
Great, fair enough.
The article goes on to say, "Newbury Pubwatch has also introduced the concept of a warning letter which is hand delivered when an individual has been involved in a drink-related incident."
Um. A letter?
That's gonna curtail the hooliganism. I'm sure if it.

Every once in a while, one falls in your lap.
This week's Theme Thursday is: beds
For some, that may end up being a challenge.
For me, not so much.
Because all week, I've had this topic on my mind.
On Monday as I checked into my hotel in a small town in England (population 28,339) I was tired, jet lagged, and a little sweaty from tugging my heavy suitcase through the muggy British morning.
The clerk at my hotel said "oh let's see, yet I don't quite have the room you requested, but I'll just upgrade you to this other room."
Upgrade, she says. Um hmm.
Imagine my wondering eyes when I opened the door to my home for the next five days and saw this waiting for me: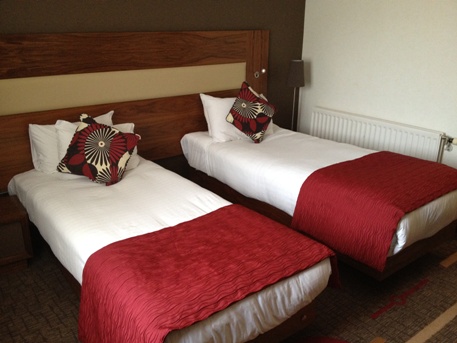 Twin beds? I haven't slept in a twin bed since college!
Who sleeps in twin beds these days? Other than kids, I suppose. And visitors to Britain.
I damn near fell out of bed every night.
I've moved to a different town because of work meetings, and this evening I check into a new hotel.
I'm rubbing my hands together and hoping….
C'moooon double bed!

*Can of Corn = a baseball colloquialism meaning an easy-to-catch ball hit to the outfield.
Photo Copyright 2012, Karen Fayeth and subject to the Creative Commons license in the right column of this page. Taken with an iPhone4s and the Camera+ app.


It's back. Oh no, really? Yes. It's here again.
I'm speaking of the entity known as jet lag.
It's percolating on a "medium" setting at this moment, but give it another day or two and I'll be at full on speaking gibberish and wandering around catatonic.
I'm quite certain zombie mode will come on full strength right about the time I have to give my very important presentation to a VERY large crowd.
This post has only just begun and I'm already digressing.
This is your brain. This is your brain on jetlag.
Anyhoo, there was a topic I wanted to talk about. What was it? Oh yes, I got it.
As I made reservations for my trip to the UK on my work travel system, it asked me nicely if I wanted to rent a car, to which I replied "oh hell no."
Driving on the other side of the road in another country and through one of the largest cities in the world just after coming off a ten hour airplane flight does not sound like my idea of a good time.
At all.
It was recommended that I take a train from London to my destination about an hour and twenty minutes away. "It's easy," they said.
"They" being people who live here and are used to it. It's a different perspective if it's what you know.
Me, I was a bit nervous. I've always heard that the rail system in Europe is amazing beyond belief, but you never know until you are up to your eyeballs in it. It requires a bit of jumping into the deep end to see if you can figure out how to swim.
I was advised to take something called the Heathrow Express to London's Paddington station. For fans of children's books, that's the same train station where the famous Paddington Bear was found by the Brown family.
The Good Man wanted to pin a note to my shirt saying "Please look after this Karen. Thank you."
Then from Paddington I was guided to take a train to Newbury. Sounds easy, but I was a little tentative. I can easily get spun around in a busy place.
Turns out, it really was easy. I mean, quite incredible how well organized and very easy to navigate this transit system is.
I think the only hitch in my travel was that my suitcase was a little too large to easily pass through turnstiles and narrow passages.
The train conductor on the First Great Western was a little bothered by where to put my large suitcase (they have only small overhead storage for luggage). But even that wasn't too challenging.
As I rode for a little more than an hour on the very clean, smooth and efficient rail, I was just so happy. And a little pleased with myself, too.
Until today, I'd considered the T in Boston, the Metro in New York and Atlanta's Marta to be the high water mark when it came to easy transit in densely populated areas.
Move aside US transit. Ya'll got nothing on this.
First Great Western trains in Paddington Station.

Image from the Guardian.


During one of the most painful first innings of baseball I've seen in some time, where Tim Lincecum threw 44 pitches and allowed three runs, I had to find a way to distract myself from the pain.
Herewith, Lincecum photographed on my TV through a glass of Sauvignon Blanc. The real cheap stuff from Trader Joe's. Watching this game through cheap wine eases my pain.
Image Copyright 2012, Karen Fayeth, and subject to the Creative Commons found on the right column of this page. Taken with an iPhone4s, Camera+ app and run through a Instagram filter.


Ahead of the curve(s) and Friday fun.
Now hand me a Big Gulp.

Image from Shoebox Blog