For my music loving readers, let me ask you this…
Have you ever been to a live music show that simply left you speechless?
I have. It happened to me Tuesday night.
The Good Man and I took a couple extra vacation days after the Monday holiday so we could road trip up to the beautiful Napa Valley.
Our destination was the historic Uptown Theatre.
The journey took us to see one Mr. Hugh Laurie, who many might know from the American television show "House" but who The Good Man and I know better from BBC shows such as "A Bit of Fry and Laurie," "Jeeves and Wooster" and "Black Adder."
Turns out the venerable Mr. Laurie isn't just an incredibly talented actor, but he's one hell of a musician, and a consummate entertainer. Apparently the guy is good at everything he tries. I'd have to hate him if I didn't admire him so much.
His deep love of very old New Orleans style American blues, jazz and spiritual music prompted the release of his album "Let Them Talk.
I'm a fan of blues music and was happy to give the album a listen. To be honest, it's more jazz than blues but it's so well arranged and so well produced that I dug the album from first cut to last note.
And then the live show. So incredibly engaging. The crowd was totally in it all along. Mr. Laurie knows how to entertain and his backing band is solid (except for the guitar player).
Whew. My arms hurt from clapping so hard.
What an amazing show. If it comes near your hometown, I can't recommend it enough!


Here's a couple shots I took at the show (we had amazing seats).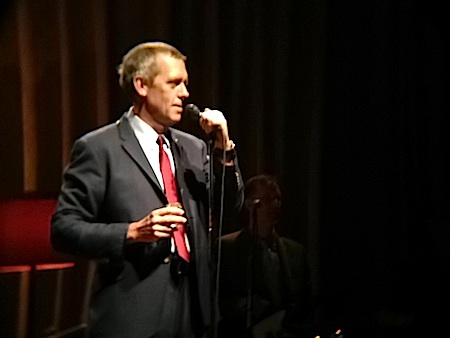 Photos Copyright 2012, Karen Fayeth, and subject to the Creative Commons license found in the far right column of this page. Photos taken with an iPhone4s, an iPhone telephoto lens and the Camera+ app.


This morning I sat next to The Good Man at breakfast at a lovely little bed and breakfast in Napa. There were two other couples at the table, also guests of the B&B, and the six of us talked idly of wine tasting and things to do in California as we got to know each other a little.
At the end of the table was a couple that were a bit older than the rest. The man wore a baseball cap showing he was a military veteran and the troop he was with.
One of the guys at the table asked him, "Where were you stationed?"
He replied, "Well…I was in Korea and I was also in Viet Nam, so I was over there, and also in the US a bit. I was sort of all over."
The first man said, "I bet you've seen a lot of things."
The older man replied, "Yep. And seen a lot of things I wish I hadn't."
This, of course, brought a moment of thoughtful silence to the table.
The man reminded me a bit of my dad, himself a veteran of Korea.
Just a two minute conversation that to me highlighted the holiday we just finished celebrating.
Thought I'd share it.
Happy Day of the Memorials!
I have so many to remember, and believe me, I do.
Humbly.

Sketch by me as I'm fooling about with the Skitch app for my iPad.

Too funny not to share.
And…..never stop seizing stuff.
_________________
Originally from the JasonGood365 webpage and reprinted in Huffington Post.

SELF HELP ADVICE FROM A 2 YEAR OLD.


1. Challenge yourself every day. Try climbing the stairs carrying two soccer balls while wearing your father's shoes. Remember, failure IS an option.


2. De-clutter! Start by throwing all your dishes in the garbage. After that I suggest toothbrushes and important paper work.


3. Pee on the floor and stomp in it like a puddle. You'll be shocked how much better you feel.


4. Whether the glass is half empty or half full is irrelevant if you dump it out on the sofa. You're welcome.


5. If you're feeling aggressive, or just bored, scream in a cat's face.


6. Don't ever be afraid to hand someone an ice cube while they're on the toilet. That stuff is cold. You don't have to be in pain!


7. Socks are poison. Trust me, don't wear them! Happiness will soon follow!


8. Pound on a computer keyboard like Jerry Lee Lewis playing the piano. Feel better? I thought so. Great Balls of Fire!


9. If you fall down, stay down. Someone will pick you up eventually.


10. Quick thrills fuel the heart. Have you learned to delete things off the DVR yet? DO IT. It's AwWwWwEsOmE.


11. Seize the day and the night and the middle of the night and the early morning. Seize everything, y'all! Never stop seizing stuff.


12. Tired of looking at yourself in the mirror? So was I until I met my friend permanent marker. FACE TATTOOS ARE RAD.


13. This might be a tough one, but you gotta trust me: Take a crap in the tub. It's surreal.


14. Live in the moment because there is nothing else. Seriously, there isn't. Not that I'm aware of at least.


15. If you're gonna run, do it at top speed, man. Life is too short to walk in the mall.


16. I've seen God, and his name is iPad. Let us pray.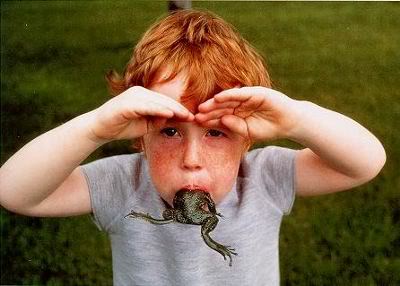 Been reading up on this whole Facebook IPO debacle.
Oh so very ugly.
As I think about it, I am reminded of my old NMSU Finance professor Dr. Hawkins, and his Ten Investment Rules.
And so…my official comment on the FB disaster?
Keep #5 always in mind. And #7 too.


Originally posted December 29, 2010

________________

Sometimes, the cranky old man is the smartest man in the room

Back in the good ol' days, that wild time known at the 1980's, I was full of youthful optimism, and I was attending New Mexico State University.
My undergraduate major was Finance.
Ooh, those were heady days when I wanted to be a stockbroker when I grew up. This was back before I realized that "stockbroker" and "salesman willing to sell underperforming securities to your family in order to make commission" were synonymous.
While the dream was still alive, I took courses at NMSU from some really fine professors with a lot of experience.
Among them, several courses with Dr. Lowell Catlett, now the Dean of the College Of Agriculture, and a noted expert on futures trading.
There was also both undergrad and grad level classes with Dr. Clark Hawkins, a man who had actually worked as a commodities trader on the NYSE floor. In his words, he had tried pretty much every investment vehicle out there…and lost money on 'em all.
Dr. Hawkins was a strange little man. Wiry, small of frame and nasally of voice. He referred to himself as "Uncle Hawkey." He often told us that, as Finance students, we should have our Wall Street Journal under one arm and our financial calculator under the other.
And this was to be done while wearing a t-shirt imprinted with "Uncle Hawkey's Ten Investment Rules".
At the end of each semester, he gifted us with a copy of the ten rules.
Recently, I was searching around in all the old boxes under my house, picking through my crap looking for things I can sell on eBay.
How ironic, then, that I should come across my framed copy of Uncle Hawkey's Ten Investment Rules in my search for something to sell for money.
Well, I sat down and read the rules.
Goddamn if Uncle Hawkey wasn't right. He was right then. He's right now. Right is right.
Now…snap your Wall Street Journal in place, put your finger over the "future value" button on your financial calculator and get set.

Uncle Hawkey's Ten Investment Rules:


1. Don't invest in things you don't understand.


Ah, every single customer of Bernie Madoff…take note!


2. Remember the fundamental mathematical rule of finance.


You know what? I don't.
I suspect this was about future value and present value of money. He was a stickler on that.
Because I understood and could calculate time value of money, I kicked the salesman's ass when I bought my first car.
I got that salesguy demoted because he was such a dunce. Thank you Uncle Hawkey.


3. Know the difference between investment and speculation.


Oh I remember this one. I rant about this one. A lot.
Let me just say his own words, with the same shouting nasal tone…
INVESTING IN THE STOCK MARKET IS THE SAME AS GAMBLING!
If you do not think putting your money in the stock market is gambling, then you need to re-examine yourself and your money.
Sure, it may return better odds than Vegas, but not always.
For those of you wailing and gnashing your teeth in the current economic downturn because you had all your money in the stock market, I suggest you get this rule tattooed on your arm and look at it daily.


4. Don't invest or speculate in financial securities that you can't easily find quotes on.


Dangling participle notwithstanding….Uncle Hawkey was right.
Once again, I'm looking at you friends of Mr. Madoff….paging investors of Mr. Madoff….


5. Don't buy a closed end fund on initial offering.


Oh yes, everyone gets oh so very excited about IPO's. Especially during the dot com boom of the early 2000's.
Look how well that worked out for most people.
Right.
But Uuuuuncle Haaaawwwkkkey, people in his class would wail…what about _____ and they'd name some company.
And by tracking the history of the stock price, he'd show them how they were wrong. How the price would be driven up on IPO and would, over time, settle back down.
He recommended waiting out an IPO for a company you liked, and buying the shares after the initial flurry of the IPO wore off and the stock had settled down.


6. Be skeptical of people who say they can forecast the future.


Well, if more folks did this, then people like Jim Cramer would be a lot less interesting, wouldn't they?


7. Don't do business with a man you can't trust.


Too true. I would also substitute "man" with "company."
(And for 2012 I would substitute "man" with "egomaniacal manchild")
And yet…how many of us do anyway? (*coff* AT&T *coff* Comcast *coff*)
Honestly…it's getting a lot harder to find honesty these days.


8. If the brokers are pushing it hard, it probably should be avoided.


So simple. So true. Yet….
Paging followers of Mr. Madoff!
(seeing a trend here?)


9. Long range planning gives the dangerous notion that the future is under control.


Oooh, this one hurts.
Remember how great things felt in, oh, say mid-2008? When we all had some money and maybe a big mortgage on a great house and the financial future looked, well…bright?
Yeah.
I broke this one. Uncle Hawkey, wherever in the world you are now, I give it up to you.
You knew. You always knew.


10. Don't lose money.


Well sh*t. I broke this one too.
However. Slowly but surely, it's coming back.
Because Uncle Hawkey warned us about short term and long term.
My wise investments will, eventually, find their way home.
And finally….


11. (Bonus rule) Remember Rule 10


Fair enough.

And so…as we slowly but surely dig our way out of these ugly financial times…
May we all remember Rule #10
Thank you Uncle Hawkey.

As a post script…
In my senior year of undergrad, Uncle Hawkey decided to go on a sabbatical from teaching.
He invited us, the students that he had so tortured, to join him for happy hour at El Patio. Ah, that venerable old Mesilla Plaza bar (former home office of the Butterfield Stage).
Uncle Hawkey slapped down a credit card and said we could have all the beer we wanted. Nothing else. Only beer.
Oh, the pitchers flowed that day, and Uncle Hawkey paid for it all.
Maybe all of us college students were, on that day, a good investment.