As you read this, I'll be winging my way over California and Arizona and on my way to New Mexico.
Look up and wave hi if you see me coming by.
I'm headed back to Southern New Mexico for a purpose.
As I've told you, I take my job as co-madre very, very seriously. I love the two daughters of my best friend with such intensity that sometimes I forget I didn't carry them inside my own body.
They matter that much.
My baby girls, now 8 and 11, are part of their local 4-H and this year they took on the project of raising pigs. They worked very hard at this, including helping their dad clear an empty space in their yard and building the pig barn.
Every day they feed and medicate and care for those little oinkers. They text me photos. They tell me how cute they are. Those girls are in love with their little piggies.
This weekend is the final part of the process: an auction at the Southern New Mexico State Fair.
I never raised show animals myself, but most of my friends did. I know from experience that the auction can be really difficult.
Really difficult.
Especially the first time through.
As my friend said, "get ready for big crying."
And I am. I think.
The Good Man and I will join forces with my best friend and her husband and we'll hug those kids as hard as we can and try to make it better.
Because in the end, I'll probably be the one crying the hardest. It hurts when my little ones hurt.
This is the dilemma of a country kid. It's part of their 4-H training, learning to raise and care for animals, but knowing that these animals are also part of the food chain.
Most people don't look at a bag of groceries and understand where, exactly the food came from. People think beef just comes in patties like that. Eggs are created in foam containers. Milk is mixed up back in the stockroom.
My girls know better. My girls are savvy and strong. They know the land and how to create sustenance from it. They join the long line of proud agricultural New Mexicans.
And so they'll cry a little and grow up a little and learn a lot.
Or, hell, they might both grow up to be vegetarians after this experience. Who knows?
Wish me luck! I'm going in!
Photo by Gareth Weeks and used royalty free from stock.xchng.


Because confession is good for the soul, I need to declare that what follows is a post sponsored by Texas on Tour, a function of the Texas Office of the Governor, Economic Development and Tourism.
Proceeds will be donated to the Southwest Indian Foundation.
_____________________________
This Saturday October 1st ushers in the 40th Albuquerque International Balloon Fiesta.
The special shapes and crazy events like the key grab, Balloon Glow, and pin trading are back for another year of fun. I'm sad I'll have to miss it, but work beckons. Photographic opportunities abound!
Hey, if you happen to make your way over to the Balloon Fiesta Park, keeps your eyes out for a little sumptin' different. This year at the Balloon Fiesta, in addition to participating in one of the most notable events New Mexico has to offer, you'll also be able to experience a little bit of Texas.
Albuquerque has the honor of being the last stop in 2011 for Texas on Tour, an interactive virtual trip to the Lone Star State.
Through the magic of green screen video and photography, visitors to Texas on Tour can get a taste of the fun that Texas has to offer such as kayaking, visiting San Antonio, or experiencing the bats fly out from underneath the Congress Avenue Bridge in Austin.
Texas is a big ol' state with a lot to offer, and Texas on Tour helps you experience it all.
The good people behind Texas on Tour hope you'll be so intrigued, you'll want to visit in person.
"We are thrilled to have Texas on Tour traveling to nine destinations across the U.S. in 2011 to encourage travel to Texas and give potential visitors the ability to experience firsthand the many sights and sounds of the Lone Star State," said Julie Chase, Director of Tourism, Texas Office of the Governor, Economic Development and Tourism.
If you take a look at the Texas on Tour blog, you'll see a whole lot of people having one heck of a good time at all of the stops so far.
Sure, it may seem a little odd to visit a site touting the charms of Texas when attending one of New Mexico's most iconic events. But I say why not?
Have another hot chocolate and breakfast burrito and go see what the Texas on Tour team has to offer.
You can also follow Texas on Tour on Facebook and on Twitter @texastourism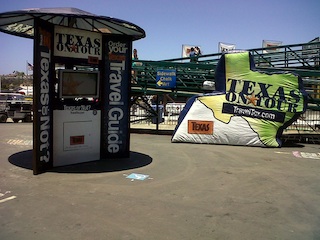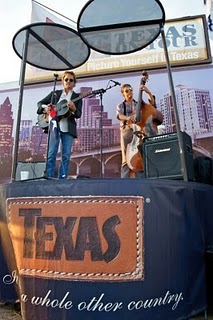 All images courtesy of the Texas Office of the Governor, Economic Development and Tourism.

Just an aside: neither this blog nor this writer endorse the presidential campaign of Texas Governor Rick Perry…or any of the other presidential candidates from any party, for that matter. Not even former New Mexico governor Gary Johnson.

Ok, ok, I admit I was raised in a pretty strict Catholic family, but I don't really consider myself to be that uptight.
In fact, I'm a fairly laid back cat in a lot of ways. I laugh at dirty jokes. I *tell* dirty jokes and I have enough street smarts to make it through life just fine.
Generally I believe live and let live. It's all good.
Ok. Now that we've laid that groundwork.
There is something going on at work that has my Puritanical lace handkerchief all in a ruffle.
It's really in my craw, and so I'm going to use my blog to have some group therapy.
Ok. Here we go.
This is the breakroom on my floor here at work.

Your everyday average office breakroom, right? Coffee. Tea. Microwave. Sink for rinsing out your dishes.
Great.
Across the hall from the breakroom is the "mom's room" where ladies who are breastfeeding their babies can go, have a quiet moment, and pump.
Great. I'm all for that. I think it's fantastic that my company has set aside this resource strictly for working moms.
And it's convenient that the women who use this room have the sink nearby to wash up their gear and get it ready for the next use. Perfect.
Well.
Ahem.
Let's zoom in a bit on that last photo.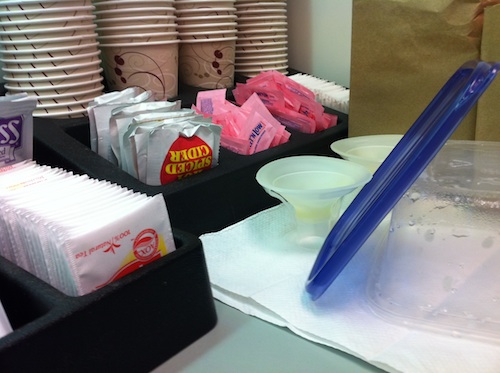 One of the ladies rinses out her pumping supplies and leaves them on the counter to air dry.
In the public breakroom. Right by the coffee maker (usually. Not in this photo.)
Yesterday, she set them to dry on the same paper towel that held the coffee cup belonging to Mr. Big Boss. They were touching his coffee mug.
Her boobs were just in there, you know. AND…I know who it is who is doing this, so it makes it seem even weirder. I try not to think about my coworkers boobs.
I am really struggling with this. I utterly support a woman's right to breastfeed her baby, and be a working woman, and use the resources in the office.
But do I have to reach over this to get myself a tea bag and a packet of Splenda?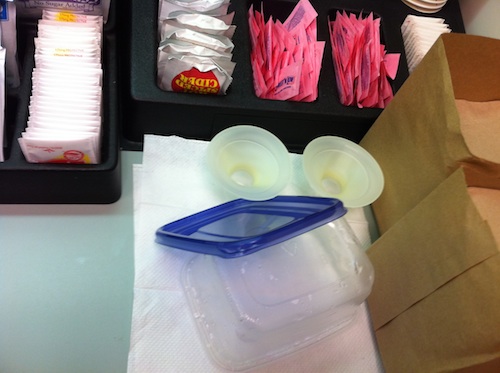 Her boobs were just in there!
I believe if it were me, I'd want to take the boob couplers with me back to my office to dry. I mean….who KNOWS what people are doing in there around your boob dealies? What if someone splashes their lunch on there? Or…touches them?
I know. I know. This betrays the "laid back" attitude I described above.
But this just drives me bonkers.
Thanks for letting me talk about it. I'll get over it.
I feel better now.

Back in 2006 when I met the product called Sirius, I was enchanted. It was a whole new way of listening to radio. Fewer commercials, more choices, and lots of stations that let me listen to whatever I wanted to whenever I wanted to.
For several years, we were together, and musically I was very happy.
Over time, the renewal price of my Sirius subscription started going up and the quality of the programing starting going down. During the time I took a sabbatical from work, I looked for every possible way to cut costs.
So I broke up with Sirius.
Sirius had a hard time with the end of our relationship. Sirius didn't really want to let me go. Sirius still calls, email and snail mails me several times a week.
Bright yellow envelopes in my mailbox shout "We want you back!"
No, honestly, they actually say that. It's weird. Soon Sirius will start writing me bad poetry.
Well I've been back on the job for a while now and while I *could* sign up again with Sirius, I just don't want to. I'm over Sirius.
The trouble is, there hasn't been a respectable suitor to take its place. I listen to some form of music in my office while I work all day (we're talking a good eight to ten hours a day of music) and I have tried just about every local radio station I can get. They all suck.
So I did what I usually do. I whined to The Good Man.
Who replied, "Have you tried Pandora?"
Why no…I hadn't.
So I downloaded the free application to my iPhone and started listening.
Last week I finally dug down into the instructions and figured out how to not just listen to the stations already set up, but instead program my own station.
Oh my. I'm in love.
Deep love.
I am all about Pandora, now. ALL. ABOUT. PANDORA.
Sorry Sirius. You can't have me back. I'm with Pandora now.
And I like it.

** By the way, I wasn't paid for this, I just wanted to talk about my feelings.**
Hi! Today we're going to mix it up a bit. You'll find my Friday post over on a wonderful blog called Into The Bardo.
This blog is a collaborative effort of three friends who all face serious health conditions. They created this blog to provide a forum to explore a variety of topics with talent, humor and verve. Post authors include the three main editors, their family and friends and include a number of notable poets and writers.
I was honored to be asked to contribute an essay for their "Perspectives on Cancer" series. I wrote a piece about my paternal grandmother.
Writing this essay has proven to be a magical experience for me. I'm very close to an Aunt on my dad's side, and I sent her an early editorial layout of the piece as I very much wanted her approval before publishing. She not only approved, but sent it out to many of my cousins, some of whom I've only met once or twice.
I'm getting email from around the world to discuss this piece and our grandparents and the connection to my extensive family has touched me very deeply.
So please, give me a click today and go read my piece:

Thanks much, and happy weekend to us all!
That's my grandma and me in 1976.

Photo from the family archives and Copyright Karen Fayeth, 2011

Today I'm going to lean heavy on my New Mexico readers, or travelers to and fans of New Mexico.
Been feeling a little homesick, so I took to Google for searches about New Mexico.
Of course there are all the sites dedicated to the aliens, the cattle mutilations, La Llorona and the chupacabra.
And I find a LOT of sites that want to tell me how weird my homestate is.
Weird huh. Is it?
Hmmmm. I don't think it's weird at all.
I came across a list of "New Mexico Attractions and Oddities" and went through the list.
Honestly, is it just because I'm from there? I didn't find many of these things to be odd at all.
Examples:
The Chevy on a stick in ABQ. Ok, ok, I remember when that was first going up and there was a hubbub, but hardly what I'd called genuinely weird.
And the big green dinosaur, also is ABQ.
But are these really all that weird? Or just…um…bad taste?
Speaking of bad taste, how about the scrap metal roadrunner in Alamogordo or the recycled roadrunner in Las Cruces…or the auto parts dinosaur, also in Alamogordo. Not art, but not weird.
Or how about the big metal glasses in Taos. I mean, it's Taos fer chrissakes. The whole town is a half bubble off level.
Then there's the "mysterious/religious" stuff like all the spontaneous healing at Santuario de Chimayo with the crutches left behind, the shrine at the top of Mount Cristo Rey or the image of Magdalena in the side of the hill in Magdalena (outside of Socorro).
All sort of your garden variety stuff, filed under "mystical." But weird? Nah.
And of course there's all of the natural formations: Camel Rock, Shiprock, and the Kneeling Nun to name a few. All fascinating works of geology, but hardly weird.
The rock formation that gives you the thumbs up going into Laughlin, NV and flips you off on the way out is WAY more weird than any of that. **
And remember when the Burning of Zozobra used to be kind of weird before those frapping Burning Man people went mainstream? Now everyone just thinks New Mexico ripped off the idea (we were burning Old Man Gloom first, you damn hippies!)
I dunno, maybe it's just the desert heat that leads people to believe that the good people and place of New Mexico are weird. I suppose to someone who has never seen such wide-open spaces and deep blues skies, it could all be a little scary.
But weird? Pfffft. No way. I live near San Francisco. Now that's weird.
Blame The Good Man for this post topic. We got into a conversation about why New Mexico put "USA" on their license plates (a vague attempt to get around "One of our Fifty is Missing" troubles, I think).
The conversation drifted into new slogans to add to the plate as we bandied them back and forth.
The winner being: "New Mexico…you don't know who we are and we don't like you anyway."
They can take their "weird" and go jump in a lake.
And that's all I have to say about that.
If any of ya'll New Mexicans know of something really weird I've overlooked, let me know. I'm open to suggestions.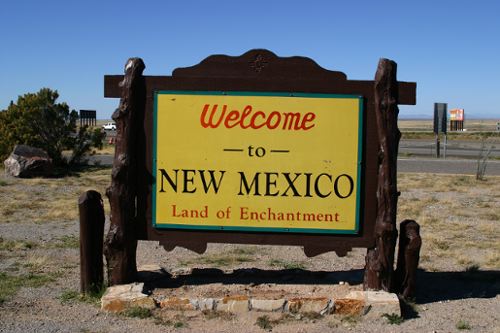 New Mexico sign image Copyright 2007, Karen Fayeth, and subject to the terms of the Creative Commons license found in the right hand column of this page.
** Nevada rock formation images from Life is a Road Trip.


Today, a trip into the wayback machine to answer a question that was posed to me: What is the funniest non-real word you've ever heard?
It was the mid-1990's and I was a fresh faced college grad. I had a financial calculator under one arm and an ink-not-quite dry MBA under the other.
After just a year of working as a financial analyst for a large aerospace company, I was offered a job at Sandia Labs.
The hiring manager told me that it was ok that I had no background in the business of purchasing, they would be more than happy to bring me on and train me.
I was too naive to really understand that opportunities like this didn't come along very often. Even less so these days.
So I took the job. I landed at one of New Mexico's largest employers and I had a lot to learn. I worked for one of the best managers I've ever had (he's still a friend and mentor) and I learned how to be a government procurement agent.
It was a move that would shape the next twenty years of my career. In lots of ways.
My desk was situated next to a tall lanky guy who had worked at Sandia for some twenty or more years. He was a bit outrageous, opinionated and wickedly intelligent.
He was the guy who knew EVERYTHING about the procurement systems, the department and the rules of the road. He was like a walking encyclopedia and we hit it off right away. It was fun to learn from him.
One day, I heard him tapping away at his desk while he was on the phone with a supplier that he supported. He was growing ever more frustrated with the supplier rep on the other end of the phone (and I think she was being snappish at him).
He hung up the phone and sighed…"what a coleslaw bitch."
Wha?
My brows furrowed. A coleslaw bitch? What the heck is that?
So I asked.
He laughed. "No, not a coleslaw bitch. A cunslubitch. She is such a pain in the ass she deserves not one but three insults. It's my three favorite words mashed together."
Oh.
Wow.
Right here at work.
That's really something.
Then I started laughing. It was so outrageous and so perfect and so YEAH MAN that I couldn't help it. What a terrific concatenation of words. Useful!
That was the better part of twenty years ago and I still remember that word. And every now and again a supplier rep (male or female, doesn't really matter) will work that last nerve, step over that last line, bully me just a little bit to far and get my procurement dander right up….
And I'll think….what a cunslubitch.
I learned well from the master.
Twenty Two Americans get $500,000 'genius grants'
"Recipients largely don't know they're in contention for the annual awards, and often learn they're winners with an out-of-the-blue phone call"

Last evening I soaked my weary body in a hot bath. I have become diligent about walking three miles every day at lunchtime, and my aging and out of shape body feels it. Both for better and for worse.
While running through my usual bath stuff, I got out my little cheese grater looking dealie and went after some of the rougher spots on my feet. As I smoothed out the soles, I started looking closer at my feet. My poor feet. They are really taking the brunt of three miles a day, every day.
I've always been a little iffy about my feet. They are fairly large, rather wide and my arch is kind of high. My feet are a bit malformed (bunions!) due to genetics, a few years dancing in toe shoes, and a lot of time on my feet over the course of my life.
Mostly the paws serve me pretty well. They don't hurt and they get me around the lake four times a day so that my heart and mind get healthy too.
So I should love my feet. I sat there in the tub with my right foot near my face, trying to find things to like about them. Aesthetically speaking I mean.
After the bath I started wondering how I could learn to love my feet. How could I give them respect they deserve? They've been awfully good to me over the years.
I thought about how in many cultures we adorn that which is valuable, so I got out my beautiful red nail polish and gave myself a pedicure.
Now then. That's better. Pretty!
Then I decided I should photograph them. Doll them up, pose 'em and give them some love.
It feels weirdly very intimate to share this photo on the web. I'm rather sheepish about it, to be honest. It almost feels more nekkid than putting something rather more naughty out there.
I had second, tenth and eightieth thoughts about it.
But here we go. There's my toes.

I was fantastically late to work this morning because of this. I'm glad my boss is out on business travel, because that would have been a tough conversation.
"Karen, you're late. Why are you late?"
"Um." (that's me hedging because I really can't lie. I have a moral blindspot, especially around an authority figure.) "I'm late because I was having a photoshoot. With my feet."
My boss would then give me that look he gives me over the top of his extraordinarily stylish frames and then walk away. After a year together he knows better than to ask too many questions.
Meanwhile, I keep looking at the photo and after a first cringe, I think "you know, they are not that bad. Not bad a'tall."
Learning to love my body, one toe at a time.

Oh, let's go instead with word association.
I'm so much better at that.

———————————
Earrings ::

Love 'em. The bigger and danglyer (<-- so very much not a word) the better. One pair I have, Zuni petit point in a modern version of the classic snowflake pattern, seem to be the crowd favorite. I get tons of compliments. Even without the compliments, they are hands down my favorite. Plus, you don't see earrings like this out here, which I like. There are a few ladies at work who would buy them right off my ears if I'd let them.


Tomorrow ::

And tomorrow. And tomorrow. And the unofficial state motto of New Mexico….Land of Mañana.


Soft ::

My cat's belly. Hard is her teeth when I pet her belly. She has tummy issues.


Idiots ::

Me and The Good Man cuz we keep trying to pet The Feline's belly. It's soooooo soooooft. She bites really hard.

Portraits ::

I'm learning that good light is everything.


Handicap ::

You know how the sport talk guys give a handicap when they mention golfers? "Oh he's a seven handicap" or some silliness like that. What it means is you know what kind of golfer the guy is. Well….shouldn't we have a system like that for everyone else? Especially at work? "Yeah, um, Karen is about a six handicap…she's chronically late to meetings, blows her nose too loud, can't park straight, laughs at inopportune times and her mind tends to wander."

You picking up what I'm putting down?


Collar ::

Just reading the word made me tug at mine. Why are collars always so scratchy? And how you boys wear the tie AROUND the scratchy collar I'll never know. I would have bug eyes and claw at it all day long.


Blouse ::

Much softier and nice. Ladies, have you noticed that blouses with a limpy bow at the neck are back in style? Let's go raid the wardrobe of the early 1980's working woman, why don't we?

I'm not sure how I feel about this trend. What's next, wearing high top Reeboks with our power skirt and calling it high fashion? Um. No. Been there. Done that.


Wool ::

Scratchier than any damn collar. Who can wear that stuff?


Statistic ::

Statistically speaking, the odds of me wearing a wool collar are nil. However….the odds of me wearing a limpy bow blouse again in my life….maybe…

Image is a screen still from "Charlie's Angels" and found several places on the net.

Check out the October issue of New Mexico Magazine, page 14. Yup, I have another story published.
This is the third of three stories that were accepted and all three have been published.
I'm now working on some new submission ideas. I really hope to keep this trend going!
So I can have a good job and a nice hard walled office.
So I can listen to my Pandora radio in my iPhone.
So I can tune it to the "60's, 70's, and 80's hits" station.
Where I can hear Aerosmith's "Dream On", first released in 1973, and again in 1976, right in the prime of my formative years.
So that I can sit in my hard walled office and sing along.
Badly.
With Steven Tyler.
"Dream ooooowwwnnn, dream oooowwwwwn, dream until your dreams come true!"
And especially this part:
"…sing with meh/sing for the yeaaahar/sing for the laughter, sing for the tear/sing with me, if it's just for today/Maybe tomorrow, the good Lord will take you away"
And then there is that howl part on the word "away"… Yeah.
In my mind I think I can hit those same notes that Mr.Tyler could hit some 40 years ago.
Then the employee seated in the cubicle just outside my office prairie dogs up over his wall to give me a crooked eyebrow.
And I think "ffft! He was born in 1983, he doesn't understand."
So I go on singing. In my office. With my Pandora.
Thank you NMSU, that I may have this job with a Fortune 500 company, this office, and the ability to torture my employees on a Friday morning.

I never get tired of recycling this image.

Image is of Latvian mezzo-soprano Elina Garanca and a pretty extensive web search could not net me the attribution on this photo. I found photos from that same event on the European Commission page which allows for the use of photos with attribution.

I've heard over and over how "if it looks easy, it was probably hard to accomplish." This applies to music, painting, writing, and pretty much all of the arts.
The answer, then, is always practice. And then practice. And then practice some more.
I recently procured a light tent and have been learning how to shoot stock images. It's a great outlet for photography and occasionally, if you build up a good inventory, you can make a couple extra bucks at it.
So I thought I'd try my hand. I did my first submission of ten to the online stock photo company I'd chosen, and all but one were summarily rejected.
I was told that most "were not commercial"…meaning I'd submitted arty stuff and not "hey that would look good on a brochure" stuff.
Ok. This calls for expanding my horizons a bit. A streeeeetch to my current knowledge.
So I've been practicing. And struggling.
I have spoken with a professional photographer who has a lot of success with both stock and not-stock work. She gave me great information and feedback.
She advised that making the move to add "commercial" to your "arty" repertoire is a tough one.
I had no idea how just how tough.
I keep looking at this photo and sighing. Occasionally I whimper. (I suggest clicking the photo to see the big size. In the small form to fit this blog post it's hard to see details):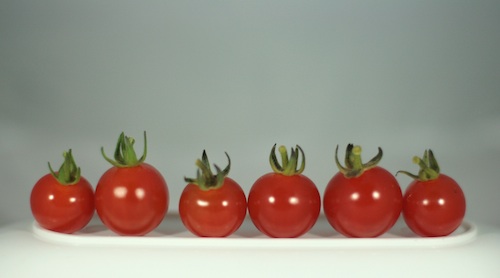 I took the better part of a hundred photos of ding-dang tomatoes in just three different poses. I fiddled with light. Lenses. Exposure. All of it. From the piles of photos from that shoot, this is one of the better shots.
And it still sucks.
The stems are out of focus (c'mon Fayeth, that's photography 101!). The colors are muddy (gah!) and the depth of field isn't quite right as you can still kind of see the corners of the light tent. And the way the lights are configured, it looks like each little tomato has two little eyes (this was not easily corrected by Photoshop. I tried.). GAAAAH!
So frustrating.
Turns out it takes a lot of effort to make a "simple photo of tomatoes" look like it was just simply snapped off the camera and ready to go.
What does this all mean? Well…back to the light tent I go with a new bowl of tomatoes from the back yard.
Practice. Practice. Practice.
And then practice some more.
I think the edges of my personal creative envelope are starting to ache a bit.

The other day, I was out walking with my lunchtime exercise pal (for regular readers, the Worm Girl) when we had occasion to cross paths with three different redheaded men. Of the bright orange and freckles variety.
"Must be a ginger convention," I quipped.
She laughed, then my newly on-the-market friend commented "You know, I can't explain why, but I've never been attracted to redheaded men. There's no good reason, it just doesn't work for me."
I replied, "Yeah, me too. Though I know why. When I was in elementary school, I went to school with a ginger kid. He had a lot of troubles with wetting his pants. I felt so bad for the guy. He was a nice kid, but he used to make puddles everywhere."
We walked for a while longer. Then I said "you know, I should look him up. I wonder what he's up to these days."
"He's probably a CEO and incredibly rich," my friend said, and I agreed.
So that night I went online to look up my old schoolmate from my formative years. The pants wetter.
Well. He's not a CEO. It's better.
He's a pretty darn successful race car driver. His posted record is awesome and now he owns a racing company with his parents.
Guess we all pegged that kid wrong didn't we?
Which makes me think about all of my friends with young kids who struggle with the weird culture of mommies that insist on comparing "my little Tommy" to other kids. They always make sure you know that their kid is better than yours.
It's evil and it's wrong and it makes me UTTERLY mad. You have no idea how many mom-friends I've had to talk down because of this nasty culture.
One might think that my school chum was a less-than kid because of his bladder issues.
Since confession is good for the soul, I'll admit I was the class nose picker. When the teacher got boring, the treasures of the nostrils seemed far more interesting. I'm not proud of it and I took a lot of guff in first and second grades for it.
At close to forty years later, I think it can be said that I turned out pretty well too.
Power to the pants wetters and the nose pickers and that kid that barfed on the school field trip and then no one wanted to hang out with him. They are your future race car drivers and CEO's or just your average soul with a decent job and a good spouse who does her best to be a good member of society.
Blessed are the weirdos, for we shall inherit the earth….right after we're done skeeving everyone out.