Thursday's National Geographic Photo of the Day. That there's a cotton mouth.
Photo by Jared Skye.
His photo caption: "While working as a field researcher for a biodiversity study on pine plantations in North Carolina, I found this Agkistrodon piscivorus in a drainage ditch. It's seen here displaying the classic defensive posture that gives it the common name 'cottonmouth.'"
I would not have gotten this shot. I would have screamed, wet my pants and run.
I am humbled by Mr. Skye's fortitude.

(brace yourself, then click the image to see a full size)

Been reading via the ABQJournal that April has been a rather windy month for my Fair New Mexico.
Or as my NM friend Natalie so eloquently put it on Twitter: "Life's glitter just fell off…it's so damned windy, dusty, smoky here!"
Indeed. The glitter not only fell off, it was sandblasted away.
In an article today regarding education cuts in New Mexico, Leslie Linthicum says:
"I've been thinking about the wind lately. And by thinking about the wind, I mean hating it…"
Leslie posits that the wind makes everyone a little bit nutty:
"In addition to picking up tons of grit and garbage from the Arizona state line and moving it over to the Texas state line and then moving it all back again, the wind makes people nuts.
Yes, it will loosen your screws and knock you off your rocker. It will drive your train off the track and turn you dippy, loony and screwy.
Did I mention cuckoo? The wind will gladly make you that, too, just as soon as it finishes blowing some bats into your belfry and the cheese clear off your cracker."
Ah, home sweet gritty home.
It's been rather windy here in the Bay Area, too. I mean, we get a good wind up off the water and often it's that coastal wind that drives the fog inland. But whenever I hear my fellow Bay Arean complain of the wind, I just smile.
These people don't know from wind.
New Mexico knows.
I used to work at Sandia Labs in a building just off the Eubank entrance to Kirtland Air Force Base.
Our huge parking lot was uniquely located to catch the full blast of wind that channeled through the gap where the Sandias end and the Manzanos begin. That wind would come hurtling through the gap like a runaway freight train, picking up speed as it hit the valley floor.
Wind that brutal made walking to my car in order to drive home at the end of the day a unique and not enjoyable experience. More than once, I was physically knocked to the ground by that Spring wind. I once just simply crawled the rest of the way to my car, sand filling my teeth and eyes and ears. Oh, and my nose. Oh the nose. *honk, honk*
Freeloading on all that wind is millions upon millions of particles of pollen, all ready to provide itches, hives and sneezing so hard I'd see stars in front of my eyes.
My best friend's dad spent some time in Amarillo where I'm convinced the wind never stops blowing. He likes to say that the best way to tell the force of the wind is to attach a logging chain to a sturdy post. If the wind blows so hard the chain is standing straight out, well, that's pretty darn windy.
It's when it's gusting so hard that links are snapping off the end that you might wanna get yourself inside.
I feel for you, My Fair New Mexico, suffering through an April that came in like a lion is going out like a really, really pissed off lion.
Photo by Lize Rixt and used royalty free from stock.xchng.


So there I am, standing in my local Target store looking at something called Lactaid because evidently God has a sense of humor and I'm pretty sure I've become lactose intolerant.
I'll spare you the details, but I've had a bowl of cereal for dinner this evening and I'm bloated up bigger than Airabelle, the Creamland Dairy hot air balloon (last seen at the Albuquerque International Balloon Fiesta).
Pride goeth before a burp, and the thought of taking something to stop this feeling seems real, real appealing. I'm comparing and contrasting the relative merits of the store brand "dairy digestive aid" versus the name brand "dairy digestive aid" when in my peripheral vision, I note a man walk by behind me. I can tell it's a man by the gait and by what he's wearing as he shops the aisles.
I hardly notice my fellow shopper, but moments later, I get a whiff of cologne.
Oh my.
It's that scent, that same deep musk and leather tinged scent that reminds me of someone I used to know. Suddenly I'm not in a Target store but I'm in the cab of an early model step side red Ford pickup truck sitting next to that memory and I'm mainlining that scent like a addict huffs paint.
The one I knew wasn't especially tall but he was broad in the shoulders, owing to many long hours spent practicing his team roping skills. He was a dusky hued fellow of Native American extraction with ice blue eyes that made me go weak in the knees when he'd walk past me on campus.
We only went out on two dates because he was as squirrely as a rabid woodchuck, but oh my heavens was he handsome. Just those two dates were enough to make me smile wickedly to myself some twenty years later.
So I throw into my cart whichever box of digestive aid was in hand as I sensed the sweet smelling gent shopping in the next aisle. I look at the sign on the end cap containing the Target version of the Dewey Decimal system announcing, "dental hygiene," and think to myself, "why, yes, I could go for something in a minty fresh breath."
I fix my casual smile, not too wide, not too meager, just Mona Lisa enough, and sashay toward the mouthwash shelves. Memories of slow two stepping dances to the sounds of something like Alabama or George Straight or Merle Haggard fill my mind. I lean casually next to the Listerine and glance up at the object of my olfactory desire.
There stands a mid-fiftyish man with a boiler hanging over a belt holding up a pair of unflattering pants that evidently contain no butt a'tall. His unkempt hair graying rapidly from the top of his ratty hairdo to the bottom of his scruffy beard. What appears to be a remnant of dinner still lingers there on his, oh my is that really a knockoff Members Only jacket he's wearing?
I beat a hasty retreat and three rows down, I huddle at the end of the hand sanitizer aisle. I need to regroup.
That was, as they say in the vernacular, a buzz kill. Suddenly visions of New Mexico State Ag Week dances under a clear high-desert starry sky vanish and I find myself once again an almost forty-two year old woman in a Target store. I take inventory of my own raggedy outfit, with frowsy hair escaping a hasty pony tail, glasses framing my weakening eyes and a hand cart full of things like GasX and Lactaid announcing that not only was that guy not the guy that I once knew, but I am in no way that girl I wish I was any longer.
The girl I am now needs to buy some Ziploc bags so she can pack her non-dairy, non-wheat, low-fat lunch to take to my "is this really what I wanted to be when I grew up" job and slog my way through another day, as my tummy churns and my hair grays and I no longer ride in red pickup trucks and wonder what it will be like when I'm all grown up.
This is what it will be like. This is what it is. Just me and my rumbly tumbly and enough freedom and disposable income to make it interesting. When I'm done daydreaming and remembering and purchasing my products of middle aged despair, I get to go home to The Good Man who smells of soap and cute boy and is a pretty gosh darn fine reason for going home.
For some reason, even with my frowsy ponytail and corrective lenses and an occasional bout of lactose intolerance, he still thinks I'm pretty cool. And pretty.
Crazy ol' fool. (Me, not The Good Man)
Photo from coolead's Flickr photostream.

When prolific author Harlan Ellison is asked where he gets his ideas, his response?
"Schenectady. They have them on a shelf in a Mom & Pop on Route 147."
It's a great quote. I mean, Schenectady is an inherently funny word. So is Poughkeepsie. And Poconos. Those East Coasters know from funny.
But the thought that the repository for the wild and engaging ideas of a writer like Ellison are neatly packaged, shrink wrapped if you please, and ready to be lifted off the shelf and plopped into form is one that tickles my senses.
In the opening credits of "The Ray Bradbury Theatre" television shows (dating back to the 1980's, The Good Man and I have been watching them recently), Bradbury says that he's often asked "where do you get your ideas?"
His answer refers to his writing space which is filled floor to ceiling with books and mementos and a whole plethora of, well, junk. He says all he has to do is look out and whatever his eyes fall upon, that's what he writes about.
In an essay on the topic, Neil Gaiman says,
"…these days I tell people the truth:
'I make them up,' I tell them. 'Out of my head.'
People don't like this answer. I don't know why not. They look unhappy, as if I'm trying to slip a fast one past them. As if there's a huge secret, and, for reasons of my own, I'm not telling them how it's done."
Truth be told, there is no huge secret. There is no mystery. Ideas simply happen.
When the hose is squeezed too hard, hoping for water, no water can come out.
When you step back and let go, then ideas flow faster.
Then again, every once in a while, you get a big calcified chunk of gunk that blocks the tubes. An esoteric gall stone, if you will.
So where DO you get your ideas?
Hell if I know.
Some days that shop in Schenectady is out of inventory and I have to wait for my back order to arrive.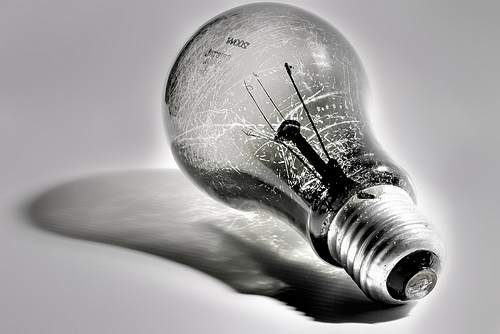 Photo by username Clix and used royalty free from stock.xchng.

More Unconscious Mutterings free association fun for the post-Easter Monday morning blahs.

Squid ::
When handed to an experienced chef in an Italian restaurant and made into Calimari frittata? Yes please!




Wife :: A descriptor I still can't get used to.




Promising :: On Friday I had to renew my driver's license. The DMV I went to was dull, gray and windowless. That said, there were plenty of young kids in line to take their written tests to get their learner permits. For them, those government gray walls held something rather promising. For me…drudgery.




Tingle :: What happened when I used The Good Man's "invigorating body wash" containing peppermint oil. Peppermint oil + lady parts = no




Off balance :: Me. Daily. Gravity and I don't get along.




Nice :: What everyone calls me. "Oh that Karen is so nice!" If they only knew the evil that lurks within my mind. I'm just too polite to act on any of it. Which is why they call me nice.




Honor :: One of those phrases you hope you never have to respond to: "How do you plead?" Always reply,"Not guilty, your honor."




Emphatic :: Helps if you are rather emphatic when you say it, too.




Siren :: Here's something I don't miss from back home in New Mexico: the tornado siren. It freaked me when they even tested the damn thing. My family's tenure in Carlsbad was fraught with that sound. brr!

When I visited Hawaii, I didn't know they tested the Tsunami siren once a month. I'd taken off at a sprint before a nice bystander told me the deal.




Plated :: With this whole boom in the celebrity chef, one term that's now in the vernacular is the term plated, as in "oh I love how the chef plated this entrée." It seems like an abomination of the English language. Not that I'm above abusing the language a little now and again. Can't explain why this particular use just bugs me. Though doesn't annoy me as much as "yum-o," which should get the speaker of that phrase summarily kicked in the shin.
Ok, done rambling, verbally shambling, and linguistically wandering.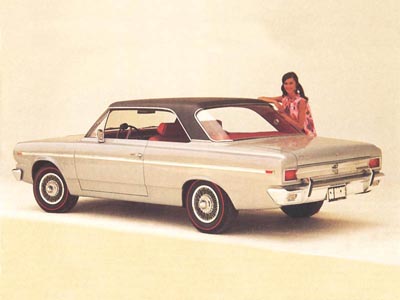 That there's a visual pun…it's a Rambler. The 1968 version. My folks used to own a Rambler. It got stuck in the mud up in the mountains of Cuba, NM. Good memory.