Back in college, I took my studying rather seriously.
More seriously than my various roommates, my suitemates and pretty much everyone in the dorms where I lived.
I might have been a dork. Not sure….
Anyhow, when I was a kid, I had been lucky enough to have my own room, so I could study in there, door closed, and be most effective.
College was a whole crazy world of living with strangers. After lamenting my issues to my mom, she suggested I try the library on campus.
This sounded awful. I like being in my own space to study. To have my own comforts around.
But desperate for a solution, I packed up a backpack full of books and things, and walked over to the imposing building.
I was just a lowly freshman, and that library was intimidating!
But, as I looked around for a place that might work for good solid studying, I discovered this fabulous feature called a study carrel.
Oh yes.
I could sit in one of these bad boys with the high walls and block out the rest of the world. I could unload my backpack of all my things, set them around me, and create a personal space where I didn't have to see or hear anyone.
In fact, over waaaay in the back, by the microfiche readers, where it was kind of dark, there was one lowly study carrel that was *mine*.
No one else liked it and hardly anyone came over that way. If they did, it was only briefly to read something on microfilm or microfiche, so it was blissfully quiet and I was mostly alone.
I got some really, really good studying done there. I spent HOURS in that carrel…while my friends, uh, had, you know…fun.
Good times, yes.
So, here it was, this past Saturday. The date was the 28th and I was still 5,000 words from the end of this year's National Novel Writing Month challenge of 50,000 words.
The Good Man had to work on Saturday and so I was alone with my imposing battle.
I was really at a standstill on the writing. I hadn't written a word in three days, and it looked like I was not going to make it to the finish line this year.
So, in a bid to change my scenery and thus get the ol' Muse working again, I decided to go to the local library. The went to the one near where The Good Man works so we could meet later for a break.
In I go and I stalked around the place, looking for a good spot. It is a pretty ancient library, so not every table space has a power supply.
My antique Mac needs constant power feed.
So I trudged up to the third floor. I liked it because that floor was behind a closed door. That keeps it nice and quiet.
And lo and behold! They had study carrels. WITH POWER!
Ok! I'm in.
I even found one waaaaay toward the back, where no one else would go, plugged in my power supply, dipped my head behind the walls and got to work.
And who knew, all these many years later, the study carrel still works?
I banged out 4,000 words in about three hours, and would have finished to the end, but had to go meet the in-laws for dinner.
Later that night, after a margarita and some soothing Mexican food, I wrote the final 1,000 words and crossed the finish line of my fifth NaNoWriMo event.
I owe it all to that beautiful, wonderful, magical study carrel!
(terrible iPhone photo, but you can see how sunny and nice it is. I may go there again just because!)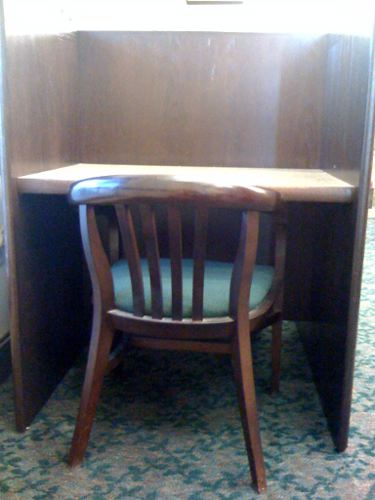 Mama, I'm going to Disneyland!
Oh, ok, not really. I'm actually going to…uh, sleep.
But still, I pulled a rabbit out of my arse hat for the fifth time and completed a 50,000 word novel in less than thirty days!
Thanks to the amazing people at National Novel Writing Month for making it so much fun to rise to the challenge every year!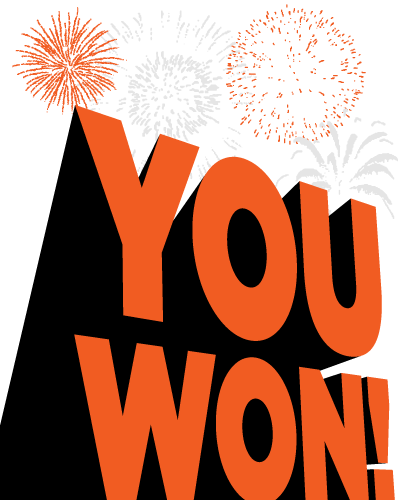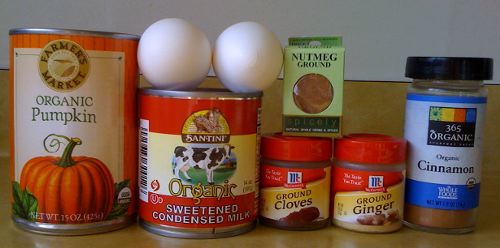 If that photo doesn't make your mouth water than you've probably never made a pumpkin pie from scratch.
Mix all that together, pour in a pie shell and bake.
15 at 450 then 40 at 350. An hour later you have The Delicious!
Happy Thanksgiving, wherever in the world you are today!
So a little over a week ago, I posted a few photos I'd taken from my photography class. We'd been on a day field trip to the cactus garden.
Over the weekend, we again had a field trip. This time it was an evening into night shoot in a town called Redwood City. We started at the CalTrain station and worked our way through downtown.
Hooo boy did I struggle with this field trip. But the good kind of struggle. When the light is changing that fast, you have a lot of technical things to keep in mind. Since I'm just learning the technical things, I'm still pretty slow, so many of the photos didn't come out worth a dang.
But I learned A LOT, and that's the point.
Anyhoo, I put up another gallery of my favorite photos from the night, there are just 27 in this collection.
Here's a few to get you started. Click any of the images to see a bigger size.
Assignment here was to play with the light of sunset as it bounces off objects and buildings.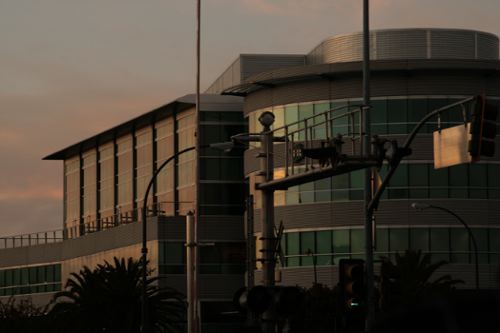 Assignment was slow shutter speed, I *love* the ping effect of the droplets! Look at the big size to really see it!!
Also a long exposure, I was trying to catch the purple light on the tables and also got some passing tailights on long exposure. I liked the effect!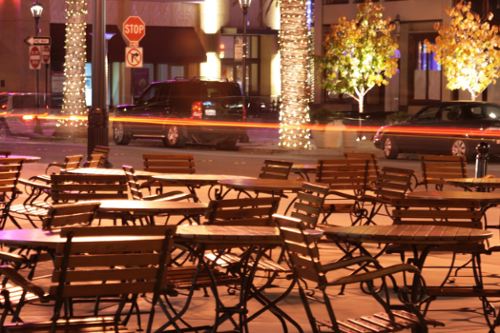 I have learned so much from actually being hands on out in the field. My assignment now is to keep practicing!
Here is a transcript of my day:
10:45 arrive at my friend's house, she gives me the details and directions
11:15 da mama leaves, and I'm there alone with the most adorable tiny sleeping baby
11:20 I freak out a little bit. Oh the responsibility!
11:21 I calm down and settle onto the couch to surf the internets
12:00 The baby wakes and begins crying loudly
12:05 I find a bottle with formula and plug it in to the appropriate outlet.
12.06 Crying stops.
12:20 Bottle is done, I lift baby to my shoulder and pat
12:21 Six pound child emits a long deep burp that would make a frat boy proud
12:30 Child is asleep again
2:00 Da mama comes home, child is still asleep
Damn. I'm *good* at this babysitting thing! For three whole hours I rooock!