Do you ever have those moments in life where something happens that is just *so* quintessentially you? I mean, you can't deny it, just has "that's totally me" written ALL over it.
This happened last evening when I came home from work. I found two packages waiting for me. Items I'd ordered separately had managed to arrive on the same day.
And it was Karen-day a'go-go.
The first item opened was this: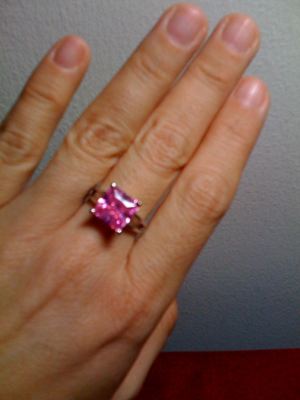 It's *fabulous*. A pretty pink CZ sparkler of a cocktail ring. I loooove cocktail style rings, the bigger, brassier and more obnoxious the better. Yes! I'll wear the rings others will eschew as "too big."
Plus! I got this one on a killer deal. I mean, an amazing sale at an already discounted site! This thing is full of fire and pizzazz and I totally have the outfit to wear it with this weekend.
Total girl-type "squee!" action when I opened this up and slipped it on and it winked at me and fit perfectly.
So satisfying.
Then, ready to move on, I opened the other package. And it was this: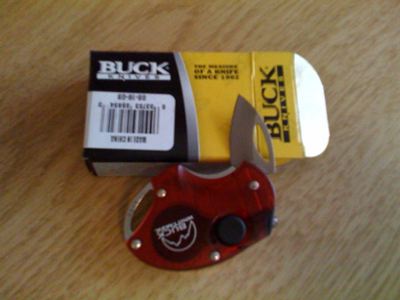 That there's my new Buck knife. Not the first Buck knife to come into my possession, only the latest. I bought one of this same model (in gray) for The Good Man a couple birthdays ago, and have been lusting for it since. Compact, fits into that 5th pocket you got in your jeans. Small but powerful blade. Love. It!
Plus, got it in rockin' red! Oh yeah, baby!
And as I sat there, giddy, with my new pink ring in one hand and my new Buck knife in the other, my loving husband remarked, "That's my girl!"
That's just Karen being Karen.
Got lost in the MJ kerfuffle, but…a repost from NewMexiKen.
"Manny Ramirez's assignment with the Albuquerque Isotopes amounted to two games, eight innings total, four appearances at bat — two ground outs, a strike out and a walk. Big deal."
(video from ABQJournal.com here.)
Big deal indeed. I'm still chapped he got to play any sort of professional baseball before finishing up those last 50 games suspension.
Ah well, his return means that the very red hot Juan Pierre will likely sit.
And my "I think I can" SF Giants are only seven games out of first.
Remember when the Dodger fans greeted Barry Bonds with boos, cat calls of "cheater" and hucked batteries at him? Will they do the same for their own returning cheater?
Hmm?
Another idea The Good Man had first, but wasn't fast enough to capitalize on:
To be fair, The Good Man's idea was more along the lines of "you know, you should buy a bunch of cheap flip flops and leave them in all our cars…."
This after me whining, *again*, about aching feet.
I remember "back in the day" when I could wear bangin' shoes all day long and not have trouble. Ah the continued joy of becoming a cranky old fart (it's only getting better!).
I *totally* think that these Rollasole people could do a flip flop version too!
**this post brought to you by the girl who totally wanted to wear her Fat Babies under her wedding dress…but got veto'd down by the skinny harpies at the place who made the gown. Feh!
A fresh perspective regarding Twitter and Facebook, from the eye of a writing teacher….
Great article, interesting viewpoints. It's got me thinking…and rethinking…..
Discovered via @TatteredCover
You schtupped an Argentinean woman, thus cheating on your wife and kids.
You are a governor, and you disappeared without a word to anyone in order to get the schtupping done.
But your plight is much like that of King David?
"South Carolina Gov. Mark Sanford…said King David 'fell mightily, fell in very, very significant ways, but then picked up the pieces and built from there.'"
oooooh kaaaaay
Link here.