S'long 2007, you've been a rollicking year. Here on the last day of you, I've taken moments, given pause, really, to think back on all the other 364 days of you and assess how it went.
You started off swell. The Cute Boy™ and I moved into the same address back in January. Shackin' up was a rip snortin' way to start the year, if I do say so myself. It was a weird, and for me, troubled adjustment period, but adjust we did and soon it was like The Cute Boy™ had always been here. Oh, and the feline too. She's made my one person lonely home a warm happy place full of life. I got both a partner and a pet in one fell swoop. That alone makes 2007 a year to remember.
Middle of the year was ok too. The weather was nice, road trips were had. Work began troubling me in earnest, but I kept going.
In June, my self-published book was FINALLY properly published (after many fits and starts and errors on the publisher's side) and listed on Amazon. It was the accomplishment of a dream. More of the beginning rather than a destination, but a huge step on my path and I remain proud of it. A few people have actually even read it!
August/September was a little tough. Both the girl and The Cute Boy™ were miserable at work and sometimes brought that home, making home not always the happiest place. But we talked, a lot. And talked and I cried sometimes and we talked more and then…
September ended, things changed, as they always will, and improvement was soon to follow. And now there is a lot less sad and a lot more joy in our Casita Bonita. Change, while hard, is often a good and necessary thing.
November brought the annual National Novel Writing Month and despite being *sure* I couldn't do it again this year, that I had nothing left in the well having given it all to my employer, I pulled off a feat even I can't believe. I wrote over 50,000 in just 15 days. My best record thus far (my third go-round). I learned a lot about myself during this NaNo, not the least of which is that I'm a freak who works extraordinarily well under a tight deadline. Now to figure out how to use that to my advantage.
December brought the Crafty Chica, more (enduring) love, and a shared home in which to celebrate the holidays. Friends and family and The Cute Boy™ and the feline and me. And despite my *freaking out*, as I'm wont to do when I'm insecure about my homemaking abilities, the celebrations came off without a hitch. Good eats were had. Good eats, the normalizing factor in all celebrations.
And I end this year as I ended the last, madly in love and optimistic about the year ahead. Maybe even more optimistic about this year than last. There are a couple happy things up ahead, possibly. And having something to look forward to is always a good thing.
Here, officially, my New Year's Resolutions:
1) To finish my NaNo book from 2007. (about 10,000-15,000 words to go)
2) To finish my NaNo book from 2008. (about 20,000-30,000 words to go). And once finished, edit, edit, edit….and consider self-publishing this one. It may be the best thing I've written so far.
3) Work with my in-home PR and marketing expert on doing something with my self-published books.
4) Take better care of myself physically. Eat a little less, a few more greens and lift a heart rate every once in a while. Doesn't have to be overly taxing, just have to remember that taking care of me is a priority.
5) Take it a little more easy on myself. I've been listening to the song "In the End" from the soundtrack to Shortbus over and over. I find something so heart-tuggingly true in the words.
"…as your last breath begins, you find your demon's your best friend."
So here at the end of 2007, on the verge of beginning a new year, may I find a way to become friends with my demons now, long before I take my last breath. That, I believe, is the key to my peace.
And so it is.
Joyous New Year to all!
Image via.
I'm wildly, passionately, unabashedly in love with The Crafty Chica.
There. I said it.
I came across her book, The Crafty Chica Collection, at my library. (my local library roooocks. I am a huge fan of the library.) As a New Mexico girl, it sang to me.
I've been possessed by it since. I also have two more of her books checked out, and one on hold.
And when I say possessed, I mean full on OCD, freak out, dropping cash at Michaels, dreaming about it at night, spending free time all over the glue gun, buy me some glitter, rhinestones!, possessed. I'm into it.
And bless The Cute Boy™, he's rather supportive of the craftiness. He even scored crafty-perfect Xmas gifts. God, I love that man. The Feline thinks she needs to sleep in the craft box. It's a tug-o-war. I'm not sure that as The Human that I'm winning.
So, since I'm gonna own it, publicly admit my crush, here are some photos of my stuff inspired by the Chica. This is what I've put together on my time off from work. (have I mentioned that not working for two weeks is utterly the best? Sleep. Whatta concept!)
This is a small photo of, yes, me. Little me. This was just a "let's see what I can do with this spare piece of cardboard and some glitter glue". It's not perfect, yet I like it:
And here is the piece I'm working on now. I've always been all in love with Dia de los Muertos images and art and so the Crafty Chica gave me some ideas and some how-tos and I'm off to the races. I made all the clay beads. I've had dreams about making this and it's coming together really well.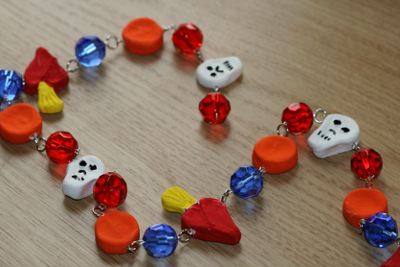 It's not a lot to show for my time off so far, but lots of things are in motion. This is MUCH more fun than work!
Photos by Karen Fayeth and crafty art by Karen Fayeth too.
Every year the San Franciso Chron's online presence hosts a nomination and then voting for the word of the year. It's usually a pop culture reference and this year is no exception.
Carbon footprint — The idea of calculating and then reducing or offsetting the emissions you generate has been taking off as fast as Al Gore's second career.
Subprime — The practice of making home loans easily available to buyers who do not qualify for the best interest rates has come back to bite borrowers, lenders and the U.S. economy alike.
Surge — Proposed by Sen. John McCain, approved by President Bush, implemented by General David Petraeus, the policy of sending more troops to Iraq is either major success or ensuring an interminable war, depending on whom you believe.
Waterboarding — It's been an interrogation technique for six centuries. Attorney General Michael Mukasey, if it's a crossword clue, can you think of a seven-letter word that starts with a T?
Wide Stance — Sen. Larry Craig's famous statement to police has turned this into a synonym for both a closeted, conservative gay man and a ridiculous explanation.
I don't use any of them in normal conversation, actually. Maybe I'm tragically unhip. That has been rumored.
The winner by some 40% of the vote was Subprime. Uh…w00t!?
Gad, I'm tired of the word subprime. Maybe making it word of the year makes it go away?
Sigh.
Onward to 2008.
Does anyone have any good ideas? I've been crazy into the holiday spirit but have to say I'm a bit worn down.
I'd be happy to stay at home and watch the ball drop in Times Square, but I'm getting the vibe The Cute Boy™ wants to do something more substantial, but not so substantial as to need a black tie.
I'm iffy. The more I'm away from work the more I'm starting to feel like myself. We've had quite the full social calendar all this month and I'm pooped. Here's one of those "opposites attract" aspects of The Cute Boy™ and me. Me being born under the sign of Taurus, I am happy to enjoy a few evenings at home. When not working my tookus off at work, staying at home, reading a book, all of that works fine with some occasional social dates peppered in to keep it fun.
The Cute Boy™ on the other hand, likes to run (Gemini that he is). He's got a lot more friends than I do and likes to make sure each get some time in any given month. He's happiest with a calendar packed full of events.
It's a push-pull dynamic that we usually seem to manage, actually. But right now, I'm getting a bit of my stubborn Taurus the Bull up. I hate to admit it, but I'm burned out from work. Burned out on people. Just teetering on the edge of full flame out and that scares me. The more I get a chance to catch up on my sleep, the more I realize how near the edge I was.
I don't wanna do nuttin'!
That being said…I guess if we can come up with a good idea that is going out but not TOO out…I'm up for it.
And that's what they call compromise. From what I've heard, it's what keeps a relationship going…….
Image via.
The day after Christmas is always so….anti-climactic.
Unless you are British.
Then Happy Boxing Day!
Kwanzaa also begins today, so start the celebration! (I love that the wiki entry includes the "pouring of libations". Yes!)
The Cute Boy™ and I are off for continued celebrations with the other side of his family.
The holiday hits just keep on comin'!
(I'm a skosh exhausted. A nice day at home, legs up with a book and a drink might be nice…..)