January 1, 2018 by
Karen Fayeth
·
Comments Off

on New Year, New Week, New Monday, New Macro
Filed under:
amazing
,
art
,
artist
,
awesome!
,
blogging
,
bragging
,
creativity
,
first world problems
,
fresh ideas!
,
gratitude
,
in the kitchen
,
learning
,
life
,
light
,
Macro Mondays
,
macro photography
,
make it work
,
Monday
,
Opinions
,
photography
,
play through
,
right tool for the job
,
show and tell
,
work
,
zest
For the past month I have been participating in a Macro Monday project. The goal is to produce a new Macro photo each week. There is a theme and the photo must be shot during the week. It's giving me a lot of discipline about shooting and staying active with my cameras. Right now I am learning a lot about light and shadows. I have the perfect corner in my home that gives me the best place to experiment. Though I have been using my photo corner a lot lately, so next week it's time to stretch and work on more techniques and different locations.
This week's theme is "From the Kitchen" which is perfect timing because I have been wondering for a while now how to make this citrus zester that rattles around in a kitchen drawer look interesting.
I love working with shadows, and in this case I used an led pocket spotlight to make cool multiple shadows through the loops.
Anyhow, I'm having fun shooting and sharing what I am working on over the weekends.
Happy New Year to you and yours! ¡Feliz Año Nuevo a todos!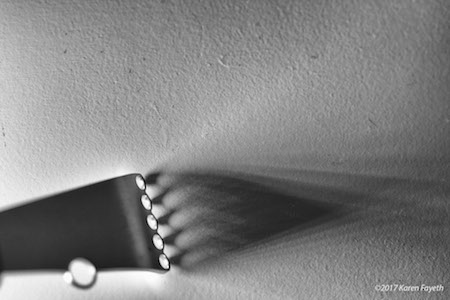 ©2017 Karen Fayeth