For just over a month I have been participating in a Flickr group called Macro Mondays, the intent of which is to create a new Macro photo each week based on a specific theme.
This group is a lot of fun and it is a pretty good challenge for me to create something new every week.
This week's theme turned out to be right in my wheelhouse, combining two great loves of my life.
Our theme was to create a macro photo based on a favorite book. The rules said no showing the cover of the book, no obvious photos of a book. No, the photo needed to represent what the book is about.
Many an hour was spent thinking about what book to choose and how to best represent a story. I wanted to do Red Sky at Morning, but was unsure how to create that in the small space of a macro photo. I considered Lonesome Dove, but didn't feel I could do it much justice.
So I finally settled on Something Wicked This Way Comes. After many brainstorming sessions with The Good Man, much thinking and agonizing and not being happy with what I was producing, I think I finally landed on something that does justice to Mr. Bradbury's fabulously creepy story.
Here's my photo: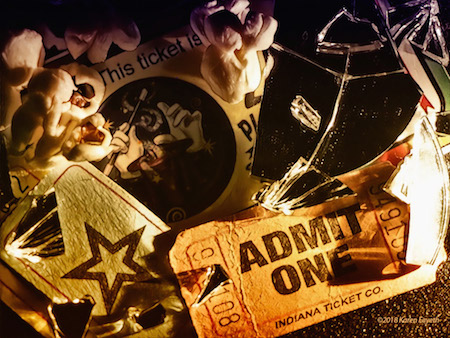 Inspired by Something Wicked This Way Comes by Ray Bradbury

Copyright ©2018 Karen Fayeth

This weekly challenge gets about 1,000 entries this week, and I look at every one of them so I can learn and get excited about the work of fellow photographers.
Here is some fun trivia: What book do you think was the most represented this week? Any guesses?
.
.
.
.
.
.
.
.
.
By far, a Clockwork Orange. I don't know what that says about this group…..
Followed by Lord of the Rings, Hitchhikers Guide to the Galaxy and Zen and the Art of Motorcycle Maintenance.
Fantastic books, all. Just not on my personal top ten.
I won't even get into all of the instances of 50 Shades of Gray and Twilight.
So while this week's photo took a lot of planning and setup, I am completely excited about this idea and (mostly) happy with my photo. I would love to take a stab at some other books too. Fun idea. Now I look forward to next week's challenge.

For the past month I have been participating in a Macro Monday project. The goal is to produce a new Macro photo each week. There is a theme and the photo must be shot during the week. It's giving me a lot of discipline about shooting and staying active with my cameras. Right now I am learning a lot about light and shadows. I have the perfect corner in my home that gives me the best place to experiment. Though I have been using my photo corner a lot lately, so next week it's time to stretch and work on more techniques and different locations.
This week's theme is "From the Kitchen" which is perfect timing because I have been wondering for a while now how to make this citrus zester that rattles around in a kitchen drawer look interesting.
I love working with shadows, and in this case I used an led pocket spotlight to make cool multiple shadows through the loops.
Anyhow, I'm having fun shooting and sharing what I am working on over the weekends.
Happy New Year to you and yours! ¡Feliz Año Nuevo a todos!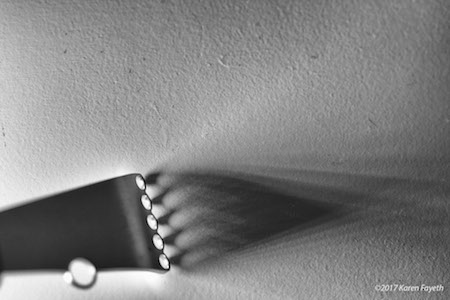 ©2017 Karen Fayeth

The job that pays the bills has been especially nutty this month. Around these parts, Santa is saying "Ho, Ho, Hoooooly crap I have a lot of work to do." Thankfully, I managed to get through to the end of the week and now get to enjoy a bit of time off for the holidays.
And so it's best to balance all that work with some fun. Which can also be work, in a way.
This week, my photography takes a turn toward bokeh, the sort of blurry backlights seen in many an Instagram photo. I've seen a LOT of photos with bokeh, it's quite popular. When I see these kinds of photos they always seem fun, and those blurry lights look like they would be so easy to shoot.
Easy was not the case for me. I figured I'd waltz right into some fabulous bokeh photos, but I really, really struggled with this challenge. The photo's subject was photographer's choice, it just needed to have some nice juicy bokeh in the background.
Curse words were uttered. Cameras were called names. Swears in English, Spanish, French and British English (bollocks, bollocks, bollocks!) were all employed in the making of this photo. Finally after several Google searches and articles consumed, I stumbled onto a good suggestion for creating lots of sparkly light, and it worked.
In the end, I'm pretty happy with how this turned out. The photo features a Zuni Pueblo fetish carved by a Native American artisan named Dilbert Gasper. His Butterfly Maiden is carved from black marble and inlaid with turquoise. Since Christmastime is when I miss New Mexico the most, she seemed to be a good subject for my trials and (many) errors in learning a new technique.
I hope I did the little Butterfly Maiden and master artisan Mr. Gasper their justice.
And with that, a hearty Feliz Navidad to all!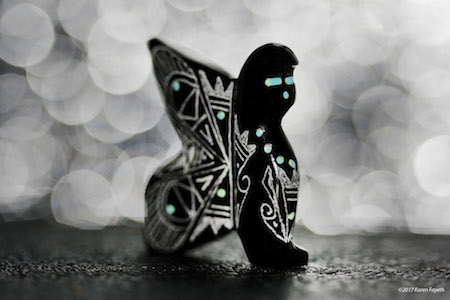 ©2017 Karen Fayeth

The hard work on my Macro Photography skills continues this week with a theme of "lit by candlelight." A week ago when this challenge was announced, I was like "pssh, easy peasy."
Turns out shooting by candlelight has been anything but. Sunday night I did a whole round of photos with a few objects and although candlelight is certainly beautiful, the photos I shot just weren't working. The photos were…dull. Not interesting. They didn't give me that excited feeling to share.
Then The Good Man opened up a bottle of wine and put out some cheese and garlicky crackers. That really seemed to lubricate the creative gears. Half a glass in, I had an inspired idea. I grabbed my copper holiday cookie cutters out of the kitchen (not that I have made any holiday cookies this year, but that's a topic for another time) and got to shooting.
Turns out candlelight casts really great shadows. I'm now pretty happy with the results. The top photo is my entry this week in the Macro Mondays challenge. The black and white was just for fun.
Whew! This is three weeks in a row I've managed to produce a new Macro photo for Monday's event. It's harder than it looks!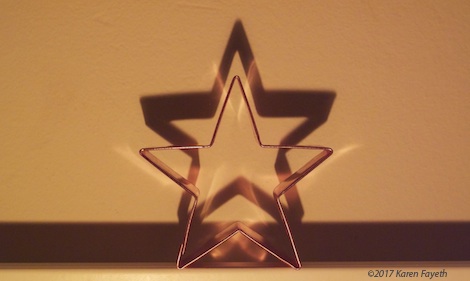 ©2017, Karen Fayeth, all rights reserved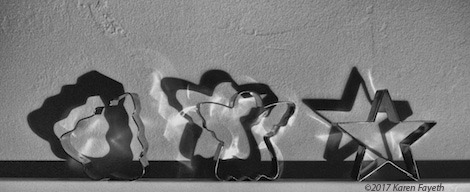 ©2017, Karen Fayeth, all rights reserved

My weekly work on macro photography continues. This week, the theme is "stick." I mean…. Stick? This one gave me plenty of pause. How to take a stick and make a photo worth looking at? How to make it fun?
This morning I finally had an idea and dug into the Christmas box of goodies for background inspiration.
Herewith, my pile of cinnamon sticks with a holiday flair. Ya can't mull without 'em!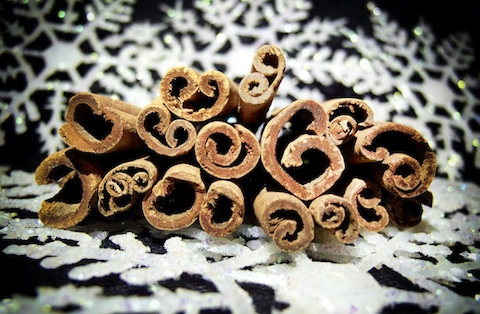 ©2017 Karen Fayeth