A few days ago I posted the refreshed for 2018 Top Ten Things I Miss About Christmas In New Mexico, which has become something of an annual nostalgia trip for me.
As I was writing it, I thought to myself, you know….I've lived in the Bay Area for twenty years. Maybe it's time to write a top ten for my current home.
I mean, I am an ex-pat New Mexican and will always be a New Mexican, but I've lived in the Bay Area long enough to also call it home. I guess I'm lucky in that way, to call more than one place my home.
And so without further ado:
Top Ten Things I Love About Christmas In The Bay Area


1) San Francisco's buildings lit up like presents. Around Thanksgiving the buildings on and near the Embarcadero turn into glittering holiday presents and the Ferry Building lights up red and green.
My first Christmas living here, I'd taken a ferry over to Sausalito to buy presents. When I came back over on the ferry, just as the sun was setting, I saw those gift-wrapped buildings for the first time I couldn't stop staring. It's so beautiful and an annual tradition.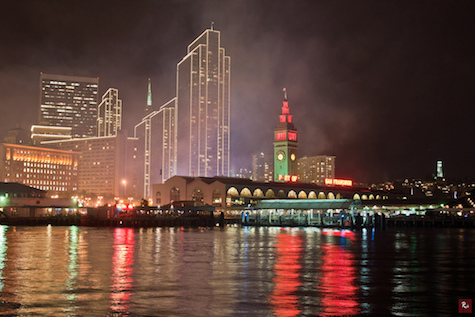 This was taken just after New Year's Eve fireworks last year, hence the smoke, but the view can't be beat. Image found here


2) And while we're talking about things down on the Embarcadero, how about the tradition of Palm trees wrapped in Christmas lights? Other than one sickly Palm tree doing its best to grow by the NMSU library, there aren't really a lot of Palm trees in New Mexico.
But there are plenty here and I love that they get in on the holiday fun. The Bay Area is hardly the only place to feature lit up holiday Palm trees, but it is the first place I ever saw the style and I've always loved it.
Here's an example of the Palm trees outside of AT&T park (there are 24 Palm trees to honor legendary #24, Willie Mays).
Image by Fuzzy Traveler and found on Flickr.

3) To stay on the theme of trees, the Bay Area hosts and awful lot of offbeat Christmas trees each year. I don't recall seeing a lot of weird trees back home in New Mexico, mostly normal trees decorated in the traditional way (which I love). But since living here in the Bay Area, I've seen a variety of trees including one decorated with only the heads ripped from dolls (weird), a tree decked out solely in Star Trek gear (nerdy), trees made of alternative materials like lab supplies, computer servers and routers, and then this one found at an architecture firm by internet friend, UPS driver extraordinaire, and longtime San Franciscan, Rafael Monterrosa.
Photo copyright Rafael Monterrosa (@rafael415 on Instagram), and used with permission. Give Rafael a follow, he is a fantastic photographer and posts photos from his travels all around the city of San Francisco. He's got a sharp photographic eye and knowledge of the City like no one else.


4) Okay, one last tree thing: Another fine Bay Area holiday tradition is tree lighting ceremonies. Usually happenig the weekend after Thanksgiving, every town has at least one. From the Union Square and Ghirardelli Square events in San Francisco, to Jack London Square in Oakland, to Christmas in the Park in San Jose, and lots of smaller neighborhoods and businesses in between, people love to come out to see trees light up for the first time of the season, drink hot chocolate, and get into the holiday mood.
Here's a photo from my little neighborhood's second annual tree lighting event this year: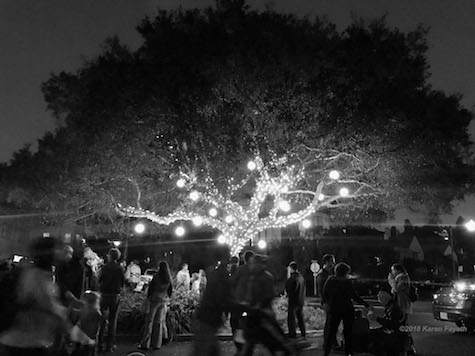 ©2018 Karen Fayeth

5) Now it's time to move on to the fantastic Bay Area food traditions at the holidays. Let's talk about Lumpia which can be found at just about every holiday potluck. Living in the Bay Area has opened me up to the traditions of so many cultures that I just never experienced back home in New Mexico.
I have been honored to know and work with so many amazing people from the Philippines, and they have lovingly introduced me to their food, most notably lumpia, which can roughly be described as a Philippino egg roll. More colloquially it's been called the food equivalent of crack, and I can't disagree.
Nothing more joyful than a huge pile of lumpia at the holiday party. No matter how many are in the pile, they will certainly ALL be gone within no time, and I will do my part to make them disappear. So freaking good.


6) Let's keep talking about holiday pot lucks because the Bay Area likes to eat, something I have always loved that about living here. In addition to lumpia, holiday eating in the Bay is an enormous cross section of diverse foods, all of them delicious.
This year my loaded down holiday plate included lumpia, pork buns, chow mein noodles, Italian seafood lasagna, samosas (delicious little savory pockets from Indian culture), German stollen, Hungarian floating island dessert, pecan pie (hello pecan producers in NM!), enchiladas, guacamole, ceviche (done in a Brazilian style), and much more.
I mean, come on! The amazing diversity of the Bay Area means the best of foods from around the world. What's not to love?


7) I'm not done talking about food either. Holiday season is also Dungeness crab season. Starting roughly in November (start dates depend on a lot of things), this is the time of year where the commercial crab season opens, and oh what a season.
For many Bay Area families, it's tradition to go down to the wharf or to certain places at the coast on Christmas morning to buy crab. Fresh caught that morning, and you can take it home and cook it yourself, or pick one out from the steaming vats.
As a single gal, I used to celebrate holidays with a dear friend, and she loved this tradition. She'd go out early in the morning to buy crab then put a huge stock pot in the middle of her dining room table to catch the shells and we'd dive in with hands and metal crab crackers. Some folks think eating crab is too much work, I say those people leave more crab for me and that's just fine. Delicious!

8) Going to the beach on Christmas day. One of the best Christmases I ever had was when I was all alone, a little depressed, and I made the excellent decision to pack up some leftover Chinese food, a blanket and a small radio and head to the beaches of Half Moon Bay for the day. It was a balmy 65 degrees and for many hours I had the beach all to myself. I read, I ate, I zoned out, I watched the waves, and I wasn't lonely for a minute.

9) The smell of eucalyptus and fog. Okay, fair enough, this is not just a holiday thing, but for some reason it stands out for me during the holiday season. The Bay Area is home to quite a few Eucalyptus trees, which are actually an invasive species, but are now just a part of life here.
The Bay Area geography means we have what is called a "marine layer", which is the reason for the iconic fog we experience. Roughly explained, when a warm Bay Area day meets the cool, cool Pacific Ocean, they crash into each other and create fog.
Add to that when a Eucalyptus tree gets warmed up, it releases its very aromatic oils.
So you have a warm tree giving off oils and by the afternoon a marine layer pushing ocean fog into the Bay Area. This creates a smell that is unique to the Bay Area all year round. Add in the moist damp air from the rainy season that starts around the holidays and you have something that will forever be etched in my mind. Even my sister recently commented on her memory of the Eucalyptus smell from her last visit.

10) To use a colloquialism from the internet, I truly love the way the Bay Area is so very extra at the holidays. Examples include the enormous real Gingerbread House at the Fairmont hotel, the entire Oakland Zoo covered in holiday lights, the huge Dickens fair, the full size skating rink constructed every year at the Embarcadero Plaza, real live reindeer at the Discovery Museum, the lighted boat parade with holiday lights from San Francisco's not one but two yacht clubs, and that's not even the beginning of a comprehensive list. There is always something to do, to try, to remember, and to make a tradition.
The Bay Area loves the holidays and I love everything about that.

_______________


Well that ended up being an awful lot of fun to write. Maybe posting this version right after my New Mexico version becomes my new holiday tradition.
Basically, I just love the holidays and all the food, smells, and trees, so I guess wherever in the world I live, I'll find something to love and write about at the holidays.
Thanks for coming along with me on this journey. Feel free to tell me what you love best about the holidays where you live either here or on any of the social media where we connect.
And to you and yours, wherever in the world you are, wishing a wonderful, joyful, and magic holiday season.

What follows is me working out some "stuff" up there in the ol' brain pan. A bit indulgent to do this publicly, but maybe putting it out there helps someone else. Or makes me accountable for my own crap. Either way.
So here it is… I have been taking part in a Flickr group that challenges its members to do a new macro photo every week based on a theme the moderators choose.
I started participating on December 4th with this photo: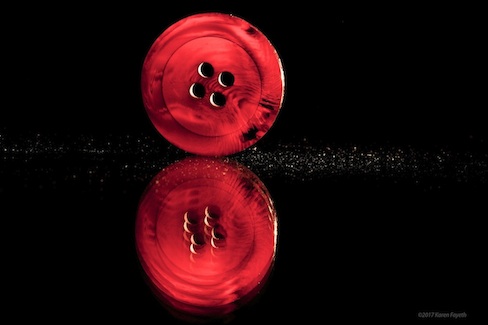 ©2018 Karen Fayeth

I felt clever. Sassy. Like my photo was more creative and of better quality than the others in the group. Go me! I was rewarded with well over one hundred faves in the first day. Hey, fun!
So I kept going. Each week working hard and having fun doing these weekly photo challenges. Creating a new image every week. Some weeks I worked really hard (or agonized) over executing my idea.
Other weeks it came easy to me, I snapped a photo that was exactly what I wanted and went on about my day.
But always having fun and not taking it too seriously.
Until two weeks ago. Two weeks ago I stopped having fun and got deadly (overly) serious about my weekly photo entry.
Let me back up. This Flickr group is huge, over 13,000 members. Each Monday between 800 to 1,200 photos are posted for the theme. This means in order to function, the group must be tightly moderated. And it is. Tightly.
I both like and respect that there are heavily enforced rules for the group. But I also HATE it because I'm an *artist* and The Muse can't be contained by your silly rules. I should be able to break them because MY work is the best.
Yeah, okay. I own it. I got weird. I hate it when I get weird.
The week's theme was monochromatic, and I turned this one in: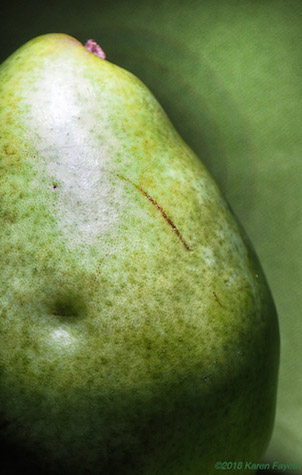 ©2018 Karen Fayeth

I really like this photo. I worked hard on it and felt really good about it. I feel like I did something worthwhile. Artistic.
Less than ten minutes after adding it to the group, a moderator pulled it, telling me "This is not monochromatic, I can see both brown and green."
I seethed. I stewed. I started looking at other photos in the group and found SEVERAL that also had tiny bits of another color that made it through the moderator's net.
I bellowed about how unfair it was. I started making a list of all the other photos that were let through. I prepared to launch my vitriol on anyone who would listen and demand answers for my mistreatment. How could they hate my photo so much!?!?! (I know, I know)
Then I went to talk to The Good Man, and as I detailed all the ways I had been wronged, I heard myself. I listened to my words and realized…aw damn…I'd stopped having fun. I was this worked up over a photo on Flickr in a group where the only prize is some eyes seeing the photo and some faves.
Yeah. I hit the wall pretty hard. This came just a day after struggling with a story for a writing contest that just would not gel for me. I hadn't given myself enough time to work on it and the story would not come together no matter how hard I tried. I tried to shotgun it and I failed hard. I did still turn in the story but I know it's not good.
You see, I wasn't mad at that stupid unfair moderator. I was mad at me.
And that's no way to create. That is the antithesis of creativity. This dampens The Muse.
So I went all the way there and now I'm reeling myself back in. I swear. I sat my Muse and my brain down and we had a talk. Feelings were felt and admonitions were issued. Promises to be better. To loosen up. To remember why I do any of my creative work…to have fun. To let the creativity out. To create something.
And I'm better. I am. The following week I swore I wasn't going to participate in the Flickr group again, but that was EXACTLY why I needed to get back in the game. So I made a photo based on the theme "in a bottle."
Here's my Valentine to myself. Green like the Hulk who gets very, very mad. Sweet like the victory of turning out a piece of art and something I really like. It also met the rules and made it past the moderators.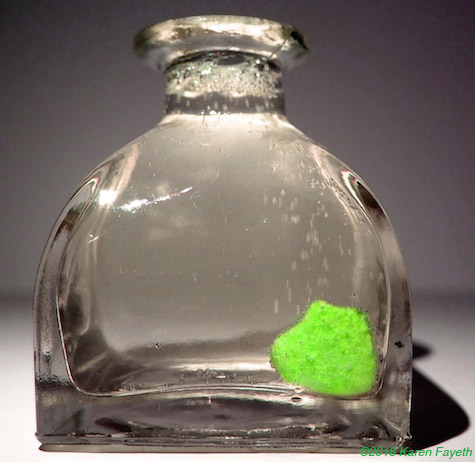 ©2018 Karen Fayeth

Lesson learned. Scars formed. Exterior just a little bit tougher.
And this week? Try, try again.

…that we find ourselves on the final day of the year 2017. I'm both a little surprised it is here already, and a little relieved too. It is as though I have been anxiously awaiting the arrival of a delayed guest.
So many people are saying, "Ugh! I can hardly wait for 2017 to be over!" and "Good riddance" and bon mots like that.
Sure, 2017 has been a trying year, but remember when we all bid 2016 goodbye with a gruff hacking noise and an emphatic *patooey*?
I keep reminding folks of that, of how everyone was eager to flush 2016. One very nice lady recently asked me to cease reminding. She didn't want to remember that narrative, I suppose. She was too content to be down in her hacks and patooeys and other rude noises regarding the year 2017.
Recently, the musician Taylor Swift was publicly and roundly lambasted for saying she had a good 2017. I mean, she won a pretty ugly court battle, released an album that sold over a million in one week and spun off several number one hits. I don't particularly care for Ms. Swift's style of music, but all in all, I'd say she had a pretty good year. But no one wants to hear it.
Celebrating what is good from 2017 doesn't fit the hack-patooey narrative. We must all be miserable! Blame the year! Blame the world!
I don't think that is quite fair. 2017 has certainly tried the patience of the most gentle of souls, but there is still good to be found through adversity. Not to get all quoty and stuff, but isn't it through fire that mettle is tested? Isn't that which doesn't kill us makes us stronger?
And don't we win by remembering the good even through dark skies?
There are a lot of horrible things to recount from the year. Fires, floods, earthquakes, famine, Congress, hunger, poverty and people treating their fellow humans horribly. I'm sure many a news source will remind us of all of this and more in bright Technicolor photos and videos.
But what if…and bear with me here…what if on the eve of the new year dawning, instead of remembering what was bad, we celebrate what was good? What worked for us in our own lives?
I mean, I'll start. In 2017 I had five short stories published. FIVE. This is the most success my writing has seen in any year. I was boggled as the acceptances rolled in. In 2016 guess how many of my stories were published? I won't make you wait, it was zero. I received zero acceptances of my work in 2016. And I kept on writing. Kept on hustling. And 2017 rewarded my hard work.
By the by, all five are linked in the right column of this page, in case you missed any of them.
In 2017 I completed one of the most intricate and challenging projects in my work life. It was a slog, and I had very little support and help from coworkers or direct management. But I did have a lot of expectations from senior leadership that I'd get it done. And on December 21 I did just that.
In 2017 I went to a photographer's retreat where many professional and experienced photographers looked at a portfolio of my work and congratulated me, gave me good and honest feedback, and began to treat me as one of their own. I went from dabbler to serious photographer in the span of twelve photographs. I was utterly terrified to present in front of that group, but I did it and it was incredibly inspiring. I'm working that much harder on my photography now because I took that chance.
In 2017 I celebrated nine years married (and twelve years total) to The Good Man. Nine years is both not that much and a whole lot. Every day that I wake up and he still loves me and I still love him is a victory.
In 2017 I accompanied my eighty-three year old mother on a tour of the Midwest to visit family. I was scared that something would happen, that I would break the Mom, that it would be a terrible trip, that all of my plans would go awry. Instead we had a fantastic and utterly memorable trip. I both grew closer to many of my cousins and felt so happy to have that time with my mom.
In 2017 I opened my eyes every day and got out of bed and went out in the world with the thought and the wish that today might be another good day in my life. And the vast majority of them were.
And so while it's unpopular to celebrate the year of 2017, I am going to swim against the tide and say Thank You 2017, for giving life, for the journey, for the trials and tribulations. I won't send you off with a hack-patooey, I will instead say, thank you for the lessons, the gifts, the challenges and for showing me that I am much tougher than I give myself credit for.
Thank you, 2017. Rest easy old friend. 2018 just rolled around the corner and will be here in a minute. I'm going to be all right.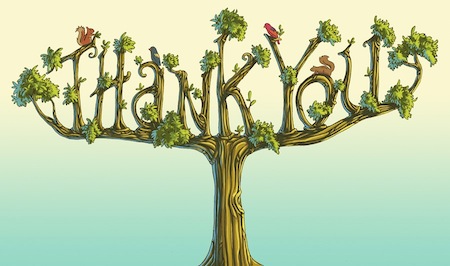 Fabulous image by tsugami on Deviant Art, which allows downloading of images. I believe in giving artists credit for their incredible work, and this image is deeply inspiring to me. Thank you, tsugami.

This is where I ate my lunch yesterday: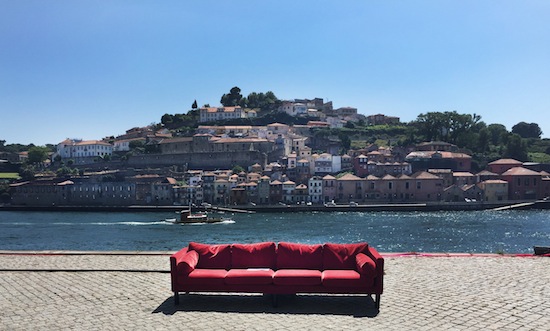 Copyright ©2015 Karen Fayeth

A velvety red couch by the beautiful Douro River in Porto, Portugal.
Wednesday was a beautifully clear warm June day. I sat on the pleasantly comfortable couch with two other people who are counterparts from another company. Two people I genuinely like.
We sat together companionably and talked and laughed and told stories. We couldn't believe our good fortune that the couch seating was open on such a gorgeous day.
Inevitably, time passed and it was time to go back inside the Alfândega Congress Centre, a historic former customs house, and go back to work.
Deep in very businessy conversations inside the cool stone structure, I couldn't stop my mind from wandering back to that place. That seat. That sun. That perfect moment. A delicious lunch with good and decent people on an oddly but fortuitously placed couch by the Douro river. In Portugal.
On the next break I wandered downstairs and back outside. After taking a photo of that now empty red couch by the river, I went down a few granite stairs and sat closer to the water. Small wakes from passing boats gently lapped the bottom step.
Then I started thinking. Lovely thoughts on a lovely day. A workday, no less! What a lovely city in a lovely country. Just that easy. Just that difficult.
And that, my friends, is how a good memory is made.

Or: Tales From The Upper Deck
When word came down at work that I had approval to travel to Porto, Portugal to participate in meetings with key folks from around the world, things began to follow a usual path.
Since the place I work for gets a lot of Federal funding, we're bound to abide by the Fly American Act, i.e. when on Federal business, fly US carriers.
No problem. I'm used to shoving my cookies onto a United Airlines jet and riding around the world, so per the norm I picked out my United flight pairs and the admin booked them. I was all set.
Because I am a little weenie and need more leg room, I like to pay out of pocket to upgrade my government bought United economy seats to United Plus economy seats.
My employer doesn't pay for business or first class and I don't fly enough to rack up the miles to get me there, so I ride in the back half of the plane. Economy plus at least gives my long legs a little room. A little less sardine-like.
However, when I logged into my United account and tried to upgrade my seats, I was told I could not. That I would have to wait until the day before the flight to pick out seats. What?
It took a little work but I figured out the deal. Three of my four flights on this trek would not be on United planes but a codeshare on Lufthansa.
Well hell, I'd never flown Lufthansa before so this was an adventure.
Doing some research on the Lufthansa site, I also figured out that my plane for the San Francisco to Frankfurt leg of the trip would be on an Airbus A380-800 airplane. A gigantic double decker of a holy-crap-that's-huge airplane.
In fact, it's the largest passenger plane flying today.
Looking up the specs of this plane online, I found people affectionately call it "the whale," and it's no wonder. The configuration I rode seats about 500 people.
When I was finally able to select my seats, I found that the second floor of the airplane (this airplane has two floors!!) was mostly first and business class, but the back of the upper deck had a small grouping of seven rows of economy seats. So yeah, I scooped up an aisle seat upstairs right away.
On the day I arrived at SFO, I let out an audible "wuh-huh-hoooooo" when I saw the airplane sitting at the gate. Then I became filled with anxiety. "How will that ever fly?" said my worried mind.
I wondered if my brain had anything I could compare this to. Many years ago I worked for a Lockheed Martin site that was right next to a military airstrip. Every once in a while the military would practice "touch and goes" with various planes and pilots. We'd drag our desk chairs outside and watch the show.
What I'm trying to say is, I've seen a fully loaded C-130 execute a touch and go, so yeah, I realized that the A380 could certainly fly. And I was going to get on it.
As I walked down the jetway to the plane, my heart began trip hammering. I always have a moment of pause before boarding any plane but this was different.
I stepped through the nice wide doorway and saw a beautiful gleaming white staircase front and center. "Ah, that must be how I get up there," I thought.
The oversmiling male flight attendant looked at my ticket and informed me that I needed to go all the way to the back of the plane and find a staircase there.
In other words, your economy-seat riding ass don't climb these stairs, honey.
Fair enough. I set off on my journey to the back of the plane. I stopped rest once or twice. I had snacks to keep my energy up. I may have camped out overnight. Jesus, that's a big airplane.
Finally I reached the end of the plane and scurried up the stairs, then slid into my seat.
It was still an economy class seat so it fit tight around the hips. I got snug like a bug in there as the plane began to push back from the gate.
The Lufthansa A380 features three live cameras, one on the nose pointing forward, one on the tail also pointing forward, and one on the belly looking straight down.
Here is a terrible quality image. It's a photo taken with an iPad of my screen on the plane as we are somewhere over the Labrador Sea. It's enough that you can see what the view from the tail camera looks like: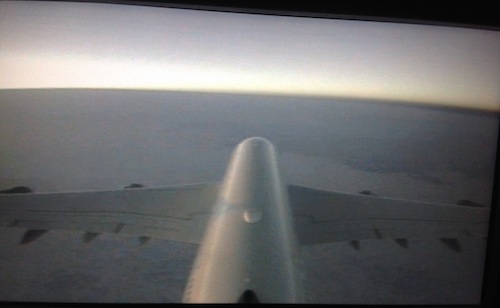 I wanted to stick my hand out the window and wave to the camera, but that's mostly frowned upon

It was mildly surreal to watch this behemoth take off from a bird's eye view but I was fascinated.
Once aloft, I began to realize why non-US carriers rock the casbah. It's one word: alcohol. The wine flows freely on non-US airplanes. I had flown a Singapore Airlines plane a few years ago and was gently surprised at the wine served with meals. The Germans have the Singaporeans beat. Wine with snacks, wine with dinner, brandy and irish crème after dinner.
All of this is a plot, however. They ply you with food and booze then turn down the cabin lights. Pretty much everyone falls asleep right away. Except me, I have a flaw in my DNA. I can't sleep on a plane. Not even a long haul. Nope.
The Good Man shares this flaw and it's good when we travel together because we entertain each other like little kids while everyone else sleeps. Sadly on this trip I was alone.
The flight attendant overseeing our little cozy area of economy class seats was a rockstar. He noticed I was the only one awake and didn't let up on the top-notch service. He checked in on me constantly and brought water, juice, snacks and some cookies that seemed way too delicious for economy class.
Even though I was packed into an economy seat I felt spoiled like a little princess up there, inside the white whale.
When she touched down in Frankfurt I was reluctant to leave my cozy little seat and my white glove service. It was a gentle landing as the plane beast docked next to its siblings.
That was one of the most comfortable and happy international flights I have ever known and I am sure I will reflect back on it for years. It has become the high water mark by which all other flights will be measured.
Sadly, when going home from this journey, the Frankfurt to San Francisco leg will be on a plain old United jet, a Boeing 747-400. That plane also has a second deck, but only the pish-posh get to sit up there.
I'll be seated among the cattle, in an economy plus seat but still among the unwashed. No first class cookies for Karen on the way home.
I think I'll write a nice letter to Lufthansa to tell them how much I appreciated the flight attendant. As I have learned in my short time in Portugal, I will extend a hearty obrigada (i.e. thank you or much obliged) for his attention and job well done.
And I will wistfully dream of my time inside the whale, a modern day Jonah high above the bustling world.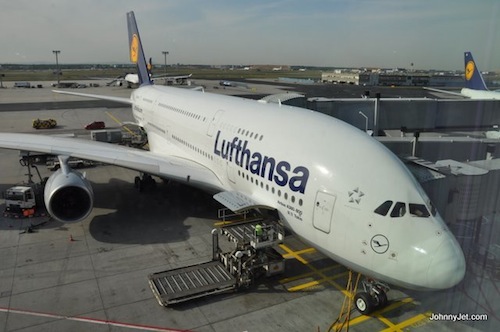 Thar she blows!

With a nod and a smile to Johnny Jet for the photo and for his awesome blog post about the Lufthansa A380. Read it here.