Back there in June, which seems like a lifetime ago, recall I had the fun chance to visit Amsterdam on a work trip? Yay!
While there, I made use of my company credit card because that's the best way to go when it comes to pesky expense reports.
However, there are a few things that the company says no-no to on expense reports. For example, booze. I mean, how can one have a nice dinner in Amsterdam and not sample the local beer?
One doesn't and this one didn't. I sampled. Oh did I sample. No, I didn't sample Amsterdam's other claims to fame. I was on a work trip ferchrissakes! But light brown beer was a delightful dinner companion.
So what I did was expense the expensable parts and the not expensable parts I would pay personally to the credit card company. No problem, right?
Upon my return to the States, in the midst of chaos and twelve to fourteen hour days and working nights and weekends on this massive project (the whole reason I went to Amsterdam and Ireland) I managed to knock out my expense report.
Then I knew I would get a bill for about $110 US dollars for the "not allowable" stuff. The beer, mostly. Not gonna lie.
About a week and a half ago, I got a snippy notice from the credit card company. "Second notice", they said and "we'll shut off your card in five days unless payment is received."
I also noticed that they had transposed two numbers in my mailing address.
Well, I got a bit high handed about this. First of all, I didn't receive a first notice! Second of all, my address is wrong. Third of all, pfft! Or something like that.
I'm still working a lot of hours and so I dashed off a check but didn't send it. I wanted to talk to my friend who runs the travel program. I needed to know if I could change my mailing address for the card or if she had to. She said I could do it or she could. No matter.
Great! Then life and my insane job intervened and quite a few more than five days passed. Ugh. Over the weekend when I had a few minutes to breathe, I picked up the ol' phone and called the credit card folks. I knew I needed to take care of this problem like a grownup.
Imagine my surprise when I got a recorded message saying that a payment had been received and my balance was zero.
"Uh oh," I told the Good Man. "The company paid my bill. Crap. Now I have to figure out how to pay them back. Or will they take it out of my paycheck? Gah. What a mess."
The next day, I went back to my friend in Travel to figure this out.
"Honey, we don't pay people's credit cards. And if we did, just keep quiet about it." She laughed.
But she looked up my account. "Hmm…" she said, rolling her mouse over the screen. "I can't tell where this payment came from. Did you do another expense report?"
"No."
"Hmm. Are you sure you didn't pay it?"
"Yes."
"Really sure?"
I thought back to the dates from May 1 through August 15, my head down working this project. The lack of sleep. The stress. The long days and working weekends and not having a single day off in all of that time. The disconnected feeling. The lack of awareness about pretty much everything around me.
"Well. I'll check my bank account but I really don't think so."
I walked back to my desk, logged into my bank and searched for the amount. By golly, there was a payment.
That means that 1) I had indeed received a "first notice" from the credit card company and didn't remember it and 2) had set up the credit card company as an auto pay from my account and didn't remember it and 3) actually paid the bill and didn't remember it.
So that means that when I was wandering around in a zombie-like intense work state, forgetting to eat meals and forgetting to sleep and often forgetting to change clothes and frequently forgetting to even brush my teeth in the morning, I managed to be fiscally responsible enough to pay my credit card bill?
Um. What?
I'm certainly glad that zombie Karen cares enough to pay normal Karen's bills. I wonder what else I did when I wasn't even on the planet.
I can hardly wait to find out.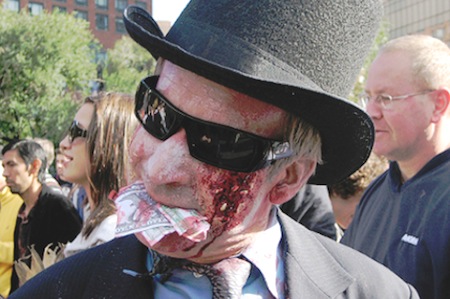 Image found here.

Ya know, the ol' brain, she ain't what she used to be. Let's be honest, my memory always was more of an old gray mare than a fast running thoroughbred.
Over the weekend The Good Man was going through our bag of bags (I'm pretty sure everyone has a bag of bags, right? The place you store plastic and paper grocery bags for reuse) looking for just the right fit for the job he had in mind.
He pulled out a plastic bag that had travelled its way from Amsterdam to California that was just the perfect size. He said, "Oh? Are you okay with me using this bag or do you want to keep it?"
I said, "Nah, no need to keep it, go ahead."
He opened it up and in the bottom found a paper receipt that he handed to me. "You probably want this," he said.
The receipt looked a lot like this:
Hmm. One Euro. What the hell did I pay one Euro for in Amsterdam? I found that country to be pretty darn expensive and don't recall anything costing just one single Euro.
It's from the Van Gogh museum, so that's a clue.
I was really stumped. My mind slipped into the Swiss cheese hole full of nuthin'. I had zero recollection. For a moment I thought it wasn't even my receipt, that maybe I had inadvertently picked up someone else's.
And then…dull like the backside of a piece of foil, a light came on.
I saw the description "kids juggling Van Gogh" which brought many hilarious fictional images to mind, but then that confused me even more.
I had to work at it. Sweat it a little bit. Strain the brain tendons.
Ah! Yes! I remembered! A forgotten moment. The synapses reattached and the focus ring turned and I could see it clearly.
Me, in Amsterdam, on a rainy Monday. It was late afternoon and the Van Gogh museum was closing. I had prowled all four floors, hungry to see everything. I actually toured it twice. Bottom to top and then top to bottom. In the last thirty minutes of museum hours, I went to visit all of my favorite canvases one last time, like saying goodbye to cherished friends.
On the way out, visitors are forced through the gift shop and as doors were locking, I made a hasty and impulse purchase. A funny card made for kids picturing a stylized Vincent Van Gogh juggling paint blobs. It made me laugh, so I took it to the register.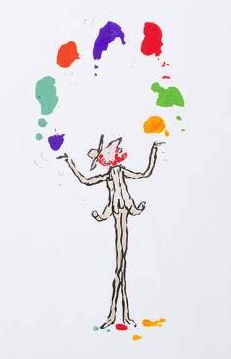 Image copyright belongs to the Van Gogh Museum Shop

The cashier said "That will be one Euro." Through bleary jet lagged eyes, and too lazy to put on my reading glasses, I held up a coin. "Is this one Euro?" I asked.
He smiled as he might to a precocious child. "Yes. That's a Euro."
I held up another coin, "That's a two Euro, right?"
He smiled again, "Yes, ma'am. The larger coin is two Euros."
"Okay, thanks. Here you go," I said and dropped the one Euro coin into his hand.
Then I reluctantly left the museum, a place I could live, and walked out into the Amsterdam evening. I was overwhelmed with all I had just seen in the museum, hungry, tired, lost and pretty calm. I was filled to blissful capacity with art and creativity and color and joy.
I found a bench on the edges of the Museumplein, a gigantic green park in the heart of Amsterdam, and sat. And watched. And listened. And did what became my most favorite thing to do in Holland: people watch.
On this most recent sunny and muggy Sunday in California, I remembered the noisy but pleasant park, watching the funny multicolored crows hop around, feeling my own bones weary from jet lag, and the unmistakable sense of peace.
It was a nice memory. One that had slopped over the side of the brain bucket and almost got away. Now retrieved, embedded, made solid.
That's the funny thing about memory, it runs like quicksilver, but catch it, hold it in your hand long enough to let the synapses meet up, and you have something tangible.
I had forgotten my one Euro moment. Thanks to a paper receipt at the bottom of a plastic bag, now I'll remember it forever.

Oh boy is it gone. I have, for years, gone on and on in the pages of this blog about my personal anglophilia, a love of all things British.
Perhaps it's time to invoke the saying "familiarity breeds contempt" as it applies to my waning interest in the sovereign subjects of the Queen.
Oh, I suppose those oddball Brits will find their way back into my good graces, but it may take a while. The reason you haven't seen a lot of my words around these pages and the reason I had the great fortune to travel to Dublin and then to Amsterdam over the past months was due to a very large project that is rapidly boiling along at my place of employment.
One of the main reasons I was hired to work for this joint was my previous international experience. My current employers don't do a lot of that and what it takes to become a world player is quite substantial, so this project is been groundbreaking in many ways.
We're far from over, but we're getting there. I have been cooped up in conference rooms in three countries and participated in many video conferences with a group of very standard issue British citizens. And they are starting to wear me quite thin.
That fun little lilting British accent starts to grate the nerves after ten hours of intense negotiations.
That cheeky sense of humor makes you want to punch a wall.
That squishy style of confrontation makes you long for a Clint Eastwood style smack across the chops.
When I went to Britain two years ago, I delighted in every moment I was there. The food, the sights, the people, the everything! Even inspecting all of the coins and bills felt so dear to me.
Well, that was fun, but the fun's worn off.
I now see the good people of Britain in a much different light. I once heard that "moaning (the British term for complaining) is the national pastime." And that wasn't even a joke. The ability to complain about everything from the idiosyncrasies of residents of other countries (a much beloved pastime) to the temperature of the water from a water cooler (not making that up) is an art, a sport and a hobby. All the whining gets to an American soul after a while.
I know Americans are often viewed as being far too friendly and upbeat, and I've been known to gripe with the best of them, but sometimes you just want to have a moment where every little thing is simply going to be all right.
You know who really ruined the Brits for me? The Irish. At this moment I can hear the screams and howls of my UK colleagues. They have told me, repeatedly, that the Irish are boring. Pretty standard opinion.
The Irish are anything but boring. They are the most cheerful, upbeat, hilarious people. Take a long gander at Irish history, look at the waves and waves of hellfire and damnation they have endured. Including the most recent thirty years!
Look at the strife, the upset, the horrors they have baked into their DNA. And then tip a pint and laugh your ass off, because the good people of Ireland won't complain. They'll laugh about their own misery, joke about their pain.
So maybe my Anglophilia is now Irishphilia? Yes, I did just make up that word, why do you ask?
In the time I spent in Dublin I found all of the things I liked about England with none of the complaining. And a cracking good sense of humor.
Maybe what happened is the Irish stole my love for the Brits and did so with charm and a gleam in the eye. The reserved, closed in, afraid to be embarrassed, must complain even when having fun British suddenly look, well, dare I say? Boring.
Take me back to Ireland, I still have some fun to attend to there!
Or, perhaps, let me finish my big project and back away from these fine British citizens for a while. Time and distance may make my heart grow fonder.
(The irony is not lost on me that I spent almost 700 words complaining about people who complain.)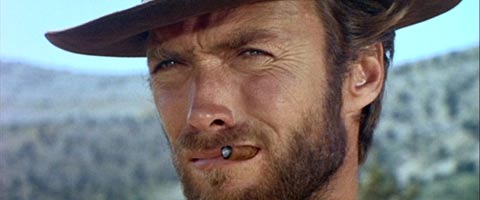 Image found here

Over past few years of my life I have been fortunate enough to engage in some international travel. I have truly visited some of the great cities of the world.
Traveling outside of the borders of the United States has made me a better person in many ways, not the least of which is that I have come to appreciate my own country more by not being in it for a few days at a time.
I recall spending Fourth of July in England, gazing over the Thames while pondering that the Fourth of July is about so much more than hot dogs and sparklers. It really made the summer holiday mean something to me.
The other thing that international travel has done is give me a front row seat on gaining perspective of just how large this big blue marble really is. Gigantic. And how people are different and yet people are the same.
One aspect that I have experienced on each of my overseas trips has been a small moment of humanity, a connection, finding a shared place with another person even as I feel the dislocation of being in another country.
It happened in Dublin, and is such a fond memory. It also happened in Amsterdam, and I guess it's taken a little while for the beauty of the interaction to sink in.
Let me tell the tale:
I arrived in Amsterdam on Sunday at about 7:30am. Schiphol airport was quiet and calm in the early morning hours.
My fellow passengers and I came off our flight from Newark and walked into the airport, quickly cleared customs and stood by the baggage return waiting.
And waiting.
You see, in Europe, things don't always move on the timescale that Americans are used to. It's just how it is.
I hadn't slept in something like eighteen hours and I was wobbly on my pins, but resolved. Finally after the eternity of a half hour, the bags started rolling through the baggage return. Hooray!
People scurried to get their luggage and wandered off into the Amsterdam day. I kept watching bags go by that were not mine.
Finally the flow of luggage slowed to a trickle and I knew, I just knew. My bag didn't make it.
I had a very tight transfer time in Newark, less than an hour, and I had flat out ran to get between gates and onto the plane, so I was just certain my bag didn't make it as fast as I had.
Shoot. That was the word foremost in my mind. Only not the word with the two o's in the middle. The other word. I just kept saying that word over and over and over.
I looked around and saw I wasn't alone. There were about eight of us standing there with no luggage.
We all looked at each other, shrugged and walked in unison over to the United Baggage customer service desk.
I was toward the back of the line so I struck up a conversation with a dude standing in line with a guitar slung over his shoulder.
He told me that he and his wife had come from Cleveland and that they were in Amsterdam to see their son, who is in a band, play a show. They were going to follow him on a couple tour stops.
Then he pointed to his guitar and said, "I'm going to try to do a little busking while I am here. The quality of the people I've seen busking in Amsterdam is pretty low, so I know I can do better than that."
I spent too many years in the company of musicians to do anything other than laugh and agree. And I said, "That's cool. When I get some Euros, if I see you playing, I will throw some your way." He laughed and said thanks.
About that time the United customer service person said that the baggage handlers had failed to look in the "basement" of the plane, and our bags should be along directly. Lo and behold, my stuff showed up. I whipped it off the baggage return and stumbled my way out into the beautiful Amsterdam morning.
And then I settled into my little Amsterdam life, walking the canals, eating stroopwafels, visiting the Van Gogh museum, and work. Oh yeah, this was not a vacation but a work trip, and the work meetings were two full days (day and night) and massively intense.
On Tuesday evening, I stumbled out of the offices with my brain dead and my body exhausted. We had been through an intense day and were on a short one-hour break before meeting back at the offices to go to dinner.
I strolled along the Singel, which is the center of Amsterdam. I was so tired and concentrating on not turning my ankles on the cobblestones near the flower market. My hotel was only a few blocks from there.
As I walked, feeling out of my mind and brain dead, I heard someone playing guitar and singing. I remembered the guy I had met at the airport and wondered what had become of him.
As I rounded a curve, I saw a man in shorts and a porkpie hat busking at the end of an alleyway and in front of a closed store. He was putting a lot of gusto into the song, "Santeria" and had his backed turned to me.
I walked past and looked. Sure enough, it was my fellow passenger.
I pulled out my wallet and looked to see what I had to give. I found a five Euro bill, then walked up and said, "I promised I'd give you some Euros" and dropped the bill into his guitar case.
He looked puzzled and said, "Thanks. Are you an American?"
He didn't recognize me, so I said, "We've met. Remember at baggage claim in Sunday?"
His eyes went wide, "Heeey! How cool is this?" He pointed out his wife who was shopping one of the stores a bit down the path. He told me he had seen his son play the night before and that he and his wife were off to Brussels in the morning for his son's next show.
We chatted for a few moments, then I said, "I just had to stop and I'm so sorry for interrupting your song, that is rude of me."
"No, no! Here, let me give you something! Here, take one of our CDs."
So I did, and I thanked him and headed off with a smile on my face and a little more bounce in my step.
I get that Amsterdam is a small city and that the flower market is a popular place to be, but that one moment of humanity made this great big gigantic overwhelming world seem just a little bit smaller.
That felt pretty good to a little tired American girl wandering the canals of Amsterdam.
With a cheers from San Francisco to the fine city of Cleveland.
Here's the band if you are inclined to check them out: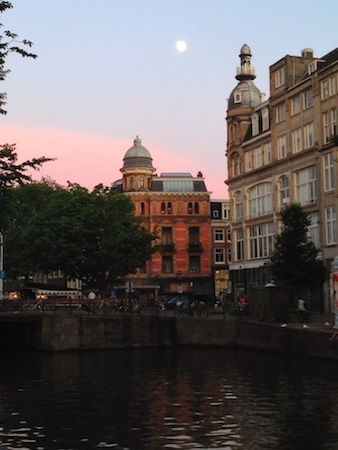 Copyright © 2014 Karen Fayeth

I took this photo later that same night with a couple of Dutch beers under my belt and a song in my heart. I call this one "Amsterdam Moon" for the The Mavericks song of the same name.

Photo Copyright © 2014, Karen Fayeth, and subject to the Creative Commons license in the right column of this page. Taken with an iPhone5 and the Camera+ app. Post processed with Snapseed.

Now that I have been a member of the photography club at my place of employment for just over a year, and have been attending meetings and listening hard, I think I maybe kind of sort of have earned a teeny tiny bit of respect.
Because this month, both of my submissions for the monthly photo contest made the cut. BOTH!
The rules each month are that you get to submit two photos. We review and critique all the photos in our monthly meetings and then there is an anonymous voting app we use. When votes are tallied, the top four vote getters are published internally at the company.
So yeah baby! I have had one of my photos make the cut before, but never both. It is a little unprecedented. Woo hoo!
The theme this month was double exposure and my two prize winning photos are below for your perusal.
The first one feels really special to me. I took both of the photos in the image while I was in Dublin. It was at the end of my one lone day of tourist time after an intense week of work, and I had walked for miles. I was exhausted and it was raining like it only can in Ireland.
Tired and soaked to the bone, I was bound and determined to find this sculpture of Oscar Wilde. This was after I had stood in a very long line (in the pouring rain, a nice lady shared her umbrella) at Trinity College to see the Book of Kells. That exhibit was exhausting in itself. Way too many people jostling around.
The park where Oscar resides is about half a mile from Trinity college and I wasn't sure I was going to make it. It was driving rain and windy and I was so tired that a nice warm cab looked like a good idea. I stopped to rest twice on the short journey, but forced myself to keep going and once I arrived at the park I was glad I did.
The small, lush, green Merrion Square park was silent as I stood there getting drenched looking at this remarkable statue of Oscar Wilde. A small tour group came by and the tour guide said the artist sourced these incredible and colorful stones from all around the world. It is a beautiful statue and so unique as it reclines on a rock.
When it came time to figure out something to use for double exposure, I thought of this statue and of the very old books I had seen at the Trinity College library (I had watched a video about the method used to bound the tomes and was endlessly fascinated).
Using some tools I had learned in a recent photography class about overlay for textures, I fiddled around in Photoshop and came up with this:
Title: Author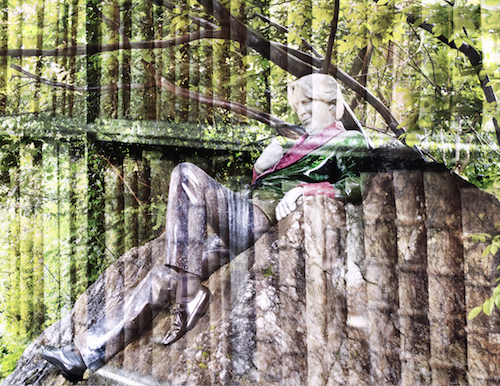 Photograph Copyright © 2014, Karen Fayeth


I was unsure if the photographers in the club would find the image too discordant. It's almost jarring, but I love it. It's hard to photograph a statue and have it be anything more interesting than a photograph of a statue. This to me brings depth and texture to the photo and I am so happy with the results.
The other photo I submitted was something I had been visualizing for quite some time.
As I continue to hear all of the news reports about the drought here in California, I was pleasantly surprised that the lack of rain didn't halt the springtime explosion of California wildflowers. I am mildly obsessed with California Poppies (the state flower) and I love the yellows, reds and purples of other flowers growing in medians, between sidewalk cracks and at the edges of yards.
I picked several of the flowers and shot them using a technique I learned from photography master Harold Davis. Then I took a free stock image of textural dry and cracked ground and combined it with my flower photo. When I look at it, I think of many things I could (and should) go back and tweak, but so far this photo is garnering nice attention.
Title: Drought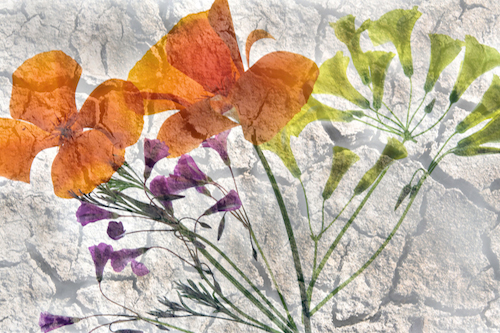 Photograph Copyright © 2014, Karen Fayeth

When submitting both of these photos, I wasn't sure how my surly team of scientists would respond. Both of these photos are kind of arty, but they also show I have some Photoshop chops, and I think they liked that. They had a lot of questions for me on technique since I used a different approach for each photo.
Also, I think the club as a whole struggled with the idea of double exposure. It's too messy for their orderly minds. I had a film camera in high school that I liked for making double exposures. It can either look weird or really cool. Doing a double exposure in Photoshop gives me more control over how the two photos overlap and how the double exposure looks, and I like it.
Anyhow, thought I'd share my winning photos with you.
Next up, travel to Amsterdam. Wonder what treasures I can find to photograph there?
Both images, Copyright © 2014, Karen Fayeth. Shot with a Canon G10 and combined in Photoshop. Stock image of dry ground from Free Stock Textures.