Oh boy is it gone. I have, for years, gone on and on in the pages of this blog about my personal anglophilia, a love of all things British.
Perhaps it's time to invoke the saying "familiarity breeds contempt" as it applies to my waning interest in the sovereign subjects of the Queen.
Oh, I suppose those oddball Brits will find their way back into my good graces, but it may take a while. The reason you haven't seen a lot of my words around these pages and the reason I had the great fortune to travel to Dublin and then to Amsterdam over the past months was due to a very large project that is rapidly boiling along at my place of employment.
One of the main reasons I was hired to work for this joint was my previous international experience. My current employers don't do a lot of that and what it takes to become a world player is quite substantial, so this project is been groundbreaking in many ways.
We're far from over, but we're getting there. I have been cooped up in conference rooms in three countries and participated in many video conferences with a group of very standard issue British citizens. And they are starting to wear me quite thin.
That fun little lilting British accent starts to grate the nerves after ten hours of intense negotiations.
That cheeky sense of humor makes you want to punch a wall.
That squishy style of confrontation makes you long for a Clint Eastwood style smack across the chops.
When I went to Britain two years ago, I delighted in every moment I was there. The food, the sights, the people, the everything! Even inspecting all of the coins and bills felt so dear to me.
Well, that was fun, but the fun's worn off.
I now see the good people of Britain in a much different light. I once heard that "moaning (the British term for complaining) is the national pastime." And that wasn't even a joke. The ability to complain about everything from the idiosyncrasies of residents of other countries (a much beloved pastime) to the temperature of the water from a water cooler (not making that up) is an art, a sport and a hobby. All the whining gets to an American soul after a while.
I know Americans are often viewed as being far too friendly and upbeat, and I've been known to gripe with the best of them, but sometimes you just want to have a moment where every little thing is simply going to be all right.
You know who really ruined the Brits for me? The Irish. At this moment I can hear the screams and howls of my UK colleagues. They have told me, repeatedly, that the Irish are boring. Pretty standard opinion.
The Irish are anything but boring. They are the most cheerful, upbeat, hilarious people. Take a long gander at Irish history, look at the waves and waves of hellfire and damnation they have endured. Including the most recent thirty years!
Look at the strife, the upset, the horrors they have baked into their DNA. And then tip a pint and laugh your ass off, because the good people of Ireland won't complain. They'll laugh about their own misery, joke about their pain.
So maybe my Anglophilia is now Irishphilia? Yes, I did just make up that word, why do you ask?
In the time I spent in Dublin I found all of the things I liked about England with none of the complaining. And a cracking good sense of humor.
Maybe what happened is the Irish stole my love for the Brits and did so with charm and a gleam in the eye. The reserved, closed in, afraid to be embarrassed, must complain even when having fun British suddenly look, well, dare I say? Boring.
Take me back to Ireland, I still have some fun to attend to there!
Or, perhaps, let me finish my big project and back away from these fine British citizens for a while. Time and distance may make my heart grow fonder.
(The irony is not lost on me that I spent almost 700 words complaining about people who complain.)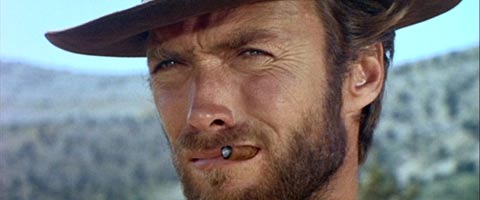 Image found here

Now that I have been a member of the photography club at my place of employment for just over a year, and have been attending meetings and listening hard, I think I maybe kind of sort of have earned a teeny tiny bit of respect.
Because this month, both of my submissions for the monthly photo contest made the cut. BOTH!
The rules each month are that you get to submit two photos. We review and critique all the photos in our monthly meetings and then there is an anonymous voting app we use. When votes are tallied, the top four vote getters are published internally at the company.
So yeah baby! I have had one of my photos make the cut before, but never both. It is a little unprecedented. Woo hoo!
The theme this month was double exposure and my two prize winning photos are below for your perusal.
The first one feels really special to me. I took both of the photos in the image while I was in Dublin. It was at the end of my one lone day of tourist time after an intense week of work, and I had walked for miles. I was exhausted and it was raining like it only can in Ireland.
Tired and soaked to the bone, I was bound and determined to find this sculpture of Oscar Wilde. This was after I had stood in a very long line (in the pouring rain, a nice lady shared her umbrella) at Trinity College to see the Book of Kells. That exhibit was exhausting in itself. Way too many people jostling around.
The park where Oscar resides is about half a mile from Trinity college and I wasn't sure I was going to make it. It was driving rain and windy and I was so tired that a nice warm cab looked like a good idea. I stopped to rest twice on the short journey, but forced myself to keep going and once I arrived at the park I was glad I did.
The small, lush, green Merrion Square park was silent as I stood there getting drenched looking at this remarkable statue of Oscar Wilde. A small tour group came by and the tour guide said the artist sourced these incredible and colorful stones from all around the world. It is a beautiful statue and so unique as it reclines on a rock.
When it came time to figure out something to use for double exposure, I thought of this statue and of the very old books I had seen at the Trinity College library (I had watched a video about the method used to bound the tomes and was endlessly fascinated).
Using some tools I had learned in a recent photography class about overlay for textures, I fiddled around in Photoshop and came up with this:
Title: Author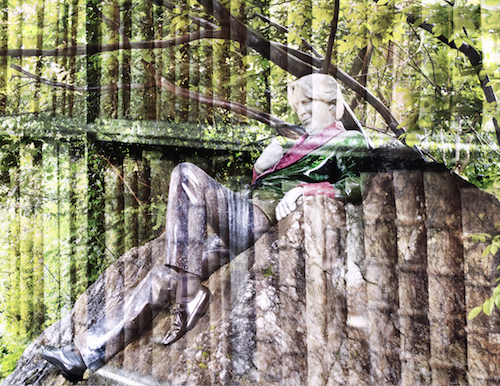 Photograph Copyright © 2014, Karen Fayeth


I was unsure if the photographers in the club would find the image too discordant. It's almost jarring, but I love it. It's hard to photograph a statue and have it be anything more interesting than a photograph of a statue. This to me brings depth and texture to the photo and I am so happy with the results.
The other photo I submitted was something I had been visualizing for quite some time.
As I continue to hear all of the news reports about the drought here in California, I was pleasantly surprised that the lack of rain didn't halt the springtime explosion of California wildflowers. I am mildly obsessed with California Poppies (the state flower) and I love the yellows, reds and purples of other flowers growing in medians, between sidewalk cracks and at the edges of yards.
I picked several of the flowers and shot them using a technique I learned from photography master Harold Davis. Then I took a free stock image of textural dry and cracked ground and combined it with my flower photo. When I look at it, I think of many things I could (and should) go back and tweak, but so far this photo is garnering nice attention.
Title: Drought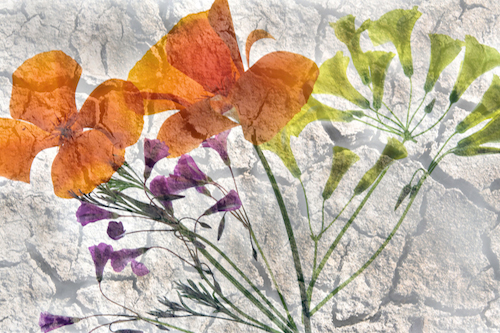 Photograph Copyright © 2014, Karen Fayeth

When submitting both of these photos, I wasn't sure how my surly team of scientists would respond. Both of these photos are kind of arty, but they also show I have some Photoshop chops, and I think they liked that. They had a lot of questions for me on technique since I used a different approach for each photo.
Also, I think the club as a whole struggled with the idea of double exposure. It's too messy for their orderly minds. I had a film camera in high school that I liked for making double exposures. It can either look weird or really cool. Doing a double exposure in Photoshop gives me more control over how the two photos overlap and how the double exposure looks, and I like it.
Anyhow, thought I'd share my winning photos with you.
Next up, travel to Amsterdam. Wonder what treasures I can find to photograph there?
Both images, Copyright © 2014, Karen Fayeth. Shot with a Canon G10 and combined in Photoshop. Stock image of dry ground from Free Stock Textures.

When I travel internationally (or even in the US) I know I have to find many ways to distract my monkey brain. Sitting still in a seat for flights that last anywhere from six hours to sixteen hours means I have to bring a lot of toys and distractions on an airplane to keep me sane.
Lately the best and easiest distraction for me is to load my iPad with movies. Good long movies that will help me while away the hours.
On this recent round trip to Ireland, I had four movies on my iPad and watched two more on the plane. Six movies, all told, have been absorbed into the ol' brain pan.
They were: "American Hustle" (awesome movie!), "Don John" (far better than I had expected), "The Great Gastby" (far worse than I had expected), "The Secret Life of Walter Mitty" (way better than expected as I expected to fully hate it), "August: Osage County" (was a little hard to watch, hits too close to home and is rather depressing), and "The Wolf of Wallstreet" (eh, I was lukewarm).
So as I found myself locked and loaded and flying the skies, it was kind of funny to stumble across not one but two references to my fair New Mexico in these movies. A little "hello" from my homestate as I flew thousands of miles away.
The first was in American Hustle. (spoiler alert!) The character Sydney (Amy Adams) has been affecting a British accent and a faked up backstory of being a British aristocrat and finally has to come clean. She and Irving (Christian Bale) are fighting and she admits not only is she not British with ties to banking and business in England, she's actually just a girl from Albuquerque, New Mexico.
This made me pause. What am I to take from this? She's not a big time global force, but a simple girl from New Mexico?
Or do I infer that she learned her hustle in New Mexico? Hell, I don't know and really it doesn't matter, but it was a little startling to hear the name Albuquerque casually tossed about. However, I was a happy for the name check of my hometown in a big time movie. The Sydney character is pretty cool.
The other reference came along in "The Great Gatsby" when Tom is riding in a car with Jordan and speaking ill of Gatsby, as they have just had an unpleasant encounter in a hotel room in New York City. Tom is apoplectic and the dialogue goes something like this (parentheses added by me to make the speaker clear):
"An Oxford man!" He was incredulous. "Like hell he is! He wears a pink suit." (said Tom)
"Nevertheless he's an Oxford man." (said Jordan)
"Oxford, New Mexico," snorted Tom contemptuously, "or something like that."
From that exchange I certainly could infer what was being said. Oxford, New Mexico said contemptuously. As though New Mexico is the most backwater place a rich man from East Egg can think of.
That one made me wince a little, even as I was pleasantly startled to hear New Mexico called out again, in another movie.
A little research showed me that this dialogue is in the actual book by F. Scott Fitzgerald, which I read a thousand years ago and didn't remember this.
But there it was, in a blockbuster movie!
I'm not entirely sure why New Mexico is in the zeitgeist these days, maybe it's chalked up to "Breaking Bad" or maybe it's something else, but hey here we are in the big time.
Not sure how I feel about that, really. Sometimes it's best to keep our something very nice as something very secret.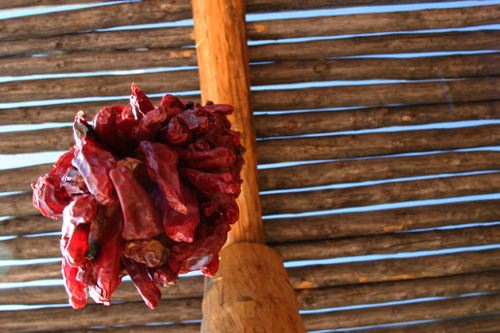 Went back to the very first post on this blog to snag this photo, one of mine. It just seemed right.

Photo of ristra Copyright © 2007, Karen Fayeth, and subject to the Creative Commons license in the far right column of this page.

When I have had a big event, a big adventure or just something interesting happen in my life, I almost always have to spend a little time processing it, usually out loud and on these pages.
Having just returned from a weeklong trip to Ireland, I'm pretty sure that readers here will be treated to (tormented by?) several posts about my days in Dublin. I had such a wonderful time and I want to get all the stories out and onto the page.
The question is, where to begin? Some would say start at the beginning. Some would say start somewhere in the middle when things begin to get good. Others still say to start wherever you want.
The thing is, I usually don't get a say in where to begin telling a story. The Muse has a mind of her own and she tends to open one sliding door in my mind to show me what she's interested in, while keeping the other doors firmly closed until she's good and ready.
What I mean today is that there is one story, one experience, that keeps replaying in my mind. It is the sum of my entire view of Ireland and probably belongs at the end of the entire tale.
But why cave to the convention of putting the end of the story at the end? This is what I want to write, so this is what will be written. For today, at least.
Here we go…
The hotel where I stayed was in a rather upscale suburb of Dublin named Donnybrook. Back in the day, Donnybrook used to be the scene of an event called the Donnybrook Fair. And by "back in the day", I mean like the 1200's through the 1800s.
Evidently that event turned from a nice twelve-day fair, fun for the whole family, to a drunken brawling event. In fact the very word donnybrook has come to mean a brawl or fracas.
The Catholic Church took a dim view of this debauchery (as they are wont to do) and ultimately lobbied for the fair to shut down, mainly by building a church right at the event site.
This is a great story, I love it, but it's kind of tangential. Let me get back on track. In this wonderful Donnybrook neighborhood, there are quite a few shops, restaurants and a couple pubs.
One of the pubs, named McCloskey's, was about a half a block away from where I was staying. I could see it from the window in my hotel room.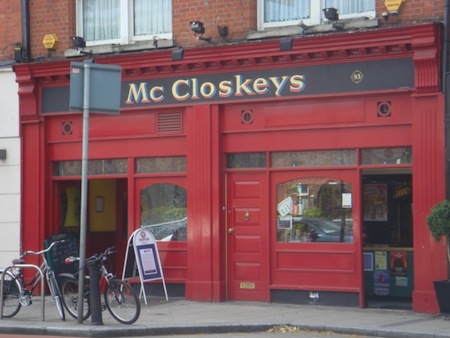 Image found here.


I had walked past the place quite a few times but was never brave enough to go in. Something about genuine pubs kind of intimidates me. It's a mix of the expected amount of hesitation being a woman going into a bar alone, and my propensity to overworry that I'll somehow say or do something that breaks the unwritten protocol of the pub.
I also never am sure how Americans are perceived so it's always a little tentative for me. Which is silly because of the pubs I've encountered in the UK and now Ireland, it's always been a lovely experience.
On Thursday after what had been a busy and intense workweek, I decided to go inside McCloskey's. I was hungry, I love pub food, and I was in desperate need of a pint.
With a deep breath, I opened the door and went in. I walked the length of the place to give it a look-see and decided to stay, taking up a corner seat at the bar.
The bartender was a fireplug of a man, in his early fifties, with a pugilistic look about him and a vibe that was clear he knew how to run a pub. He could and would toss your ass out without hesitation and with force.
He came over and slid a napkin on the bar like skipping a rock and asked, "What'll you have?"
"A pint of Guinness," I replied with confidence. He nodded with a grunt and poured the beer. In hindsight, I should have just said "A Guinness," the pint is understood.
What a lovely pint it was. A perfect pour, the perfect temperature, perfect creamy foam on top. Oh yes. I wanted to take a picture of it so I could always remember that beautiful moment, but thought better of it. It felt like the bartender may take a dim view of selfies and Instagram in his pub.
As he set the pint down I asked, "Can I order some food?"
"Er, yeah, we have a stew, the fish and something else I can't remember" he said.
"I'll have the fish," I said.
"Fish and chips, you know?"
"Yep!"
He grunted again and went off to the kitchen to place the order. I sat there feeling tense and sipping my beer. There were really only about four people in the pub, all quietly drinking and keeping to themselves. 1970's disco played from a small boom box to fill the atmosphere.
Next to me was a stack of local newspapers so I picked one up and read it, giving me something to do as I sat alone and tried to act normal.
After a bit my food came and it was so delicious. Light and crispy cod, perfect chips and slices of tomato. I ate it joyfully and drank my Guinness and suddenly everything was really right with the world.
During this time, the bartender mostly ignored me. He was friendly but distant. Gruff but fair, I suppose, and that was fine.
While I ate, a group of people came in. They were obviously all family, and they took up chairs and seats around several tables. Then more and more kept arriving. There were probably twenty or more people and one older gentleman with graying hair was buying all the drinks.
These folks were all in a good mood and talking excitedly. At one point someone teased the older man about "never being around" and he tipped his pint glass to them and said, "now that's one thing you can never say about my term! My opponent can't say the same."
It was then I sussed out that this might be a local politician. I heard someone call him by his first name and as I was texting the play by play to The Good Man, he did a quick Google search and we discovered I was in the pub with the local councilman. Elections were due to be held the next day. My guess is he was out celebrating the end of his campaign run with friends and family.
As the crowd grew, it became such a convivial atmosphere. I sat next to one of his daughters and we chatted and laughed. Her son, who looked to be about five, ordered a cranberry juice and wanted it served in a Guinness pint glass. Everyone bought and ate small cans of Pringles.
As ever more people kept piling in, I kind of felt like I needed to get out of there. I'm sure I could have stayed and been fine, but I started to feel like an outsider.
So I hopped up from my barstool and went over the cash register where the bartender stood. He turned to me and I said, "I'd like to tab out, please."
"Oh sure," he replied and began ringing me up.
"That will be twelve euros fifty," he said. I handed him a twenty euro bill.
He took it and looked me, touched my hand and said, "You doing okay, darlin'? Was everything all right?" with genuine concern in his eyes.
I replied, "Yes, it was great. I'm…I'm just a little jet lagged and very low energy."
He had a sparkle in his eye when he smiled, then tapped my hand again and said, "That's okay, darlin', you still look gorgeous!" He laughed like a schoolboy while he got my change.
He put the bills and coins in my palm and said, "now you have a good night, eh?"
I left the pub with a smile on my face. Now that, the whole story and everything in it, that's Ireland to me.
It is a wonderful, charming and friendly place. I loved every minute of the time I spent in the city of Dublin and the district of Donnybrook.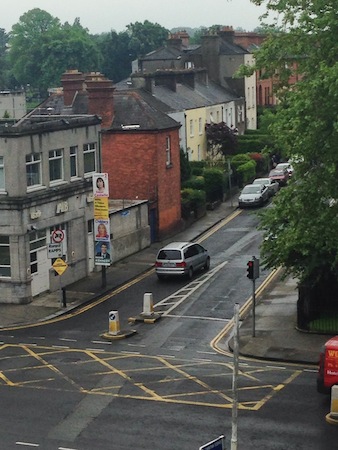 A view from my hotel room. Lovely! Copyright © Karen Fayeth, 2014