This morning I woke up, and it was August 26th. Late summer, but still summer.
Then I went to the kitchen, and everything changed.
First this happened:


Then this: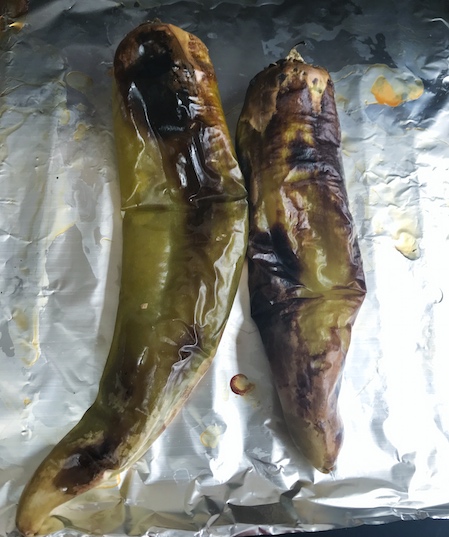 BOOM! Suddenly Autumn. That's it, I'm ready for sweaters, warm mugs of tea, falling leaves and warm roasted chile tucked into a melty cheesy tortilla.
And my home smells like my fair New Mexico, the best air freshener in the world.
Footnotes:
1) The chiles were procured in the Bay Area but certified to be from Hatch (if they passed off Anaheims, so help me….)
2) Roasting in the oven < Fire roasted, but The Good Man put the nix on a flamethrower. The discussion continues.
3) There's not very many in this batch, but we're just getting warmed up. Pun intended.

With Thai Basil Tofu, potstickers and spicy eggplant simmering in my tum, I excitedly reached for my fortune cookie, ready to crack it open and read my fate.
I have a mild obsession with fortune cookies and the wise and occasionally silly words inside. I have several of the small slips of paper tucked into my wallet. A few are taped to my work monitor. Some just drift around in my writing workspace like tumbleweeds of clever words intended to poke and prod at my mind.
So it was on this day, celebrating the birth of the kind and patient woman who gave birth to The Good Man, that I cracked open a fortune cookie and found…
Well, this: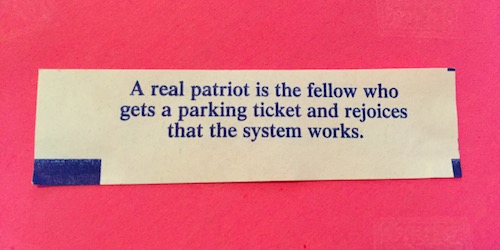 "A real patriot is the fellow who gets a parking ticket and rejoices that the system works."

Okay, okay, now wait just a second here. This is not fortune. This is propaganda.
Believe you me I've never, not once, rejoiced in a parking ticket. And living where I do, parking tickets are something that find their way into my life more often than I appreciate.
One short Google search later I discovered this happens to be a quote attributed to a man named Bill Vaughan.
Fine, okay. Who in the hell is this Bill Vaughan?
According to Wikipedia, he's an American columnist who wrote a syndicated column for the Kansas City Star from 1946 to 1977.
******
We break here for the requisite Roger Miller sing along.
I drive a big old Cadillac with wire wheels, got rhinestones on the spokes
I got credit down at the grocery store
And my barber tells me jokes
I'm the number one attraction every supermarket parkin' lot
I'm the king of Kansas City, no thanks, Omaha, thanks a lot

Kansas City star, that's what I are
Yodel-deedle ay-hee, you oughta see my car

Aaaaand we're back.
******
So I read the rest of the Wikipedia page trying to understand if this Vaughan guy is a communist or what. Because that quote, ooh damn. That runs a bit into a political spectrum that I'm not sure I run toward.
Turns out Mr. Bill Vaughan was sort of a quippy guy. Here's some others attributed to him:

"A citizen of America will cross the ocean to fight for democracy, but won't cross the street to vote in a national election."
"Suburbia is where the developer bulldozes out the trees, then names the streets after them."
"The groundhog is like most prophets; it delivers its prediction then disappears."
"If there is anything the nonconformist hates worse than a conformist, it's another nonconformist who doesn't conform to the prevailing standard of nonconformity."
Ok, I might be warming up to this guy. Still not sure what he's doing in my fortune cookie, though.
Maybe the business of fortune cookies has gone from slight puns and fake Confucius quotes to smart, scholarly, and thoughtful fortunes.
To that I say: Harumph
I may be a bit a traditionalist when it comes to the fortune cookie. I guess I'll just have to keep going to the kind of restaurants where they can be found in order to do additional (delicious) research.
While we're on the topic, here's one of my all time favorite fortune cookies. I got it almost a decade ago but it still rings true:


Birds are entangled by their feet and men by their tongues


Now that one is a thinker! And a little more fortune cookie-eque. With all due respect to Mr. Bill Vaughan.

Both cookie fortune photos ©2016 Karen Fayeth. Taken with an iPhone6, questionable light, questionable photographer and a song in my heart. Subject to the Creative Commons license in the right column of this page.

The 26th of February. That what today is. February 26, 2016.
My, my, how time does fly.
Speaking of flying time, I see that the last time words were posted to this space was in November. That was like, yesterday, right?
Nope. 26th. Of February. Of 2016. Whew.
Well, okay, gotta try to shake that off and keep rolling. I've been thinking a lot lately about this little ol' blog. It used to be that I'd knock out a post every weekday. Then three times a week. And then nothing since November.
Been wondering what got in my way.
Three things, really. First, I got a little worn out. I'd pushed The Muse and it was getting harder to think of interesting ideas to write about. Eventually The Muse asked me to give it a rest.
Another contributor was starting a different job. I used have a free lunch hour where I both ate and knocked out the words for this blog. In my new job, I am in so galldarn many meetings each day that my lunch break is now me eating while my staff streams in the door to grab a few moments of my time.
Finally, I started wondering a little bit about the fate of so-called long form blogs in an ever-shortening attention span world. I read an article a few years ago declaring blogs dead in favor of tweets and Tumblr. I kind of took it to heart.
So I let my word field lay fallow. And maybe that is okay. It needed some rain and some decay and some time to become fertile again.
One of the most compelling reasons that I started this blog was to be a place for writing practice.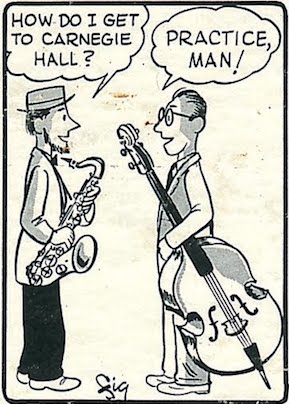 Practice, practice, practice. When I kicked off these pages back in 2007 I felt like I had something to say and needed a venue, so I made my own.
Over many years I wrote something every weekday and watched my writing both inside and outside the blog become stronger, sleeker, and more concise.
While I still benefit from all of that work, the last few times I've been working on a short story, I'm noticing the flow just isn't there. It's always an uphill climb but without the many days a week practice to keep me limber, the hill got a little steeper (and a lot more pedantic).
There is a widely debated theory that it takes ten thousand hours of practice to become a master at something. I am not sure that is true because any artist I know would say you never master your medium, no matter how much or how hard you practice.
But what I do know is that as of the moment I am putting these words into print, there are over six hundred thousand words that I created and added to this blog. That hasn't taken me ten thousand hours to create, but it's still not nothing. It's something that matters and something I am proud of.
Last weekend while I was sprucing up the blog and giving it a Spring cleaning (I'm kind of in love with this shade of blue) in preparation for my return to the words, I looked hard at that number in the footer of this page and thought to myself "I'm not done."
And so I'm not.
One added benefit is that I get to grab those crazy thoughts from my mind and get them down. There's good stuff in there. No more trying to blog it out loud to my kindly understanding spouse or my long-suffering coworkers.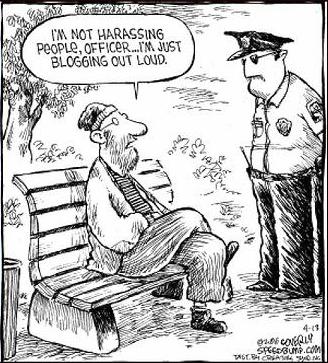 So here I am, back for today and hopefully back again soon. I want to push out my elbows and make the space in my world for the words, the practice, and the ever wonderfully agonizing quest to get better at what I love to do most.
Carnegie Hall cartoon found here.
Blogging out loud cartoon found here.
This is where I ate my lunch yesterday: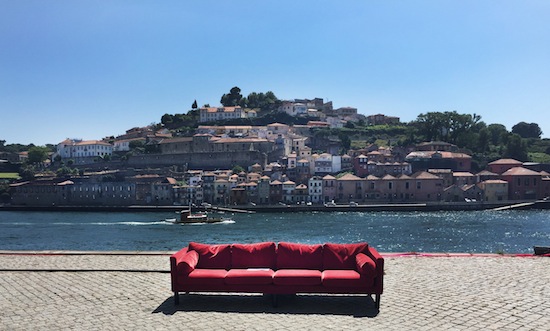 Copyright ©2015 Karen Fayeth

A velvety red couch by the beautiful Douro River in Porto, Portugal.
Wednesday was a beautifully clear warm June day. I sat on the pleasantly comfortable couch with two other people who are counterparts from another company. Two people I genuinely like.
We sat together companionably and talked and laughed and told stories. We couldn't believe our good fortune that the couch seating was open on such a gorgeous day.
Inevitably, time passed and it was time to go back inside the Alfândega Congress Centre, a historic former customs house, and go back to work.
Deep in very businessy conversations inside the cool stone structure, I couldn't stop my mind from wandering back to that place. That seat. That sun. That perfect moment. A delicious lunch with good and decent people on an oddly but fortuitously placed couch by the Douro river. In Portugal.
On the next break I wandered downstairs and back outside. After taking a photo of that now empty red couch by the river, I went down a few granite stairs and sat closer to the water. Small wakes from passing boats gently lapped the bottom step.
Then I started thinking. Lovely thoughts on a lovely day. A workday, no less! What a lovely city in a lovely country. Just that easy. Just that difficult.
And that, my friends, is how a good memory is made.

I started writing today thinking about how crazy or wacky I am regarding the topic of this post.
Then I realized something. I bet I am not that crazy. I bet I am not the only one that has felt this way.
Here's the scoop:
I have found that if I take my lunch to work, I have a much better day. My office is situated in an oddball industrial slash office neighborhood. It is an area that is rapidly gentrifying.
While we do have some nearby places to go and grab lunch, and on certain days food trucks, the choices are not robust. Also, I work in the far back corner of an office building that is a converted warehouse. It takes me about ten minutes at a brisk clip just to walk to the front door.
This means if I don't have a lunch packed and I am super busy, I end up with no lunch.
No lunch makes Karen a very cranky girl.
In the New Year I have been working a lot harder on bringing my lunch so Karen is a less cranky girl.
That's just good for everyone.
Sometimes I lack imagination when making lunches and I eat the same thing day after day. But if it's good food, then all is well. I'll eat it and become a manageable and reasonably peaceful person.
When I am able to get my lunch packed the night before that is even better. Oh how I love myself on those days.
Anyhow, this morning I woke up groggy and tired. It's already been a long week.
As I struggled to break the surface of fatigue and start my day, I remembered that I needed to make my lunch.
It's Thursday which means most of the good eats in the fridge have already been eaten, and there wasn't much left that looked good.
The one bit of leftovers we have is something I have eaten for the past three days in a row, and I just wasn't feeling it.
So it was time to be creative, and creative isn't something I am in the small dark hours of the morning.
I saw that we still had some of this really good bread that The Good Man had bought. Ok, yum.
I poked around the fridge to see if I could put anything into a sandwich.
Hey, I have a fresh jar of pickles! There is some tasty cheese! Still have a tomato for slicing and some sprouts for fiber and a few other good items. Hey, we still had half an avocado left. SCORE!
This made me so happy. I laid out the details on the countertop and hand crafted one hell of a good-looking sandwich. I did this thing up like an artist in her studio.
When it was completed, I carefully wrapped it up in wax paper, cut it, and wrapped it again, then put it in my lunch bag.
Now here's the crazy-not-crazy part.
Now that I have made this delicious sandwich for my lunch, I can't stop thinking about it.
All the way on the ride in to work I was thinking about eating that sandwich. Mouth watering, full anticipation. Oh yes. Gimme my sandwich!
Now!
Sammie sammie sammie sammie sammie is all my Pavlov brain is giving me today.
It's about 10:30 and I have had a little breakfast but still all I can think about is that damn lunch I packed.
Gimme!
I have work to do and real world grown up decisions to make and I have to be a boss and employee but damnit, all I can focus on is my sandwich!
I will do my best to wait until noon, but I'm not making any promises.
I'm not the only one, right?

___________________


Edit 1: You know who really loves a good sandwich? The British. It's like a religion to those folks. I should write a whole post on that.


Edit 2: It's now 12:40 and this sandwich is *delicious*. Worth the wait? Of course. Worth the OCD? You know it. Happy tummy!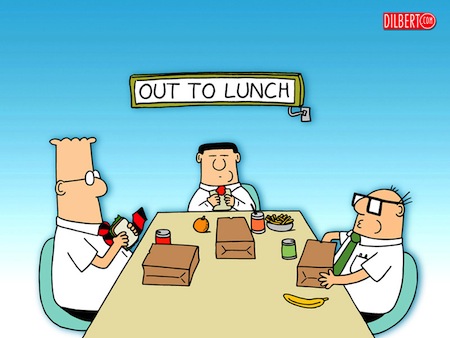 Image found here.