Hey, hey, excited to announce that my mildly creepy little story called "Bugging Out" was published this week in a wonderful literary journal called The Penmen Review.
Affiliated with Southern New Hampshire University, Penmen is a home for some incredible creative writing. Take a look at my story and then stick around and read the other stories too. It's top notch!
Here's the direct link: Bugging Out
There is also a link in the right column of this page.
And stay tuned, I have another story due to be published soon. 2017 has been a nice year for my work, and I'm very humble and super excited.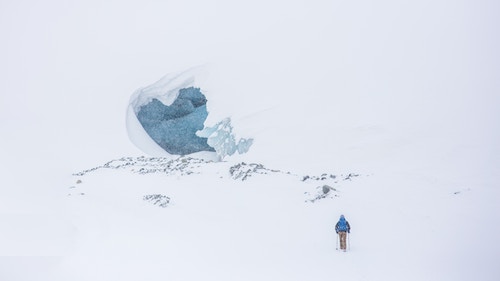 Image that accompanies my story in The Penmen Review

Hoo boy, back in the saddle again after a weekend trip to my Fair New Mexico. Let me tell you, it's hard to get into the ol' groove after being back in my homestate.
I found myself in southern New Mexico over the past four days for the occasion of my goddaughter's sixteenth birthday. She is amazing, beautiful, smart as a whip, sassy as hell and genuinely caring.
She has been easy to love since the day I first met her tiny little self. She was barely a month old when her mom brought her along and met me as I came off the plane at the El Paso airport. My world has not been the same since.
The occasion of her birthday celebration meant that I also got to see quite a few people I hadn't seen in years.
The thing that really sticks out to me from this past weekend was not just seeing a lot of dear friends who go back quite a few years, but getting to know their kids.
Time has marched along and many of these kids are now teenagers or older. So much more than a fun lump of baby or a capricious toddler. They are getting to the age where you really start to see who these kids are going to be.
What a lot of fun to see what so many of my now grown up and responsible friends have created. Look, back then I would have voted some of my tribe to the sidelines in the game of propagating mankind, and yet, their kids have turned out pretty damn awesome.
As I hear about these kids moving into their adult lives, getting married, graduating college, being responsible members of society, I also had to sit down for a moment and contemplate just how fast time marches on. And on. And on.
So many times I found myself saying "Really? Working a full time job? Getting married? Graduating college? Wow. I remember the day you had that adorable baby. Damn."
One old friend summed it up when she told me she'd just moved her youngest into her own place. "My husband and I looked at each other and said, 'Now what?'"
Now what indeed. Friends who are around my age, kids raised, possibility of retirement on the horizon and a new life awaits.
Wait a minute, aren't we going to a Corbett Dance tonight?
Oh no, Karen, that was twenty-five years ago.
Nina Karen needs to sit down. Bring your Nina a piece of cake, would you dear?
Those old hands on the clock keep pressing forward, ever onward, whether I'm ready or not.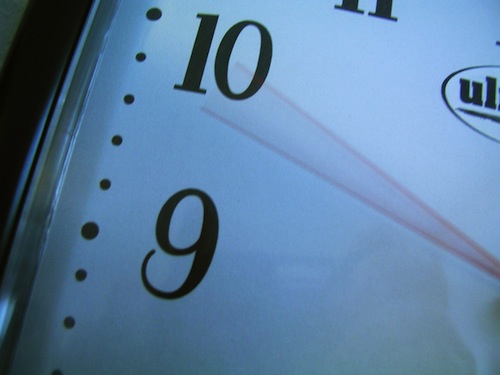 Image found on freeimages.com

It began with a photo of fish.
The photo was published in the online edition of the Albuquerque Journal. I often read the Albuquerque Journal so I don't feel so far away from home.
A glance at the file information for the photograph gives a date of June 2002. I find that so hard to believe, and yet it's true
The photo shows three fish that got stuck when their river home dried up. A rapid New Mexico drought took all the water.
I can't recall which New Mexico river this happened to, I probably should have kept a screen shot of the newspaper article, but even as I know that New Mexico has struggled with drought for years (and today), I was amazed and shocked by this photo.
It is difficult to believe that water could evaporate that quickly.
Here is the photo: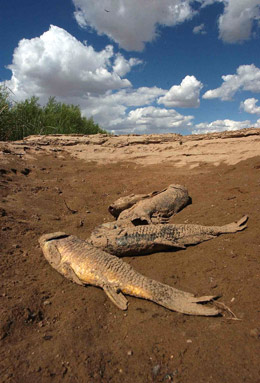 The image didn't leave my head, it rattled around in there and said so many things to me. My brain worked it over and a story began to form. The feeling of trying to draw a breath but only getting New Mexico mud.
The first draft of the story "Sangre del Toro" took shape in October 2002. Wow. Thirteen years ago.
Over the years I have submitted that story off and on to contests and literary magazines. I'd dig it up, edit and polish and try again with no luck.
I believed in the story, in the character, in the image, so I kept trying. And trying. And editing and trying and so on.
I did another edit and submitted it again for another round in the publishing meat grinder this last December. I have come to understand that publishing is as much about timing as it is about quality. And that's why I kept trying.
On February 26, I finally got a yes from a literary journal named Jet Fuel Review.
It was almost surreal to finally hear a yes in response to this story and it's even more surreal to announce that the Spring 2015 edition of Jet Fuel is live.
You can download the entire edition here: Full Edition
Or you can read just my story here: Sangre del Toro.
Woo! Whatta rush. Very excited about this one finally seeing the light of day. It was only by searching my hard drive to find that fish photo that I realized this published piece was thirteen years in the making.
Thirteen years of believing in a kind of sad story about a little girl caught out, just like the fish.
The editors of Jet Fuel told me they thought the metaphor was a little too obvious, which is probably true. I guess they still liked it enough to publish.
And so please give it a read and support Jet Fuel. They are a great group and I am forever indebted to them for taking a chance on little Adelida.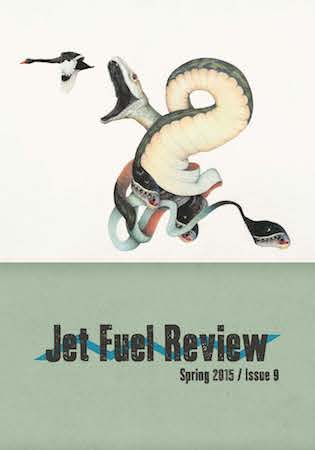 A couple days ago I mentioned that I had been in Chicago for a writer's conference at the end of March.
I've been to Chicago many times (as in passing through on my way elsewhere) but I've never really been to Chicago. When a couple ladies from my class said they wanted to go into downtown for dinner I was totally on board.
We hopped on the L and headed from Rosemont into downtown and walked around.
The ladies were intent on seeing Cloud Gate, colloquially known as "The Bean" and I was onboard.
It just so happened that the March theme for my photography club was night photography, so I took along a camera just in case I saw something good.
The Bean is like any touristy object, it's been photographed thousands of times. I had no idea what I could do to improve on what's already been done, so I just had fun with this shiny reflective piece of art.
Here's what I got: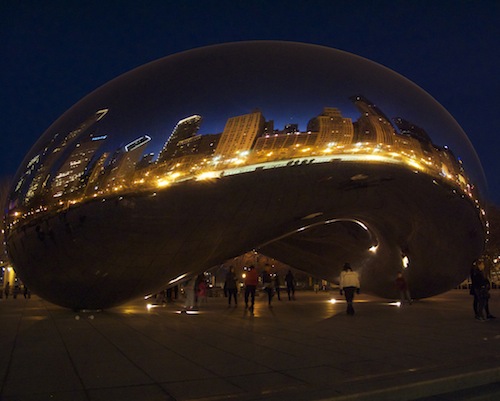 Image Copyright © 2015 Karen Fayeth

I think the Chicago skyline is so beautiful and a bit iconic as well. I love that at certain angles, the polished surface of the Cloud Gate just disappears into the sky like liquid silver. It's really cool!
My favorite part of the whole night was when my fellow travelers and I had found our way to Millennium Park and were a bit lost trying to find The Bean inside the park.
At one point, a bunch of kids came running and flowed around me like a stream while they pointed and shouted "El Frijol! Mira! Mira! El Frijol!" I smiled because I knew I was near. And I laughed because of course it's called El Frijol. My New Mexican pride stool tall as I found that big shiny bean.
I love the shot, but I wasn't sure anyone else would. Turns out this photo took second place in the voting for my photography club's monthly challenge, and that makes me happy (missed first place by one vote!).
After The Bean, we found our way to Giordanos because hello Chicago style pizza! Can you believe I forgot to take a photo of that delicious deep dish? Oh well.
This photo of Cloud Gate brings me good memories of downtown Chicago. I look at this beautiful bean photo and I smile.
Chicago is such a great city. Really top notch. I can't wait to go back.
When I have had a big event, a big adventure or just something interesting happen in my life, I almost always have to spend a little time processing it, usually out loud and on these pages.
Having just returned from a weeklong trip to Ireland, I'm pretty sure that readers here will be treated to (tormented by?) several posts about my days in Dublin. I had such a wonderful time and I want to get all the stories out and onto the page.
The question is, where to begin? Some would say start at the beginning. Some would say start somewhere in the middle when things begin to get good. Others still say to start wherever you want.
The thing is, I usually don't get a say in where to begin telling a story. The Muse has a mind of her own and she tends to open one sliding door in my mind to show me what she's interested in, while keeping the other doors firmly closed until she's good and ready.
What I mean today is that there is one story, one experience, that keeps replaying in my mind. It is the sum of my entire view of Ireland and probably belongs at the end of the entire tale.
But why cave to the convention of putting the end of the story at the end? This is what I want to write, so this is what will be written. For today, at least.
Here we go…
The hotel where I stayed was in a rather upscale suburb of Dublin named Donnybrook. Back in the day, Donnybrook used to be the scene of an event called the Donnybrook Fair. And by "back in the day", I mean like the 1200's through the 1800s.
Evidently that event turned from a nice twelve-day fair, fun for the whole family, to a drunken brawling event. In fact the very word donnybrook has come to mean a brawl or fracas.
The Catholic Church took a dim view of this debauchery (as they are wont to do) and ultimately lobbied for the fair to shut down, mainly by building a church right at the event site.
This is a great story, I love it, but it's kind of tangential. Let me get back on track. In this wonderful Donnybrook neighborhood, there are quite a few shops, restaurants and a couple pubs.
One of the pubs, named McCloskey's, was about a half a block away from where I was staying. I could see it from the window in my hotel room.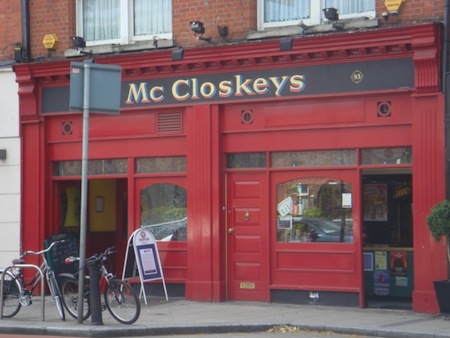 Image found here.


I had walked past the place quite a few times but was never brave enough to go in. Something about genuine pubs kind of intimidates me. It's a mix of the expected amount of hesitation being a woman going into a bar alone, and my propensity to overworry that I'll somehow say or do something that breaks the unwritten protocol of the pub.
I also never am sure how Americans are perceived so it's always a little tentative for me. Which is silly because of the pubs I've encountered in the UK and now Ireland, it's always been a lovely experience.
On Thursday after what had been a busy and intense workweek, I decided to go inside McCloskey's. I was hungry, I love pub food, and I was in desperate need of a pint.
With a deep breath, I opened the door and went in. I walked the length of the place to give it a look-see and decided to stay, taking up a corner seat at the bar.
The bartender was a fireplug of a man, in his early fifties, with a pugilistic look about him and a vibe that was clear he knew how to run a pub. He could and would toss your ass out without hesitation and with force.
He came over and slid a napkin on the bar like skipping a rock and asked, "What'll you have?"
"A pint of Guinness," I replied with confidence. He nodded with a grunt and poured the beer. In hindsight, I should have just said "A Guinness," the pint is understood.
What a lovely pint it was. A perfect pour, the perfect temperature, perfect creamy foam on top. Oh yes. I wanted to take a picture of it so I could always remember that beautiful moment, but thought better of it. It felt like the bartender may take a dim view of selfies and Instagram in his pub.
As he set the pint down I asked, "Can I order some food?"
"Er, yeah, we have a stew, the fish and something else I can't remember" he said.
"I'll have the fish," I said.
"Fish and chips, you know?"
"Yep!"
He grunted again and went off to the kitchen to place the order. I sat there feeling tense and sipping my beer. There were really only about four people in the pub, all quietly drinking and keeping to themselves. 1970's disco played from a small boom box to fill the atmosphere.
Next to me was a stack of local newspapers so I picked one up and read it, giving me something to do as I sat alone and tried to act normal.
After a bit my food came and it was so delicious. Light and crispy cod, perfect chips and slices of tomato. I ate it joyfully and drank my Guinness and suddenly everything was really right with the world.
During this time, the bartender mostly ignored me. He was friendly but distant. Gruff but fair, I suppose, and that was fine.
While I ate, a group of people came in. They were obviously all family, and they took up chairs and seats around several tables. Then more and more kept arriving. There were probably twenty or more people and one older gentleman with graying hair was buying all the drinks.
These folks were all in a good mood and talking excitedly. At one point someone teased the older man about "never being around" and he tipped his pint glass to them and said, "now that's one thing you can never say about my term! My opponent can't say the same."
It was then I sussed out that this might be a local politician. I heard someone call him by his first name and as I was texting the play by play to The Good Man, he did a quick Google search and we discovered I was in the pub with the local councilman. Elections were due to be held the next day. My guess is he was out celebrating the end of his campaign run with friends and family.
As the crowd grew, it became such a convivial atmosphere. I sat next to one of his daughters and we chatted and laughed. Her son, who looked to be about five, ordered a cranberry juice and wanted it served in a Guinness pint glass. Everyone bought and ate small cans of Pringles.
As ever more people kept piling in, I kind of felt like I needed to get out of there. I'm sure I could have stayed and been fine, but I started to feel like an outsider.
So I hopped up from my barstool and went over the cash register where the bartender stood. He turned to me and I said, "I'd like to tab out, please."
"Oh sure," he replied and began ringing me up.
"That will be twelve euros fifty," he said. I handed him a twenty euro bill.
He took it and looked me, touched my hand and said, "You doing okay, darlin'? Was everything all right?" with genuine concern in his eyes.
I replied, "Yes, it was great. I'm…I'm just a little jet lagged and very low energy."
He had a sparkle in his eye when he smiled, then tapped my hand again and said, "That's okay, darlin', you still look gorgeous!" He laughed like a schoolboy while he got my change.
He put the bills and coins in my palm and said, "now you have a good night, eh?"
I left the pub with a smile on my face. Now that, the whole story and everything in it, that's Ireland to me.
It is a wonderful, charming and friendly place. I loved every minute of the time I spent in the city of Dublin and the district of Donnybrook.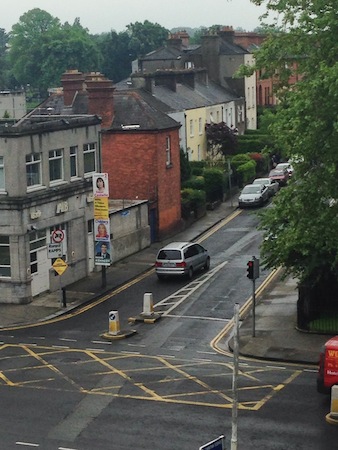 A view from my hotel room. Lovely! Copyright © Karen Fayeth, 2014