My parents were pretty strict when I was growing up, but I'm not here to complain about that. I think my brother, sister and I turned out pretty well, overall. Well, my brother and sister did, jury is still out on me.
But it's true, my folks were a bit old fashioned and handed down strict discipline. They kept us in line.
One thing my Dad was all about was his kids answering "yes, sir" or "yes, ma'am" when addressed by an adult. It's ingrained in me, automatic. It's a show of respect for elders, along with respect for a person's position.
And so when either of my parents would call out "hey Karen?" I would automatically drop a "yes, sir" or "yes, ma'am" without hesitation.
It's carried into my adult life and usually has served me well. On a recent visit with one of my favorite Aunties in Michigan, she at one point called out my name and I dutifully replied "yes, ma'am," and I knew it was right. I felt like a good kid.
As the digits in my age advance, however, I also notice that I get ma'amed here and there. At first I didn't like it, but then I began to appreciate that for those younger than me, their parents raised them with that same value. Yes sir!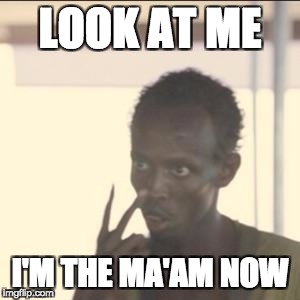 Here's where it gets weird: My new boss at work? She's my same age. In fact maybe a year or two younger. She was my peer for the past several years and was recently made the acting manager. It's also very likely that she will soon be the permanent manager. And I'm okay with that.
I have nothing but respect for her and we're working out the bounds of going from peers to boss and employee.
Yesterday, she came wheeling into my office, fresh off one of her many meetings each day and with something on her mind. "Hey Karen?" she said sharply.
"Yes ma'am!" I replied.
And she looked at me kind of strangely.
And I looked at her kind of sheepishly.
"Ahem. What can I do for you?" I revised.
It made me think maybe I need to change up the ma'am/sir thing. I mean, it still fits in many cases. For example, if I come across any of the distinguished scientists that I work with, I'm sure as heck going to ma'am or sir them, regardless of age. Or any dignitary.
But maybe I have to realize that I am the grown up now. I am the one to receive the ma'am treatment. I suppose it is time to finally own my own mildly elder status. Right?
It's just so weeeird! And will take a while to reprogram my brain.

The 26th of February. That what today is. February 26, 2016.
My, my, how time does fly.
Speaking of flying time, I see that the last time words were posted to this space was in November. That was like, yesterday, right?
Nope. 26th. Of February. Of 2016. Whew.
Well, okay, gotta try to shake that off and keep rolling. I've been thinking a lot lately about this little ol' blog. It used to be that I'd knock out a post every weekday. Then three times a week. And then nothing since November.
Been wondering what got in my way.
Three things, really. First, I got a little worn out. I'd pushed The Muse and it was getting harder to think of interesting ideas to write about. Eventually The Muse asked me to give it a rest.
Another contributor was starting a different job. I used have a free lunch hour where I both ate and knocked out the words for this blog. In my new job, I am in so galldarn many meetings each day that my lunch break is now me eating while my staff streams in the door to grab a few moments of my time.
Finally, I started wondering a little bit about the fate of so-called long form blogs in an ever-shortening attention span world. I read an article a few years ago declaring blogs dead in favor of tweets and Tumblr. I kind of took it to heart.
So I let my word field lay fallow. And maybe that is okay. It needed some rain and some decay and some time to become fertile again.
One of the most compelling reasons that I started this blog was to be a place for writing practice.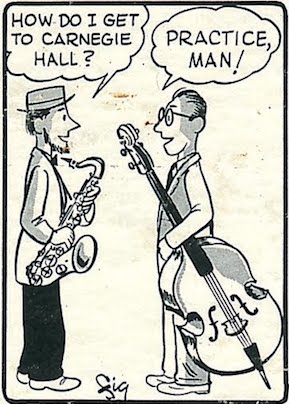 Practice, practice, practice. When I kicked off these pages back in 2007 I felt like I had something to say and needed a venue, so I made my own.
Over many years I wrote something every weekday and watched my writing both inside and outside the blog become stronger, sleeker, and more concise.
While I still benefit from all of that work, the last few times I've been working on a short story, I'm noticing the flow just isn't there. It's always an uphill climb but without the many days a week practice to keep me limber, the hill got a little steeper (and a lot more pedantic).
There is a widely debated theory that it takes ten thousand hours of practice to become a master at something. I am not sure that is true because any artist I know would say you never master your medium, no matter how much or how hard you practice.
But what I do know is that as of the moment I am putting these words into print, there are over six hundred thousand words that I created and added to this blog. That hasn't taken me ten thousand hours to create, but it's still not nothing. It's something that matters and something I am proud of.
Last weekend while I was sprucing up the blog and giving it a Spring cleaning (I'm kind of in love with this shade of blue) in preparation for my return to the words, I looked hard at that number in the footer of this page and thought to myself "I'm not done."
And so I'm not.
One added benefit is that I get to grab those crazy thoughts from my mind and get them down. There's good stuff in there. No more trying to blog it out loud to my kindly understanding spouse or my long-suffering coworkers.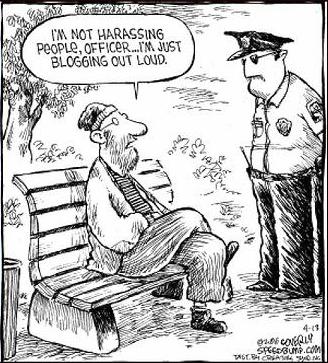 So here I am, back for today and hopefully back again soon. I want to push out my elbows and make the space in my world for the words, the practice, and the ever wonderfully agonizing quest to get better at what I love to do most.
Carnegie Hall cartoon found here.
Blogging out loud cartoon found here.
In those heady days of youth when skin was firm, recovery time was fast and the brain still spongy, I remember thinking "pfft, I don't need to use lists to remember things. That's so lame."
Then somewhere in my late twenties I had to make the hard admission that my memory was just never going to be what I wanted it to be. I thought it would always be easy to remember things, and then suddenly it wasn't so easy. Too many seemingly obvious missed items at the grocery store and dammnit, you start to love a real honest to goodness list.
So I started, grudgingly, making lists. Usually only a couple items on a sticky note, words to jog the brain. Over time that just wasn't enough. The random words were no longer enough to evoke memory. I had to put down multiple and specific words. No longer could I trust my brain at ALL. These were dark days, indeed.
Years passed and my eyes got worse and my hair more gray and the little lines at the corners of my eyes were no longer laughs but crows, and I learned to love my Swiss cheese memory.
These days I am all about my to do lists. I write one up, by hand, every few days at work. Hand writing the tasks helps me to have SOME potential for a wispy memory of them.
I get out a shiny orange Sharpie and then I get all of those pesky things I am supposed to remember down onto a big sticky note. Once written, it feels good to let them go. No longer does my brain have to work to keep important tasks retained, nope. I can fill the brain holes with mental cotton candy like the score of last night's Giant's game (don't ask) and the fact that there is going to be a Sharknado 2 (not that I saw the first one).
I love my lists so much that I actually keep some of lists that have all of the tasks marked off. It's a keepsake to show me that busting my butt at work really does matter. A visual and handwritten progress bar that keeps me motivated.
There is a little dopamine blast I get when I check several items off the list. Yeah baby, that is the stuff. Gimme some more.
I even like to use the British colloquialism "tick the box" instead of check mark because "tick the box" is fun to say. It makes things feel official and proper and oh yeah, there's that dopamine rush again. Gimme, gimme, gimme.
Seeing an unticked list doesn't demoralize me, it peps me up. If I work a little harder, stay a little more focused, I can get out the black Sharpie and POW! Mark off the list. That little huff of Sharpie ink. The sound of the pen across the words. The tingles in my spine. The smug satisfaction I feel. Yeah. Love it. Love everything about it.
Even making the little fake list for the end of this post was utterly satisfying…
I should probably get help.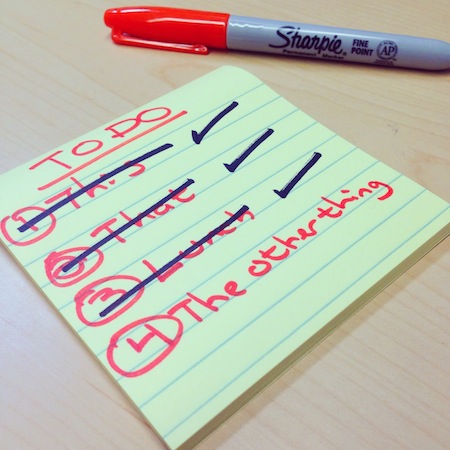 Photo and To Do List © 2014, Karen Fayeth, and subject to the Creative Commons License in the right column of this page. Taken with an iPhone5 and the Camera+ app.

I started writing today thinking about how crazy or wacky I am regarding the topic of this post.
Then I realized something. I bet I am not that crazy. I bet I am not the only one that has felt this way.
Here's the scoop:
I have found that if I take my lunch to work, I have a much better day. My office is situated in an oddball industrial slash office neighborhood. It is an area that is rapidly gentrifying.
While we do have some nearby places to go and grab lunch, and on certain days food trucks, the choices are not robust. Also, I work in the far back corner of an office building that is a converted warehouse. It takes me about ten minutes at a brisk clip just to walk to the front door.
This means if I don't have a lunch packed and I am super busy, I end up with no lunch.
No lunch makes Karen a very cranky girl.
In the New Year I have been working a lot harder on bringing my lunch so Karen is a less cranky girl.
That's just good for everyone.
Sometimes I lack imagination when making lunches and I eat the same thing day after day. But if it's good food, then all is well. I'll eat it and become a manageable and reasonably peaceful person.
When I am able to get my lunch packed the night before that is even better. Oh how I love myself on those days.
Anyhow, this morning I woke up groggy and tired. It's already been a long week.
As I struggled to break the surface of fatigue and start my day, I remembered that I needed to make my lunch.
It's Thursday which means most of the good eats in the fridge have already been eaten, and there wasn't much left that looked good.
The one bit of leftovers we have is something I have eaten for the past three days in a row, and I just wasn't feeling it.
So it was time to be creative, and creative isn't something I am in the small dark hours of the morning.
I saw that we still had some of this really good bread that The Good Man had bought. Ok, yum.
I poked around the fridge to see if I could put anything into a sandwich.
Hey, I have a fresh jar of pickles! There is some tasty cheese! Still have a tomato for slicing and some sprouts for fiber and a few other good items. Hey, we still had half an avocado left. SCORE!
This made me so happy. I laid out the details on the countertop and hand crafted one hell of a good-looking sandwich. I did this thing up like an artist in her studio.
When it was completed, I carefully wrapped it up in wax paper, cut it, and wrapped it again, then put it in my lunch bag.
Now here's the crazy-not-crazy part.
Now that I have made this delicious sandwich for my lunch, I can't stop thinking about it.
All the way on the ride in to work I was thinking about eating that sandwich. Mouth watering, full anticipation. Oh yes. Gimme my sandwich!
Now!
Sammie sammie sammie sammie sammie is all my Pavlov brain is giving me today.
It's about 10:30 and I have had a little breakfast but still all I can think about is that damn lunch I packed.
Gimme!
I have work to do and real world grown up decisions to make and I have to be a boss and employee but damnit, all I can focus on is my sandwich!
I will do my best to wait until noon, but I'm not making any promises.
I'm not the only one, right?

___________________


Edit 1: You know who really loves a good sandwich? The British. It's like a religion to those folks. I should write a whole post on that.


Edit 2: It's now 12:40 and this sandwich is *delicious*. Worth the wait? Of course. Worth the OCD? You know it. Happy tummy!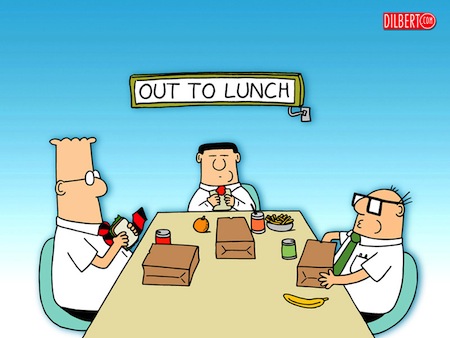 Image found here.

Today's post is a bit jumbled and haphazard. It began as a free form brain dump (actually, a free association exercise). Letting the brain off the leash is always very telling. Anywhoozle, come along for the ride on the crazy train.


Well, here it is. Long awaited, much anticipated, heavily planned for. The year of our lord two thousand and fourteen.
What shall I make of this year?
To kick the year off in high style, I started out in the small hours of today with a massive migraine. Oh, and it is a beaut. I had the joy of not one but two auras at the same time. Like a double rainbow. Wooow. What does it mean? (reference)
Only not pretty as much as terrifying.
I wish I could say the headache is from the high spirits and revelry of my New Year's Eve celebrations, but I am afraid that wouldn't be correct. No. New Year's Eve was a quiet affair in my home, just the way I like it.
Earlier today I watched a video of an MRI while an aura happened in the brain. It scares the bejeebers out of me. No really, it did. It was crazy to see what the hell is going on in my brain when that happens. Like an electrical storm, actually.
That seems…not good. You know?
So my 2014 started of not with a bang but with a headache. Is that a sign of things to come? An inauspicious beginning to what, for all intents and purposes, looks to be an incredibly good year.
I have no idea. I just know right now, today, my fingers seems not to go *quite* where I want them to go. My eyes are a little sore. My neck hurts. My head hurts. And I am just…off.
Back to the start. Here we are at the beginning. Day one. 365 days lay ahead full of promise and ideas and art and creation and joy and angst and agony and defeat and joy again and more promise.
Sometimes when something starts off inauspicious, it actually bodes well. Early inauspicious is sometimes actually auspicious. Perhaps it feels better to succeed when you have had to scale a mountain at the start. Troubles to solve early on.
I don't know, I'm working on a theory here. I have nothing to back it up. No science or data. Simply a gut feeling.
But guts and grue and sudden thoughts that enter my head are the most reliable compass I have these days. Oh certainly, the best guides I have found.
Scientists would laugh at me for these ideas, but they are true and they are worthy and they are mine.
All mine.
My words are my own and my ideas, as far-fetched as they may seem, and my personality are mine, mine, mine. Not to be taken away and never to be impinged upon, even when I am wrong, so wrong, utterly and completely WRONGOLONGY.
Wrongolongy. What a great word. I just made it up. It also belongs to me.
Wrongolongy. Copyright © Me, 2014, all rights reserved.
Heh. It's day one and I've already dropped my copyright on something. I'm on a roll.
Oh sheet. I just googled it and someone else seems to have used that word before me.
Blast it!
(edit: Just looked, it turns out that someone used wrongology but not wrongolongy. That N means my © is intact! Yes, yes, yes!! In your face Google. **sashay, shante**)
So I claim my copyright anyway, on these pages. Any reproductions or representations cannot be made without the express written consent of the Office of the Commissioner of the Karen.
Ay god, is this really how I am starting my 2014? By lawyering?
That's perhaps more inauspicious than a migraine.
Ok. Let's start again.
Happy First Day of 2014. May every one of the 365 that lie ahead be useful, cheery, meaningful and worth every moment of your time.
Salud!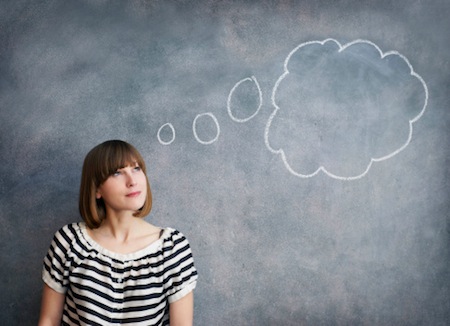 Image found here.