January 19, 2017 by
Karen Fayeth
·
Comments Off

on A Promise Made. A Promise Kept.
Filed under:
artist
,
awesome!
,
backyard
,
Bay Area
,
beautiful
,
big weather
,
bragging
,
butter
,
California
,
Celebration
,
cha-cha-changes
,
changing seasons
,
daffodils
,
flowers
,
fresh ideas!
,
fun
,
giddy
,
gifts
,
gratitude
,
happy dance
,
hellidays
,
ideas
,
iPhone
,
iPhoneography
,
latent childhood
,
learning
,
life
,
make it work
,
Mother Nature
,
objectophilia
,
Opinions
,
optimism
,
our happy home
,
play through
,
pondering
,
pretty
,
rain
,
show and tell
,
sigh
,
signs
,
spring
,
spring fever
,
they call it stormy Monday
,
winter
,
zen
It's January. The holidays are over. Back to work. Inauguration looms large.
The skies above the Bay Area have turned a familiar shade of mushy gray. Expected for January.
When the marine layer isn't in, it's frosty cold. When the marine layer is in, it's torrential. Standing pools of water soak my socks. Windshield wipers can't keep up. The kind of rain that terrifies a New Mexican until she remembers that Bay Area drainage systems were meant to handle this kind of water. Mostly.
January feels dreary, but there is hope on the horizon. There is a break in the gray.
You see, this past weekend my favorite grocer featured unopened daffodil blooms. I scooped them up and ran home with my trophy.
I love daffodils because they remind me of what's to come.
First come the daffodils with their buttery yellow optimism. Then almond and cherry blossoms create their own snowfall of fragrant petals. Then tulips in every color you can imagine. Finally colors and flowers of every sort jostle for the gentle rays of warm Spring sun.
I am a child of Spring and Spring is on the road, making its way back home to me. It returns with the dogged determination of a lost love.
Within my pile of hope and anticipation bought at the grocery store, there was a special stem. It made me a promise. Silent and steady.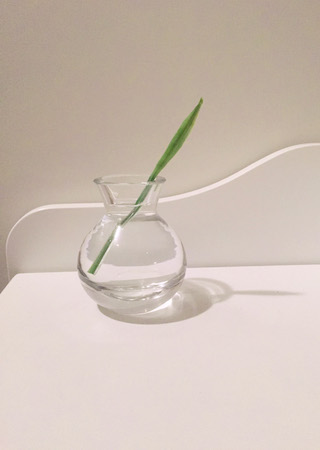 A promise made.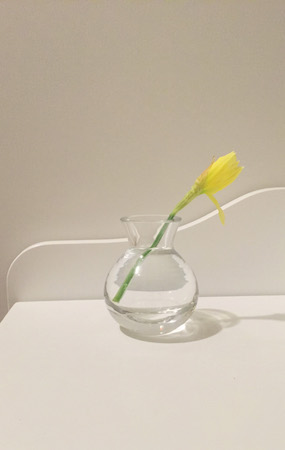 A promise in progress.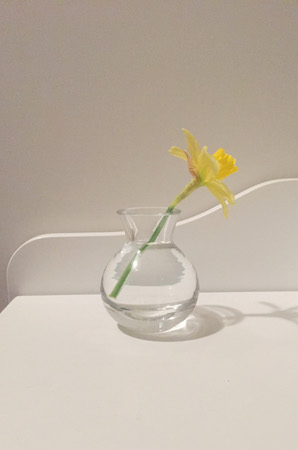 A promise kept.


Now ain't that something to get excited about?

All photos ©Copyright 2017, Karen Fayeth. Taken with an iPhone6, the Camera+ App, patience and anticipation. Subject to the Creative Commons license on the right column of this page.

December 5, 2013 by
Karen Fayeth
·
2 Comments
Filed under:
addictions
,
amazing
,
awesome!
,
beautiful
,
body issues
,
breakfast
,
business is business
,
butter
,
changing seasons
,
coffee
,
good eats
,
gratitude
,
latent childhood
,
learning
,
life
,
Love
,
make it work
,
mi corazon
,
miscellany
,
Opinions
,
pondering
,
sigh
,
sugar & fat & salt
,
woo hoo!
,
work
,
zen
It's 8:30am and I am already late for work, but I stop anyway because I'm not sure how I'm going to endure this day without a morning fix.
Walking through the door is a sensory dream. As I cross the threshold from below freezing to enveloping warm, I inhale deeply and take in cinnamon and coffee and bread browning in hot ovens.
In the back corner is where I find her, standing by the "We only use real butter in our baked goods" sign with tongs in hand, head tilted waiting for her customer to decide between a chocolate croissant or a cranberry orange muffin. Both are good choices. I understand the agony of decision.
She smiles and stays patient with the indecisive customer, then acts with steady precision once a choice has been made.
She is tall, very tall. I would estimate an inch or two over six feet. Very slender but well apportioned. She was made to be this tall and she wears it well.
She resembles a modern day Josephine Baker, but reedy and in her early sixties. Her regal demeanor is well accented by her beautifully high cheekbones that suggest an American Cherokee heritage. Or perhaps I'm simply projecting my own experience on her.
When it's my turn, she speaks to me in a voice that is quite deep. Less Eartha Kitt and more Ella Fitzgerald. She looks me right in the eye, is engaged, actually likes this job and you can tell.
I am also trapped in the agony of indecision but finally announce the verdict. She plops my made-with-real-butter baked good into a to-go bag and turns to the espresso machine to finish my order.
As I wait, I look around the place. I've purposely left my mobile phone in the car so I cannot be distracted. I want to focus on this place. There is no need to go numb when there is so much to see if I only look around.
This morning they are playing music performed by what sounds like a church choir. High, high notes and big round allelujahs fill the small wooden bakery. This is not always the kind of music they play. It varies with the wind and the season and the time of day.
Today I feel like the almost church-hued tones fit the bill. It is, for me, a religious experience. A worship. A tithe. A blessing.
She calls out that my latte is ready and I scamper over to grab it, now feeling shy and rotund and awkward in the gaze of this extraordinary woman.
As I add a few packets of sugar to my cup, my eyes go toward the back of the shop, the kitchen, the place where butter-based magic happens. I see one person turning out loaves of bread and another frosting cinnamon rolls. I feel gratitude wash over me that these people exist. People willing to rise early so that I may ingest a still warm from the oven blueberry lemon scone, made fresh that day.
Oh yes. This place is a cathedral that I must worship, and that regal woman behind the counter must certainly be an angel.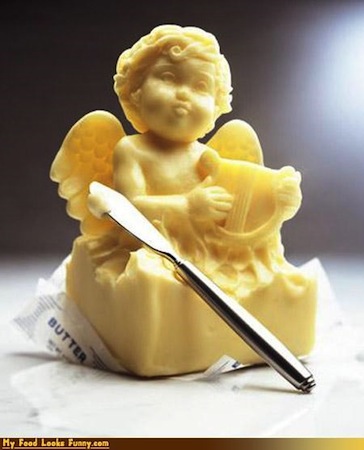 Image found many places on the web, but this one was from My Food Looks Funny.com.