October 24, 2016 by
Karen Fayeth
·
Comments Off

on Well If You Didn't Want Me To…
Filed under:
Adulting
,
awesome!
,
awkward
,
Bay Area
,
Be Better!
,
Boss Lady
,
business is business
,
cackle
,
California
,
comedy
,
curious
,
disapproving boss
,
earthquake
,
evil glee
,
first world problems
,
fun
,
fun toys
,
in my 'hood
,
iPhone
,
iPhoneography
,
irritated
,
kerfuffle
,
latent childhood
,
life
,
make it work
,
nerd girl
,
office supplies
,
Opinions
,
play through
,
presents
,
show and tell
,
The More You Know...
,
w00t
,
whistle
,
woo hoo!
,
work
,
yes boss
Today was my first day back at work after a nice and relaxing weeklong vacation. Always tough to get back into the routine.
Last week, I missed a big event at work. It was The Great California ShakeOut, an annual earthquake preparedness event. On a set day, they sound the sirens and we take cover and hold for a period of time to simulate an earthquake. Then when that is over, all must evacuate the building.
It's getting us ready for "the big one" that we all keep hearing about. Practice like this has proven to be useful. We do this every year meaning once a year I get to check out what's going on under my desk.
Since was on vacation and I live pretty close to work, I heard the sirens, but I was driving in my car so I hunkered down in my mind.
Today upon unlocking the door to my office I see my employer has left me a little gift in the wake of the ShakeOut event.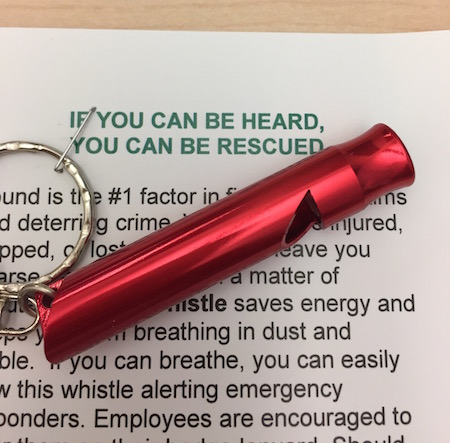 Lemme hear you whistle, baby…


Seeing this laying on my desk, I did what any mature, right-thinking adult would do when presented with a shiny red whistle. I picked it up and blew that sucker.
It's loud. A little piercing. The sound rattled off the high roof of the building.
You'd think this would be occasion for another one of those "talking to's" that my boss so enjoys providing to me. But alas no, she was in a meeting and missed it.
Instead the group administrator came over and stood in the doorway of my office, gave me the world record of stink eyes, then walked away.
I mean, if you didn't want me to USE it, then why didja give it to me?
Anyhow, my pretty red whistle is now safely stowed in a drawer. Guess I won't do that again.

Pretty whistle photo ©2016 Karen Fayeth, and subject to the Creative Commons license in the right column of this page. Taken with an iPhone6 and the Camera+ App.

October 17, 2013 by
Karen Fayeth
·
2 Comments
Filed under:
anxiety
,
Autumn
,
awesome!
,
awkward
,
Bay Area
,
borracho
,
Boss Lady
,
business is business
,
California
,
drama
,
earthquake
,
funny
,
game face
,
gratitude
,
iPhone
,
iPhoneography
,
kerfuffle
,
learning
,
life
,
make it work
,
Opinions
,
play through
,
pondering
,
show and tell
,
work
,
worried‬
,
yes boss
This is what I'm doing today. To clarify, this photo depicts what my world looks like as I find myself squashed up under my desk at work.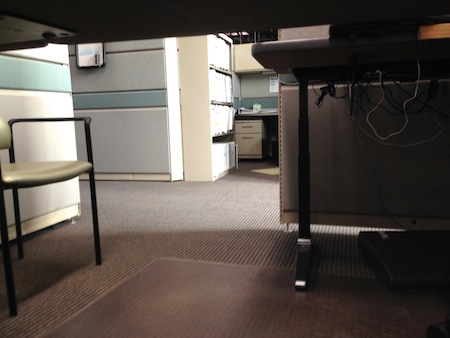 Multiple choice:
Why is Karen under her desk at work?


1) Huddled up waiting for the Congressional sh*tstorm to pass
2) Hiding from her boss
3) Sleeping
4) Drunk again
5) Participating in an earthquake preparedness drill.

If you picked one through four, you are probably correct.
If you picked five you are technically correct, which is the best kind of correct.
Today my employer required our mandatory participation in a worldwide earthquake preparedness event.
Humorously, my employer called it a "drop, cover and hold" event, which of course made me think of those fun Cold War duck and cover school drills.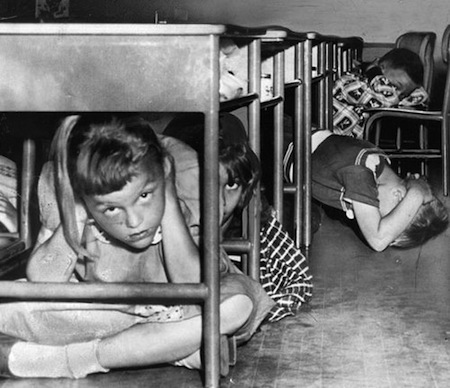 Growing up during the Cold War and living in a town with a Nuclear Research Facility, I used to wonder how that little ol' pressed wood school desk was going to save anyone's butt from nuclear fallout.
But whatever.
The theory behind shimmying under my desk while on the clock is the somewhat disputed "triangle of life" that says if you can get under something solid with a bit of room and the ceiling falls, it creates a triangle of open breathable space.
The funny thing is that my desk is cheap modular cubicle furniture and the building is a quite old converted warehouse. The very high ceiling is made of what appears to be solid oak beams.
I question if pressboard beats solid oak in the race against gravity, but I put that aside and complied with the mandatory event by smushing under my desk.
We held for 20 seconds to simulate a earthquake of that duration. Out of curiosity I looked up the Loma Prieta earthquake from 1989 and it was estimated to last between 10 to 15 seconds. Such a short amount of time for such a terrible thing.
By the way, today is the 24th anniversary of that little ol' 6.9 shaker.
I felt a little silly under my desk and while we all under our respective desks we found the acoustics are awesome. We might have to hold staff meetings that way from now on. Then we evacuated the building and had about twenty minutes outside on a warm Autumn day.
So while we all giggled and cracked jokes about the end to end exercise, I also felt grateful.
It's always nice to have a plan.
May I never have to use it.
First image, from under my desk, is Copyright 2013, Karen Fayeth, and taken with an iPhone5, the Camera+ app, and humor.
The second image, a black and white photo of children under their schooldesks was found here.

October 7, 2013 by
Karen Fayeth
·
1 Comment
Filed under:
amazing
,
anxiety
,
Autumn
,
awkward
,
backyard
,
Bay Area
,
California
,
changing seasons
,
creepy
,
doooooom!
,
earthquake
,
hipstamatic
,
in my 'hood
,
iPad
,
iPhone
,
iPhoneography
,
kerfuffle
,
life
,
Love
,
love and marriage
,
make it work
,
Opinions
,
our happy home
,
overwhelmed
,
play through
,
San Francisco
,
The Good Man
There I sat last night, watching something or other on my iPad in the living room. The Good Man was there too, doing something similar.
It was a nice quiet Sunday in the house of The Good Man and we were calm and enjoying the company of both electronic devices and each other (not in that order).
Suddenly I had this feeling like someone quite strong had bumped very hard into the back of my comfy chair, shoving it over about an inch or so.
Odd, though, because the chair backs up to a wall in our apartment so no one could have rammed it from the back.
Then I heard the large picture window behind me creaking a little and the front door rattling in its frame.
This led me to a big panicky feeling of, "oh my gosh, someone is breaking in!"
My now large eyes went to The Good Man, panic all over my face, mouth agape.
There he sat calmly, cool as a longtime Californian cucumber.
Every one of my nerve endings was on jangle. None of his nerves even put up their head to see what was going on.
Then I realized what was going on. "Was that an earthquake?" I asked frantically.
"Yup," he said casually. "It was a good roller. I wonder how big it was? Oh, the USGS site is down because of the government shutdown. Let me see…"
I replied, "You look at your sites, I'll look at mine."
While he looked for scientific data, I took to Twitter and Facebook.
This is what Californians do when there has been an earthquake. Everyone goes online or turns on the news to see how big it was, then everyone talks about it. Where they were, how it felt, etc.
When all was said and done it turned out to be a 3.0 (just a lil' ol' teacup rattler, really) and it was centered somewhere nearby so we felt it a little more strongly than others.
The Good Man went casually back to his book. I sat in my chair and shook like a Chihuahua for a while, then went back to my Netflix show.
No matter how long I live here, I will never get used to the earth suddenly moving under me. It is simply creepy.
Longtime superstitious Bay Area residents will talk about how October is earthquake season. That's when the big 1989 quake happened and everyone seems to believe the conditions are right this time of year.
Me, I know better. The ground shakers can happen anywhere, anytime.
There is also a faction of people who say "The little quakes are good! They release pressure keeping us from a big one."
I would really like to believe that's true. It's not, but I want to believe.
Meanwhile, Sunday brought just another shakah in this crazy mixed up California life.

I say, good madam, t'was but a shaker. More gin?

Photo Copyright 2013, Karen Fayeth, taken with an iPhone5 and the Hipstamatic app.