December 23, 2017 by
Karen Fayeth
·
Comments Off

on Butterfly Maiden Bokeh
Filed under:
Albuquerque
,
art
,
artist
,
awesome!
,
awkward
,
Be Better!
,
bokeh
,
business is business
,
butterfly
,
disapproving boss
,
drama
,
fresh ideas!
,
fun
,
gratitude
,
heart
,
hellidays
,
holiday fun
,
home
,
homesick
,
latent childhood
,
learning
,
life
,
light
,
Macro Mondays
,
macro photography
,
make it work
,
memories
,
mi corazon
,
Monday
,
New Mexico
,
Opinions
,
photography
,
play through
,
right tool for the job
,
show and tell
,
stress
,
woo hoo!
,
yes boss
,
zia
,
Zuni
The job that pays the bills has been especially nutty this month. Around these parts, Santa is saying "Ho, Ho, Hoooooly crap I have a lot of work to do." Thankfully, I managed to get through to the end of the week and now get to enjoy a bit of time off for the holidays.
And so it's best to balance all that work with some fun. Which can also be work, in a way.
This week, my photography takes a turn toward bokeh, the sort of blurry backlights seen in many an Instagram photo. I've seen a LOT of photos with bokeh, it's quite popular. When I see these kinds of photos they always seem fun, and those blurry lights look like they would be so easy to shoot.
Easy was not the case for me. I figured I'd waltz right into some fabulous bokeh photos, but I really, really struggled with this challenge. The photo's subject was photographer's choice, it just needed to have some nice juicy bokeh in the background.
Curse words were uttered. Cameras were called names. Swears in English, Spanish, French and British English (bollocks, bollocks, bollocks!) were all employed in the making of this photo. Finally after several Google searches and articles consumed, I stumbled onto a good suggestion for creating lots of sparkly light, and it worked.
In the end, I'm pretty happy with how this turned out. The photo features a Zuni Pueblo fetish carved by a Native American artisan named Dilbert Gasper. His Butterfly Maiden is carved from black marble and inlaid with turquoise. Since Christmastime is when I miss New Mexico the most, she seemed to be a good subject for my trials and (many) errors in learning a new technique.
I hope I did the little Butterfly Maiden and master artisan Mr. Gasper their justice.
And with that, a hearty Feliz Navidad to all!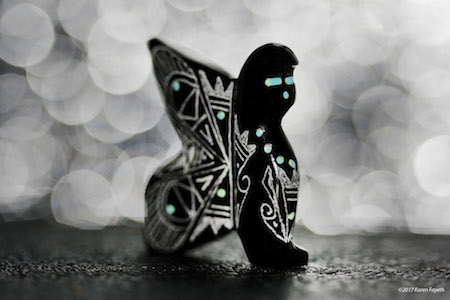 ©2017 Karen Fayeth

September 9, 2017 by
Karen Fayeth
·
2 Comments
Filed under:
Adulting
,
amazing
,
animals
,
anxiety
,
art
,
artist
,
Autumn
,
backyard
,
Bay Area
,
beautiful
,
birds
,
bugs
,
business is business
,
butterfly
,
California
,
crazy
,
crying
,
curious
,
dia de los muertos
,
gratitude
,
grief
,
heart
,
humility
,
insomnia
,
learning
,
life
,
loss
,
Love
,
make it work
,
meeting hell
,
melancholy
,
metaphorically speaking
,
mi corazon
,
Mother Nature
,
Opinions
,
our happy home
,
overwhelmed
,
photography
,
photowalk
,
play through
,
pondering
,
powerful woman
,
sensitive girl
,
show and tell
,
The Good Man
,
truth is stranger than...
,
where I come from
,
worried‬
So yeah, I'll just cut to the chase, I've been having a hard time lately. Moving, work, life, storms, general state of politics, hades-like heat in the Bay Area, all of it. Stress. Anxiety. Insomnia. It all just got on top of me, and stood on my neck.
Some days I'm stronger than others, but last week the final drop of strong independent woman inside of me got used up, and I broke. I had been in a prolonged email squabble with a really challenging coworker and I hit a wall. I totally collapsed into tears.
Sobbing, heaving, inconsolable tears. Not in front of the coworker, at least. But still. It was what I believe the kids these days call an ugly cry. Full on.
For a while I was so down, ragged and lost that I thought I might be losing that small tenuous grasp I have on sanity. I was actually pretty scared.
But through some tough love from The Good Man, some actual sleep (I swear lack of sleep would make the most calm person into a raving psychotic), and doing a much better job taking care of myself, I found my way back. Mostly.
I mean, it's still there at the edges, the crazy I mean. This is the absolutely busiest time of year at my job and things always go a little pear shaped in September anyway. Tempers are quick for everyone and feelings are a little raw.
This too shall pass, it always does. I mean, October 1 is only three weeks away. I can survive three weeks, right?
Today, this lovely Saturday afternoon, when I should have been doing work but just couldn't bring myself to sit in front of a computer, I instead sat on my back deck with camera in hand, trying to photograph hummingbirds. Not an easy thing, and I'm learning a lot about both the birds and who I am as a photographer.
I shared one I really liked on all the social medias.
Here is another: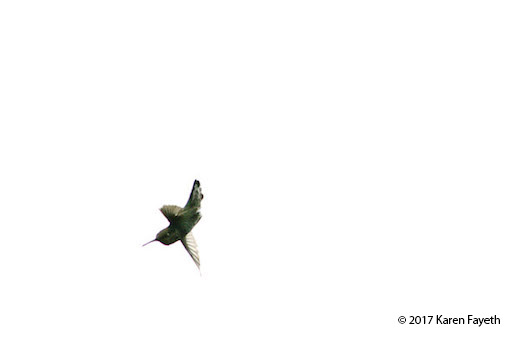 Today as I sat and watched and listened and kept my eyes open for the hummingbirds, another animal caught my eye: A Monarch butterfly.
A sure sign of pending Autumn, the monarch. They are special to me in so many ways, not the least of which is how closely tied they are to Dia de los Muertos in the Mexican culture.
I silently wished for the Monarch to land and let me get some photos.
Well, I got my wish, just not quite in the way I expected.
The butterfly flew in listlessly, bumped into a wall, ricocheted and then landed on the side of the deck.
As I got closer, snapping quickly with my telephoto, I soon realized the issue.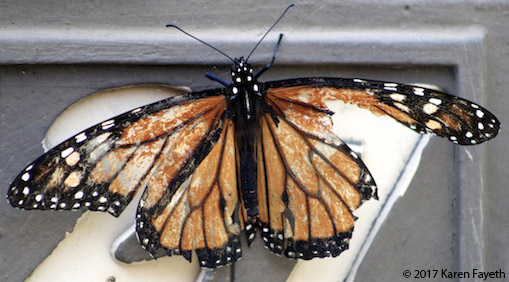 "We have an injured warrior out here," I texted to The Good Man.
I wondered what had happened to this beautiful animal. Did it go through a rough storm? Get batted at by a sporting cat? Fight for territory with another butterfly? Or was it just at the end of a good life?
What sort of hell had this little guy gone through, and how was it still flying?
After some Googling, I tried making some nectar and coaxing it into a box, but alas, no. It mustered up some of its last strength and flew off.
I was left sort of sad, wanting to give the injured insect a safe haven. Wishing I had just left it alone.
But as it flew off on one good wing, I couldn't help but admire its tenacity.
A tenacity I wish I could find. Or perhaps find a little more of.
May I (and you and we) find the strength to fly on our own battered wings. May my poor ragged butterfly inspire you as it did me.
September 23, 2013 by
Karen Fayeth
·
Comments Off

on Que Bonita
Filed under:
adorable
,
air
,
art
,
artist
,
Autumn
,
awesome!
,
backyard
,
beautiful
,
bees
,
blue sky
,
bugs
,
business is business
,
butterfly
,
California
,
cranky
,
curious
,
environment
,
fall
,
flash fiction
,
fresh ideas!
,
fun
,
gratitude
,
home
,
in my 'hood
,
latent childhood
,
life
,
Love
,
make it work
,
monkey mind
,
Opinions
,
our happy home
,
overwhelmed
,
photography
,
play through
,
pollen
,
show and tell
,
The Good Man
,
The Muse
,
woo hoo!
,
worried‬
,
writer
,
writer's block
,
writing
,
yes boss
,
zen
This past weekend was something like a "what weekend?" as I worked my tail feathers off both days. About 1/3 of the tail feather workout was due to my job. Yes, I get to work for free on behalf of my employer, even on my days off. The joys of being a salaried employee.
The other 2/3 was working on my own sideline creative stuff. I did about 25 story submissions, I edited a photo that I will be showing later this week (that takes such a long time…a little burn here, a little dodge there), and I wrote a story for the first round of the NYC Midnight Flash Fiction contest.
The contest works this way: They give you a location, a genre and an object. All three have to be there in the story. This can be both liberating and constraining, depending on what you get. My draw for this first round was romance/haunted house/marshmallows. Not bad, not great.
Sunday around noon I found myself starting at that cursed curser blinking at me and I tried to find a story idea that was scary and lovey and marshmallowy all at the same time. A challenge. I was writing words but they weren't coming easily. My iMac sits on a table near a window, and something caught the corner of my eye as I labored. I looked out the window. Seems on that sunny creatively frustrating Sunday I had an auspicious little visitor.
I grabbed my camera, put on the longest lens I own, popped the screen out of the window and started clicking away.
I'm so glad I did.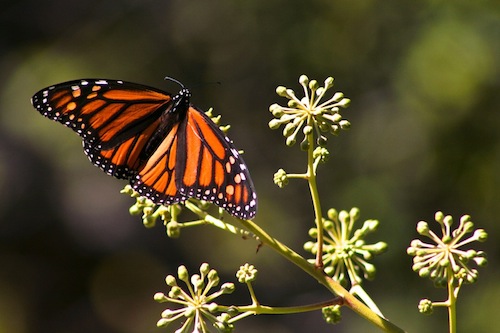 Photo copyright 2013, Karen Fayeth

This gorgeous lone Monarch Butterfly was just hanging out in the warm sun, using the ol' proboscis to gather some pollen and doing its butterfly thing. As I watched, a couple bees were highly displeased at the presence of the butterfly and kept strafing him (I say him correctly, I looked up Monarch butterflies online and the dots around the wings signify a male. edit: Upon further Googling, I think this is actually a female).
These bees were executing deep aggressive fly bys that only caused the butterfly to flap his wings a bit but stay put. Man those bees were persistent. And I kept snapping away. I have some awesome action shots that I'm still editing.
After a while, the butterfly flew off and I downloaded and looked through my photos, very pleased with the results.
Then I sat back in my chair and I smiled. After the visit from Mr. Butterfly, I felt totally motivated and completely creative. I turned back to my story and banged out about 1,300 words in one sitting. Then set it aside and let it percolate while The Good Man and I went to local street fair.
When we came back I edited the beejeezus out of the story, got it to 999 words (the limit is 1,000) and submitted it about 45 minutes before the deadline. Man oh man hitting send on that story sure felt good.
I owe my creative surge to a visit from a pretty orange butterfly on the first day of Autumn.

Photo copyright 2013, Karen Fayeth, and subject to the Creative Commons license in the right column of this page. Taken with a Canon Rebel, edited lightly in Elements.