June 25, 2018 by
Karen Fayeth
·
2 Comments
Filed under:
amazing
,
anxiety
,
art
,
artist
,
awesome!
,
awkward
,
baseball
,
Baseball Gods
,
bragging
,
business is business
,
charming
,
creativity
,
dental hell
,
first world problems
,
fresh ideas!
,
fun
,
game face
,
gratitude
,
humility
,
kerfuffle
,
life
,
literature
,
luck
,
make it work
,
miscellany
,
news
,
Opinions
,
play through
,
show and tell
,
stories
,
stubborn
,
thank you
,
truth is stranger than...
,
w00t
,
winning
,
woo hoo!
,
worried‬
,
writer
,
writing
A few years back, I participated in a flash fiction writing event and drew the genre of Historical Fiction as my prompt. Historical Fiction! I had no idea what to do with that. None. At all.
I believe the full prompt was Historical Fiction, a dentist's office, and a leather jacket.
Uh. Okay. Sure.
So off I went and wrote a story. My own little sort of baseball story and turns out it did pretty well in the competition, meaning it was good enough to get me to the next round.
After finishing the story, I'd had a bit wish that my sorta kinda baseball story would get to see the light of day, and be published during the baseball season.
Well, my wish came true. "The Dilemma" was published this past April in issue 13 of SLAB Literary Magazine.
My baseball story! Published in April! During Spring Training!!
So why am I telling you this in June?
Well, it came out in the print version in April and I decided to wait for the issue to be loaded up online before sharing. Well, Issue 13 is online, however…..my story is listed in the table of contents but it's not printed in the online version.
Grr.
I've sent a few notes but I think the editorial team is off on summer vacation.
While I love the folks and SLAB and am so very, very grateful they published my story, I don't really want to wait anymore to share my little story with the world.
So I scanned that bad boy and you can read my little baseball story today, a few weeks before the All Star Break.
Here it is: The Dilemma
You can also find the link in the right side of this page.
If you take a few moments to give it a read, I'd be quite grateful. If you don't wanna read but just wanna send "yay you" thoughts, also fine by me.
Either way, I'm going to be over here feeling pretty darn proud of myself for taking a bit of an oddball prompt and making something good.

Issue 13

April 23, 2014 by
Karen Fayeth
·
1 Comment
Filed under:
anxiety
,
automobiles
,
awkward
,
Bay Area
,
bebidas
,
beer
,
business is business
,
commuting
,
dental hell
,
disapproving boss
,
driving
,
first world problems
,
gratitude
,
ideas
,
learning
,
life
,
make it work
,
Opinions
,
play through
,
pondering
,
randomness
,
show and tell
,
stories
,
traffic
,
walking
,
words
,
writer
,
writing
,
yes boss
Dateline: April 23, 2014, 8:52am Pacific Daylight Savings Time
Location: An undisclosed intersection in what is known as the East Bay

It's morning and I'm waking up rough after some really painful dental work yesterday. I'm running late for work but I'm trying to stay calm and just get there.
I'm traversing a road that is something of an unofficial border. On one side is a series of slightly rough neighborhoods where gentrification is coming hard and fast. And painfully.
The other side is the "good" side of the road. Gentrification has already arrived, for both better and for worse.
I stop at a red light at a major intersection. I am first in line and there is a long line of cars behind me.
"Who Can It Be Now," plays from the oldies station on my radio. A popular song from my high school years is now an oldie. Don't get me started.
I tap my thumb on the steering wheel and hum along when to my left, a gentleman enters the crosswalk taking something of a slant route over the white lines.
In his hand he's carrying an open tall boy and holding it close to his chest. He's smiling, though his face and his skin looks like he's seen some things.
I am alternately like "right on!" because why not beer at almost nine in in the morning? Then "oooh, damn" because beer at nine in the morning maybe means a few demons in the mind somewhere around nine at night.
But I don't know this guy's story, so I don't judge.
As he ambles amiably in front of the grill of The Jeep, to my right an oblivious driver in a black Mercedes whips right into the crosswalk, intent on turning right and doing it right now, and damn near hits the guy.
Our beer drinking friend pulls up short, steps back and slightly bows, waving the Mercedes along. It pulls out in a huff, if I can attribute huffiness to a car.
Then the guy turns to me and smiles a lopsided smile and waves. I do what any decent member of the human race should do, I wave back. I briefly entertain a "I should not have done that" thought because I have learned through enough years living near and in big cities that sometimes it's just better not to engage.
But I was wrong for thinking that. As I wave, he smiles a little wider, peers around The Jeep to be sure the coast is clear, then makes his way to the other side of the road.
The light turns green and I drive on, thinking about the guy, this city where I now live, the ever growing division between rich and poor and the implications of gentrification. I also think about how delicious the lemon scone sitting in the passenger seat is going to be when I get to work and gobble it up.
I get to the place of my employment, find a parking spot, quick yank the parking break and start my day. Something about the man with the tall boy sticks with me and I can't quite figure out why.
One thing I know for sure is that I have to write about it, to capture the fleeting moment and memorialize it for myself as much as for anyone else.
And so I have.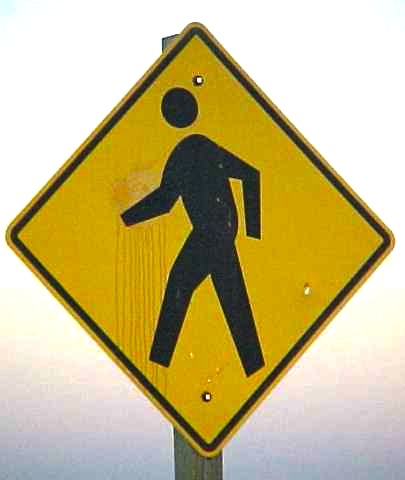 Image found here.


March 13, 2013 by
Karen Fayeth
·
6 Comments
Filed under:
angry
,
anxiety
,
awkward
,
business is business
,
cranky
,
dental hell
,
doctor's orders
,
doooooom!
,
drama
,
first world problems
,
gratitude
,
grumptacular
,
hell
,
irritated
,
kerfuffle
,
life
,
mah teefs
,
make it work
,
mean people
,
Opinions
,
ouch
,
pain
,
play through
,
sigh
,
tears
The funny thing is, when your tooth hurts, nothing else really matters.
The sun could be shining, birds chirping and a thousand dollars in cash just lying there on the sidewalk begging you to take it, but none of that matters.
When your tooth hurts, there is just bleak darkness and anger and frowns. Lots and lots of frowns.
A little over a week ago I was having The Worst Friday Ever and during that day I managed to break a tooth. It didn't hurt but it needed to be fixed.
Monday was fixin' day. I spent two and a half hours in a dentist's chair with two people in my mouth doing barbaric and vile things to the tooth way at the very back of my jaw.
You know that moment when the dentist is drilling your tooth and you smell smoke? Tooth smoke? Yeah. There was an awful lot of tooth smoke in that room on Monday.
Also, you see, here's something you should know about me. I'm a sensitive little flower. I can't take a full dose of over the counter cold medicine because it will knock me out. I take one quarter of a 25mg blood pressure pill. 25mg is the smallest size they make and I have to half it and then half it again. I can't drink a cup of regular coffee or it will give me a migraine. The small amount of caffeine in a cup of decaf will actually wind me up.
When the dentist gives a normal person Novocain, they add a drop of epinephrine, a hard core stimulant. The epi helps the medicine act fast, be more effective and last longer. I cannot tolerate the epinephrine. At all. So I have to have more shots that don't work that effectively. Then halfway through the procedure, I have to have more shots. And then there is a point where I am asked to simply gut it out.
I don't gut things out all that well, especially pain. See delicate little flower syndrome.
But I have been seeing this same dentist for nigh on sixteen years and he knows I'm a fruit cake and I know he's a good doctor and he's about the only person I would allow to do such mean things to my nice little teeth.
So I survived the two and a half hour ordeal and was near catatonic for the rest of the day. Yesterday I went to the office and worked a thirteen hour day while blood oozed from the wound and made me nauseous.
And it hurt. When your tooth hurts, nothing else really matters.
Today I'm improving but it's not great.
I haz a cranky.

Image from Oral Pathology.