The job that pays the bills has been especially nutty this month. Around these parts, Santa is saying "Ho, Ho, Hoooooly crap I have a lot of work to do." Thankfully, I managed to get through to the end of the week and now get to enjoy a bit of time off for the holidays.
And so it's best to balance all that work with some fun. Which can also be work, in a way.
This week, my photography takes a turn toward bokeh, the sort of blurry backlights seen in many an Instagram photo. I've seen a LOT of photos with bokeh, it's quite popular. When I see these kinds of photos they always seem fun, and those blurry lights look like they would be so easy to shoot.
Easy was not the case for me. I figured I'd waltz right into some fabulous bokeh photos, but I really, really struggled with this challenge. The photo's subject was photographer's choice, it just needed to have some nice juicy bokeh in the background.
Curse words were uttered. Cameras were called names. Swears in English, Spanish, French and British English (bollocks, bollocks, bollocks!) were all employed in the making of this photo. Finally after several Google searches and articles consumed, I stumbled onto a good suggestion for creating lots of sparkly light, and it worked.
In the end, I'm pretty happy with how this turned out. The photo features a Zuni Pueblo fetish carved by a Native American artisan named Dilbert Gasper. His Butterfly Maiden is carved from black marble and inlaid with turquoise. Since Christmastime is when I miss New Mexico the most, she seemed to be a good subject for my trials and (many) errors in learning a new technique.
I hope I did the little Butterfly Maiden and master artisan Mr. Gasper their justice.
And with that, a hearty Feliz Navidad to all!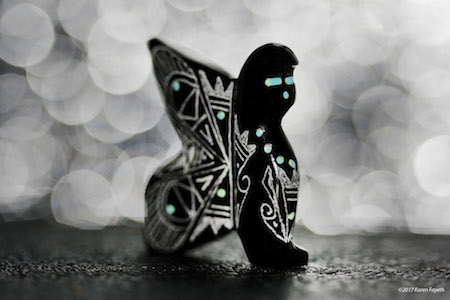 ©2017 Karen Fayeth

The hard work on my Macro Photography skills continues this week with a theme of "lit by candlelight." A week ago when this challenge was announced, I was like "pssh, easy peasy."
Turns out shooting by candlelight has been anything but. Sunday night I did a whole round of photos with a few objects and although candlelight is certainly beautiful, the photos I shot just weren't working. The photos were…dull. Not interesting. They didn't give me that excited feeling to share.
Then The Good Man opened up a bottle of wine and put out some cheese and garlicky crackers. That really seemed to lubricate the creative gears. Half a glass in, I had an inspired idea. I grabbed my copper holiday cookie cutters out of the kitchen (not that I have made any holiday cookies this year, but that's a topic for another time) and got to shooting.
Turns out candlelight casts really great shadows. I'm now pretty happy with the results. The top photo is my entry this week in the Macro Mondays challenge. The black and white was just for fun.
Whew! This is three weeks in a row I've managed to produce a new Macro photo for Monday's event. It's harder than it looks!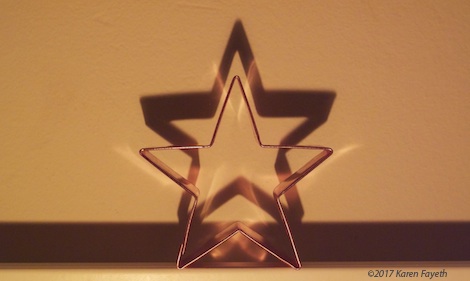 ©2017, Karen Fayeth, all rights reserved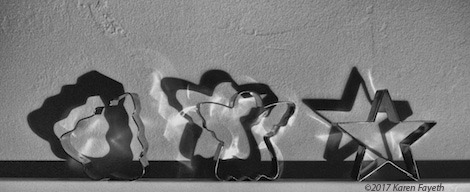 ©2017, Karen Fayeth, all rights reserved

In an effort to improve my macro photography and challenge myself a little harder (photographically speaking), I joined a Flickr group that does weekly challenges.
Photos must be new, no taking from the archives, so it pushes photographers to keep shooting every week. I seem to work well under a deadline.
This week's theme is "buttons and bows."
Tomorrow I will enter this photo, taken just last night, into the Macro Mondays challenge.
Whew. Who knew photographing a simple button could be so much work?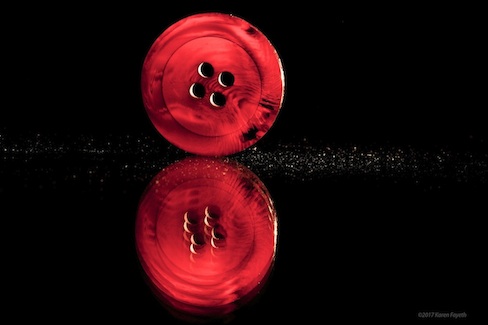 Button Glow, ©2017 Karen Fayeth

If you are interested in looking at more of my stuff, here is the link to my Flickr page.
Otherwise, wish my little button photo good luck!

Blame it on Facebook and its algorithms that like to remind me of things from the past. For the better and for the worse.
I re-read this one over the weekend and thought "yeah, that one needs a re-post."
So here we are, when Monday, January 30, 2017 feels a lot like Monday, January 28, 2013

A Treatise On Monday
Originally published January 28, 2013

Written this morning at something like 5:45am


And so we find ourselves back at Monday. Ah Monday, both the beginning and the end.
I have sad, tired, squinting, groundhog eyes as the alarm goes off. I'm begging the world not to pull me from my burrow. Please don't shine that bright light in my face.
But I'm pulled from my burrow anyway and instead of a prediction, the world anticipates my arrival at the train station and my seat on the next ride into the city.
The bright light turns out to be a beautiful ray of light, glimmering off the slowly rising sun.
All possibility is in Monday. Will this be a good week? Will this be a bad week? Will it rain?
Monday is everything and nothing. A blank canvas ready to take the paint.
What will I make of my Monday? What will I achieve? How will I stumble and will I recover gracefully?
It all exists here in these quiet pre-dawn hours. The sun hasn't even said hello yet and here I am, writing. Scribbling the words that want to exit my head.
There is already acrylic paint on my hands from a project that is due Thursday morning. I had to get some early painting done so I can hit that deadline.
In this Monday, all things are possible including finishing a painting that is due in just three days.
Oh my.
I feel strangely happy today. What the hell is this? How unusual for a Monday morning.
The weekend was weird. I was cranky and then he was cranky and then it was Sunday night and another two days of not working were jettisoned to the ether. Monday turned the corner and sat down for a visit.
So here I am again loading a backpack for work, stumbling around to find my badge and my phone and my sense of self-worth.
I look again at my canvas and already I fear I have screwed it up. Don't they say in art there are no mistakes? Just roll with it and incorporate the error. OCD and art are not friends. This major but fixable error must wait until later tonight to find its cloak.
There is a train to catch and a Monday to face. I'd rather stay home in my studio and put gorgeous turquoise paint on a willing canvas. Can I do that for a living?
You know, a girl can dream, and so I will dream as BART gently sways. When I disembark dreams stop so reality can start.
But no matter, I can dream again, later. Dreams don't die easy.
And dreams don't wait for the weekend.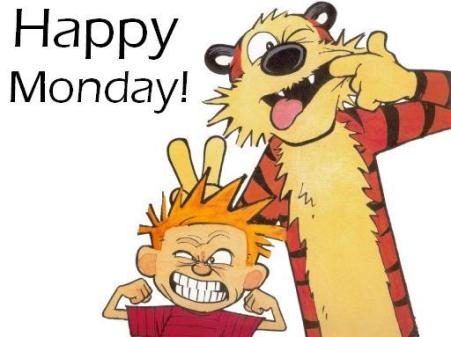 Image from The Miracle Journal.

The other day at the ol' place of employment, I had an early meeting at another site and then came back to my particular office building, which meant parking on the top level of the parking garage. Ugh.
Early on with this parking garage, I made myself promise that no matter where I parked, I would take the stairs to get to my car. No elevators. Just a little extra exercise in the day. So when I get here early, I have one flight of stairs. When I get here late, I have five. That's how the ol' cookie crumbles.
So after starting really early in the day at an off site meeting and then running like my hair was on fire in the office all day long (gigantic project brewing with very hard deadlines and a press conference to announce it coming up too!) I was pretty dead tired at the end of the day.
I stood at the bottom up the steps looking up mournfully. Five flights? After the day I had? I was determined to keep my promise to myself and I lifted heavy legs up and up and up the stairs.
Around the fourth floor I started feeling gassed. Each step felt harder than the last. It felt like gravity was actively defying me with every lift of my knees. Finally, exhausted and sucking oxygen I made it to the top floor, stumbled to my car and flopped inside.
That last flight really got to me. As I stepped, I had the kind of pondering thoughts that my brain often makes to keep me entertained. Were those last steps so difficult because my leg muscles were wearing out over the sum total of steps? Or does it become harder to slip the surly bonds of gravity with each flight? Or some combination of both?
And that struggle, that last mile difficulty, well, it started to feel like a metaphor. For my job. I am (to use yet another metaphor) rounding third base on this gigantic project and certainly headed for home plate, but this last leg of the journey is proving to be the most difficult.
Here's another metaphor. I can see the summit of this mountain, but the last 1,000 steps are straight uphill with no room or time to rest. Each day feels a little harder. Each moment is fraught with worry.
In about two weeks I will summit this sumnabitch and I will be glad I did. In a few months I will look back and it won't seem all that bad. But right now, looking up, knowing I am so close but knowing all that I have to endure to get to the other side, it feels daunting.
It feels like gravity actively puling me down, down, further toward the ground. Yeah, climbing five flights of steps feels like a metaphor, and not a bad metaphor at that.
But what good is the metaphor? I still have to climb the steps. I still have to complete the journey. And I have not get so focused on the pain and agony and effort of each step that I forget to remember home and the loving arms of The Good Man wait on the other side.
It's worth climbing those steps if only because it means I'm one step closer to him. What is a difficult journey without a meaningful destination?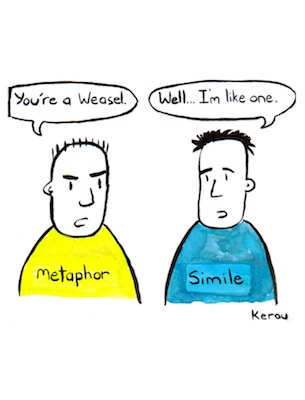 Image found here.