My parents were pretty strict when I was growing up, but I'm not here to complain about that. I think my brother, sister and I turned out pretty well, overall. Well, my brother and sister did, jury is still out on me.
But it's true, my folks were a bit old fashioned and handed down strict discipline. They kept us in line.
One thing my Dad was all about was his kids answering "yes, sir" or "yes, ma'am" when addressed by an adult. It's ingrained in me, automatic. It's a show of respect for elders, along with respect for a person's position.
And so when either of my parents would call out "hey Karen?" I would automatically drop a "yes, sir" or "yes, ma'am" without hesitation.
It's carried into my adult life and usually has served me well. On a recent visit with one of my favorite Aunties in Michigan, she at one point called out my name and I dutifully replied "yes, ma'am," and I knew it was right. I felt like a good kid.
As the digits in my age advance, however, I also notice that I get ma'amed here and there. At first I didn't like it, but then I began to appreciate that for those younger than me, their parents raised them with that same value. Yes sir!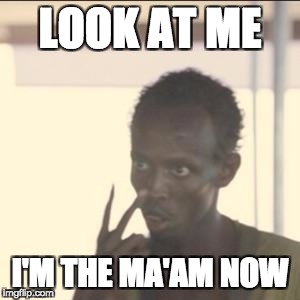 Here's where it gets weird: My new boss at work? She's my same age. In fact maybe a year or two younger. She was my peer for the past several years and was recently made the acting manager. It's also very likely that she will soon be the permanent manager. And I'm okay with that.
I have nothing but respect for her and we're working out the bounds of going from peers to boss and employee.
Yesterday, she came wheeling into my office, fresh off one of her many meetings each day and with something on her mind. "Hey Karen?" she said sharply.
"Yes ma'am!" I replied.
And she looked at me kind of strangely.
And I looked at her kind of sheepishly.
"Ahem. What can I do for you?" I revised.
It made me think maybe I need to change up the ma'am/sir thing. I mean, it still fits in many cases. For example, if I come across any of the distinguished scientists that I work with, I'm sure as heck going to ma'am or sir them, regardless of age. Or any dignitary.
But maybe I have to realize that I am the grown up now. I am the one to receive the ma'am treatment. I suppose it is time to finally own my own mildly elder status. Right?
It's just so weeeird! And will take a while to reprogram my brain.

Blame it on Facebook and its algorithms that like to remind me of things from the past. For the better and for the worse.
I re-read this one over the weekend and thought "yeah, that one needs a re-post."
So here we are, when Monday, January 30, 2017 feels a lot like Monday, January 28, 2013

A Treatise On Monday
Originally published January 28, 2013

Written this morning at something like 5:45am


And so we find ourselves back at Monday. Ah Monday, both the beginning and the end.
I have sad, tired, squinting, groundhog eyes as the alarm goes off. I'm begging the world not to pull me from my burrow. Please don't shine that bright light in my face.
But I'm pulled from my burrow anyway and instead of a prediction, the world anticipates my arrival at the train station and my seat on the next ride into the city.
The bright light turns out to be a beautiful ray of light, glimmering off the slowly rising sun.
All possibility is in Monday. Will this be a good week? Will this be a bad week? Will it rain?
Monday is everything and nothing. A blank canvas ready to take the paint.
What will I make of my Monday? What will I achieve? How will I stumble and will I recover gracefully?
It all exists here in these quiet pre-dawn hours. The sun hasn't even said hello yet and here I am, writing. Scribbling the words that want to exit my head.
There is already acrylic paint on my hands from a project that is due Thursday morning. I had to get some early painting done so I can hit that deadline.
In this Monday, all things are possible including finishing a painting that is due in just three days.
Oh my.
I feel strangely happy today. What the hell is this? How unusual for a Monday morning.
The weekend was weird. I was cranky and then he was cranky and then it was Sunday night and another two days of not working were jettisoned to the ether. Monday turned the corner and sat down for a visit.
So here I am again loading a backpack for work, stumbling around to find my badge and my phone and my sense of self-worth.
I look again at my canvas and already I fear I have screwed it up. Don't they say in art there are no mistakes? Just roll with it and incorporate the error. OCD and art are not friends. This major but fixable error must wait until later tonight to find its cloak.
There is a train to catch and a Monday to face. I'd rather stay home in my studio and put gorgeous turquoise paint on a willing canvas. Can I do that for a living?
You know, a girl can dream, and so I will dream as BART gently sways. When I disembark dreams stop so reality can start.
But no matter, I can dream again, later. Dreams don't die easy.
And dreams don't wait for the weekend.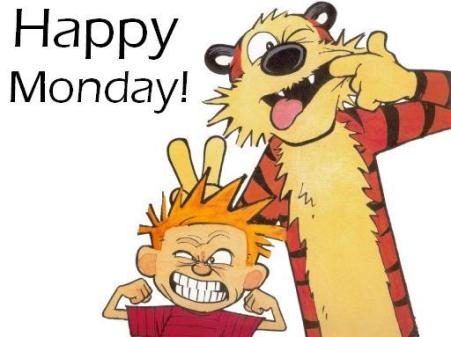 Image from The Miracle Journal.

Today was my first day back at work after a nice and relaxing weeklong vacation. Always tough to get back into the routine.
Last week, I missed a big event at work. It was The Great California ShakeOut, an annual earthquake preparedness event. On a set day, they sound the sirens and we take cover and hold for a period of time to simulate an earthquake. Then when that is over, all must evacuate the building.
It's getting us ready for "the big one" that we all keep hearing about. Practice like this has proven to be useful. We do this every year meaning once a year I get to check out what's going on under my desk.
Since was on vacation and I live pretty close to work, I heard the sirens, but I was driving in my car so I hunkered down in my mind.
Today upon unlocking the door to my office I see my employer has left me a little gift in the wake of the ShakeOut event.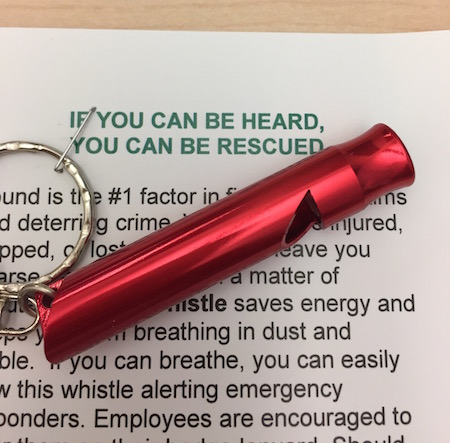 Lemme hear you whistle, baby…


Seeing this laying on my desk, I did what any mature, right-thinking adult would do when presented with a shiny red whistle. I picked it up and blew that sucker.
It's loud. A little piercing. The sound rattled off the high roof of the building.
You'd think this would be occasion for another one of those "talking to's" that my boss so enjoys providing to me. But alas no, she was in a meeting and missed it.
Instead the group administrator came over and stood in the doorway of my office, gave me the world record of stink eyes, then walked away.
I mean, if you didn't want me to USE it, then why didja give it to me?
Anyhow, my pretty red whistle is now safely stowed in a drawer. Guess I won't do that again.

Pretty whistle photo ©2016 Karen Fayeth, and subject to the Creative Commons license in the right column of this page. Taken with an iPhone6 and the Camera+ App.

It seems as each year goes by, I get a little more awkward. I mean, I've never really been cool as the other side of the pillow, but over time it seems it's tougher and tougher to just, you know, maintain.
Yesterday, I heard that one of our young intern employees will be leaving the company. I don't know the guy that well, but he helped on a few projects I worked on and I found him to be an all around good person and hard worker.
As a manager and mentor, I wanted to stop by to thank him for his work, encourage him in his next role and offer to be a reference if he needed.
It's the kind of thing I wish a few more people in leadership roles would have done for me in my career. I certainly remember with much gratitude those that did.
So I had a good opportunity during the busy day yesterday. I walked to his cubicle and stopped to ask, "Hey, I hear you are leaving tomorrow?" When he confirmed, I said, "Just wanted to thank you for your hard work and support. You have been invaluable to us. I hope you are able to find a new position very quickly. You will bring so much value wherever you land next."
He thanked me and started talking about how he really loves the culture here at our company and how he has liked the job and hopes he finds something equally supportive. And how much he appreciates all of the leadership here and……you get the drift.
As he's talking, my left eye began to betray me. I have terribly dry eyes and it's also allergy season. Before I knew it, a tear welled up and slid onto my cheek.
And the kid noticed. He saw the tear and kind of stopped speaking.
"Um," *awkward laugh* "Yeah, sorry man," I said as I wiped the tear away. "I'm not crying, it's just allergies."
"Oh." He said, trying to be nice but now a little weirded out.
"Hey, you know, dry eyes, allergies, kind of funny right! Like I'm so broken up right now because you are leaving, ha ha ha…." Then I awkwardly reached out to lightly punch him in the arm.
Which he awkwardly took to mean I was going in for a hug.
So yeah. There was a clumsy punch-hug thing that happened. I quickly stepped back and said "Hey, yeah, good luck! Let me know if you need a reference or anything!" and then scuttled off like the bottom dwelling weirdo that I am.
Lots of people might say, "But Karen, these kinds of things happen to everyone sometimes."
I might reply with a maniacal laugh, "If only these kinds of things happened sometimes. How about all the time?"
So, let's bright side this thing: 1) No one else saw this sad awkward exchange, 2) the guy is leaving the company and so I only have to face him in the break room for one more day and 3) odds are low our paths will cross again soon. I mean maybe, but it's unlikely.
Okay, I'm grateful for my blog-as-confessional as a place to work out the feelings around these kinds of things.
Onward to my next awkward encounter!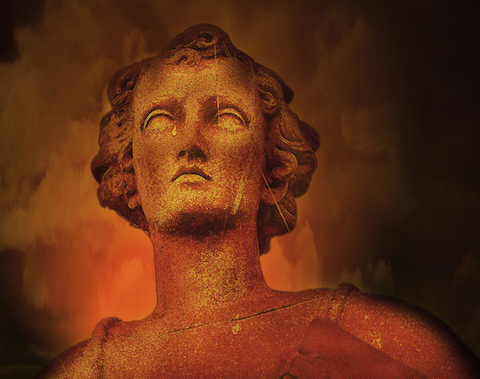 Nah man, it's totally allergies. I swear!

Photo by Fred Fokkelman and used royalty free from freeimages.com.


Perfect posting for a Friday…
On Monday I had an early morning video call with a company in London. Oh those pesky time zones. Did you know that the US and the UK go to Daylight Savings Time (British Summer Time) about three weeks apart, and the US goes first? Monday was the first workday after the US moving ahead an hour, while the UK didn't.
Yeah, I remembered that in the small hours of the morning and quickly dashed off an email to sort out the timing. Thankfully everything worked out.
To prepare for the video conference, I got up extra early and came into the office to set up and test all of my video gear. I just moved into an office a couple weeks ago and my video gear was in a heap in a drawer. Great.
I was able to quickly get it set up and tested and then ten minutes before the call, I was ready to go.
Ten minutes. That is a funny amount of time. Not enough time to really get anything going with work. I mean, I could have dived into email but then I just knew I would get engaged in something and would lose track of time.
But ten minutes is also kind of a long time to sit around and do nothing.
So I did what any adult professional in my situation would do. To "test" my video camera set up, I fired up PhotoBooth on my Mac and played with the effects.
I tried the one with hearts around the head, then the birds around the head. I tried the one that gave me frog eyes and one that produced a disturbing cartoonlike square jaw.
But none were quite as impressive as this. Let's call it Alien Accounts Receivable Clerk. And your payment is overdue.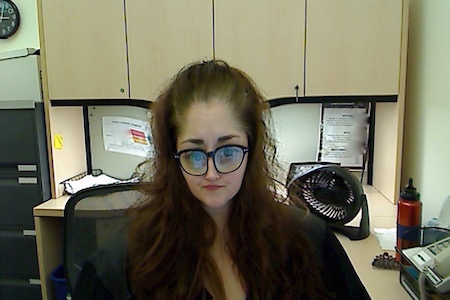 "Please remit payment or I will be forced to terminate your account"


So yeah, when the top of the hour finally rolled around, I entered the video conference still giggling.
A little too jolly for a fairly serious meeting with stoic Brits. *Ahem*
But I cleaned up my act, greeted the others on the call and then behaved like a grown up for a WHOLE HOUR!
Amazing. (hee, hee)

Photo ©2016 Karen Fayeth, taken with the PhotoBook App on my Mac and ten minutes of downtime plus post Daylight Savings Time exhaustion on my hands. Subject to the Creative Commons License in the right corner of this page.