As has been mentioned before, these days I work in an open office plan, meaning pretty much everyone from big bosses to little minions all sit and work in open cubicles.
It's supposed to make us more collaborative, or something.
Because everything is so open and airy fresh, as I walk through the building I quite frequently get a glimpse of other people's computer screens. Honestly, most people are working away, boring. Snore.
Occasionally people are shopping or watching YouTube, but whatever, that's between them and their IT rep.
There is one trend I'm noticing recently that has me a bit confused. There are several people, like five I can count off the top of my head and probably a few more I am missing, who have a photo of themselves set as their computer's wallpaper background.
Now, I don't mean it's a photo of them and someone else, like a nice happy couple, or dad and son or something. No, I mean a photograph of only them, and most often the photo is looking right out of the screen. Most are selfies, some are a photo someone else has taken. Some are full body shots but most are close in, framed from the neck up.
What this means is, as they work, they are looking out at themselves while looking in at themselves.
Um. What?
Look, I like myself a lot. I'm a cool chick. I like hanging out with me. I even don't mind looking in the mirror now and again.
In fact, to quote former 49ers football player Terrell Owens, "I love me some me".
But I don't "love me some me" so much that I want to look at me all the live long day.
At first I thought this was only the younger employees, the kids in their twenties who are supposedly really self-obsessed. No. It runs the age gamut.
I just…can't. I don't understand. Did I miss a memo or something?
(See what I did there? Miss a memo. How cute, granny.)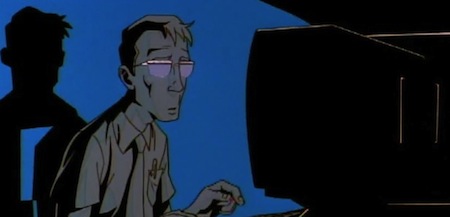 Image found here.

…but you can't take the desert out of the girl.
So here's something that is grinding my gears lately.
It is the summertime here in the Bay Area and that is a complicated thing. As many know, the marine layer and I have long had a tempestuous relationship.
July looks like this: overcast morning gives way to a very hot and sunny day which is then doused by fog by the afternoon.
This phenomenon is why you see tourists shivering in their shorts down on Fisherman's Wharf. The Bay Area warms up quickly then is naturally cooled.
However….
Before the fog rolls in, it can get truly hot around here. Hot enough that a little air conditioning would be a nice thing.
Most of the Bay Area doesn't believe in air conditioning. I recall when I first moved here and was shopping apartments. I asked one landlord "where are the air conditioning controls?" and he laughed and said, "No air conditioning."
"Whaaat?!" Was my reply. That was when I lived in the South Bay and temps could climb into the high 90's during the day.
"Just open the windows. We get a cross breeze," he said.
I scoffed. And harrumphed. And muttered something like "I'll give you a cross breeze you rattin' smattin' rootin' tootin' son of your mother…."
As it turns out, very few homes in the Bay Area have air conditioning. No place I have lived since I've been here has had the sweet miracle that is air conditioning. Only some windows and a hope for a cross breeze.
Compare that to New Mexico where every home has some form of AC. It's only right. Just. Moral. Upstanding.
I've survived many a Bay Area summer season by working a few longer hours at work, sucking down their gentle corporate paid cool air, or riding in my car with the AC on max to cool off.
But what's grinding my gears lately is all of the retail stores that either don't have or don't use air conditioning.
Look, I learned as a young child about moving quickly from the freon cooled car into the refrigerated air cooled grocery store that was so frosty it would raise goose flesh on arms and my legs clad only in shorts. Malls and clothing stores and other retail shops are a respite from the heat.
Not here. Stores have no windows and no AC and no moving air at all and they become this stale pit of muggy heat. Bleah! I saunter around the store wiping sweat off my fevered brow.
My desert hewn body was made to be a wonder of convection cooling. I sweat, breeze passes over it, water evaporates and I'm cooled.
This is how nature made me!
But deep inside a Walgreens or a Safeway there ain't no breeze and only the sweat remains. Gross.
So then I take up residence somewhere near the freezer section where I crack open a door and it takes me a reeeeaaaalllly loooooong time to select which brand of frozen orange juice I would like.
It just ain't right.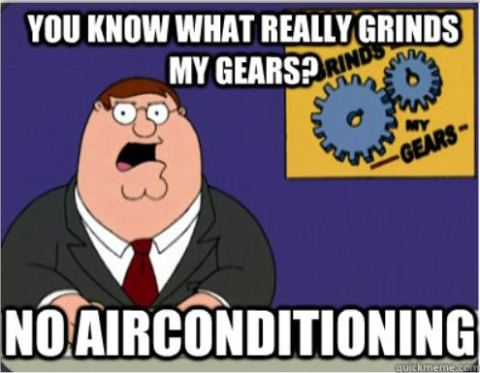 Image created by quickmeme.

In my internet wanderings, I often find myself cruising beauty blogs for makeup advice tips. I am flat out terrible at applying makeup in any sort of especially appealing manner, so I'm always on the lookout for easy and fabulous looks. Or something like that.
While on one of these jaunts, I stumbled across this particular service called Anaface which is a facial beauty analysis. All the girls were piling in there to have their face analyzed and were reporting results. Some ladies were very happy. Some were sad.
And I thought to myself "what a crock of crap," and yet, I bookmarked the page.
When I'd see that bookmark I'd ponder it, wanting to quickly upload my photo, then harrumph and go off again.
Today, the lure of my low self-esteem was just too great. I went in.
I began with this photo of myself in which my hair and makeup was professionally done and a master photographer took my image. In this photo I think, "Yeah, you know, I look all right."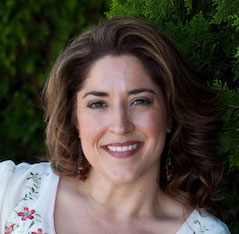 Then I uploaded that photo to the Anaface service. From there I helped the software by using my pointer to locate certain measurement spots on my face like the sides of my eyes and edges of my nose.
The software did its analysis and crunched the numbers and I arrived at this result:
"You are a 7.64 out of 10".
I am ashamed to admit I was at once happy (almost an 8!!) and depressed (what, I'm not a 9?).
Then I read the laundry list of "Here's why" and I began to feel like crap about myself.
Poor horizontal face symmetry. What? I thought the human eye found slightly asymmetrical faces to be more attractive anyway!
Your nose is too wide for your face width. What? I have a funny little thin nose actually.
Compared to your eye width, your innerocular distance is nearly ideal. Huh? I don't even know what that means. Is that a good thing or a bad thing? I mean, "ideal" sounds top notch, right?
So I harrumphed and my inner feminist got outraged and I Googled this facial beauty analysis thing to understand what the actual hell was up with this. I expected to see people out there as outraged as me. What I found was other analysis sites to try.
Then low self-esteem won out over self-righteousness and I uploaded my photo again, this time to a place called Pretty Scale.
Same sort of drill, I helped it find measurement points and it crunched the numbers and said: "77% You are pretty!"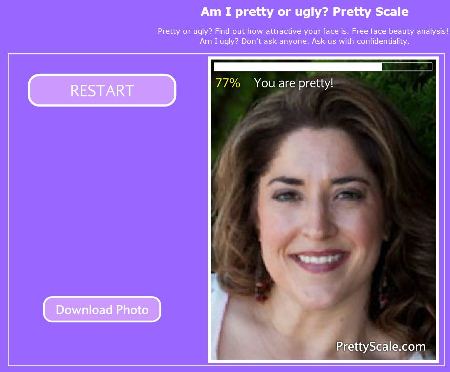 And that sweet, sweet dopamine rush kicked in at the words "you are pretty" and I felt validated and superior and attractive for about 52 seconds and then thought to myself, "what, only 77%? I'm not more pretty than that?"
Only Pretty Scale doesn't give me the rundown of things I can obsess about that are wrong with my physical appearance like my mouth being too wide for my nose. No, it just coldly arrives at a score and shoves it at you and runs away.
Then I realized how galldang evil these kind of websites are and how this is yet another way to make both men and women feel bad about themselves.
To their credit neither site was trying to sell me anything in order to capitalize on my poor self-image created by these bogus scores, which kind of surprises me.
Meanwhile, I honestly admit that reading "you are pretty" made me feel so good on a low, base, shallow level. And for that I'm the littlest bit ashamed of myself. And a little bit proud. And a little bit more ashamed and a little bit….
You get the picture. And when you get the picture, don't upload it to a facial beauty analysis bullcrap site, okay?
Because to me you are beautiful just the way you are.

___________________________

By the way, Gollum clocks in at a respectable 6.9 out of 10. His innerocular doohickey is also nearly ideal.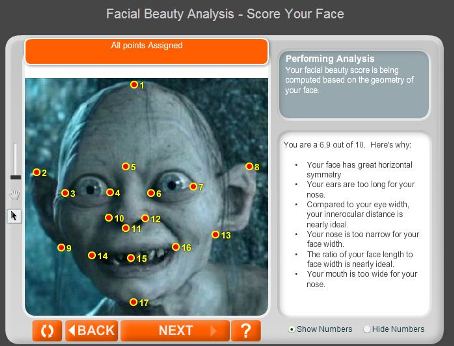 Don't look at me! Don't! I'm so ashamed.
: deep breath :
Ok, here's the thing. I didn't MEAN to purchase tweenie teeny bopper music. I really didn't. I swear it!
It all started out innocently enough. I was in my car. It was a bright sunny day. I had the windows rolled down and I was feeling all of my wild oats.
I was at work and driving across town midday to the other building and going to see one of my favorite coworkers and life seemed pretty darn good.
The car radio was tuned to the local popular station and I caught this sort of fun little summertime kind of song with a break in the middle for some Flo Rida.
Now, I love me some Flo Rida. Not ashamed about that.
The song was something about some boy singing about the girl being a "troublemaker" and I thought the Flo Rida break gave it some gravitas.
I found my rear quarters grooving to the beat and a hand tapping the ol' steering wheel. I smiled a little about all the times some cute boy in my life has called me a troublemaker. The spring-into-summer sun and nice memories worked for me.
Later that day I went home and went to YouTube and watched the super cutie cute Brit boy doing his little thang lip synching to the song. I watched another of his videos and was charmed then went straight to iTunes and bought his whole album.
I fired the thing up and started listening to all fourteen tracks.
Oy vey. That's when I realized my mistake.
The two songs I'd heard are the best of the album. All the rest are overproduced crap. Bouncy tasteless boy band crappitty crap.
And I bought the whoooole album. Damn.
When I realized I'd simply bought the one boy version of One Direction I was quite embarrassed. Very embarrassed. Shocked, sad, grief, and then I laughed. A lot.
Then I turned on Stevie Ray Vaughan to cleanse my ear canals. That helped me get right.
As my blues friend used to say at the end of the night, "Did you get healed?"
Thanks to a beat up old Fender and the talents of a good Texas boy, I sure did.
Too bad about the electronic copy of the bad stuff. I can't fling electronic bits out the car window while doing 85 mph on I-25 north out of Las Cruces. You know the place, right near the first rest stop? It's where I once flung a good portion of an ex-boyfriend's cassette tape based music collection, just out of spite.
It's a real fine resting place. I would fly to my fair New Mexico just to get it done.
Ah well. Technology. Whatareyagonnado?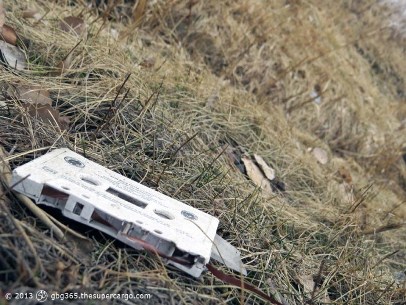 Image found here.

November 12, 2012 by
Karen Fayeth
·
4 Comments
Filed under:
awesome!
,
awkward
,
birds
,
business is business
,
choices
,
ew
,
fate
,
latent childhood
,
life
,
make it work
,
Opinions
,
play through
,
pondering
,
they call it stormy Monday
,
truth is stranger than...
,
yes boss
On this beautiful bright late Autumn day, my friend Worm Girl and I went for our usual lunchtime three mile walk.
Between meetings and vacations and other distractions, it had been two weeks since we'd gotten together and there was much to catch up on.
As we strolled around the lagoon, we found ourselves tiptoeing about as there was a veritable minefield of goose poop decorating the walking paths.
"Oh my god," I said as I shifted, parried and tip toed.
"No kidding," she said.
Then we came across what was really just a large white splat. About as big around as a dinner plate.
"What the hell is that?" Worm Girl asked. "It's like the bird ate a pack of sidewalk chalk!"
"I know, weird."
And then we kept walking, leaving the chalky matter behind and discussing the kind of things two ladies discuss on a good brisk walk.
As we came around the backside of the loop, we saw a few groundskeepers doing their work. Not an unusual sight for a Monday.
But as we passed one guy, we both fell into silence, watching him.
He was on hands and knees with soapy water and a wire brush.
Scrubbing quite a few more of the chalky white patches.
After we were out of earshot, my friend said "Can you imagine…?"
And I replied, "Worst. Job. In. The. World."
She said "How do you even list that work experience on your resume?"
"I know, I know…that guy is a saint, he really is. There is no way upon my boss handing me a wire brush and a bucket that I wouldn't bolt from that gig."
To be fair, the guy does all around work for the landscaping team and genuinely seems to like his job. He approaches it with a certain joie de vivre.
But to be honest, however crappy (pun totally intended!) I think my Monday is, it's not that crappy.
Today I honor the kind of person willing to go to the mat, rubber gloves and scrub brush in hand, to make the world a little cleaner, a little nicer, a little more poop-free.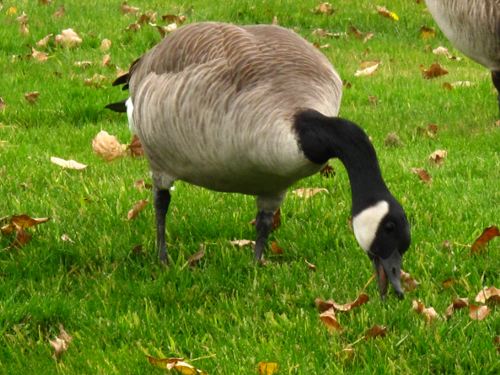 Just reloading here, boss.

Photo copyright 2010, Karen Fayeth, and subject to the Creative Commons license in the right column of this page.