What follows is me working out some "stuff" up there in the ol' brain pan. A bit indulgent to do this publicly, but maybe putting it out there helps someone else. Or makes me accountable for my own crap. Either way.
So here it is… I have been taking part in a Flickr group that challenges its members to do a new macro photo every week based on a theme the moderators choose.
I started participating on December 4th with this photo: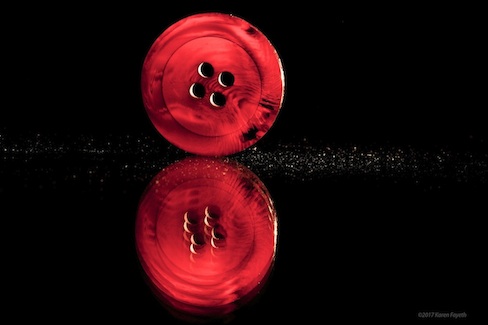 ©2018 Karen Fayeth

I felt clever. Sassy. Like my photo was more creative and of better quality than the others in the group. Go me! I was rewarded with well over one hundred faves in the first day. Hey, fun!
So I kept going. Each week working hard and having fun doing these weekly photo challenges. Creating a new image every week. Some weeks I worked really hard (or agonized) over executing my idea.
Other weeks it came easy to me, I snapped a photo that was exactly what I wanted and went on about my day.
But always having fun and not taking it too seriously.
Until two weeks ago. Two weeks ago I stopped having fun and got deadly (overly) serious about my weekly photo entry.
Let me back up. This Flickr group is huge, over 13,000 members. Each Monday between 800 to 1,200 photos are posted for the theme. This means in order to function, the group must be tightly moderated. And it is. Tightly.
I both like and respect that there are heavily enforced rules for the group. But I also HATE it because I'm an *artist* and The Muse can't be contained by your silly rules. I should be able to break them because MY work is the best.
Yeah, okay. I own it. I got weird. I hate it when I get weird.
The week's theme was monochromatic, and I turned this one in: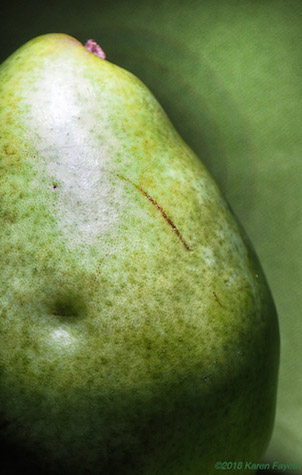 ©2018 Karen Fayeth

I really like this photo. I worked hard on it and felt really good about it. I feel like I did something worthwhile. Artistic.
Less than ten minutes after adding it to the group, a moderator pulled it, telling me "This is not monochromatic, I can see both brown and green."
I seethed. I stewed. I started looking at other photos in the group and found SEVERAL that also had tiny bits of another color that made it through the moderator's net.
I bellowed about how unfair it was. I started making a list of all the other photos that were let through. I prepared to launch my vitriol on anyone who would listen and demand answers for my mistreatment. How could they hate my photo so much!?!?! (I know, I know)
Then I went to talk to The Good Man, and as I detailed all the ways I had been wronged, I heard myself. I listened to my words and realized…aw damn…I'd stopped having fun. I was this worked up over a photo on Flickr in a group where the only prize is some eyes seeing the photo and some faves.
Yeah. I hit the wall pretty hard. This came just a day after struggling with a story for a writing contest that just would not gel for me. I hadn't given myself enough time to work on it and the story would not come together no matter how hard I tried. I tried to shotgun it and I failed hard. I did still turn in the story but I know it's not good.
You see, I wasn't mad at that stupid unfair moderator. I was mad at me.
And that's no way to create. That is the antithesis of creativity. This dampens The Muse.
So I went all the way there and now I'm reeling myself back in. I swear. I sat my Muse and my brain down and we had a talk. Feelings were felt and admonitions were issued. Promises to be better. To loosen up. To remember why I do any of my creative work…to have fun. To let the creativity out. To create something.
And I'm better. I am. The following week I swore I wasn't going to participate in the Flickr group again, but that was EXACTLY why I needed to get back in the game. So I made a photo based on the theme "in a bottle."
Here's my Valentine to myself. Green like the Hulk who gets very, very mad. Sweet like the victory of turning out a piece of art and something I really like. It also met the rules and made it past the moderators.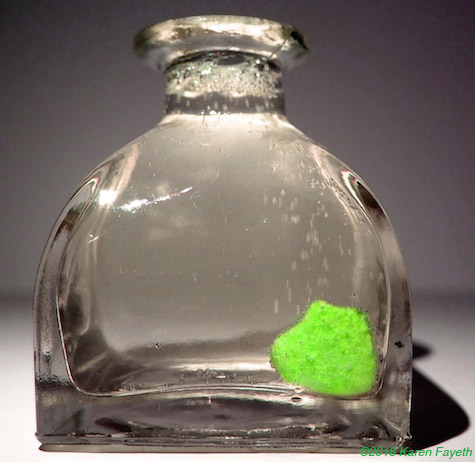 ©2018 Karen Fayeth

Lesson learned. Scars formed. Exterior just a little bit tougher.
And this week? Try, try again.

It's been said before that I'm a little "different" from your average employee. The streetcar of my brain runs a little off the beaten path. I use words and phrases in unusual ways. Occasionally only words in Spanish can convey my sense of the sentiment and my coworkers don't always understand that.
With each job I've had in my life and each place I work, there always seems to be a breaking in period. A timeframe whereby things evolve from "what did she just say?" to "oh, that's just Karen."
I think today was turning point at my current place of employment. I just celebrated two years here and they are finally coming around to my unique way of looking at the world.
This group was a little more resistant than my last few employers, but I finally succeeded in breaking them down.
Here's how I know. Below is a real and genuine account of events that happened just moments ago:
Scene: The office breakroom. Several of my rock star employees and I are gathered around the new vending machine. The selections are different from what the old machine offered and we are discussing the merits of each.
At the moment where we tune into the scene, my employees and I are quite racously discussing the positives and negatives of sour gummy worms. And we are laughing…a lot (we tend to do that on my team).
A one level up management-type person (not my direct boss, but a bossish kind of person) and a rather serious sort walks into the room. My employees all go still and their eyes drop.
She says, "What are you all doing in here?"
Without missing a heartbeat I match her serious tone and reply, "We're negotiating with the vending machine."
She pauses. Says, "Oh." Then she spins around and walks out. I'm pretty sure she had a reason to come into the breakroom but I derailed her mental train. It was awesome.
Oh yeah, I'm going to be running this place soon. That kind of think of your feet, can-do attitude going to take me far.
Also, it's important to know that the sour gummy worms were delicious.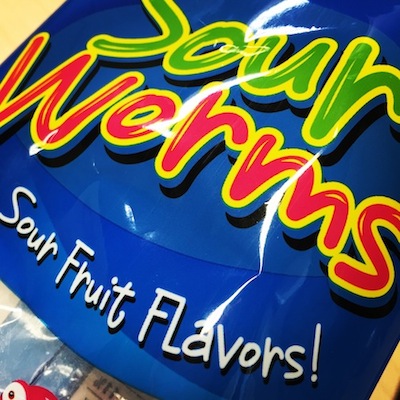 That there is my photo, Copyrighted by me in the year of 2015. © Karen Fayeth. Don't steal, though I don't know why you'd want to rip off a photo of an empty gummy worm bag. If you do want to appropriate my work, do pay attention to the Creative Commons license in the far right corner of this page. Taken with a iPhone6 and the Camera+ app.

There is no such thing as 'traditional' or 'authentic' sangria. Sangria is a party drink designed to get your guests drunk really cheaply.

— Damian Corrigan, About.com Guide
Well, what Damian lacks in tact he makes up for by being right. Isn't truth the best defense? Yes, I think so.
I found this quote when I Googled "how to make traditional sangria" because all of the sudden I have noticed that sangria has become cool. Except, the sangria they are serving in bars and restaurants these days cost $15 a glass and doesn't taste right. It has become something hipster and these children are tinkering around.
What happened? No one knows how to make sangria right anymore!
In the folds and recesses of my mind, I remember someone's mom or abuela telling me "Oh, Sangria is easy, just buy the cheapest sweet red wine you can find, pour it in a pitcher then cut up a bunch of fruit and drop it in there and let it sit for a couple days."
That's it. That's how I recall it being told and that's how I recall sangria should be made. Sweet, fruity, and inexpensive. It takes a few days to make it right. Land of Mañana. A little slow and easy on a hot summer day.
These days bars make "sangria" on the spot, mixing some red wine, some other hard liquor (brandy, vodka, rum or in the case of a restaurant in San Francisco, I swear it's everclear) and tossing in a couple orange slices.
It doesn't taste right. It wasn't given time to do what good sangria should do.
I remember as a child, my mom confiding in me that the best sangria she'd ever had was at La Tertulia** in Santa Fe. I remember dining with the folks and all the adults at the table seemed to love the stuff, like kids and Kool-Ade.
Later as an adult I got to give a pitcher of La Tertulia's nectar a sip for myself, and by god mom was absolutely right. Ab-so-loot-lee. Mom knows her sangria.
So all this sangria angst was dusted up because over the weekend while at my local Trader Joe's, I picked up a bottle of Maria Ole Sangria that had been touted so highly in the sales circular.
I put that bad boy in the 'fridge to get nice and cold and last night on a really mellow evening, I cracked it open and poured some out.
It was pretty terrible. Really terrible. I finished the glass and decided to give it a chance. Sometimes crappy wine needs a second glass. That's my theory anyway. Second glass didn't do much to improve this swill.
Very disappointing.
And the worst of it? Today I am slightly hungover. Not in a big way but in that "shoot, I drank some crappy wine last night" and now I'm mad. Good old fashioned aged sangria is usually mellowed out enough that it doesn't hurt the head.
This new era of not really sangria not only hurts my head, it hurts my heart.

____________

**Sadly, La Tertulia is no more. I shall always remember their indian tacos and their sopaipillas and yes, their delicious sangria. *sigh* Pour one out for a NM institution…..

Image found here.
If today is Halloween, that must mean tomorrow is November 1. The first day of November is not only Dia de Los Muertos, but also ushers in the annual National Novel Writing Month, or NaNoWriMo.
Eight times I have successfully completed a 50,000 word story in the span of just 30 days. Last year was the first time I attempted and failed NaNo. And even in my failure, I learned a lot.
In the spirit of try, try again, I'm going to take a run at it again this year. This despite the fact that I have no story ideas and a lot of anxiety about it.
And so as an athlete stretches and runs wind sprints in order to get ready for the big game, I am going to run some wordy sprints.
With that, I turn again to Unconscious Mutterings for some random word prompts. I love this warm up.
So here we go!

Crying ::


What I will not be doing on November 30th if all goes well. That said, a good cry is cathartic and good for the soul. It might take a heavy bout of crying mid-month in the throes of writer's block in order to break through and make it to that 50,000th word.

It remains to be seen.




Reluctant ::


I am, truly, rather reluctant to have another go at this crazy month of writing. It's always awesome and I'm amazed at what I can produce in so short a time. It's also quite taxing on The Muse. I get creatively wiped out by the end of the marathon. Blisters on the brain pan or something. But it's also quite satisfying. That mind numbing creative exhaustion means I have created something and that is the coolest feeling in the world.




Decade ::


My first go at this crazy NaNo game was back in 2004. I'm closing in on a decade of this wordy abuse. Lots of words and time well spent. By writing this blog I know my writing has improved vastly and my ability to write on the fly has grown strong. So hey, rock on.




Mustache ::


So what's the deal with mustaches these days? They are not just facial hair anymore. Now a mustache is a meme. I mean, there are accessories, baseball logos and many Tumblrs.

Plus, let's just settle this right now. Rollie Fingers. Greatest mustache of all time. Boo-yah.




Water ::


Well now, not to bring down the language and mustache party, but water sure has been a topic of conversation lately, hasn't it? Water, so life giving, so essential, so gosh darn powerful. The photos of subway stations and buildings and streets filled with water in the aftermath of Hurricane Sandy are so profoundly scary and overwhelming. I know that New York and New Jersey are incredibly resilient and will bounce back. But as of today, it's just overwhelming to witness the power and destruction of simple H2O.




March ::


Let's see…the 2012 baseball season ended Monday. The celebration parade up Market Street in San Francisco was today. Baseball is officially over.

World Baseball Classic begins March 2.

*sigh*




Stripes ::


As I'm writing this, "It's The Great Pumpkin, Charlie Brown" is on the telly. Right now Linus is sitting in the pumpkin patch, wearing a red shirt with stripes, explaining to Sally about the Great Pumpkin.

Then he uttered something that seemed a little meaningful here in on the last day of October and six days before the end of election season.

"I don't see how a pumpkin patch can be more sincere than this one. You can look around and there's not a sign of hypocrisy. Nothing but sincerity as far as the eye can see."

Oh how I wish I could find a place, even a small pumpkin patch, where there is not a sign of hypocrisy and sincerity as far as the eye can see.

Sadly that's not the view from where I'm sitting. Maybe I'll check again next week.




Friendship ::


Recently I got to spend three days with my best friend of over twenty years. She is family and brilliant and each year of our friendship means everything to me. We may live miles apart but she lives right here in my heart every day. Being with her for a few days made me actually miss her MORE than I already did.

Time is the scarcest commodity of them all.




Weirdo ::


It's a testament to the kind of woman she is that for over twenty years she's put up with a weirdo like me.

Tomorrow also brings the anniversary of the day I met The Good Man. It's a testament to the kind of man he is that he puts up with my special brand of weird every day.

I'm very lucky and that's said with nothing but sincerity as far as the eye can see.




Contacts ::


As this Halloween night wanes on, time to pluck the contacts from my eyes and bid adieu the season of orange and black. An ABC TV interstitial just announced it is now officially the "holiday season."

This makes me sad. And scared. And reluctant.

Ok, for now, I must focus on NaNo. Freak out over the holiday season can wait until later.

Well there you have it. Whew. I'm winded and warmed up and ready to write!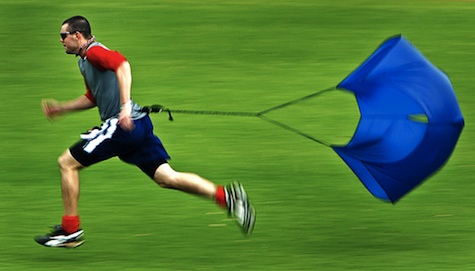 Image from Soccer Skills and Training.


On or about the day of September 18 in the year of our Lord two thousand and twelve, the defendant was seen both loitering and malingering in the hallway at my place of employ.
Slouching fetchingly on the top of a lateral file cabinet. The tramp.
And on said date, on or about 3:42pm, the defendant stands accused of calling out in a beckoning, sultry, irresistible manner.
So alluring was this siren call that no reasonable man or woman, especially woman, could be expected to maintain even a modicum of self-control in the face of such raw, base power.
As a result of the defendant's irresponsible actions, the victim was thusly lured to the defendant and did partake of the goodies offered thereto.
And it was good.
However, the defendant now stands accused of gross misconduct, excessive deliciousness, and being the addictive combination of sugar, fat and salt.
The victim hereby claims damages to her waistline, thighs and double chin. And a big pile of guilt on her shoulders for all to see.
And so, you criminal, you plague of society, you vile tempter, how to you plead in the face of such strong allegations?
Peanut Butter M&M's, you sneaky bastards!

Playing silent eh? We'll see about that.
You and your little friends, you are going to be put away someplace for a very long time.
A very, very long time.
Git in mah bellay!
Image from Terribly Awesome.