Recently I've been a little delinquent in spoiling The Good Man. Things have been crazy what with all of the international travel and working long hours and, well, life.
His birthday was last month and although we had a nice quiet celebration, I feel like I failed a bit to make the day something special.
The Good Man is a child of summer and it's easy to understand why his favorite fruit is the peach. Yesterday I found a nice ripe pile of the fuzzy stuff at the grocery store and brought several home.
"Cobbler or pie?" I asked after showing him the peaches. He began muttering the question over and over to himself like a philosopher mulling over the meaning of life.
"Or a crumble?" I followed, then, "Is that too many choices?"
For several hours after he wandered around the house "cobbler or pie…or crumble? Hmm…" This is a very big decision in Good Man Land.
Finally toward the late evening hours, I surveyed the ingredients I had on hand and began consulting cookbooks in preparation for his decision.
It was then I pulled out The Book of Love (dun, dun DUUUUUN!) to begin the search for recipes.
This Very Good Book: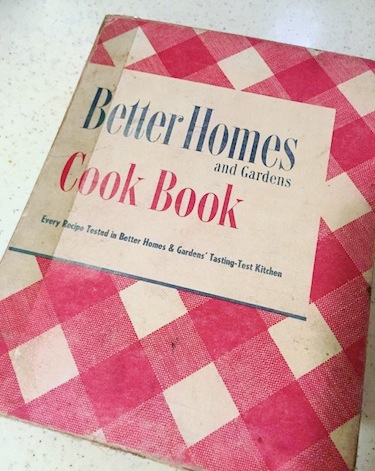 I think every person who likes to cook has a favorite or special cookbook that is the go-to for any circumstance, and this one is mine.

Taking a seat in a nearby chair, I opened the holy tome. I read the inscription inside the front cover. You see, this particular cookbook was a gift from my grandparents to my mother on the occasion of Christmas 1950.
My mom left it behind when she moved out and my grandmother kept updating the recipes inside. The Better Homes & Gardens magazines published recipes that the homemaker could cut out and add to the book, to keep it fresh. I love seeing my grandma's handwriting along with the food spots and spatters in its pages.
Some of the recipes are a little odd or outdated, but I'll tell you this, I've never made a recipe from this book that failed me.
As The Good Man walked by, he said in a voice a little quavery with anticipation, "I love it when you pull out that cookbook."
Oh yeah, he knows. Good things come from that 1950's made with yum cookbook.
Finally, after waiting for his answer and looking at recipes and thinking about my laziness factor, I decided for him. "Good news, you are getting cobbler."
He nodded, relieved the decision had been made and ready for the delivery on my promise.
That happens tonight. Oh yes and oh yum.
Best part about making baked goods for the one I love? I get to have some too!
It is a dark, gray and drizzly day here in Northern California and to be honest, that is a good thing. I say that even as my mood can best be described as poopy. The fact that the earth needs the rain doesn't preclude a little blue mood to go with the not-blue skies.
To be honest, in March, this is what the Bay Area is supposed to do. It's supposed to rain. So I'm grateful for the rain.
But still, I'm cranky.
Days like these make me want to stay in bed all day and only come to the surface for something tasty to eat (then dash back under the covers).
Last evening I watched an old episode of No Reservations when our host, Anthony Bourdain, was in France. At one point they showed warm hot loaves of bread coming out of the oven. Of course now all I want to eat is gigantic loaves of warm bread smothered with butter.
But alas, the butter is a non-starter for me with the lactose intolerance and all. And well, we all know bread gets a bad rap these days.
Later in the show, the host was eating some gigantic meat-on-meat madness type of meal and I said to The Good Man, "I…I just don't think I could eat that. I mean, I would try, but oh how my stomach would hurt."
What the hell has happened to me? I remember the days when I would and could eat everything from flaming hot green chiles to milk products to fatty meats washed down with a lot of beer and wouldn't even blink an eye.
Now as I ponder yet another birthday coming along in a few months, I realize what a little lily I have become. A hothouse flower who can't eat things too hot anymore (damn my GERD) and can't eat milk products (well, I can, but it's an unpleasant outcome) and I sure do eat a lot less meat than I used to because my tummy just can't take it.
Alas! What has become of poor Karen? I don't even know who I am anymore.
I suppose it's all a part of the cycle of life. I mean, I have tried and digested a lot of good food in my life. I don't hold back, I'm willing to give most foods a shot but I have become a lot more circumspect in how I nosh.
A "good" meal can be great in that moment and can then ruin my whole day. So I eat a little less quantity and a little better quality and I wonder what else I'm going to be a candy-butt about in this great life.
First world problems. I got 'em.
(And give me time, I'll get over myself. I always do.)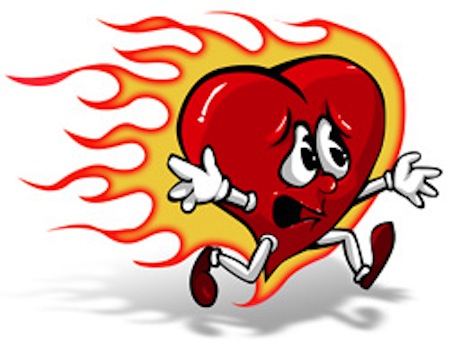 Image found here.

Today feels more like New Year's Day to me than it did on January first. This is easily explained, as today is my first day back at work and the reality of 2014 is slowing sinking in.
Today was the first day back to old routines and old problems and that dratted alarm clock squawking at me at some unspeakable hour when even the sun doesn't want to be disturbed in his slumber.
But here I am, back in the grind, wondering how I can keep myself stress free and high energy for all of the many days that lie ahead until my next two-week break.
As such, it's time for me to turn my attention back to words and writing and the ol' blog.
I thought I'd kick off the New Year by doing an update post, addressing many of the things we've chatted about over the past month or so.
Where to start?


Oh Fair New Mexico


Well, let's be a little meta and start by talking about my little blog. March will mark seven years of writing words on Oh Fair New Mexico.
Total count (before this post) is 566,730 original words over 1,669 posts.
For the loyal readers, I give you a huge hug and lots of thanks for keeping up with the wild meanderings of my mind.
In the past I was able to consistently post every weekday, and did so for years. Lately that flow has slowed quite a bit.
Is it that I just don't have anything more to say? Hardly.
The nature of my job is such that I rarely have a free second of time during my days. This job is high energy and decisions required moment to moment.
In my former gigs, I was able to write up a post over my lunch or while on a break. Now, when I eat lunch (at my desk, usually) I have a line of people out my office door wanting to chat.
I often hear "Oh she's there!" outside my cubicle walls and an "Oh, are you eating lunch? This will just take a minute" when a face peeks around my doorway.
My employees are top-notch folks and I take working for them very seriously.
But dammit! Mommy needs some alone time!
I get quite frustrated sometimes over my lack of time. It's something I'm working on in this new year.
I'm telling you all of this by way of saying that even if a week goes by and I haven't posted something, don't give up on me. I'm still here and I'm still writing.


750 Words

Nice segue. Speaking of writing, lately I have been getting a nice boost from a website named 750words.com.
If you ever read the book The Artist's Way by Julia Cameron, then you learned the value of morning pages. Per Ms Cameron, morning pages are three handwritten pages about any topic you please. The intent is to help prime the ol' pump and get the creative juices flowing.
I have done morning pages off and on for years and they sure help, but it's easy for me to let them drop. They are kind of a pain in the butt sometimes, plus my handwriting sucks. Also, my hand can't go fast enough for my brain.
Enter 750 words. The creator of the website did the math and figured out that three pages is, give or take, 750 words.
So it's morning pages, online, with reminder emails and badges and statistics and fun.
Why I'm telling you this is because I have been working on words on that site and boy can I tell a difference.
Hopefully that difference will show up here on Oh Fair too.


The Feline
Just before Thanksgiving, I wrote a pretty sad post about my little fuzzy one.
She had just spent a weekend in the pet hospital and when we brought her home she was weak and quite skinny.
At the time, we didn't think she would make it to Thanksgiving.
She did.
Then I was just certain she would not make it to Christmas.
She has.
So here I am on January 6th feeling pretty amazed that The Feline is actually doing ok. Through the wonders of modern veterinary medicine, she is not only ok, she has gained a little weight and is clear eyed and feisty and full of vim and is feeling like her old self.
It's kind of amazing. The Feline will never recover from her ailment, what she has is terminal, but The Good Man and I now understand how to manage it. We got her steady and we have more time with the little punk than we thought.
She will be 15 years old in March, and now my hope is that she gets to celebrate her little cranky feline birthday.
Here's a photo taken about a week ago. This was the first time I really realized she was feeling better and it's become one of my favorite photos of her: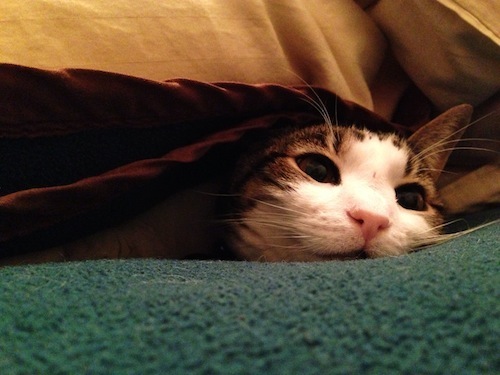 Copyright © 2014, Karen Fayeth


That Damn Chocolate Bear
You listened to my tale. You sympathized with my anxiety. You heard my cries.
The response was best summed up by a New Mexico friend:
"Snuff the Yogi."
And I want to. Oh. I want to.
Here is the status of the Bear as of this morning.

Copyright © 2014, Karen Fayeth

He sits there, mocking me. He is in residence on the shelf set aside for snacks. During the height of holiday madness, that shelf was cram packed with delicious treats and he survived by cowering in the back behind the biscochitos and the sugar cookies and the See's Candy and the rocky road treats made by The Good Man's little sister.
After the piranhas had their holiday feeding frenzy all that's left is that damn bear and a crappy candy cane.
Yes, people, I'm telling you that the bear is still intact.
I asked The Good Man, "What kind of maniac doesn't eat a freaking chocolate bear?!"
He politely responded that since things have escalated, he will be seeking a safe house where the bear can be granted asylum.
He's just doing this to torment me. He knows one day in the not too distant future I am going to tear the apartment apart and walk through that bear's gold foil restraining order and tear him chocolaty limb from chocolaty limb.
Oh it's happening.
Well there we have it. I think that gets us all pretty much current and caught up as of today.
I am through most of my first Monday back at work. All in, it was not bad.
Manageable.
Onward until tomorrow.
Feliz Año Nuevo my friends.
I just realized that it's only two weeks until the glorious three day weekend of MLK Jr. day.
I can hardly wait.

All images © Copyright 2014, Karen Fayeth, and subject to the Creative Commons in the right corner of this page.

This is a bear.
A chocolate bear. A delicious Lindt milk chocolate bear. A tasty holiday morsel, a gift, a happy chocolatey treat with a red bow around his tiny bearlike neck.
This bear is a survivor. It has outlasted all of the cookies, both biscochito and sugar cookies. It outlasted the holiday decorated six pack of Toblerone that was a gift from a coworker. It has outlasted all of the Christmas 2013 bits and bobs of delicious sugary treats. It has even outlasted the giant candy cane, which is always the last to be eaten around here.
Oh yes. This bear is a survivor.
The bear was gifted to The Good Man. It is The Good Man's bear, and so by the laws of respect and decency, I have neither opened nor nibbled on the bear. Sure, by the laws of the State of California that bear is half mine to do with as I please. But I am a nice spouse and I give The Good Man the space to open and nibble on his own present first.
But this bear. It challenges me. It torments me.
There it sits in its thin gold foil, smirking at me while I rummage and forage for holiday sugar snacks that aren't there anymore. Oh sure, I came home from work loaded with sweet meats in the week before the actual day of Christmas. We had a dedicated shelf for all of the sugary holiday yum-yums.
But they are gone. Noshed. Dispatched with.
All except this freaking smiling bear. The bear that isn't mine but make me want to p0wn it like the little chocolately bitch that it is.
I want to bash in its little head and gobble at its ears. I want to reach into its gullet and pull out the still beating chocolate heart and bite into it with fury and insanity and let the juices dribble down my chin.
I want to fry up its little chocolatey liver and sip from its corpuscles.
Oh yes, I want, need, must have it. It vexes me. It taxes me. I shall dominate this milky chocolate bear that hails from Switzerland and mocks me and doesn't understand the needs of a sugar fiend.
Must. Smash. Bear.
And gobble the remains.
Must.
So.
Do you think I probably need to back off the sugar a bit? Probably need to get a few more veg in the maw and less processed sugar snax? Maybe something protein based with a little less fat? Something with actual nutritional value?
Yeah. Me too.
Happy Post-Holiday Food Hangover.

Slightly askew photo of my chocolatey prey is Copyright 2013, Karen Fayeth, and subject to the Creative Commons license in the right column of this page. Taken with an iPhone5 and a dash of maniacal insanity.

I think it's time to re-run what has to be THE most popular post ever in the six years of this blog.
It originated in a fit of the holiday blues and a massive case of homesickness back in December 2007.
It's all still true. Every word on this list applies in 2013. Pretty much all of the links were broken, so they have now been updated. I also gave 2007 me a light edit. Who was I with the two spaces after every period?!
Special thanks to @NewMexiKen on Twitter for recently tweeting out a link the 2007 post. You rock!
————

Top ten things I miss about Christmas in New Mexico


1) Annual shopping trip to Old Town. A mom and me tradition. Every year I'd get to pick out an ornament that was mine. I now have all those ornaments in a Thom McAnn shoebox that, yes, Sunday night I opened and hung them all on my tree. They are like a history of my life. I remember buying most of them and it gives me a good sense of continuity to have them on my tree.
2) Luminarias. I was the one who made them at my house. My mom would drive me to an empty lot to dig up two buckets worth of dirt and I'd fold bags, place candles and light them. It was my job and I loved every second of it, every folded bag, every candle that caught the bag on fire. So beautiful.
3) The Bugg House, which, sadly, is no more. My sister lived over on Prospect and we'd go for a Christmas Eve walk in the evening to take a look at the outstanding display of holiday spirit. When I would go to Winrock Mall to shop, I'd always swing by the Bugg house to take a look. I miss it so much.
4) Neighbors bringing a plate of fresh made tamales as your Christmas gift. When you get three generations of Hispanic women in a kitchen with some masa and some shredded pork (and lard, gotta have lard), magic happens. Yum! I also miss that people would come to work with tamales in a cooler and sell them to coworkers. I was always good for a half dozen or more.
5) A ristra makes a good Christmas gift. I've given. I've received. I love 'em. They'd become a moldy mess here in the Bay Area, and that makes me sad.
6) Biscochitos. My love for these is well documented. (2013 edit: I made a huge batch on Sunday and shared them with coworkers today. Now they are cookie zombies asking me if I have more. 505 represent!)
7) Sixty-five degrees and warm on Christmas Day. I think one year there was actually snow on the ground for the 25th, but it was melted by the end of the day. Oh Fair New Mexico, how I love your weather.
8) Christmas Eve midnight Mass in Spanish with the overpowering scent of frankincense filling up the overly warm church. Pure torture for a small child, but oh how I'd belt out the carols. And then when we came home after church, we could pick one present and open it. The rest had to wait for Christmas morning. Gah! The torture of picking just one!
9) New Mexico piñon, gappy, scrawny Christmas trees that cost $15 at the Flea Market and were cut from the top of a larger tree just that morning. Look, to my mind, it ain't a tree unless you are using low hanging ornaments to fill the obvious gaps. These fluffy overly full trees just ain't my bag. If you ain't turning the 'bad spot' to the wall, you paid too much for your tree.
10) Green chile stew for Christmas Eve dinner and posole for New Year's. My mouth waters. It's weep worthy. I can taste the nice soft potatoes in the stew, the chicken broth flavored just right. So amazing. And posole to bring you luck with red chile and hunks of pork. Yum!
Which is not to say I don't have happy holidays where I live now, but sometimes I feel melancholy.
Oh Fair New Mexico, how I love and miss you so.

Image via The Vintique Object Blog.