This morning, like most weekday mornings, I hopped into my trusty old Jeep, fired 'er up and took off, careening toward my place of employment.
As I traversed one of my hometown's very busy main roads, I glanced into my sideview mirror, as any safe driver would do.
As I glanced, I saw a little leggy burble and a pop and this thing emerged: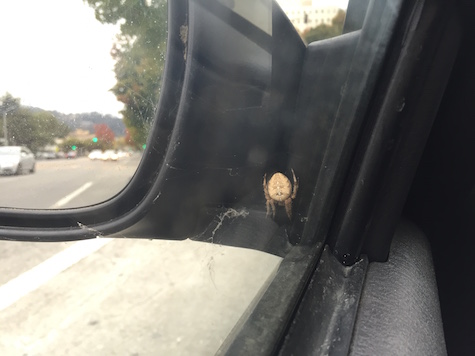 See the hinge for the mirror? It had somehow packed itself in there.
I should note that I was so startled that I had to pull over to the side of the street and consider my options. Also to take a photo to send to The Good Man. It was essential to document the situation in case my Jeep and I were later found suspended from a stop light, wrapped in silk and drained of fluids.
Let me zoom in a little closer for ya.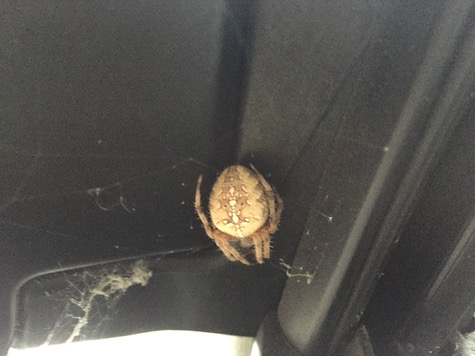 The Good Man refers to this time of year as "Chunky Spider Season." It's true, our current hometown is very, er, spidery. More than any place I have ever lived. And they are often quite big. And chunky.
At home, I park on the street near a tree and some brush. These eight legged demons seem to consider the Jeep part of their homestead. I often brush webs off every corner of the Jeep, including when they manage to string webs across my roof rack.
But this, today, goes beyond the pale.
How about an even closer look, because you need to know my fear.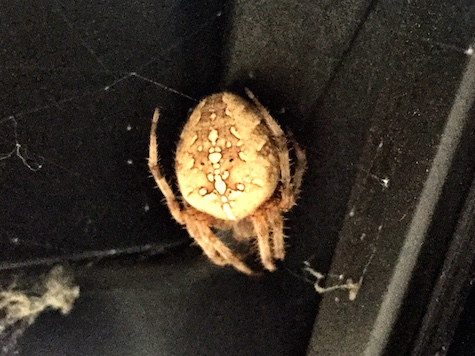 After snapping photos, I cinched up, put on my determined face, then re-entered the roadway at speed hoping this sumnabitch would fly off in the wind. No such luck. It first hunkered down, then feeling carefree (I assume), it later spread all eight of its legs as though surfing the breeze.
Hitting speedbumps at a hard pace didn't seem to help either.
Soon, I arrived at work and had to unroll this window to reach out and badge into the garage. Thankfully my new overlord didn't seem to flinch much.
But it's still there. Still hanging out like it owns my Jeep. Like I am just a pawn in its spidery game.
I am currently unable to exit the Jeep. This is my life now.
Someone please send help! To the passenger side, though.
Gah!
_____________

The Good Man did some research based on photos and determined this is a Cross Orbweaver and that it isn't poisonous. Fab. I'll remember that when it singsongs my name and tells me to "come out and play."

All photos ©2016 Karen Fayeth, and subject to the Creative Commons license in the right column of this page.

These days I live in a fairly urban area and I also live near a major university, so this means driving around here proves to be quite a challenge.
I see a lot of people both young and old riding the roads on their bicycles or scooters and of course walking. There is even the occasional Segway. Though the most popular mode of transport by far seems to be bicycles.
Fundamentally, I don't have an issue with people riding their bicycles. It's exercise, it's efficient, and it's environmental. Plus it leaves more parking spots for me. Great!
The issue I do have, however, is some bicyclist's complete and flagrant disregard for traffic laws. You know, running stop signs, not yielding to a yield sign, flowing with cars when they feel like and acting like pedestrians when they feel like.
My commute to and from work is pretty short, but can be frustrating as I traverse many busy streets with lots of crosswalks and stop signs and long lights. In addition to bicycles, I often have to tangle with students walking around with eyes glued to their smartphones darting out from between parked cars.
I really hate it most when I have the green light and as I start to roll a bicyclist runs the red light the other way and sails through the intersection with nary a care in the world.
The other day that big wheel of karma ticked about two and a half degrees to the right and I saw something so ironic it made me laugh and shake my head.
Ok, here's the scenario:
I am driving up a busy two lane and mostly residential street. Traffic is moving, albeit at a fairly slow pace. I'd estimate I was doing something like 25mph.
I was hugging the yellow line because to my right were two guys decked out in stretchy shorts and tip-tap-clompy biking shoes riding on very fancy bicycles.
We were all cool. I saw them, they saw me. I made space and we traveled casually along, moving straight ahead on the road.
As we three came to an intersection some hipster chick on a pink bicycle with a plastic basket on the front does not slow for the stop sign on the cross street. She glides at full speed right into the intersection.
This causes the car coming the opposite way to screech to a halt. I slammed on my brakes too and the two bicycle guys next to me just kept going.
Because I guess bicyclists do that. When everyone around is braking, they just keep rolling because why not.
One of the guys finally saw Miss Hipster and locked up his very expensive racing bicycle brakes. The other wasn't as quick on the brakes. As he came to a stop he ended up tapping her back wheel.
Hipster chick was totally oblivious. She wobbled a bit and just kept rolling on through.
Now dos Stretchy Pants are mad. They start shouting and screaming and arm waving at her about obeying stop signs and right of way and what the bleep was she doing.
So indignant these bicyclists got about obeying traffic laws. So, so righteous.
Hmm. Interesting.
Ironically so.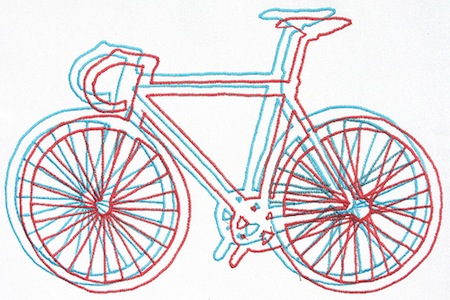 Image found here.

My whole life I have been endlessly fascinated with space and space travel along with the men and women who build the history and science behind space travel.
Call it a side effect of growing up in New Mexico.
As a fairly young kid I read the book "The Right Stuff" and ate up every word. So I read it again.
Just recently, I read the book yet again and I still loved every bit of it.
I've always been an especially huge fan of the early pilots like Chuck Yeager who were willing (on their small military pay) to strap into experimental machines just to see what they could do.
Can you imagine how insane people thought Chuck Yeager was when he was trying to break the sound barrier in a fast plane?
And he was, just a little. But his willingness to put his life on the line meant that scientists understood what body and machine went through at the speed of sound so that they could make better machines and better safety equipment.
Despite the enormous success of the US Space program, I've often wished that the military and NASA didn't give up on developing pilot controlled airplanes to facilitate space travel. They were making good progress when the space race intervened and something had to be done quickly.
Instead of highly experimental planes, it was easier to strap an astronaut to a rocket and blast off. Hell, the solid rocket booster technology that fueled the last Space Shuttle launch in 2011 dates back to the 1960's. And it still works. More or less.
Today with the sad decline of NASA and the growth of private space development, we may be getting back to the realm of real fast piloted planes as a way to get people up into space. As we start thinking about space tourism, the thoughts of safety become more important.
Enter the latest in a long line of courageous (and a little bit crazy) men. Yesterday an Austrian gentleman named Felix Baumgartner piloted a helium balloon to some 127,000 feet over the New Mexico desert (a record for a piloted balloon flight), and then he jumped out.
You know, just to see what his experimental spacesuit would do.
It was, first and foremost, a publicity stunt for Red Bull energy drinks. But there's more to it than that. Mr. Baumgartner was testing a new pressure suit that not only protected his body but allowed maneuverability. Traditional pressure suits used in space flight don't allow the astronaut to move around much which means in the event of danger it is damn near impossible for astronauts to eject and to survive.
So in his fairly thin space suit, Mr Baumgartner broke the sound barrier. With his body. On the same day, October 14, that Chuck Yeager first hit Mach 1 back in 1947.
Sixty-five years ago breaking the sound barrier seemed far fetched. To break the sound barrier with little more than a space suit on seemed nigh on impossible.
And yet.
When I first heard about this proposed jump from space, I thought it was pure insanity. As time went on I became more and more fascinated by the possibility of it.
Yesterday when I saw they were live streaming the event, I was all over it.
I have to be honest, I didn't think Mr. Baumgartner was going to survive the jump. I worried that I was spectating a man's death.
I don't think I'll ever forget that moment when he was standing there on the step of his capsule.
And then he wasn't.
As his body tumbled and cartwheeled I was absolutely terrified. Well made airplanes have broken apart at those speeds. I thought that was it. I thought there was no way.
Then somehow he got control. His body righted itself and he was in perfect form and he was really doing this thing!
Then at just the right time his parachute deployed and he sailed down to mother earth. Feet touched ground and he took a couple steps and boop, he was home.
That crazy bastard. What an accomplishment.
And what a step forward for commercial space travel.

Image found on SFGate.com with photography credit to Red Bull Stratos.


If it happens once, it's an anomaly.
Twice, it's a curiosity.
Three times, and it earns a blog post.
— Karen's philosophy on blogging.
The first time it happened, it was a lazy Saturday morning and I was on the highway named 280 traveling in a southward direction. The Good Man and I had just destroyed a stack of pancakes up at a restaurant in Millbrae, and were headed home.
I was behind the wheel, which is rare. The Good Man usually takes the wheel and I navigate (poorly).
We whistled along and were cussing and discussing something when I rounded a curve and lo and behold, there waited a member of that exclusive club, the CHP.
Instinctively, I touched the brake pedal to slow my roll, and as I did, I looked at my speedometer to see just how bad the ticket was going to be.
Turns out, I was going the speed limit. And my touching the brakes only slowed me to under the limit.
Oh. Well. That's curious.
The second time I was driving across the great state of Georgia and I was singing along with the 80's on 8 station on Sirius. The rental car was a Jeep and since I drive a Jeep back home, I felt pretty damn comfy in the car. The straight six has power and the Georgia highway was open and easy, begging me to test the bounds.
As I whipped past a slower car in the right lane, just as my wheels tap-tapped over the state line into Alabama, I saw the white cruiser in the median. One of Alabama's finest was waiting there to nab speeders as they crossed over the border.
Again, I touched my brakes. Again, I looked at the speedometer to realize I had been going three over the speed limit of 70. Hardly enough for the Alabama man to get excited enough to leave the median.
Finally, the third event was just this weekend. Again on 280, this time headed to San Jose. Again a cruiser parked by the side of the road with a LIDAR gun aimed out the window. Again the brake pedal. Again, I was already in the legal zone.
What, exactly, has happened to me?
Once upon a time, I was quite a speed demon.
I was the girl who used to test what going 100mph felt like on the roads between El Paso and Carlsbad. (sssh, don't tell my Mom)
I am the girl who used to get in trouble with her folks every time I came home from college because they would time me and I always arrived too early. (You'd think I would have figured it out and taken a lunch break somewhere to eat up some time)
This is the same chick that likes to race Mercedes up a hill. (My Jeep has pulling power, donchaknow).
And now I'm little Miss Goes The Speed Limit? Miss Little Old Lady Who Only Drives The Car To Church On Sunday? Little Miss Law Abider?
Evidently so.
Except for one red light infraction two years ago on a no good, very bad day.
Suddenly going the speed limit seems, mostly, like the right pace for me.
This depresses me a little bit. But just a little.
Soon I'll invest in an elongated sedan and I'll use the cruise control and I'll huff and puff about all those damn kids driving too fast.
*sigh*

Image from the Gilroy Dispatch