A few years back, I participated in a flash fiction writing event and drew the genre of Historical Fiction as my prompt. Historical Fiction! I had no idea what to do with that. None. At all.
I believe the full prompt was Historical Fiction, a dentist's office, and a leather jacket.
Uh. Okay. Sure.
So off I went and wrote a story. My own little sort of baseball story and turns out it did pretty well in the competition, meaning it was good enough to get me to the next round.
After finishing the story, I'd had a bit wish that my sorta kinda baseball story would get to see the light of day, and be published during the baseball season.
Well, my wish came true. "The Dilemma" was published this past April in issue 13 of SLAB Literary Magazine.
My baseball story! Published in April! During Spring Training!!
So why am I telling you this in June?
Well, it came out in the print version in April and I decided to wait for the issue to be loaded up online before sharing. Well, Issue 13 is online, however…..my story is listed in the table of contents but it's not printed in the online version.
Grr.
I've sent a few notes but I think the editorial team is off on summer vacation.
While I love the folks and SLAB and am so very, very grateful they published my story, I don't really want to wait anymore to share my little story with the world.
So I scanned that bad boy and you can read my little baseball story today, a few weeks before the All Star Break.
Here it is: The Dilemma
You can also find the link in the right side of this page.
If you take a few moments to give it a read, I'd be quite grateful. If you don't wanna read but just wanna send "yay you" thoughts, also fine by me.
Either way, I'm going to be over here feeling pretty darn proud of myself for taking a bit of an oddball prompt and making something good.

Issue 13

"Baseball is a lot like life. It's a day-to-day existence, full of ups and downs. You make the most of your opportunities in baseball as you do in life."

— Ernie Harwell, Hall of Fame Broadcaster for the Detroit Tigers
As a longtime baseball fan, I've often spent time pondering this very notion, that baseball is an awful lot like life. I have even written yards of stories and words on this very topic. After watching thousands of games, I personally believe that across the nature of nine innings of baseball, in each and every game, a story is told.
One of the most curiously fascinating concepts to me is that a player can make a terrible error in one inning (thus making him the goat) and then be the hero of the game in the very next inning.
Local broadcaster Mike Krukow has often commented that it's just an unwritten fact of baseball, the guy who bobbles the ball in one inning is going to be at bat the next inning. Or, the guy who made a spectacular catch will also be up in the next inning.
It's an odd philosophy but I've observed that it is pretty spot on. Baseball with all of its flaws and issues is an awfully democratic game. Second chances are given. Third, fourth and fifth chances too. The player who is a super star can slip into an 0 for 42 slump. That guy who can't seem to hit a damn thing can suddenly make a key play that propels him to a 40 for 42 streak.
You just never know. And that is pretty much like life.
It was with this in mind that I joyfully watched a guy on a real bad downswing named Tim Lincecum, who plays for the San Francisco Giants, complete a no-hitter against the San Diego Padres on Saturday night.
Tim burst on the baseball scene in 2007 as a first round draft pick. Everything about him does not scream baseball. He is a very small person, running about 5'11" on a day he's standing up very straight and clocking in at maybe 170 pound soaking wet. He is an unlikely pitcher compared to the usual broad shouldered and well over six-footers that dominate the mound.
In addition, Tim's delivery style is rather unique and eyebrow raising among followers of Major League Baseball. In order to get speed from his small frame, he contorts and twists his body back and delivers a pitch with a whipsaw motion. This delivery and his ability to baffle quality hitters has earned him the nickname "The Freak."
As no major league batter had ever seen this kind of delivery, Lincecum dominated MLB for his first several seasons, racking up two Cy Young awards, several trips to the All Star Game, and much respect.
But as baseball is the great equalizer, major league hitters began to get used to how Tim pitched. They watched hours of tape and they started to work him out. Suddenly the phenom fell to earth and his pitching was not so freakish anymore. He was, as they say, getting "touched up" pretty regularly.
Over about three years, Lincecum has struggled mightily, and last year in the post season leading to the World Series, he was taken out of the starting rotation and placed in the bullpen. This is an ego bruiser for even the most easygoing of pitcher.
But Tim took it in stride, pitched well in relief and helped the team win the 2012 World Series.
This season, Lincecum has been showing marked improvement, but his teammates are batting so poorly in support of his outings that his record looks dismal. His quality outings have been a bright spot in a pretty terrible season for the San Francisco Giants.
Recently everyone (especially this Giants fan) has been wondering if this is the end of the era of Tim Lincecum.
So it was unlikely to see our small Mr. Lincecum on the mound pitching for his life on Saturday night. He worked his way through all nine innings and threw 148 pitches to close out his first no-hitter.
To be honest, I felt certain he'd throw a no-hitter in the first few years of his career, his stuff was that baffling. But in many ways, it has to be almost more satisfying to have been a phenom, then struggle, then battle back to show Major League Baseball that maybe the era isn't ending, but simply starting a new chapter.
What a great story. What an amazing game. What an accomplishment.
Lately I have been wavering a little in my allegiance to the San Francisco Giants, as they have been playing sloppy baseball and embarrassing themselves left and right. I was becoming bored with this season's story. Saturday night I turned the page and a new chapter filled with twists and turns greeted me. I'm now back in the game.
Thank you, Mr. Lincecum, for winning back my heart and mind and for telling me, a storyteller in my own right, one hell of a tale.
Much deserved.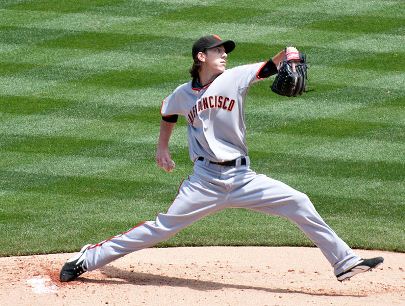 Bonus!

Another priceless moment from that no hitter game: A pitch accidentally hits the umpire in the gut, right at the bottom of his chest protector. Ow. Watch Lincecum's reaction. Awesome.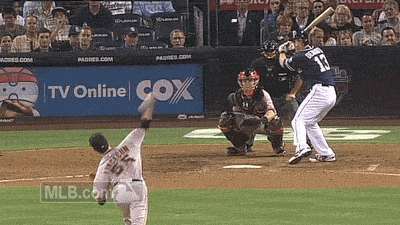 Image from Wikipedia and used under a Creative Commons 2.0 licensing agreement with attribution.
Footage belongs to MLB, .gif was found here.

Two years ago as a long suffering San Francisco Giants fan, I reaped my reward in 2010 when the Giants (finally!) won the world series and Bug Selig handed over this:

Tonight, the Giants won it all again.
And Mr. Selig, who is no fan of the Giants, had to hand over another trophy. Heh.
Now we got a matched set! Like salt and pepper shakers.
Reunited and it feels so good!

I've been a San Francisco Giants baseball fan for a long time.
And in my many years, I've learned this: Nothing is ever easy with this team.
Nothing.
My gut was in a clinch all day as my Giants faced a Game 5, do or die, win or go home game against the Cincinnati Reds in the National League Division Series.
When Buster Posey hit a grand slam in the 5th inning against the very tough Mat Latos I jumped up and down in my office and clapped and shouted and whooped and hollered.
Then I remembered that I sit next door to the Vice President and he was on a con call being all VP-ish and important at that same moment.
I later apologized to him and he grinned. "You must have been listening to the radio because I was watching online and I heard you celebrating about five seconds ahead of seeing it online. You only get away with that for the Giants!"
Rock on.
In the nail tearing bottom of the 9th my boss was in my office drawing something Very Important on my marker board and I was trying desperately to pay attention and answer his questions while checking my phone every two seconds and…good lord how long was that at bat with Romo pitching and Bruce at the plate…? And all the while The Good Man is sending me texts and my boss is blah blah blahing because he's a damn European and what does he care?
I reminded The Boss that I had to endure the Euro 2012 football championships while I was in the UK in June and he could bloody well deal with this today. Seeing his boss (the VP next door) running into my office shouting "THEY WON THEY WON!" certainly helped pipe him down.
This was a tough day at work because of work stuff. This was a stressful day at work because of those damn Giants and their special brand of delicious torture.
And then I saw an image online from today's game that just perfectly summed up how it all makes me feel.
A little blown back by it all, really.

Just a leeeeetle inside for Pablo Sandoval. Photo by Michael Macor for The Chronicle

Image by Michael Macor for The Chronicle and published in SFGate.

In honor of the postseason baseball and because my beloved San Francisco Giants are profoundly sucking this year, I happened to stumble across an old post I wrote over two years ago and was compelled to post it again.
I totally forgot about this post but upon a re-read I was like "My god, I am a genius."
Behold blogging perfection, laid out before you.
___________________________

Originally published March 7, 2010

Earlier in the week, a local sports radio guy posed the question to his callers:
"Star Wars Character draft, who's your no. 1?" (this from the @DamonBruce Twitter feed)
Well, I was so geeked out over the start of Spring Training, I thought he meant baseball players.
Turns out he meant basketball.
No matter, I brought up the question to The Good Man over lunch, which led to a rousing conversation about our all-Star Wars character baseball team.
The Good Man and I parted ways on a lot of the position players, but that's ok. Debate is the heart of baseball.
Herewith are my starting nine (you'll note I'm sticking to Episode 4,5 and 6 characters. I'm old fashioned that way):
First Base (and batting switch): Luke Skywalker. The guy can do yoga and is bendy. I need a guy who can stretch it out to grab the ball. He can "use the force" to figure out when a ball is coming hot down the line. Gotta keep it from rattling around in that weird right field corner at AT&T Park.
Second Base: Boba Fett. Solid hands. Decent footwork. Backed up by Yoda at short. Yeah, I'm ok with this choice. (yes, I know Fett is a bad guy. Go with me on this.)
Short: Yoda. Who else do you know that could pick it from the shoelaces and do a 360 to first for a double play? Gotta be Yoda.
Third: Obi Wan. Solid hands but an old guy. Too much action at first, third is his spot. I need him to nail down the hot corner and keep runners from scoring. I think an Obi to Yoda to Luke double play combination is *hot*. Keeps runners off balance. Yeah.
Left Field: Lando Calrissian. Look, Billie Dee is the MAN. He's gotta bat clean up, can take it over the wall and look good doing it. Yup.
Center: Wedge Antilles. The guy's an ace pilot. He's lean. He can run. He's got a good eye. I'll bet he knows how to take a good route to the ball and can dominate that deep outfield at AT&T Park.
Right Field: Han Solo. Ok, the guy's kind of a bumbler. I want him where he can do the least damage. I'm betting he can bat ok (but probably slump-y like Aaron Rowand) and can probably handle right (except I worry about him at AT&T Park). He'll sometimes take a crappy route to the ball and you'll want to put your head through the television. But mostly solid. The Good Man has Han Solo in left on his lineup card. I may agree with him…don't know.
Catcher: Chewbacca. Furry Man has got the plate *sealed off*. Plus I bet he's got a cannon on him. I see NO ONE stealing second with Chewy behind the plate. The Good Man has Chewbacca at third, and there is a good case to be made for that. I'm sticking with catcher. He's a little tall for the job, but I think his knees can take it.
Pitcher: Well Darth Vader of course. Look, who else do you know in the Galaxy that has the control to throw a nasty 68 mph sinker followed by a 98 mph right up broadway and keep the batters off balance? He's as ugly as Eric Gagne and twice as mean. You need a pitcher who can play mind games with the batters and Darth is your guy.
Here's the lineup card I'm exchanging at the plate:
CF Wedge Antilles. Leadin' us off with speed on the base paths.
1B Luke Skywalker. The guy can get on base and load 'em up for the 3 and 4 hitters.
C Chewbacca takin' it deep or at least moving the runners.
LF Lando Calrissian batting cleanup. Might switch with Chewy if he's on a streak.
3B Obi Wan
2B Boba Fett
S Yoda. Not a power hitter but he gets on base.
RF Han Solo. Where he can do the least damage.
P Darth Vader
Because where I come from, the pitcher has to bat. No designated hitter in my galactic ballgame.
I invite your own thoughts on the lineup. I can be persuaded….