Since I am a native New Mexican, it seemed mandatory that I watch the television series "Breaking Bad," which is set mostly in Albuquerque.
I missed it during its first run on AMC but found all five seasons are available on Netflix.
The Good Man watched some of the pilot episode with me and found it just didn't work for him. Okay, fair enough. This meant I was on my own to get through it.
If you are part of a couple that shares a Netflix account, you know how hard it is when one of you wants to watch something and the other doesn't. You have to carve out time to watch when the other isn't in the mood to be watching TV.
I had to look for times when either The Good Man was off doing something else or I had to set up my iPad and watch it while sitting in the same room with The Good Man. Which, let's face it, seems kind of silly.
Breaking Bad is not the kind of show one can really binge watch. I found that after getting through a single episode I had to step away from the television and go out into the world and remind myself that nice things still exist.
So it ended up taking me a really long time to watch all 62 episodes, but finally a few weeks ago I did it. I summited the mountain. I reached the peak. I got through the final episode of Breaking Bad.
I have to admit, the last five or so episodes are pretty hard to watch. The whole story and its characters are unraveling and there is a lot of violence and ugly things happening. I found it hard to finish, but I prevailed.
And now that I am on the other side, I broke through, so to speak, what is my final analysis?
As a writer, this is genuinely some of the best writing I have ever experienced. The character development, the original ideas, the pacing, the language. All of it. Genuinely amazing and enviable. Easy to understand why the show won so many awards. And easy to see why it's been hard for Brian Cranston to find other projects to work on. He's said he wants projects where the writing is as good as Breaking Bad, which has to be a real challenge.
As a New Mexican, it was at times really hard to watch. I'm not blind, I know there is a lot of bad happening in my homestate. That said, a lot of dramatic license was taken for the sake of a good story. It's possible to live a nice life in Albuquerque without encountering meth. It really is.
I cringe when I see posts on social media where people say they moved to Albuquerque just because of the show. To each their own, I guess.
I did often have a chuckle when I saw familiar places in the show. The carwash that Walt and Skylar own? I lived about two blocks away from it. The dark restaurant with candles on the tables where Walt and Jesse would often meet? It's over on Gibson (closed now) and my boss and I used to go have lunch there when I worked for Sandia Labs. Saul's office? Used to frequent the liquor store in the same strip mall.
The list goes on.
However, seeing all of those locations in the show didn't really make me homesick. They seemed so out of place in the context of what was happening.
Anyhow, I guess in summary, I can say I have mixed feelings. The writing and acting are profoundly good. And I am glad I watched the show so that I at least understand all of the cultural references. I do kind of wish New Mexico could have gotten a better shake. It's a beautiful state with a lot to offer including a unique culture and way of life.
Nevermind. I take it back. It's awful. If you aren't already a resident, you don't want to live there. Seriously. (Much love to the 505!)
I am glad that New Mexico got its moment in the spotlight, and I think the story, writing and acting changed the game for television. Hard to believe something so culturally groundbreaking came from a deceptively simple story about a cancer stricken chemistry teacher and his ne'er do well former student cooking meth. It's a fine though challenging show.
And now the big question……
Do I start watching "Better Call Saul?"
Hmm.

______________

In other news, apparently the actor who played the DEA Agent known as Gomie is running for Bernalillo County Commissioner. Weird. He's a legit New Mexican though, so okay.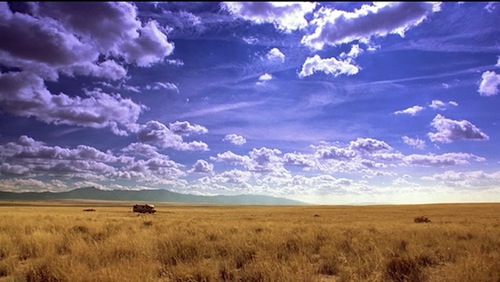 Image found here.

This is where I ate my lunch yesterday: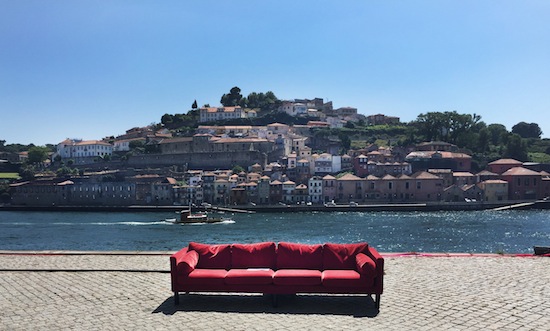 Copyright ©2015 Karen Fayeth

A velvety red couch by the beautiful Douro River in Porto, Portugal.
Wednesday was a beautifully clear warm June day. I sat on the pleasantly comfortable couch with two other people who are counterparts from another company. Two people I genuinely like.
We sat together companionably and talked and laughed and told stories. We couldn't believe our good fortune that the couch seating was open on such a gorgeous day.
Inevitably, time passed and it was time to go back inside the Alfândega Congress Centre, a historic former customs house, and go back to work.
Deep in very businessy conversations inside the cool stone structure, I couldn't stop my mind from wandering back to that place. That seat. That sun. That perfect moment. A delicious lunch with good and decent people on an oddly but fortuitously placed couch by the Douro river. In Portugal.
On the next break I wandered downstairs and back outside. After taking a photo of that now empty red couch by the river, I went down a few granite stairs and sat closer to the water. Small wakes from passing boats gently lapped the bottom step.
Then I started thinking. Lovely thoughts on a lovely day. A workday, no less! What a lovely city in a lovely country. Just that easy. Just that difficult.
And that, my friends, is how a good memory is made.

I've already shared this photo on Facebook but I wanted to share it again here because I sure have been looking at this photograph an awful lot lately.
While spending a few fun days in New Mexico a couple weeks back, I went to Bien Mur to look for a couple of gifts. I haven't been to Bien Mur since I was a teenager and it was so beautiful to be there on a sunny winter day.
The only sad part was that the shop had taken down their high shelves which used to house a collection of some of the most beautiful Kachina figures I have ever known. They are cemented in my memories. On this visit, the shop only had a few small Kachina figures. Perhaps the art of making the Kachina is waning? I sure hope not.
Anyhow, upon leaving Bien Mur, I took a right turn and headed east up Tramway, past the newish buffalo paddocks, and kept driving. The day was clear and bright and beautiful and I found that I had to immediately pull the car over and hop out and take it in.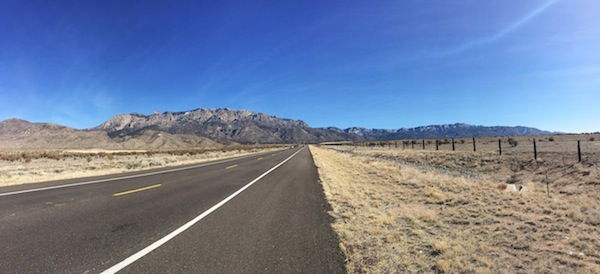 The camera on the iPhone 6 is pretty good and I've discovered that the pano feature on the native camera app works pretty darn well.
After several photographs, I simply stood and stared. And stared. How I love the Sandia mountains. How I miss using them as my directional device (as in…"if the Sandias are on my right, then I must be headed north"). How I miss the beauty, the open valley, the terrain of my homestate.
It was so comforting to be back in the arms of the mountains that protected me in my youth. I've hiked, skied, and just stood atop that high peak. I believe the folds and curves of the Sandia mountains can be found in my very DNA.
Back here at the office, I showed the photo to someone and they asked me how much Photoshopping I had done. I replied "Well, I took out a contrail, that's it."
"But you boosted the color, right? I mean, look at that sky!"
"Nah," I replied, "The sky really is that blue in the high desert."
My coworker walked away thinking I was exaggerating.
That's okay, fellow New Mexicans, we know the truth. It can just be our little secret.
My Fair New Mexico, our visit was all too brief. I count the days until we are together again.
Image Copyright 2014 © Karen Fayeth, and subject to the Creative Commons license found in the far right column of this page. Taken with an iPhone6 and the native Apple Camera app with only the most minor of Photoshop work. Because who can improve on something that pretty?

Oh Mother Nature, how you vex me. I mean, you and me are usually good. Real good. I mean, you do you in your own way, and that's fine. Of course it's fine.
Musically riffing, I've seen fire and I've seen rain. I've seen sunny days that I thought would never end.
I've also seen tornadoes, lightning I thought would crack the sky in two and 120 degrees with nary a cloud.
You gotta do what you gotta do, sister, and usually I'm okay with that.
This morning I stepped out of my house and felt a little rain dripping down. Yes! Rain! Good.
Only, Mom Nature, you are a real fickle beast. Was it a good deep soaking rain? A nice drink of water for the poor parched state of California?
Nope!
It was like this: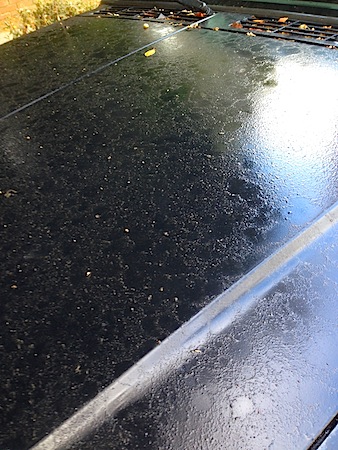 Just enough to knock dust and schmutz from a nearby tree onto my car. You just created a rolling mud bog.
Just enough to moisten the roads so people could slide real good into each other.
Just enough rain to REALLY piss me off and not enough to make a difference.
Look lady, do more than spit at us, all right?
Be better, Mother Nature!
That is a great post title. It really is. I could go anywhere after that.
But I have something in mind and I promise I am sober as a judge as I tell my tale. (Then again, I know quite a few judges who like a little splash in the coffee mug.)
Yesterday afternoon, during the joy of a holiday from work, I went outside to take some photos. My photography club is back in full swing and this month's theme is black & white or contrast. I had already taken one photo that I really love and was looking for my second. We get two entries each month.
Lacking any good ideas, I went outside to see what I could see, snapping here and there and everywhere to find something.
My skills in black and white photography aren't that good (I like color), so I was shooting lots of different things so I could learn and enhance my ability.
About an hour into my backyard photowalk I remembered that around the corner is a magnolia tree in full bloom. I think the unseasonably warm California winter has confused the poor tree.
I headed over to take a look and found it still blooming, so I snapped and snapped lots of photos. I set up shots. I fiddled with my camera. I enjoyed the late afternoon golden light.
And then as I looked at these flowers through my viewfinder, I realized something…….
Some of the magnolia blossoms have faces.
Below I present my evidence.
This was the first face I saw. I thought it was just a one off:

Photo © Copyright Karen Fayeth, 2014


But wait, there was another. Less obvious, but definitely a face: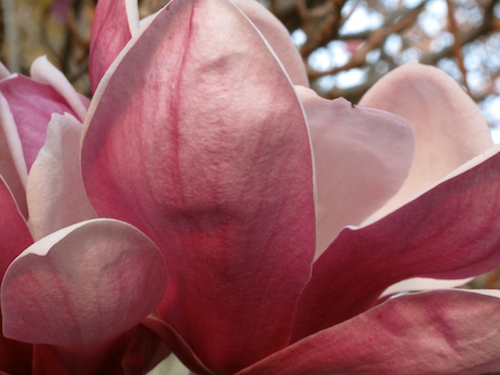 Photo © Copyright Karen Fayeth, 2014


And another. This one I thought looked scary at first. The more I looked, the more it seemed to be laughing with leafy arms spread wide open: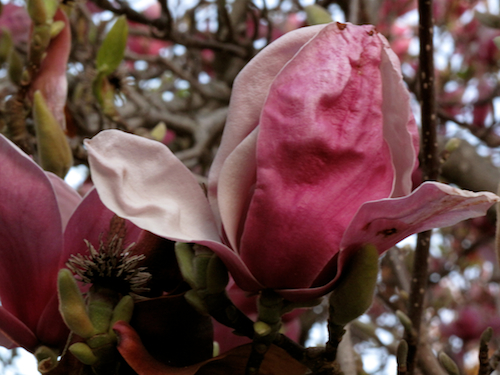 Photo © Copyright Karen Fayeth, 2014


And another, this one more cranky: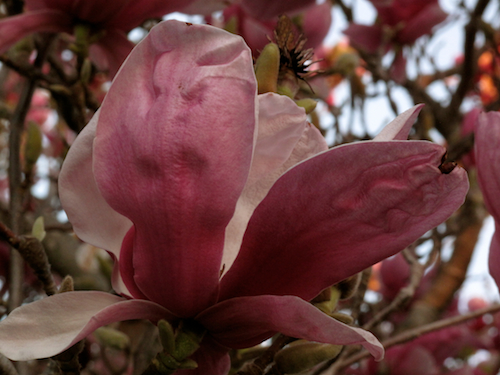 Photo © Copyright Karen Fayeth, 2014


Then this one, with a little bit of a surprised rounded O face: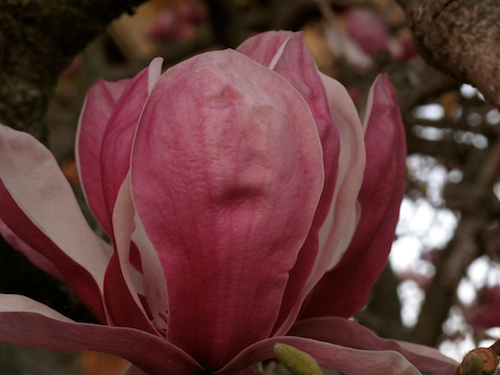 Photo © Copyright Karen Fayeth, 2014


I call this one the Picasso as it takes a little to see it and the face is a bit askew: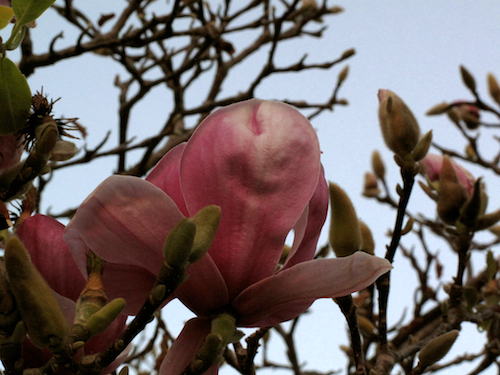 Photo © Copyright Karen Fayeth, 2014


Then I noticed that Laughy and Cranky seemed to be having a little party together: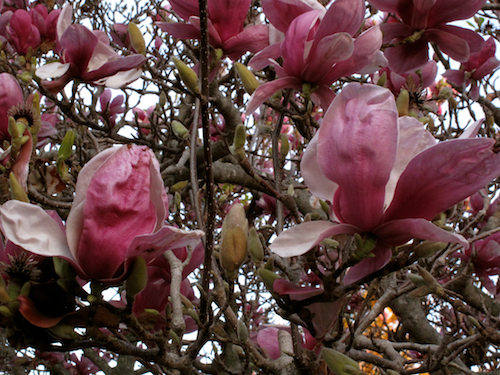 Photo © Copyright Karen Fayeth, 2014


Everywhere I looked, there were little magnolia faces looking back at me. Grumpy ones and happy ones and wilty ones and crazy ones. Little sweet smelling blossom faces everywhere my eyes fell.
I giggled with the joy of it all, reveling in the ridiculously silly ways of Mother Nature.
Then a couple pushing a stroller walked by. They looked at me from the sides of eyes, wondering at the crazy wild haired lady laughing with the tree.
Their toddler girl said to me, "Look! I have a Hello Kitty on my pocket!"
I replied, "You sure do!"
That toddler understands. She gets me. To a child with a Hello Kitty on her pocket, the lady laughing with the tree is just fine. Quite normal. To be expected.
I'm so glad someone understands.
Meanwhile, I'll never look at a magnolia tree in quite the same way again.

_________________

(side note: I believe the most definitive magnolia photo I have ever seen was taken by my friend and fellow New Mexican, Avelino Maestas. I knew whatever photo I would take of the magnolia blossoms would pale in comparison to the photo I used as my phone's wallpaper for well over a year. Salud, Avelino!)

All photos © Copyright Karen Fayeth, 2014 and subject to the Creative Commons license in the right column of this page. Taken with a Canon G10 and touched up a bit in Photoshop.